1992 Mr. Turkey Superstars Baseball – Oddball Throwback
1992 Mr. Turkey Superstars Baseball lives up to its name with a checklist that includes plenty of Hall of Famers. And even those that aren't are generally considered some of the biggest stars of the era.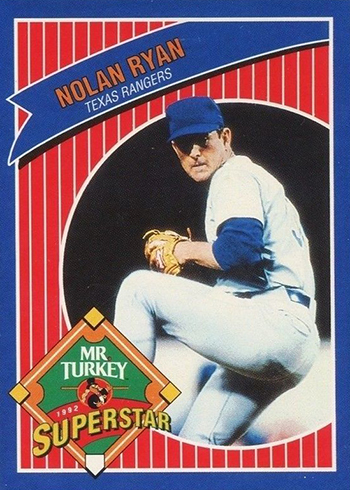 The oddball set finds it origins as a tie-in for Mr. Turkey items. Cards come in three similar but separate versions. First, there's the original cards that came on the Mr. Turkey products. Attached to packaging, they had to be cut out and require either excellent scissor skills or access to a professional cutting facility.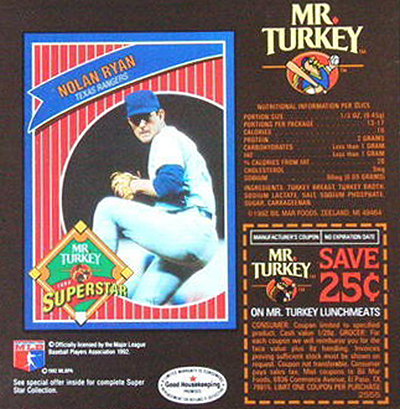 A couple of offers from the company present a couple of more versions. A factory set includes all 26 cards, this time already cut to size.
There was also an uncut sheet that had the full set. Each card on these sheets has a much thicker border and larger dimensions. So if you come across a jumbo 1992 Mr. Turkey Superstars cards, this is where it came from.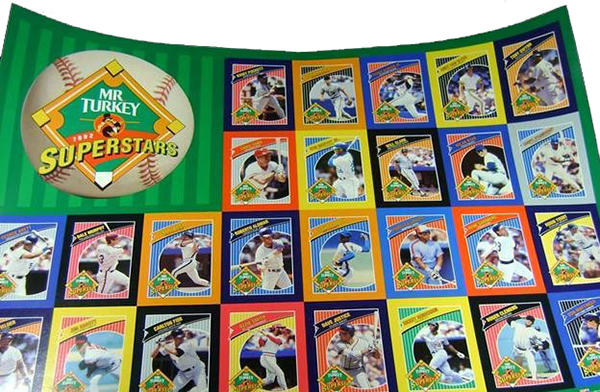 Like a lot of food issues at the time, the set is recognized by the MLBPA but not Major League Baseball. That explains the lack of logos.
1992 Mr. Turkey Superstars Baseball cards don't carry a lot of value today. However, they're also not the most common oddball cards to find. They're by no means rare. The mail-away requirements to get the pre-cut cards probably plays a big role in why singles and sets aren't available in large quantities. They are out there, though, on places like the Beckett Marketplace and eBay.
1992 Mr. Turkey Superstars Baseball Checklist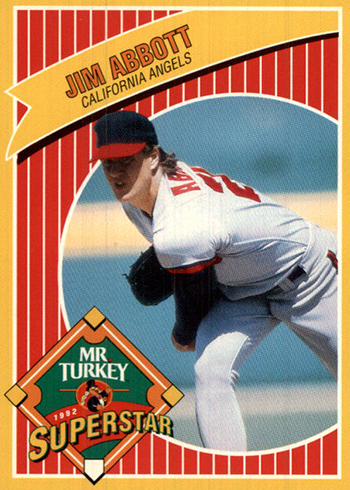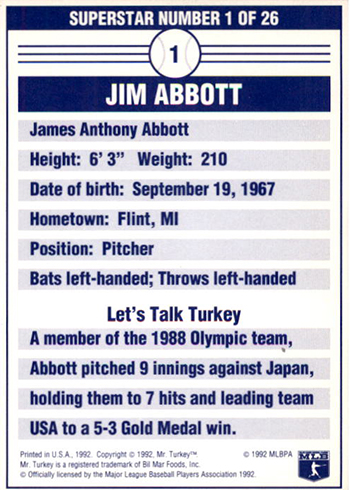 1 Jim Abbott, California Angels
2 Roberto Alomar, Toronto Blue Jays
3 Sandy Alomar Jr., Cleveland Indians
4 Craig Biggio, Houston Astros
5 George Brett, Kansas City Royals
6 Will Clark, San Francisco Giants
7 Roger Clemens, Boston Red Sox
8 Cecil Fielder, Detroit Tigers
9 Carlton Fisk, Chicago White Sox
10 Andres Galarraga, Montreal Expos
11 Dwight Gooden, New York Mets
12 Ken Griffey Jr., Seattle Mariners
13 Tony Gwynn, San Diego Padres
14 Rickey Henderson, Oakland Athletics
15 Dave Justice, Atlanta Braves
16 Don Mattingly, New York Yankees
17 Dale Murphy, Philadelphia Phillies
18 Kirby Puckett, Minnesota Twins
19 Cal Ripken Jr., Baltimore Orioles
20 Nolan Ryan, Texas Rangers
21 Chris Sabo, Cincinnati Reds
22 Ryne Sandberg, Chicago Cubs
23 Ozzie Smith, St. Louis Cardinals
24 Darryl Strawberry, Los Angeles Dodgers
25 Andy Van Slyke, Pittsburgh Pirates
26 Robin Yount, Milwaukee Brewers