That Time When Pro Set Made Bill and Ted's Excellent Adventure Trading Cards
Bill and Ted's Excellent Adventure is an '80s classic. After becoming a surprise hit, expectations were high for the sequel, Bill and Ted's Bogus Journey. Little did the Hollywood suits realize that combining the fun-loving dufus' with homages to Ingmar Bergman weren't box office gold. That's not a judgement of the movie, though (it's most definitely not bogus). Without a ton of merchandise for the series out there, it puts 1991 Pro Set Bill and Ted's Most Atypical Movie Cards in an interesting position, particularly since the time traveling duo continues to endure.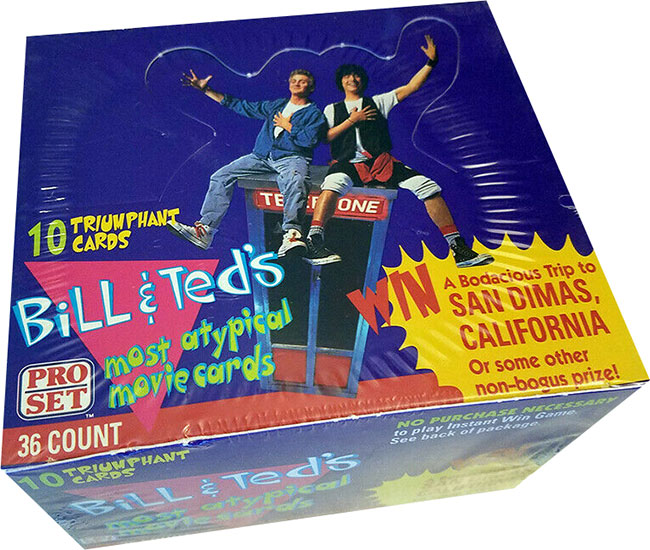 1991 Pro Set Bill and Ted's Most Atypical Movie Cards Overview
The checklist features a 100-card base set covering both Bill and Ted's Excellent Adventure and Bill and Ted's Bogus Journey. The set up is simple with a movie still on the full-bleed front and a short caption on the back. Most are story-centric, recapping the storyline. Plenty of memorable moments are featured, particularly from the first movie.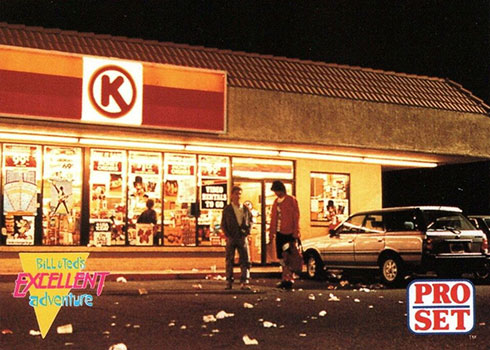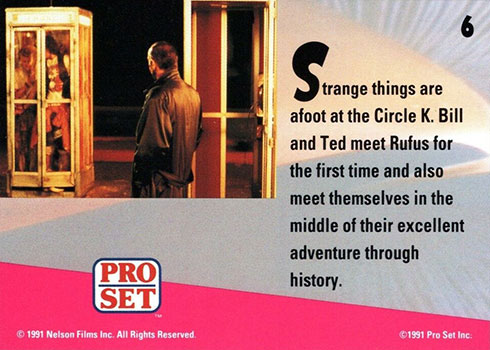 However, there are also some "Bill & Ted Speak" cards that offer up a dictionary of sorts for the Valley Guy linguistics. It might not line up very well with Google Translate today.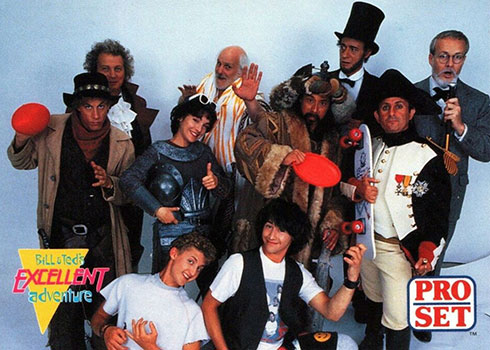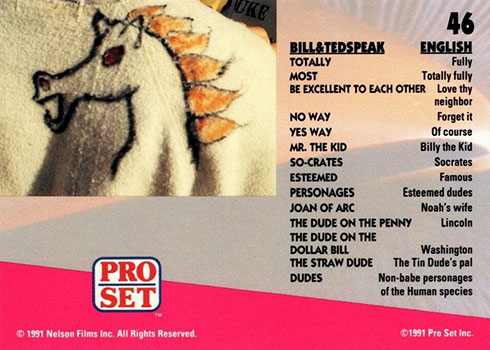 Towards the end of the checklist are a handful of behind-the-scenes cards. The all-but-forgotten Bill and Ted live-action TV show and cartoons are also give a preview on a single card each.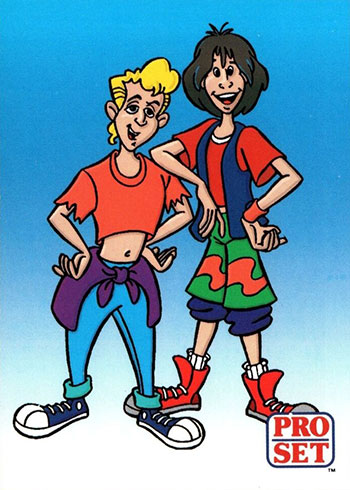 The set predates the insert era. That means no chase cards, no holograms or  anything even remotely fancy. The only other card beyond the base set was a double-sided promo card that came with the Pro Set Gazette, the card maker's newsletter.
Packs did come with a scratch-off sweepstakes card. The grand prize was a trip to San Dimas, California. Video games, t-shirts and action figures were also on the line.
Bill and Ted's Most Atypical Movie Cards are typical in their construction as far as Pro Set cards go. They're on thin stock that frequently show up with dull and chipped edges.
This was a heavily printed set meaning there hasn't been a shortage since its initial release. At one point, you could often find boxes for a couple of dollars at shows. Those days might be past (nostalgia and Keanu Reeves have a way of doing that), but this is still an affordable set.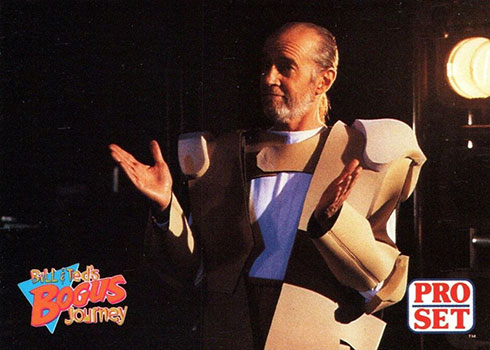 1991 Pro Set Bill and Ted's Most Atypical Movie Cards at a glance:
Cards per pack: 10
Packs per box: 36
Set size: 100 cards
1991 Pro Set Bill and Ted's Most Atypical Movie Cards Checklist
Base Set
100 cards.
Card titles note the start of write-ups on card backs. Fronts don't have captions.
Buy on: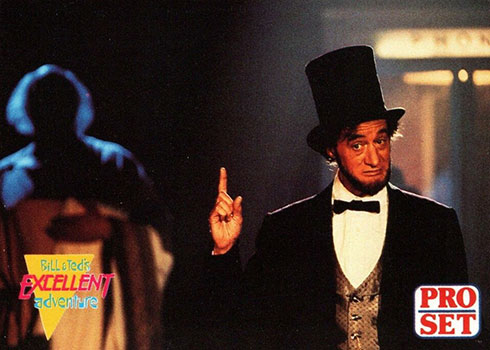 1 Bill and Ted Speak: Excellent
2 Bill S. Preston, Esquire, and Ted
3 Mr. Ryan conducts a review
4 After discovering that Joan of Arc
5 Is it time for Rufus
6 Strange things are afoot
7 The most unprecedented journey
8 Bill, pretending
9 New Mexico, 1879.
10 Athens, Greece, 410 B.C.
11 England, 15th Century.
12 Dressed in heavy metal armor
13 Oh, you beautiful babes
14 After encountering the royal
15 The babes cheer as Bill and Ted
16 After a mad dash
17 Bill and Ted travel to the future.
18 While Bill and Ted continue to round
19 Vienna, Austria, 1901.
20 Kassel, Germany, 1810.
21 Orleans, France, 1429.
22 Outer Mongolia, 1209.
23 The White House, 1863.
24 Napoleon's next experience
25 San Dimas, California, 1,000,000 B.C.
26 Bill and Ted land back in San Dimas
27 Bill and Ted land in present-day
28 Missy meets historical figures
29 The chores are completed
30 Historical figures encounter
31 Napoleon is ditched by Deacon
32 Napoleon discovers
33 Historical figures explore the mall.
34 Beethoven uncontrollably jams
35 Historical figures are chased
36 Historical figures are booked
37 Bill and Ted execute the jailbreak
38 For the final history report
39 All the historical figures
40 Ted interprets
41 The very excellent barbarian
42 Napoleon outlines his war strategy
43 The final speaker, Abraham Lincoln
44 Bill and Ted decide to really learn
45 Wyld Stallyns' music
46 Bill and Ted Speak: Totally
47 Bill and Ted Speak: Stellar
48 It is time.
49 San Dimas, California, 2691 A.D.
50 Students attending Bill and Ted
51 Thomas Edison, Johann Sebastian Bach
52 As Rufus is giving the homework
53 De Nomolos, Rufus's old teacher
54 Evil Bill and Ted reveal
55 San Dimas, California, Present Day.
56 Bill and Ted help the Princess
57 Bill and Ted simultaneously ask
58 Evil Ted bashes the back of his head
59 Evil Bill and Ted trick Bill and Ted
60 Evil Bill and Ted most atypically push
61 Evil Bill and Ted totally loogie
62 Totally dead Bill and Ted run
63 Evil Bill and Ted plan to waste
64 Ted totally possesses
65 As Missy and the New Age
66 A demon guard
67 Bill and Ted, motioning for Beelzebub
68 Bill and Ted find a passageway
69 Bill and Ted rush out the door
70 Meanwhile, a six-year-old Bill
71 The Grim Reaper instructs Bill and Ted
72 J-7, dude. hit.
73 The Grim Reaper totally gives up
74 After Evil Ted has pulled his head
75 Bill, Ted and the Grim Reaper travel
76 Standing Before God, Bill, Ted and Death
77 As Bill, Ted, the Grim Reaper
78 Evil Bill and Ted unzip themselves
79 The Stations and the Grim Reaper shop
80 Station The Stations begin running
81 Station The inside of the van
82 Bill and Ted decide to face their fears
83 The Evil Bill and Ted take over the Wyl
84 Evil Bill and Ted stop their music
85 The Grim Reaper entertains the crowd
86 The Evil Bill and Ted kill Bill and Ted
87 Bill and Ted come back to life
88 Good robots Bill and Ted save
89 A phone booth lands
90 De Nomolos's fire is deflected
91 Ms. Wardroe splits her body in half
92 Bill and Ted decide
93 Bill and Ted return
94 BillandTed Speak: Loogied
95 Station Bill and Ted make it to a most
96 Bill and Ted star as the most atypical
97 Bill and Ted demonstrate
98 Bill and Ted jam in a most excellent
99 Bill and Ted practice their game skills
100 The Bill and Ted special effects team
Promo Cards
1 card.
Double-sided.
Distributed with Pro Set Gazette newsletter.
Buy on: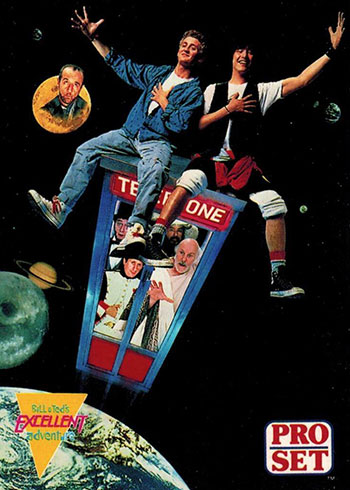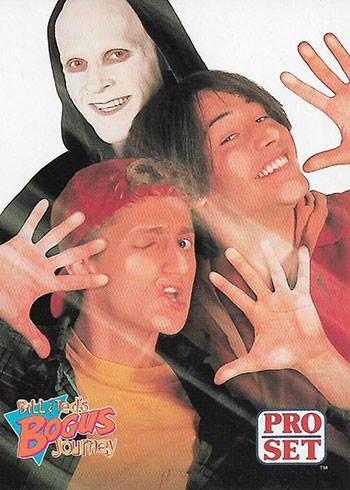 Excellent Adventure/Bogus Journey