Hunting for Chipper: 1991 O-Pee-Chee Baseball Box Break and Review
By the time 1991 rolled around, sports cards had gotten big enough that I could find Topps in my neck of the Canadian suburbs. That meant I largely bypassed my home country's main set (OPC Premier is another story) as it was always readily available at my corner stores. American sets were becoming more common as card shops opened and the idea that "baseball cards are everywhere" creeped in. At the time, I did open some 1991 O-Pee-Chee Baseball but not nearly as much as 1991 Topps.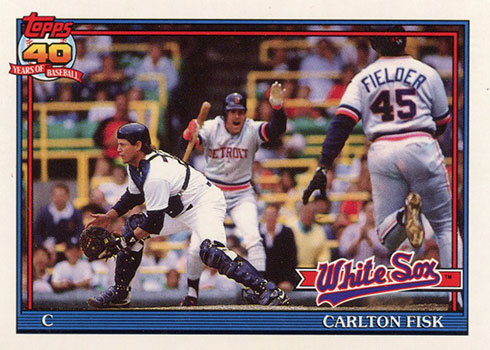 Flash forward almost 30 years and I find myself getting back to my Canadian roots. I appreciate O-Pee-Chee Baseball a lot more. It's more me and, quite frankly, the smaller production numbers can make it more of a challenge to hunt down.
While visiting my hometown of Victoria a while back (which is only a couple of hours from where I am now), I popped into Triple Play Sports and Games, a fantastic shop that wasn't around when I lived there. On the shelf I was immediately drawn to a beat up box with a crumpled in side. At first glance I thought it was 1991 Topps Baseball, one of my all-time favorite sets, not to mention one that was a major gateway into the hobby for me.
Turns out it wasn't 1991 Topps, it was 1991 O-Pee-Chee Baseball. The billingual text was a giveaway.
As I'm processing all of this, I scan for the price tag. $20.
1991 O-Pee-Chee Baseball should be higher than this, but with the corner caved in I expect a quarter of the cards to be damaged. Plus, I'm in Canada. Stashes of O-Pee-Chee everything are still around.
Needless to say, I grabbed the box. Nostalgia reigns and the hunt for the moderately tough (by 1991 standards) Chipper Jones Rookie Card begins.
And then the box sat on my shelf for several months, waiting for just the right day to be broken. It finally spoke to me and the wax paper and old gum dust started to fly.
Within the first couple of packs the memories came rushing back. Sure, they were for those boxes of 1991 Topps Baseball and 1991 O-Pee-Chee. But that doesn't matter much. Save for a couple of changes and some traded lines on the front, the fronts of the two sets are exactly the same.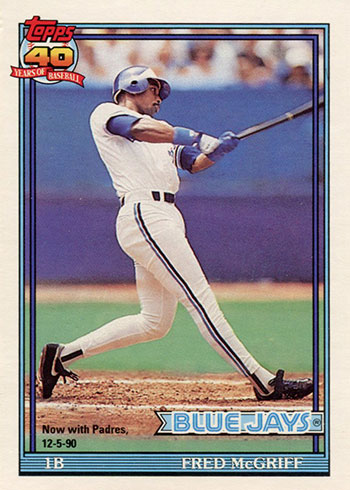 1991 was the second year in a row that O-Pee-Chee kept the Topps name so the differences are more apparent on the back.
Whether it's 1991 Topps or 1991 O-Pee-Chee, the simple design and stellar photography standout. It may not have that iconic track record, but for me it 1991 holds its own against the great set designs of the 1950s and '60s that are typically held in high regard.
While the fronts are virtually identical, the backs are more noticeable. Yes, there's the O-Pee-Chee, "PTD IN CANADA" copyright line at the bottom and bilingual text in English and French. But there's also that bright white card stock that Topps collectors normally only find with Topps Traded sets. From an atheistic standard, O-Pee-Chee has the better backs.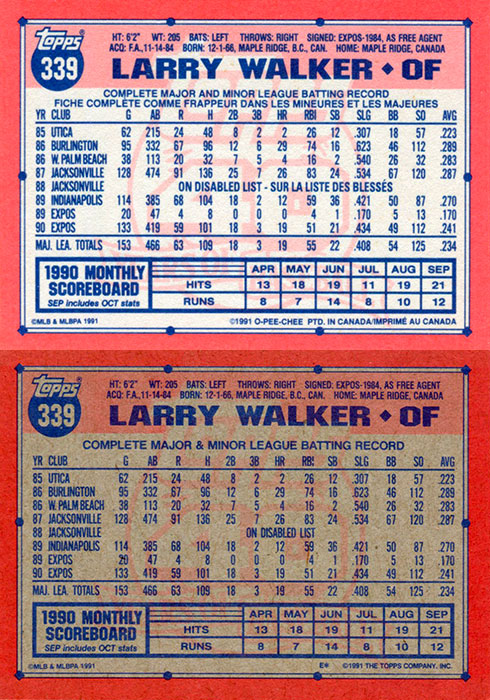 With 792 cards on the checklist, it's not all Ken Griffey Jr., Frank Thomas and Chipper Jones on the checklist. During my break, several packs could go by where the nostalgia was stronger than the names.
How did I make out with the big-name cards? I got several players who were well on their way to the Hall of Fame like George Brett, Carlton Fisk and Ryne Sandberg. The second-year Frank Thomas was there, too. No Ken Griffey Jr. and no Nolan Ryan or Barry Bonds regular cards, although the latter two did appear on subset cards.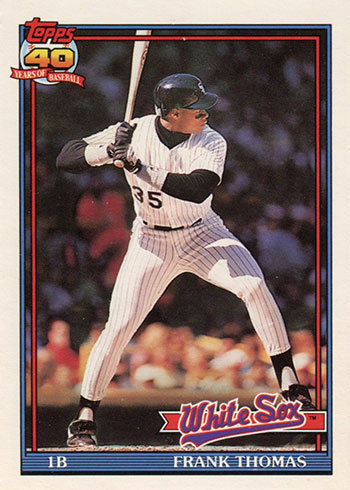 Just as exciting for me looking back on this set was the familiar "lesser stars" I recognized. 1991 was a coming-of-age year for me in collecting and so many of these fronts, whether with Topps or O-Pee-Chee on the back, are engrained on my memory.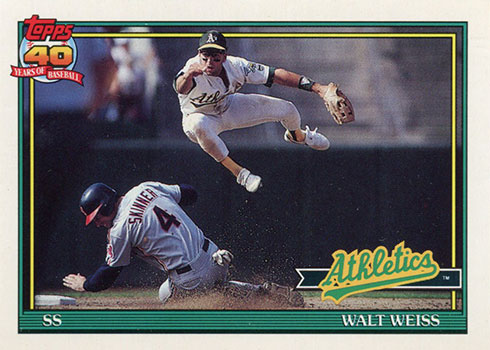 Oh, yeah, there was this card, too — the Chipper Jones Rookie Card.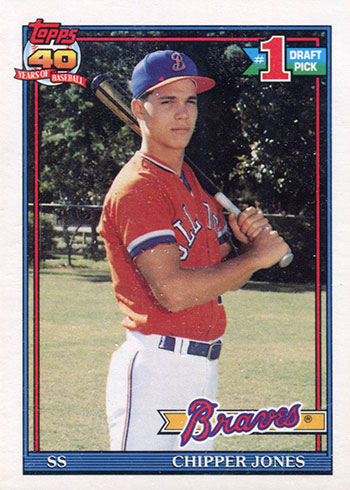 As far as collation goes, it was to be expected. It didn't even boast half the set, but that would be mathematically impossible anyways. I did get a small stack of doubles, but it wasn't to the point where it felt like déjà vu every other pack.
Finally, that concern with the crumpled in corner on the box, it was for not. The box doesn't look great but it did its job in adding a layer of protection for the cards. A quarter of the cards didn't come out with matching sets of crushed corners. Not everything in the box was mint, but this was 1991. Cards were still on cardboard and no matter how bright the stock is, it's still thin.
The set, the memories, the price, the Chipper RC — this break was fun on so many fronts.
1991 O-Pee-Chee Baseball Box Break
Cards per pack: 10
Packs per box: 36
Total cards: 360
Base: 329/792
Duplicates: 31
Box Bottoms:
M Jeff Reardon, Boston Red Sox
N Nolan Ryan, Texas Rangers
O Juan Samuel, Los Angeles Dodgers
P Robin Yount, Milwaukee Brewers