1990 Topps George Bush Baseball Card Tops $25,000
A scarce glossy version of the 1990 Topps George Bush baseball card sold on eBay for $25,695.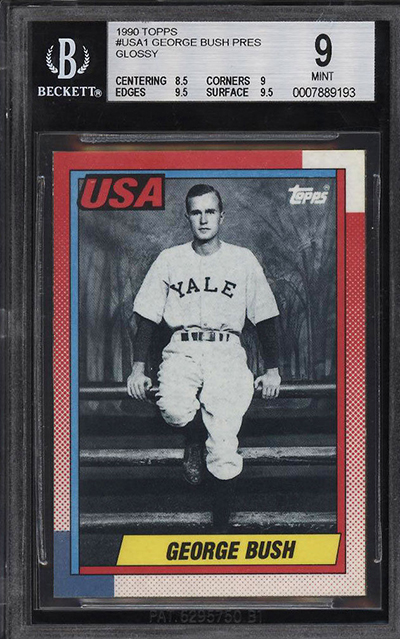 The BGS 9 Mint card is likely one of 100 copies given to President Bush during a February, 1990 White House visit by Topps' Arthur Shorin.
1990 Topps George Bush – One Card, Two Versions
It was discovered by PSA in 2013 that the famous card has two different versions. It's believed the ones with the glossy coating were the ones in the binder presented to the President. These are the cards that have the direct tie to the President and the history that comes with them.
Other copies exist without the coating. Not intended for public release, several have still made their way onto the secondary market over the years. It's still exceptionally rare to see these show up.
In fact, between both BGS and PSA, this is a pop 1 at this grade with none higher. Just nine glossy 1990 Topps George Bush cards have been rated to BGS. This is the only one to receive a Mint 9. Other grades include three 8.5s and three 8s. The highest grade for the card by PSA is NM-MT 8.
History and Background
The card shows the 41st President in a black and white photo from his days as a member of the Yale baseball team. He played first base for the university from 1946 to 1948. Those final two years included trips to the College World Series.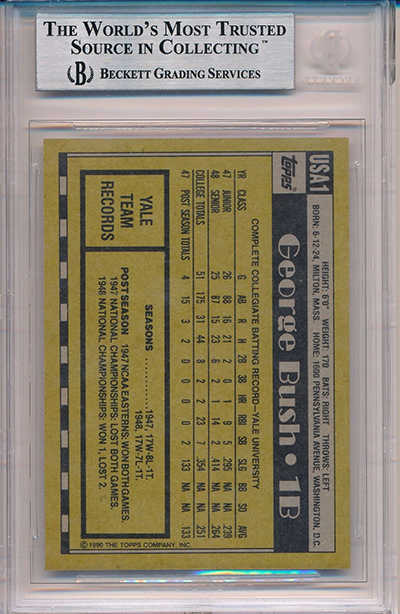 Through the presentation, the 1990 Topps George Bush baseball card got a lot of attention both in the hobby and in the mainstream press. Sports cards were at their peak at the time. Although few have ever actually owned or even seen a copy of this card in person, its story and history have made it resonate and helped it maintain its status as one of the top cards released at the time.
The sale for the BGS 9 glossy 1990 Topps George Bush was through eBay consignor PWCC Auctions.