1990 Classic WWF History of WrestleMania is an anthology set of sorts. It chronicles — to varying degrees and extents — the first six installments of pro wrestling's biggest events.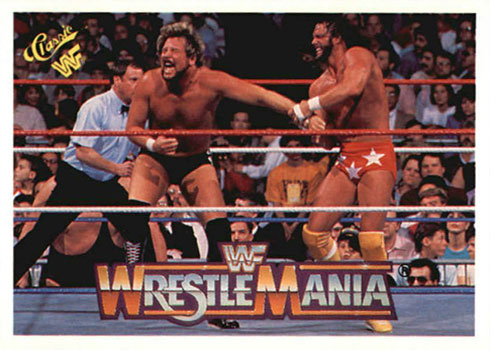 It's a sizable set, with 150 total cards. Virtually all of them highlight WrestleMania moments. Only the final five do not. These are more traditional profile type cards.
As far as WrestleMania highlights go, it's the latter three that get the most attention. The first three events only take up about 20 percent of the total checklist. WrestleManias II and III were both featured in sets a few years earlier when Topps held the WWF license. However, the other three pay-per-views were still fresh when it came to mainstream wrestling cards. They each get extensive coverage.
Besides recapping the matches themselves, 1990 Classic WWF History of WrestleMania is notable for its extensive use of action images. It's something seldom seen to this extent in a lot of wrestling card sets, even with the modern slate of several releases each year. These images dominate the card front. While there's no caption, there is a large WrestleMania logo. White borders also frame things in.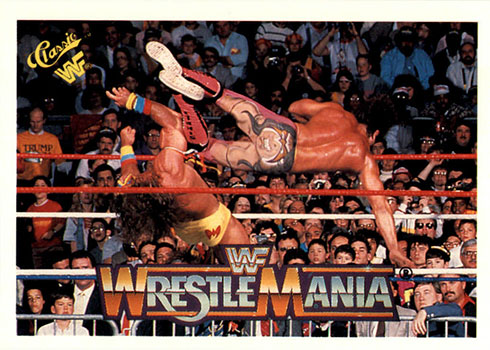 Backs are plain as far as design goes, but there is an explanation of who's on the front and what's happening.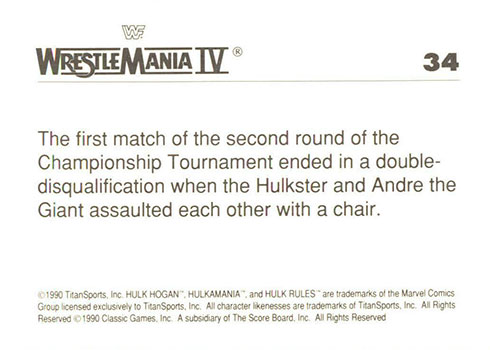 1990 Classic WWF History of WrestleMania was the second set of pro-wrestling cards from the manufacturer that year. In fact, packaging labels it as "Series II."
Packs and Factory Sets
Cards are available in a few different forms. There are regular foil packs of 15 cards, which are actually relatively tough to find now. Blister packs of 25 cards can also be found. Finally, there's a factory set that's in a yellow box and has the Ultimate Warrior.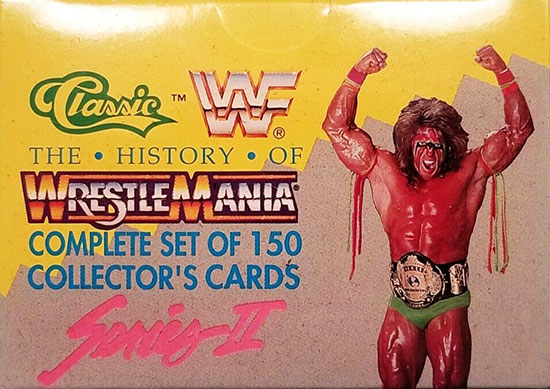 Singles are relatively easy to find. So are the factory sets. The greatest challenge is tracking down packs and blisters.
1990 Classic WWF History of WrestleMania at a glance:
Cards per pack: Foil Pack – 15, Blister Pack – 25
Packs per box: 36 Foil Packs
Set size: 150 cards
1990 Classic WWF History of WrestleMania Checklist
150 cards.
Buy on: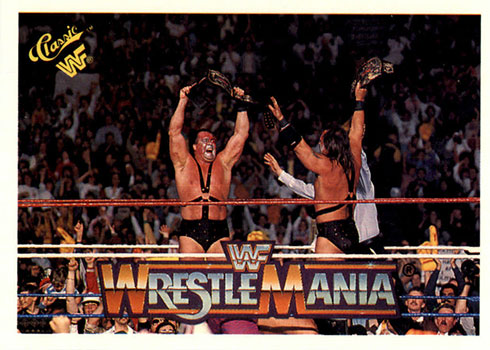 WrestleMania
1 Greg The Hammer Valentine, Junk Yard Dog
2 Tito Santana, Masked Executioner
3 Hulk Hogan
WrestleMania II
4 Dream Team, British Bulldogs
5 Battle Royal
6 Battle Royal
7 Battle Royal
8 Brutus The Barber Beefcake, British Bulldogs
9 Tito Santana, Junk Yard Dog, Funk Brothers
10 Greg The Hammer Valentine
11 Hulk Hogan, King Kong Bundy
12 Macho Man Randy Savage, George The Animal Steele
13 Macho Man Randy Savage, George The Animal Steele
14 Hulk Hogan, King Kong Bundy
15 Hulk Hogan, King Kong Bundy
16 Andre the Giant
WrestleMania III
17 Slick, Tito Santana
18 Rowdy Roddy Piper, Adrian Adonis
19 Andre the Giant, Hulk Hogan
20 Jim Neidhart, Dynamite Kid
21 Davey Boy Smith, Danny Davis
22 Slick, Tito Santana
23 Stadium Scene
24 Honky Tonk Man, Jake The Snake Roberts
25 Brutus The Barber Beefcake, Adrian Adonis
26 Hulk Hogan, Andre the Giant
27 Hulk Hogan, Andre the Giant
28 Hulk Hogan, Andre the Giant
WrestleMania IV
29 Million Dollar Man, Macho Man Randy Savage
30 Million Dollar Man, Macho Man Randy Savage
31 Million Dollar Man, Macho Man Randy Savage
32 Hulk Hogan, Macho Man Randy Savage
33 Hulk Hogan, Macho Man Randy Savage
34 Hulk Hogan, Andre the Giant
35 Hulk Hogan, Andre the Giant
36 Hulk Hogan, Andre the Giant
37 Hulk Hogan, Andre the Giant
38 Hulk Hogan, Andre the Giant
39 Hulk Hogan, Andre the Giant
40 Hulk Hogan
41 Hulk Hogan
42 Brutus The Barber Beefcake
43 Brutus The Barber Beefcake, Honky Tonk Man
44 Honky Tonk Man, Brutus The Barber Beefcake
45 Rick Martel, Demolition
46 Demolition, Strike Force
47 Ravishing Rick Rude, Jake The Snake Roberts
48 Hercules, Ultimate Warrior
49 The Hammer, Macho Man Randy Savage
50 The Hammer, Macho Man Randy Savage
51 Hulk Hogan
52 Million Dollar Man, Virgil, Andre the Giant
53 Hulk Hogan, Macho Man Randy Savage
54 Macho Man Randy Savage, Akeem
55 Ring Scene
56 Bobby The Brain Heenan, Koko B. Ware
57 Battle Royal
58 Million Dollar Man, Hacksaw Jim Duggan
59 Dino Bravo, Don Muraco
60 Jake The Snake Roberts, Rick Rude
61 Hercules, Ultimate Warrior
62 Jake The Snake Roberts, Rick Rude
63 Hercules, Ultimate Warrior
64 Hercules, Ultimate Warrior
65 Hercules, Ultimate Warrior
66 Mr. Fuji, Ax
67 Demolition, Tito Santana
68 Rick Martel, Smash
69 Honky Tonk Man, Brutus The Barber Beefcake
70 Bret Hit Man Hart, Bad News Brown
71 Bret Hit Man Hart, Bad News Brown
72 Bret Hit Man Hart, Bad News Brown
73 Bad News Brown
WrestleMania V
74 Power of Pain, Demolition
75 Million Dollar Man, Virgil
76 Mr. Fuji, Ax
77 Demolition
78 Andre the Giant, Jake The Snake Roberts
79 Bret Hit Man Hart, Honky Tonk Man
80 Brooklyn Brawler
81 King Haku, Hercules
82 King Haku, Hercules
83 Million Dollar Man, Brutus The Barber Beefcake
84 Dino Bravo, Ronnie Garvin
85 Bad News Brown, Hacksaw Jim Duggan
86 Bad News Brown, Hacksaw Jim Duggan
87 Bret Hit Man Hart, Greg The Hammer Valentine
88 Bret Hit Man Hart, Honky Tonk Man
89 Mr. Perfect, Blue Blazer
90 Bobby The Brain Heenan
91 Bushwhackers, Rougeau Brothers
92 Bushwhackers, Rougeau Brothers
93 Dino Bravo, Ronnie Garvin
94 Hulk Hogan, Macho Man Randy Savage
95 Hulk Hogan, Macho Man Randy Savage
96 Hulk Hogan, Macho Man Randy Savage
97 Akeem, Shawn Michaels
98 The Rockers, Akeem
99 Hulk Hogan, Macho Man Randy Savage
100 Hulk Hogan, Macho Man Randy Savage
101 Hulk Hogan, Macho Man Randy Savage
102 Hulk Hogan, Macho Man Randy Savage
103 Hulk Hogan, Macho Man Randy Savage
104 Ravishing Rick Rude, Ultimate Warrior
105 Ravishing Rick Rude, Ultimate Warrior
106 The Ultimate Warrior
107 Hulk Hogan, Macho Man Randy Savage
108 Marty Jannetty, Akeem
109 Brutus The Barber Beefcake, Virgil
110 Ravishing Rick Rude, Ultimate Warrior
111 Ravishing Rick Rude, Ultimate Warrior
112 Ravishing Rick Rude, Ultimate Warrior
WrestleMania VI
113 Haku, Andre the Giant
114 Million Dollar Man, Jake The Snake Roberts
115 Barbarian, Tito Santana
116 Rick Martel, Koko B. Ware
117 Million Dollar Man Ted DiBiase
118 Hacksaw Jim Duggan, Bravo
119 Hacksaw Jim Duggan, Bravo
120 Hacksaw Jim Duggan, Bravo
121 Macho King, Dusty Rhodes
122 American Dream, Sapphire, Miss Elizabeth
123 Macho Man Randy Savage
124 Hart Foundation
125 Dusty Rhodes, Macho Man Randy Savage
126 American Dream, Sapphire, Queen Sherri
127 Bad News, Rowdy Roddy Piper
128 Brutus The Barber Beefcake, Genius
129 Sato, Tanaka, Marty Jannetty
130 Big Boss Man, Akeem
131 Sato, Shawn Michaels
132 Hulk Hogan, Ultimate Warrior
133 Hulk Hogan, Ultimate Warrior
134 Hulk Hogan, Ultimate Warrior
135 Hulk Hogan, Ultimate Warrior
136 The Ultimate Warrior
137 Rhythm and Blues
138 Ravishing Rick Rude, Superfly Jimmy Snuka
139 Rhythm and Blues, Jimmy Hart
140 Demolition
141 Andre the Giant, Bobby Heenan
142 Haku, Smash
143 Smash, Haku, Ax
144 Brutus The Barber Beefcake, Mr.Perfect
145 Hulk Hogan, Ultimate Warrior
146 Brutus The Barber Beefcake
147 The Ultimate Warrior
148 Bushwhackers
149 The Rockers
150 Dusty Rhodes