The History and Legacy of the 1989 Upper Deck Ken Griffey Jr. Rookie Card
When you click on links to various merchants on this site, like eBay, and make a purchase, this can result in this site earning a commission.
It's one of the most iconic baseball cards of all-time. It helped define a generation of collecting. Here's the story of the 1989 Upper Deck Ken Griffey Jr. rookie card and its lasting impact on the hobby.
A New Era for Baseball Cards
The 1988 season of MLB card releases ended much like the seven before. Very little was different in the way of creativity, packaging, design, and player selection. Since 1981, Topps, Donruss, and Fleer had released standard card sets in wax packaging.
Make no mistake, 1988 was a huge year for cards. Some believe it was the year of the highest production runs ever. Anyone that was collecting around that time had to own a set or three of 1988 Donruss. Maybe even a case, or ten. New card spending was skyrocketing. Every week, somewhere in America a former card collector was trying to become business owner by opening card shop.
Everything collectors and shop owners thought they knew up to that point was about to be turned on its head by a group of southern California businessmen, shop owners, and one key teenager who knew a lot about baseball prospects.
In the spring of 1989, a few months later than first hoped, arrived 1989 Upper Deck Baseball — a foil-wrapped, tamper-evident pack contained high gloss cards on high quality white paper stock, with images on both sides, and a hologram.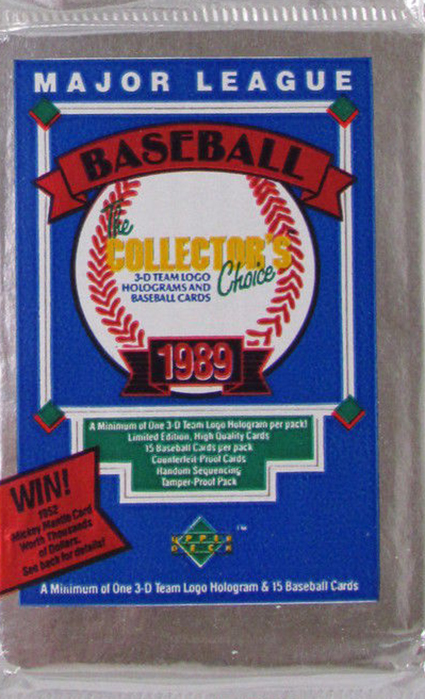 As you read this now, it's hard to imagine those five key innovations all happening overnight in one product.
Equally important was the price. 1989 Topps was selling for $0.45 a pack. Boxes could be had at $14 to $16. Upper Deck came out at $1.00 a pack. Ask a dealer for a box that first weekend of release and it's $35 for 36 packs. It was like going from a rotary phone to an iPhone. It was an enormous leap in quality and price.
Just like any new product, some jumped on the "new technology," and some poo-poo-ed the gimmicks. At the first shows you could hear things like, "One dollar a pack? That's lunacy. They will be out of business in one year!"
Meanwhile, across the room there were single cards of card #1 being bought and sold quickly at $4-6 each. Again, $4 for a card in 1989 seemed crazy. Few, if any cards since 1985 had that value. Some bought in, others dismissed it as a worthless fad.
What few knew at that time was that Kid, that smiling kid on the 1989 Upper Deck card number 1, would drive that product, drive that company, and develop executives for the hobby that are still working today.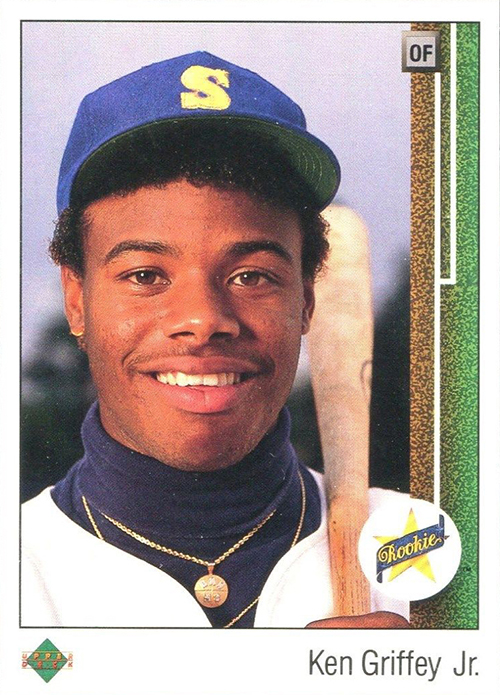 Fresh Faces
The Upper Deck was a card shop in Southern California before it was a card company. The owner, and some of his partners came together with the backing of California Angles players Duane Buice and Wally Joyner to create Upper Deck, the card company.
Staffed with great financial minds like Richard McWilliam, hobbyists like Jay McCracken and Bill Hemrick, combined with leaders in print technology like Paul Sumner, Upper Deck was on track to create a beautiful product like the hobby had never seen. But we all know a good look means nothing without collectible content.
Joining them to fill this role was a bright young local teenager who everyone knew as the baseball prospect wiz. Tom Geideman would go from high school and "Rookie Card Stock Broker," to a card shop and card company executive in little over a year and a half.
He was tasked with putting the 1989 Upper Deck Baseball checklist together, a checklist that would be one of the most important to a generation of collectors.
How Griffey Became #1
Filling in 664 of the 700 card set would be fairly easy. The first 26 though, where chosen to be Upper Deck's Star Rookie subset. Topps also had introduced a Future Star subset of Rookies in 1987. Donruss had Rated Rookies since 1984. Fleer had its dual player Prospects subset dating back to 1985. None of those companies, however, took much of a risk with who appeared on those cards. Typically, it was just players certain to make the 40-man roster that spring.
Heading into 1989 spring training, the locks for everyone's rookie subsets were Gregg Jefferies, who already was up with the Mets in 1988, Sandy Alomar Jr. of the San Diego Padres or Double-A Player of the year, Gary Sheffield.
It would have been so easy to just select Jefferies. He was the most experienced player and collectors couldn't wait to get their hands on his cards.
Griffey had to look like a long-shot to anyone in that position. He was injured the year before and not even expected to start the season in the majors. Although he was the Mariners' number one overall draft pick in 1987, he had never appeared above Doulble-A to that point.
But Geideman, who was born within a few days of The Kid, had a hunch. As he put his initial checklist together, "Griffey was always the guy for me."
Geideman just needed to convince his supervisors, including Jay McCraken.
"It was never about the first card in our first set. I honestly never thought about that," said Geideman. "For me, it was about having the best prospect at the front of the Star Rookies subset. I knew he had so much more upside than Jefferies, who was already over-hyped in my opinion."
The 26-card Star Rookie subset photo call out asked for 50 players. Only 20 came back. To execute his hunch would not be easy. Upper Deck could not use minor league photos, and none existed of Griffey in Mariners garb. This added to the commitment required to have him included in the set. Fortunately, Sports Illustrated photographer V.J. Lovero was on assignment to capture Ken Griffey Sr. on a day off and was able to add Junior in the shoot.
Those were the days of photo "airbrushing" to make uniform and logo changes. Any collector of cards from the 1970s and 1980s can point to some pretty ugly airbrushed efforts. Some say it was "Photoshopped." Not exactly. Photoshop was not released until 1990.
It was actually an image of Griffey in a San Bernadino Spirits uniform, corrected with a graphics machine called Scitex. Upper Deck staff stripped in a Mariners logo over his Spirits had, and tinted the color a bit. The effort and gamble, paid off big time. Griffey made the Mariners opening day starting line-up after a spring training batting average of .359. And the rest is history.
Or, in this case, historic.
And if you wonder if being the #1 card maters? Look at the 1992 Upper Deck Football set #1, Dan McGwire.
The value of an ungraded 1989 Upper Deck Ken Griffey Jr. rookie card eventually climbed over $100. Years later, the rest of the set became almost irrelevant. There was a time when the Griffey might run you $140 and you could buy a factory set for $150. Its success propelled Junior to become the spokesperson for the company. Print ads, TV commercials, card shop signage — Griffey and Upper Deck were everywhere together.
So that leads us to the question, how many are out there?
How Many 1989 Upper Deck Ken Griffey Jr. Rookie Cards Exist?
In doing research for this piece, there were stories published that estimated the initial print run of Upper Deck Series I at 1 million of each card. Then High Series came out, which also included more of the first 700 cards.
By then, the late adopters of the $1.00 price point had come around. Everyone wanted a piece of the action. Griffey was trading well over $10. Production estimates quickly doubled.
Then, there were two different print runs of the complete factory set, the one with the clear cello wrap and one with just the clear disc shaped sticker on the box.
Legend has it that 500 count boxes of the card were being shopped around the SoCal warehouse shows in late 1989.
Between BGS and PSA, more than 90,000 1989 Upper Deck Ken Griffey Jr. rookie cards have been graded. For comparison, the second highest graded card in the set is Randy Johnson with around 35,000.
Wondering how many top grades are out there? Both PSA and BGS have graded about 2,400 9.5s or 10s.
On any given day you can find 500-1,000 copies listed on eBay alone. It's not uncommon to find lots of 5, 10, 30. You must also consider there are still many sealed cases, and unopened boxes for sale. There are still many unopened factory sets for sale, and likely in your very own closet.
So are there a million Griffey Upper Deck Rookies out there now? We may never know for certain, but we do know there is no shortage.
The Legacy of the 1989 Upper Deck Ken Griffey Jr.
On the 20th anniversary of the card's release, Sports Illustrated called it, "The Last Iconic Baseball Card." ESPN would run a Darren Rovell feature on it.
Most would argue the most iconic cards ever are the T-206 Honus Wagner and the 1952 Topps Mickey Mantle. There are only about 60 Wagners. The Mantle was a double print with estimates in the tens of thousands or more. In collectibles, iconic has little relation to production.
In recent years, the card, the set, and the whole hobby has settled quite a bit. Raw copies of the 1989 Upper Deck Griffey below can be found for under $10. But not for those higher end versions, of course. One collector recently plunked down a cool $2,000 for a BGS 10. PSA 10s can generally be found for $325-425.
The card has been produced in porcelain, gold plated, Anniversary reprints, parallel reprints, buy backs, autographed buy backs, authentic signed reprints. Seattle-based rapper Macklemore had Junior appear in his Downtown music video.
The brief cameo was not as much the highlight as it was when he had Griffey don a uniform, cap, turtleneck and jewelry to reprise the image of his most famous rookie card. Macklemore was six-years old when the card was released. And living in Seattle, Junior quickly became his hero.
In a recent interview with The Sporting News, Griffey was well versed in the history of his card. He knew the photo was originally a San Bernadino shot. And he admitted to still owning "over 100" copies of the card.
Tom Geideman remained at Upper Deck through 1994. He moved on to Classic Games until 1998, when he started SA-GE Sportscards with Robert Sadlak.
In speaking with Tom, we addressed the myth of there once being 100-card sheets being printed of just Griffey cards. Not fully expecting any real answer we could use, he said this, "Upper Deck always had a vibrant softball team. It was one of the few times I would cross paths with the pressmen. I do recall a few times when they would joke, 'printed the Griffey sheets again today.'"
He continued, "Honestly, I never saw them. I can't verify yes or no. I doubt it, though."
One thing is certain no matter how many are out there, the demand remains high.
1989 was really the perfect storm for Griffey and his cards. He was young, good-looking, big smile, five-tools with a gorgeous swing, top draft pick and noted son of a World Series Champion. Combine that with the inaugural release of the highest quality baseball cards produced up to that point.
All of this sprung on a hungry, growing hobby looking for a star to throw money at. Within the hobby, there have many important and more valuable rookie cards since 1989. The 1993 SP Derek Jeter, the 2001 Bowman Chrome Albert Pujols, the 2011 Topps Update Mike Trout are just a few. But how many of those are featured in mainstream sports publications and cable programs, TV commercials, web sites and music videos? How many of those could your non-collector friends identify? There have more valuable and important cards released in our lifetime, but there may not be one more iconic.