The corner store is a focal point in many nostalgia-tinted card collector stories. For many, that's where those early packs came from. Potato chips were another thing that have long competed for allowances and pocket change. For Canadians, 1988 Hostess WWF WrestleMania IV Stickers cover both realms.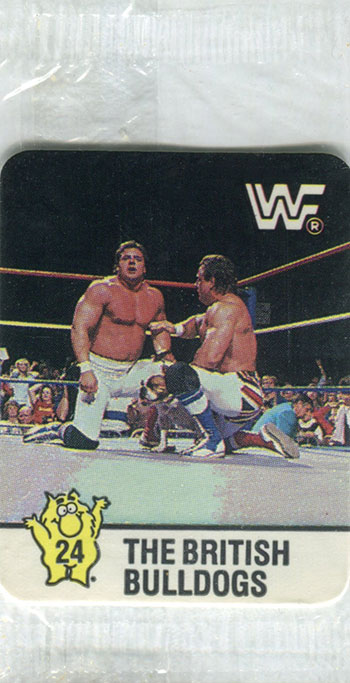 A premium in specially marked bags of Hostess potato chips, the mini sticker cards highlight many of the WrestleMania IV participants including those part of the tournament for the vacant Heavyweight Championship.
The checklist includes 35 stickers. Each measures approximately 1.6 by 2 inches. A full-bleed photo takes up most of the front, although there is a what space at the bottom for the name. That's where the card number is as well, set inside an illustration of one of the Hostess Munchies mascots.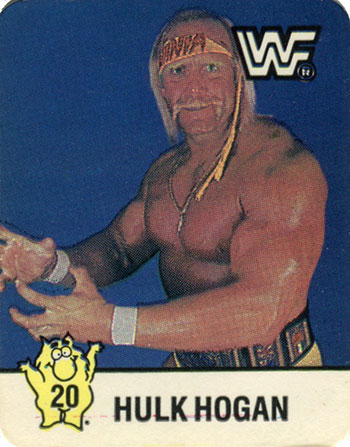 Backs note WrestleMania IV and have the card number a couple more times, once again inside the mascot logo.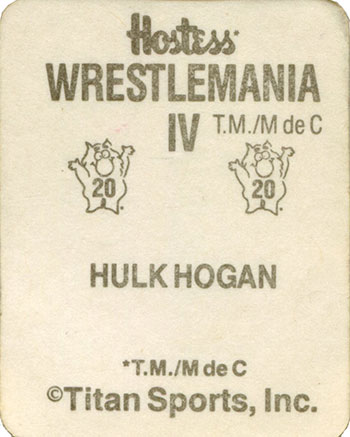 Stickers were originally sealed in plastic cellophane, thus protecting from the oils on the chips themselves.
While the set doesn't have an album, Hostess did have a special offer for a poster that includes a spot for each sticker.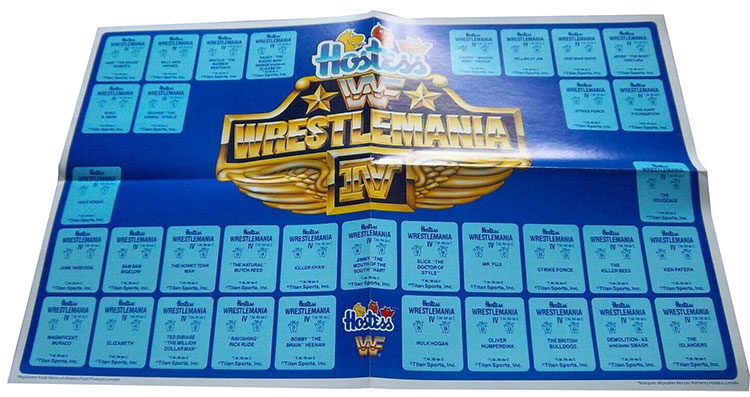 Hostess did a similar set in 1987. These are easily distinguishable on the front as they're just a photo and WWF logo. There's no Hostess Munchie and the stickers are not numbered on either side.
1988 Hostess WWF WrestleMania IV Stickers Checklist
35 cards.
Buy on: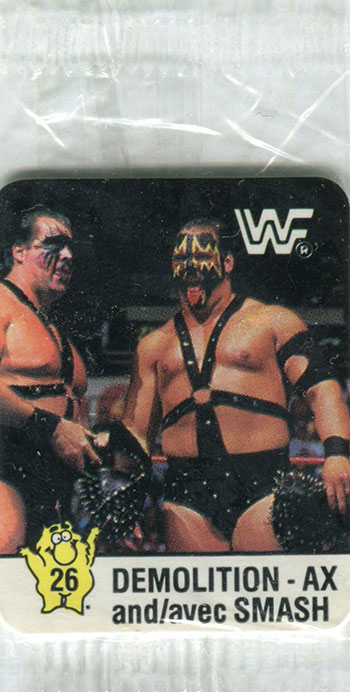 1 Jake "The Snake" Roberts
2 Billy Jack Haynes
3 Brutus "The Barber" Beefcake
4 Randy "Macho Man" Savage and/avec Elizabeth
5 Koko B. Ware
6 George "The Animal" Steele
7 Hulk Hogan
8 Junkyard Dog
9 Magnificent Muraco
10 Bam Bam Bigelow
11 Elizabeth
12 The Honky Tonk Man
13 Ted DiBiase "The Million Dollar Man"
14 The Natural Butch Reed
15 Ravishing Rick Rude
16 Killer Khan
17 Bobby "The Brain" Heenan
18 Jimmy Hart
19 Slick "The Doctor of Style"
20 Hulk Hogan
21 Mr. Fuji
22 Oliver Humperdink
23 Strike Force
24 The British Bulldogs
25 The Killer Bees
26 Demolition Ax and/avec Smash
27 The Islanders
28 Ken Patera
29 The Rougeau Brothers
30 The Hart Foundation
31 Strike Force
32 Jesse "The Body" Ventura
33 One Man Gang
34 Hillbilly Jim
35 Randy "Macho Man" Savage