Why a PSA 10 1986-87 Fleer Johnny Moore Is Worth More Than $10,000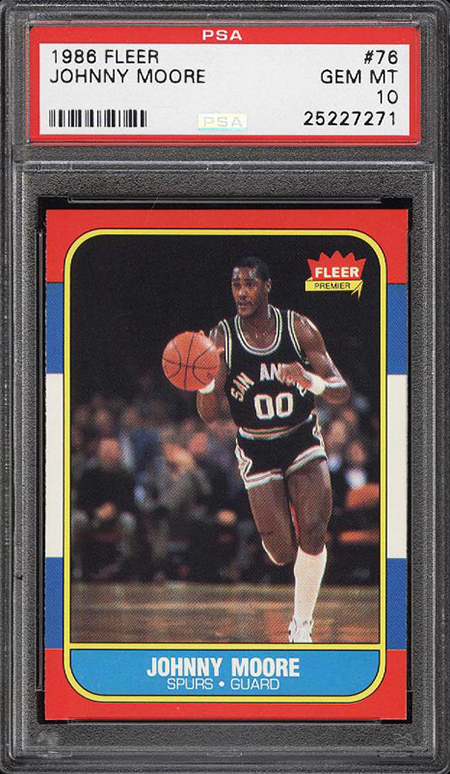 By Ryan Cracknell | Hobby Editor
Johnny Moore's nine seasons in the NBA weren't exactly the thing of legend. He led the league in assists in 1982 and his number is retired by the San Antonio Spurs. But Moore was never an All-Star. He's not a name that comes to mind when it comes to all-time greats. And yet, if you have a Gem Mint PSA 10 1986-87 Fleer Johnny Moore, you're sitting on a card that's sold several times for more than $10,000 in recent years.
You read that right. PSA 10 1986-87 Fleer Johnny Moore cards are worth more than $10,000.
PWCC currently has one on eBay for more than $11,000. And before you go calling shenanigans and assume that it won't get paid for, Memory Lane Inc. sold one in May for $11,296.80. A couple of weeks later, PWCC sold another one for more than $15,100.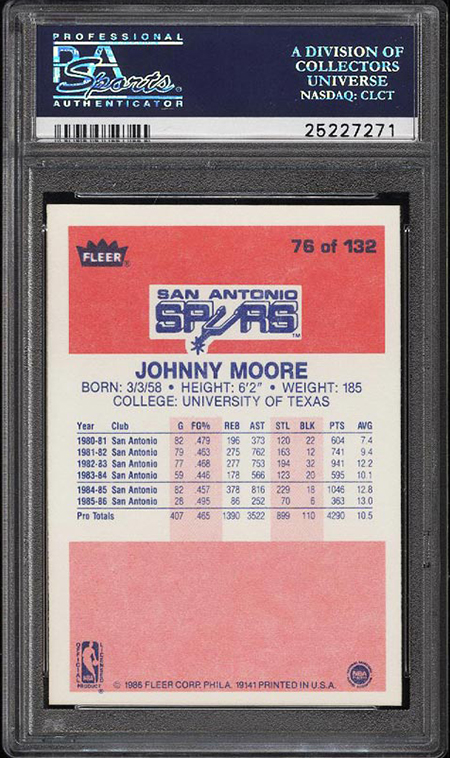 So how does a card go from being a $2 common to a five-figure card?
To say that 1986-87 Fleer Basketball is a classic set might be an understatement. Led by the Michael Jordan rookie card, he's joined by a veritable dream team of other RCs including Charles Barkley, Hakeem Olajuwon, Karl Malone, Patrick Ewing, Dominique Wilkins and more. Over the years, several collectors have undertaken the challenge of assembling Gem Mint sets.
So there's the market.
The 1986-87 Fleer Johnny Moore isn't some sort of ultra-rare short print in raw form. But when you're searching for cardboard perfection, it becomes a Holy Grail.
1986-87 Fleer Basketball is tough when it comes to high-end copies to begin with. Centering is a long-standing issue on all of the cards. The colorful borders and red corners wreck further havoc.
Compounding that is the fact that the Moore card is usually found with a couple of small printing defects.
Combine those simple factors and you've got a recipe for explosive prices.
Comments? Questions? Contact Ryan Cracknell on Twitter @tradercracks.