Here's What a 1986-87 Fleer Basketball Box Break Looks Like
With a current going rate upwards of $75,000, there likely won't be many more 1986-87 Fleer Basketball box breaks happening going forward. And while some of us lament missed opportunities from 30 years ago, we can still look on in awe at how the set has exploded over the years.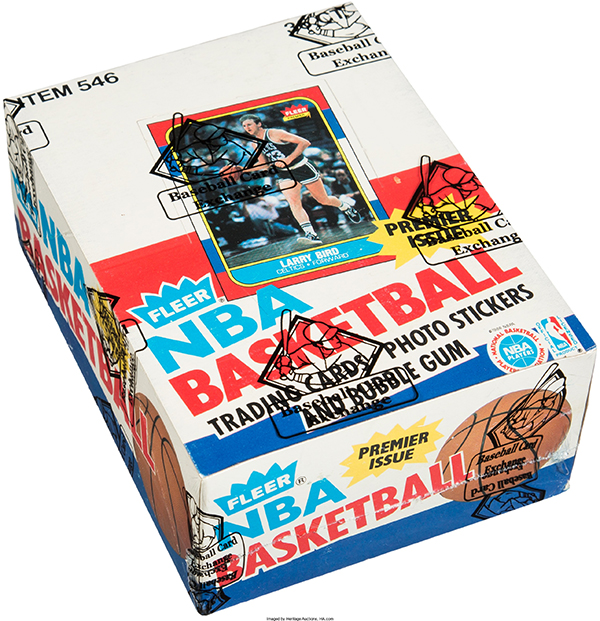 Vintage Breaks did a group break of 1986-87 Fleer Basketball with ESPN's Darren Rovell.
This is what they found.
Opening up 1986 Fleer Basketball Box https://t.co/9XepXTCwzF

— Darren Rovell (@darrenrovell) September 7, 2017
The video can also be seen on the Vintage Breaks YouTube page.
To buy into the break, collectors paid $2,000 per pack.
The box ended up yielding three Michael Jordan Rookie Cards, all coming in the second half of the break.
Last night, collectors paid $2,000 a pack to open 1986 Fleer Basketball.

Three went home with Jordan rookies.https://t.co/IzInLCw68M pic.twitter.com/FJINBKr5V5

— Darren Rovell (@darrenrovell) September 7, 2017
The box was wrapped by Baseball Card Exchange after getting the thumbs up from Steve Hart that it looked like it had not been tampered with.
The price of 1986-87 Fleer Basketball boxes has jumped significantly in recent months. In June, 2017, Heritage Auctions sold one for $66,000. Just a couple of months earlier they had sold one for just over $40,000. Baseball Card Exchange quickly sold multiple boxes at the 2017 National Sports Collectors Convention that carried a $75,000 price tag.
Comments? Questions? Contact Ryan Cracknell on Twitter @tradercracks.