Back in the '80s, trading cards were still, by and large, kids stuff. This was especially true when it came to entertainment sets based on movies and TV shows. So it might seem strange that the Rambo franchise made its way into the wax pack realm. 1985 Topps Rambo: First Blood Part II trading cards tackle the R-rated action classic.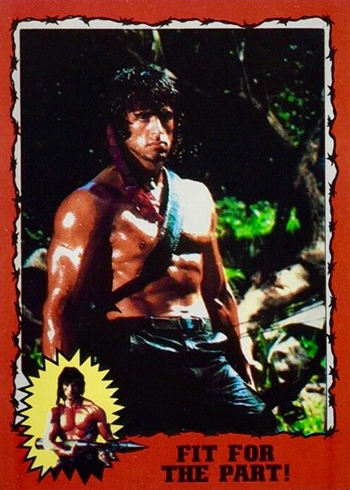 The main set is on the small side with just 66 cards. But there's plenty of Sylvester Stallone and his iconic character. There's also crossbows, bazookas, big knives, massive explosions, looks of despair and moments of victory. Needless to say, it's not your typical set of 1980s trading cards.
But as the years have passed, John Rambo is now a bigger part of popular culture than just a really violent film that kids watched while their parents were sleeping or at loosely supervised weekend sleepovers. But even then, the perception — or rather the marketing — of the Rambo character was changing. The following year, John Rambo became a cartoon complete with action figure line. So maybe trading cards aren't really that much of a stretch.
1985 was also the year that Topps introduced Garbage Pail Kids to the world. So kids stuff definitely had some edge in the world of trading cards at the time.
The base cards boast a design that fits with the movie's action sensibilities. Fronts showcase a crimson borders and a barb wire inner frame. The iconic key art of Rambo with a bazooka at his side sits in amidst a yellow explosion in the corner. While you're not going to find much gore on the cards, there is no shortage of action.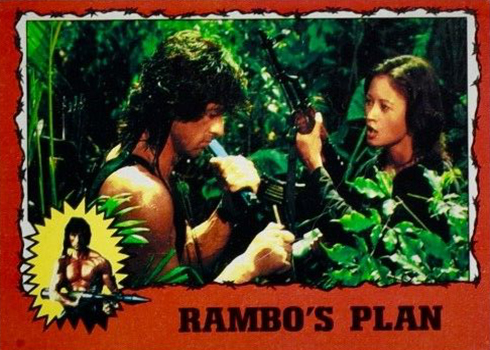 Backs bring back the key art from the back and offer up a short synopsis. Basically, it's your standard '80s Topps non-sport set.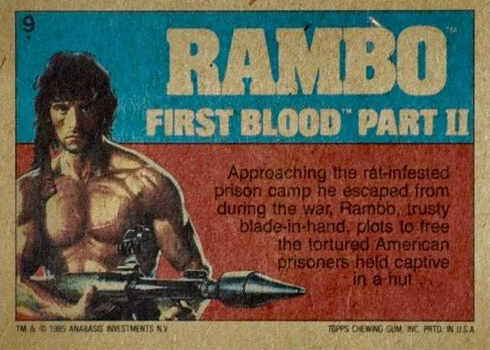 Stickers
That means stickers as well. Landing one per pack, there are 22 in the set. Like the main card set, these are action-focused. With thick yellow borders, not only are they bright but they hearken back a few years to another Stallone sequel Topps did a set for, 1979 Rocky II.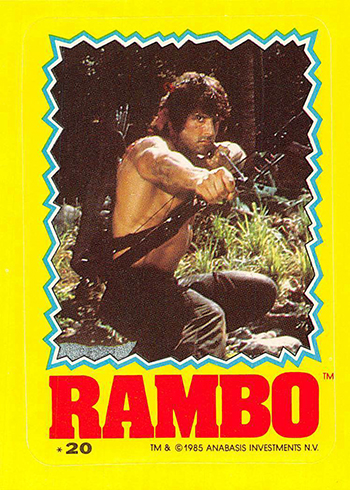 Sticker backs form puzzle of John Rambo, machine gun in hand, looking to the sky.
Although not rare, 1985 Topps Rambo First Blood Part II trading cards aren't the most common set out there. You can find them today, particularly in set form, but not in huge numbers. Landing singles to fill in gaps may be especially challenging.
Packs and boxes also pop up online but, again, the availability isn't massive. It's normal for boxes to have a black mark across the front. This is common from the era as it simply indicated returns sent back to the card maker.
Because Rambo continues to be popular — and likely the fact there isn't a ton out there compared other sets out there — prices have held steady. It is a non-sport set without a lot of frills, so it's not wildly expensive. Just don't expect to find closeout prices, though.
Don't be surprised, though, if unopened boxes and packs start to rise. It's a steady trend with non-sport products from this era and it's going beyond just Star Wars and Garbage Pail Kids.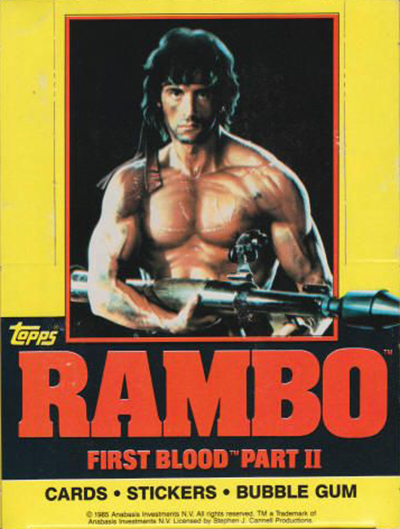 Beyond First Blood
While the 1985 Topps Rambo set is the primary place to find trading cards of Sylvester Stallone's iconic films, others do exist.
These include some autographs in 2013 Topps 75th Anniversary. The first, and most common, is part of the product's main autograph lineup. Julia Nickson, who played freedom fighter and love interest Co, signed for the set.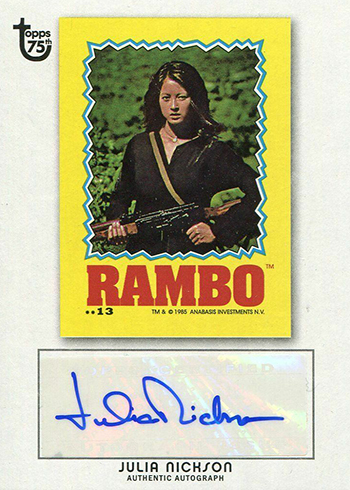 Sylvester Stallone autographs are also in the product, although in small quantities. Topps had the actor sign some of the original 1985 cards. These have a special stamp and a 1/1 serial number to differentiate them from an in-person autograph.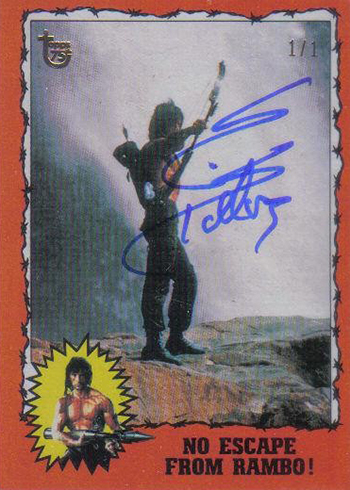 2018 Topps 80th Anniversary Wrapper Art is a print-on-demand set available through the company's website. Each card, which is base on a pack, was available for just one week. Rambo came up about a quarter of the way through the set's run, coming in at #32. It sold 232 copies, roughly average compared to other cards on the checklist.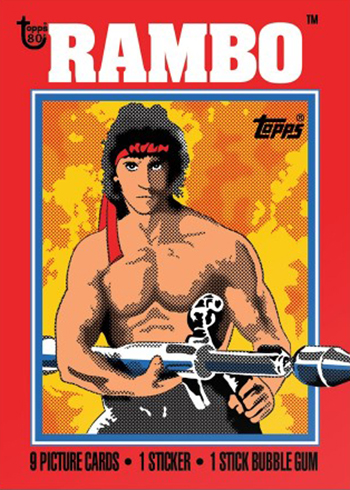 Technically they're not trading cards, but in 1986, Panini released a sticker collection based on the Rambo: Force of Freedom cartoon. The show lasted just one year, spanning 65 episodes. The complete set has 240 stickers. An album is also available to hold the stickers.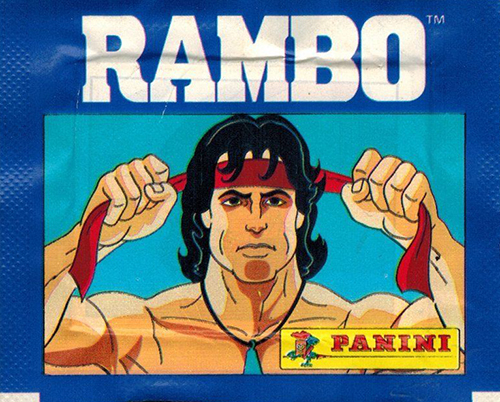 If you want to really dive deep into Rambo trading cards, you can go into the spoof realm. 1991 Topps Wacky Packages mashes up John Rambo with Bambi for a Bambo sticker. It has two different versions, depending on what's on the back. One's a puzzle piece while the other has a coupon.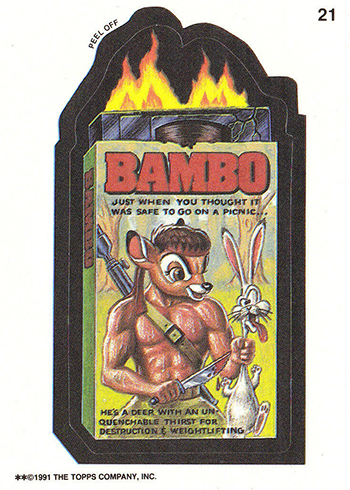 1985 Topps Rambo: First Blood Part II trading cards at a glance:
Cards per pack: 10
Packs per box: 36
Set size: 66 cards, 22 stickers
Buy 1985 Topps Rambo: First Blood Part II trading cards on:
1985 Topps Rambo: First Blood Part II Checklist
Base Set
66 cards.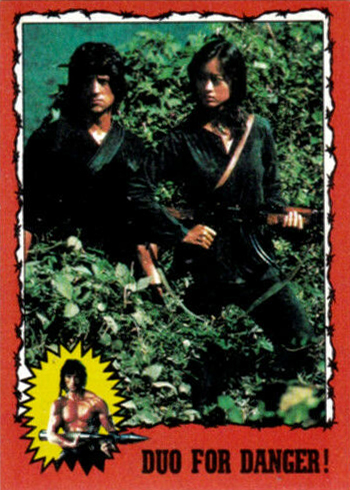 1 Title Card
2 Caged
3 Trautman's Offer
4 Is Rambo Reliable
5 The Strategists
6 For Luck
7 Friend or Foe
8 Duo for Danger
9 Rambo's Plan
10 Deathblade
11 The Prison Camp
12 Rescued
13 Blow Em Away
14 Pirates in Flames
15 Grip of Death
16 To the Extraction Site
17 Surrounded
18 Where's Trautman
19 Help From Above
20 Shameful Betrayal
21 The Bog
22 Killer Leeches
23 The Prisoner
24 Man With a Mission
25 Pain Is My Ally
26 The Unkindest Cut
27 Rambo Gets the Point
28 Rambo Tool of the Enemy
29 Words of Betrayal
30 Down to the Wire
31 Escape Through Barbed Wire
32 The Death of Co Boa
33 Retribution
34 By Co's Grave
35 Rambo's Revenge
36 Killing Machine
37 Hidden Death
38 Aiming to Win
39 Up From the Depths
40 I'm Coming for You
41 Unstoppable
42 Blasted to Bits
43 No Escape From Rambo
44 Bridge – Obliterated
45 Target Rambo
46 Super Bowman
47 The Enemy Fries
48 One-Man Army
49 Blowing the Prison Camp
50 Escape
51 Destination Freedom
52 Warship Battle
53 Fighting Back
54 To the Death
55 Safe at Home
56 Don't Cross Rambo
57 Getting Even
58 Next Time You'll Die
59 What Rambo Wants
60 I Want Respect
61 Fit for the Part
62 Julie Nickson Is Co Boa
63 Action
64 The Ram-Bow
65 Awaiting His Next Mission
66 Checklist
Stickers
22 cards.
1 per pack.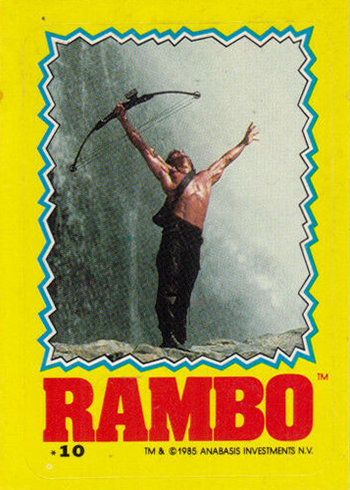 1 Rambo w/bow
2 Rambo under waterfall
3 Rambo holding knife
4 Rambo holding machine gun
5 Rambo running with POW
6 Rambo helping POW
7 Rambo at barb wire fence
8 Rambo standing
9 Rambo w/bazooka
10 Rambo arms in air
11 Rambo held captive
12 Rambo falling in water
13 Col. Troutman
14 Rambo aiming bow and arrow
15 Rambo head shot
16 Rambo crouching with POW
17 Rambo taking cover
18 Col. Troutman
19 Rambo victorious
20 Rambo aiming bow and arrow
21 Rambo w/bazooka/flaming background
22 Rambo aiming bow and arrow/black background