1984 Topps USFL Checklist, Team Set Lists and Details
1984 Topps USFL football cards capture a short but important part of football history. The product's importance shouldn't be lost on collectors. Today, it's one of the key sports card sets of the 1980s. It's also one of the most valuable.
Released as a 132-card box set, 1984 Topps USFL feels just as much like an '80s Topps Traded Baseball set than it does one from Topps' football portfolio.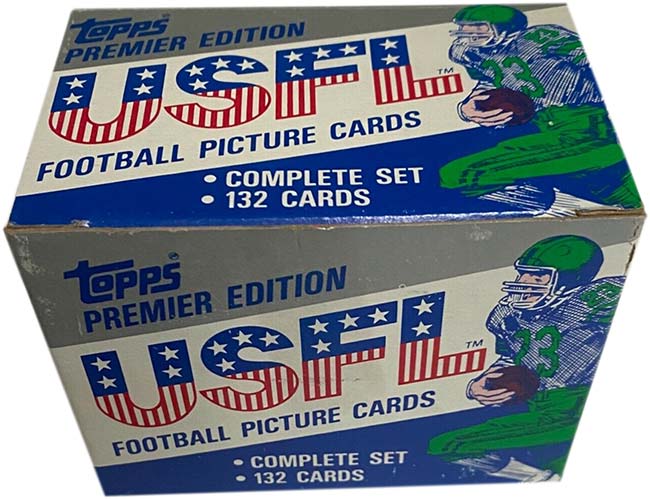 1984 Topps USFL Checklist Overview
The vast majority of the checklist consists of players making their football card debuts. It's a list that has aged very well with several Hall of Famers and stars.
Leading the way is Steve Young. Before becoming a three-time Super Bowl winner and two-time NFL MVP, the quarterback was calling plays for the Los Angeles Express. Young signed a ten-year deal with the team worth $40 million. It also meant that he'd be bypassing the 1984 NFL Draft where he was a possible top pick. Young also appears in the 1985 Topps USFL set. His first NFL card came a year later in 1986 Topps Football after the USFL shut down.
Jim Kelly is another Hall of Fame quarterback getting his first card in 1984 Topps USFL. Combine this with Topps' 1984 NFL set, which has Rookie Cards of John Elway and Dan Marino, and you've got a QB superclass.
1984 Topps USFL isn't just offense, though. The checklist also has one of the best and most beloved defenders ever with Reggie White.
Of course, you can't talk about the early days of the USFL without mentioning Herschel Walker. Fresh off his 1982 Heisman Trophy win, the running back opted to turn pro after his junior year at the University of Georgia and head to the USFL. It was something of a coup for the upstart league and the first in a string of three consecutive Heisman winners to opt for the USFL.
Design Elements
As for the cards themselves, it's fair to call 1984 Topps USFL colorful. Red, white and blue dominate the border. This goes with the USFL logo that dominates the top of the card fronts. A rounded red frame holds together the top and bottom of the cards while a similar blue frame holds wraps around the photo and yellow nameplate. A football helmet icon with the team's logo is also on the bottom portion of the card.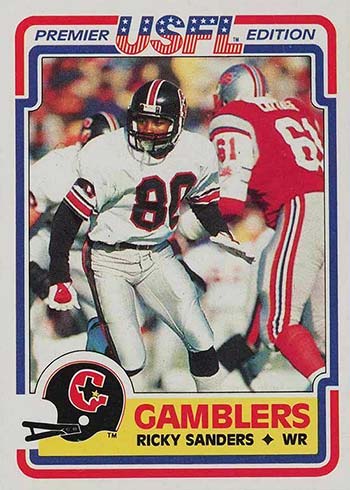 Backs are an interesting combination of pink and blue with a little bit of white. Besides the usual vital stats, there are applicable numbers from the USFL and NFL. Players without NFL experience have college stats.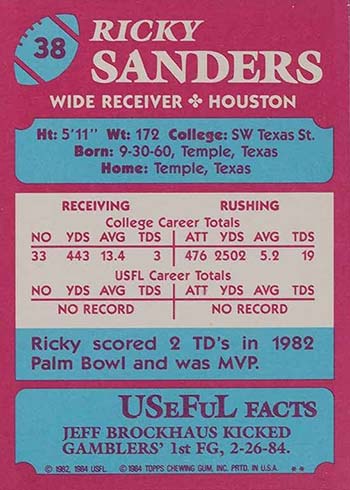 1984 Topps USFL doesn't let the opportunity for a pun to slip by with the "USeFuL Facts" box at the bottom with some league trivia.
With pink running along all four corners of the back, flaking can happen. It's definitely something to check for when going after singles, even if fronts look good.
With so much 1980s football history tied to the USFL and the players they managed to sign, this remains one of the key releases of the decade.
Most Valuable 1984 Topps USFL Cards
1. 1984 Topps USFL Steve Young XRC #52
Buy on: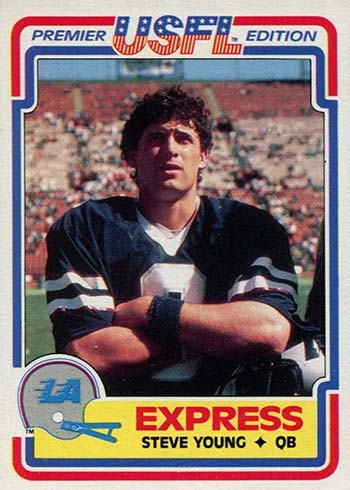 ---
2. 1984 Topps USFL Reggie White XRC #58
Buy on: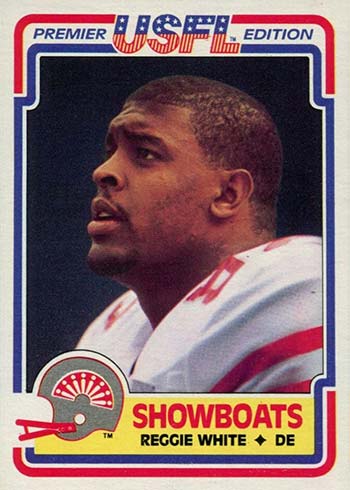 ---
3. 1984 Topps USFL Jim Kelly XRC #36
Buy on: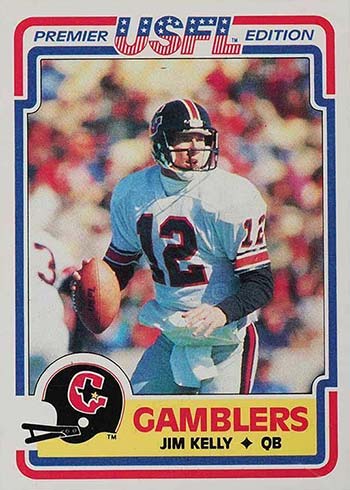 ---
4. 1984 Topps USFL Herschel Walker XRC #74
Buy on: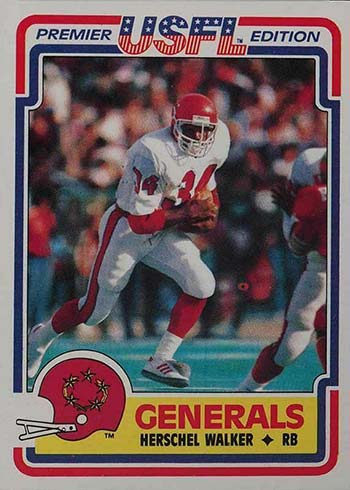 ---
5. 1984 Topps USFL Marcus Dupree XRC #76
Buy on: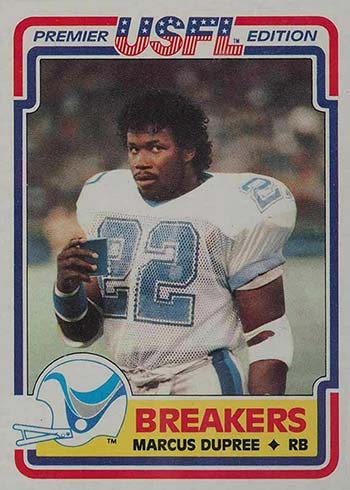 1984 Topps USFL Football cards at a glance:
Cards per set: 132
Sets per case: 100
Set size: 132 cards
1984 Topps USFL Football Checklist
Checklist
Base Set Checklist
132 cards.
Buy on: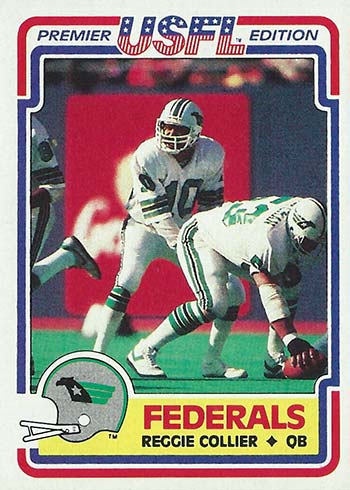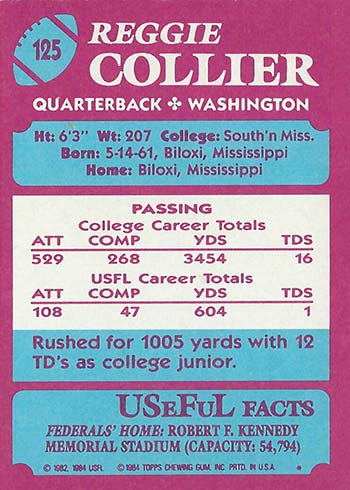 1 Luther Bradley
2 Frank Corral
3 Trumaine Johnson XRC
4 Greg Landry
5 Kit Lathrop XRC
6 Kevin Long
7 Tim Spencer XRC
8 Stan White
9 Buddy Aydelette XRC
10 Tom Banks
11 Fred Bohannon XRC
12 Joe Cribbs
13 Joey Jones XRC
14 Scott Norwood XRC
15 Jim Smith
16 Cliff Stoudt XRC
17 Vince Evans
18 Vagas Ferguson
19 John Gillen XRC
20 Kris Haines XRC
21 Glenn Hyde XRC
22 Mark Keel XRC
23 Gary Lewis XRC
24 Doug Plank
25 Neil Balholm XRC
26 David Dumars XRC
27 David Martin XRC
28 Craig Penrose XRC
29 Dave Stalls XRC
30 Harry Sydney XRC
31 Vincent White XRC
32 George Yarno XRC
33 Kiki Deayala XRC
34 Sam Harrell XRC
35 Mike Hawkins XRC
36 Jim Kelly XRC
37 Mark Rush XRC
38 Ricky Sanders XRC
39 Paul Bergmann XRC
40 Tom Dinkel XRC
41 Wyatt Henderson XRC
42 Vaughan Johnson XRC
43 Willie McClendon XRC
44 Matt Robinson
45 George Achica XRC
46 Mark Adickes XRC
47 Howard Carson XRC
48 Kevin Nelson XRC
49 Jeff Partridge XRC
50 Jo Jo Townsell XRC
51 Eddie Weaver XRC
52 Steve Young XRC
53 Derrick Crawford XRC
54 Walter Lewis XRC
55 Phil McKinnely XRC
56 Vic Minor XRC
57 Gary Shirk
58 Reggie White XRC
59 Anthony Carter XRC
60 John Corker XRC
61 David Greenwood XRC
62 Bobby Hebert XRC
63 Derek Holloway XRC
64 Ken Lacy XRC
65 Tyrone McGriff XRC
66 Ray Pinney XRC
67 Gary Barbaro
68 Sam Bowers XRC
69 Clarence Collins XRC
70 Willie Harper
71 Jim LeClair
72 Bobby Leopold XRC
73 Brian Sipe
74 Herschel Walker XRC
75 Junior Ah You XRC
76 Marcus DuPree XRC
77 Marcus Marek XRC
78 Tim Mazzetti
79 Mike Robinson XRC
80 Dan Ross
81 Mark Schellen XRC
82 Johnnie Walton XRC
83 Gordon Banks XRC
84 Fred Besana XRC
85 Dave Browning XRC
86 Eric Jordan XRC
87 Frank Manumaleuga XRC
88 Gary Plummer XRC
89 Stan Talley XRC
90 Arthur Whittington
91 Terry Beeson
92 Mel Gray
93 Mike Katolin XRC
94 Dewey McClain XRC
95 Sidney Thornton
96 Doug Williams
97 Kelvin Bryant XRC
98 John Bunting
99 Irv Eatman XRC
100 Scott Fitzkee XRC
101 Chuck Fusina XRC
102 Sean Landeta XRC
103 David Trout
104 Scott Woerner XRC
105 Glenn Carano XRC
106 Ron Crosby XRC
107 Jerry Holmes XRC
108 Bruce Huther XRC
109 Mike Rozier XRC
110 Larry Swider
111 Danny Buggs
112 Putt Choate XRC
113 Rich Garza XRC
114 Joey Hackett XRC
115 Rick Neuheisel XRC
116 Mike St. Clair XRC
117 Gary Anderson XRC
118 Zenon Andrusyshyn
119 Doug Beaudoin
120 Mike Butler
121 Willie Gillespie XRC
122 Fred Nordgren XRC
123 John Reaves
124 Eric Truvillion XRC
125 Reggie Collier XRC
126 Mike Guess XRC
127 Mike Hohensee XRC
128 Craig James XRC
129 Eric Robinson XRC
130 Billy Taylor
131 Joey Walters
132 Checklist
Team Set
1984 Topps USFL Team Set Lists
Arizona Wranglers
1 Luther Bradley
2 Frank Corral
3 Trumaine Johnson XRC
4 Greg Landry
5 Kit Lathrop XRC
6 Kevin Long
7 Tim Spencer XRC
8 Stan White
Birmingham Stallions
9 Buddy Aydelette XRC
10 Tom Banks
11 Fred Bohannon XRC
12 Joe Cribbs
13 Joey Jones XRC
14 Scott Norwood XRC
15 Jim Smith
16 Cliff Stoudt XRC
Chicago Blitz
17 Vince Evans
18 Vagas Ferguson
19 John Gillen XRC
20 Kris Haines XRC
21 Glenn Hyde XRC
22 Mark Keel XRC
23 Gary Lewis XRC
24 Doug Plank
Denver Gold
25 Neil Balholm XRC
26 David Dumars XRC
27 David Martin XRC
28 Craig Penrose XRC
29 Dave Stalls XRC
30 Harry Sydney XRC
31 Vincent White XRC
32 George Yarno XRC
Houston Gamblers
33 Kiki Deayala XRC
34 Sam Harrell XRC
35 Mike Hawkins XRC
36 Jim Kelly XRC
37 Mark Rush XRC
38 Ricky Sanders XRC
Jacksonville Bulls
39 Paul Bergmann XRC
40 Tom Dinkel XRC
41 Wyatt Henderson XRC
42 Vaughan Johnson XRC
43 Willie McClendon XRC
44 Matt Robinson
Los Angeles Express
45 George Achica XRC
46 Mark Adickes XRC
47 Howard Carson XRC
48 Kevin Nelson XRC
49 Jeff Partridge XRC
50 Jo Jo Townsell XRC
51 Eddie Weaver XRC
52 Steve Young XRC
Memphis Showboats
53 Derrick Crawford XRC
54 Walter Lewis XRC
55 Phil McKinnely XRC
56 Vic Minor XRC
57 Gary Shirk
58 Reggie White XRC
Michigan Panthers
59 Anthony Carter XRC
60 John Corker XRC
61 David Greenwood XRC
62 Bobby Hebert XRC
63 Derek Holloway XRC
64 Ken Lacy XRC
65 Tyrone McGriff XRC
66 Ray Pinney XRC
New Jersey Generals
67 Gary Barbaro
68 Sam Bowers XRC
69 Clarence Collins XRC
70 Willie Harper
71 Jim LeClair
72 Bobby Leopold XRC
73 Brian Sipe
74 Herschel Walker XRC
New Orleans Breakers
75 Junior Ah You XRC
76 Marcus DuPree XRC
77 Marcus Marek XRC
78 Tim Mazzetti
79 Mike Robinson XRC
80 Dan Ross
81 Mark Schellen XRC
82 Johnnie Walton XRC
Oakland Invaders
83 Gordon Banks XRC
84 Fred Besana XRC
85 Dave Browning XRC
86 Eric Jordan XRC
87 Frank Manumaleuga XRC
88 Gary Plummer XRC
89 Stan Talley XRC
90 Arthur Whittington
Oklahoma Outlaws
91 Terry Beeson
92 Mel Gray
93 Mike Katolin XRC
94 Dewey McClain XRC
95 Sidney Thornton
96 Doug Williams
Philadelphia Stars
97 Kelvin Bryant XRC
98 John Bunting
99 Irv Eatman XRC
100 Scott Fitzkee XRC
101 Chuck Fusina XRC
102 Sean Landeta XRC
103 David Trout
104 Scott Woerner XRC
Pittsburgh Maulers
105 Glenn Carano XRC
106 Ron Crosby XRC
107 Jerry Holmes XRC
108 Bruce Huther XRC
109 Mike Rozier XRC
110 Larry Swider
San Antonio Gunslingers
111 Danny Buggs
112 Putt Choate XRC
113 Rich Garza XRC
114 Joey Hackett XRC
115 Rick Neuheisel XRC
116 Mike St. Clair XRC
Tampa Bay Bandits
117 Gary Anderson XRC
118 Zenon Andrusyshyn
119 Doug Beaudoin
120 Mike Butler
121 Willie Gillespie XRC
122 Fred Nordgren XRC
123 John Reaves
124 Eric Truvillion XRC
Washington Federals
125 Reggie Collier XRC
126 Mike Guess XRC
127 Mike Hohensee XRC
128 Craig James XRC
129 Eric Robinson XRC
130 Billy Taylor
131 Joey Walters