1984 Topps Traded Tiffany Baseball Checklist, Team Set Lists and Details
1984 Topps Traded Tiffany Baseball puts a more limited spin on the late-season box set. It's the first such year for the Tiffany line, a run that would last through 1991 and result in some of the most valuable baseball cards of the 1980s.
1984 Topps Traded Tiffany Checklist Details
At a glance, 1984 Topps Traded Tiffany Baseball is the same as the regular Traded set. The checklist has the same players and the dual-photo-front design remains. But there are differences.
Tiffany cards are essentially like parallels. Instead of different colors or foil changes like we're used to today, it's all about the glossy front. That makes them smooth to the touch. It's hard to tell from a photo, but when you have a regular 1984 Topps Traded and a Tiffany card both in hand, the difference is easier to spot. Both the regular and Tiffany Traded sets have similar white backs. Some Tiffany sets have easily distinguishable features, but this isn't one of them.
It is believed that 10,000 sets of 1984 Topps Traded Tiffany Baseball were produced. In order to get them, dealers had to have ordered regular 1984 Topps Tiffany sets as well.
Like all Topps Tiffany sets, cards only came in special factory sets. You won't find them in any packs. Here, it's a small red box marked "Limited Edition Collectors 'Traded' Series." Boxes also have a gold seal, although it's possible they were carefully peeled and then reapplied. For those concerned about sealed sets, look closely at the edges of the sticker to see if there are any marks caused by lifting.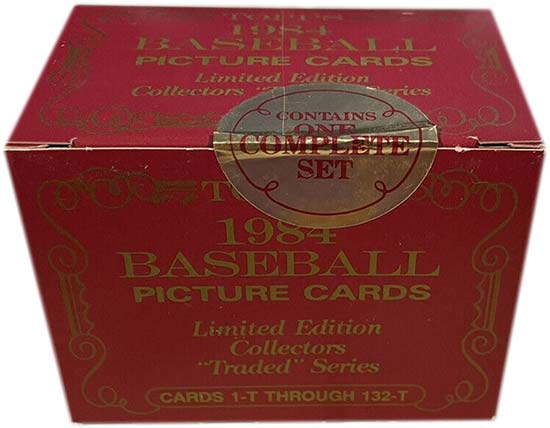 Most Valuable 1984 Topps Traded Tiffany Baseball Cards
Rankings are based primarily on values in the Beckett price guide.
1. 1984 Topps Traded Tiffany Dwight Gooden #42T
Buy on: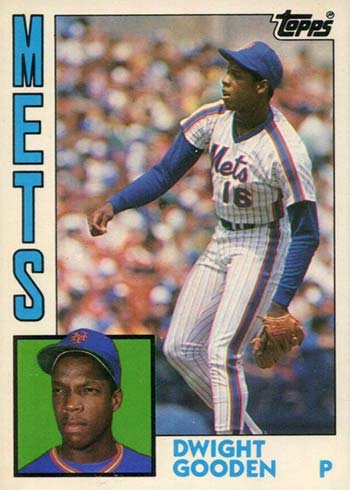 ---
2. 1984 Topps Traded Tiffany Bret Saberhagen #104T
Buy on: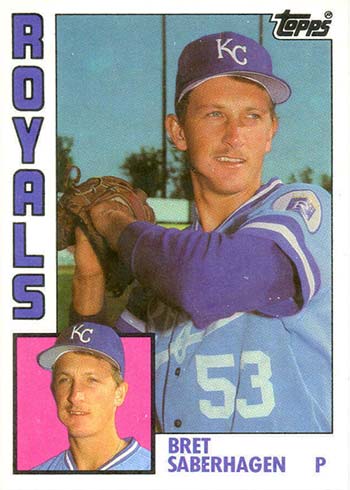 ---
3. 1984 Topps Traded Tiffany Pete Rose #103T
Buy on: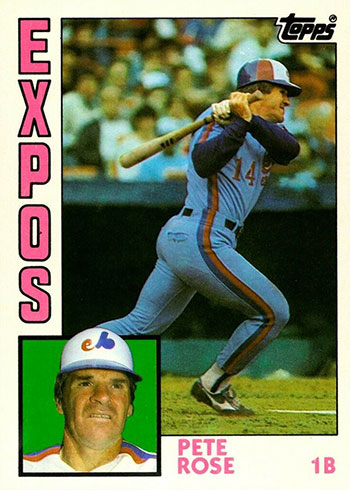 ---
4. 1984 Topps Traded Tiffany Mark Langston #70T
Buy on: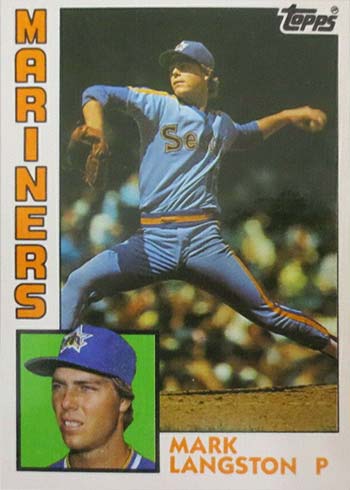 ---
5. 1984 Topps Traded Jimmy Key #62T
Buy on: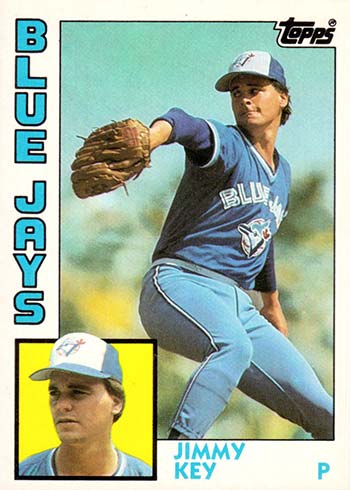 ---
1984 Topps Traded Tiffany Baseball Checklist
You can also download a customizable spreadsheet copy of the checklist:
Checklist
Base Set Checklist
132 cards.
Buy on: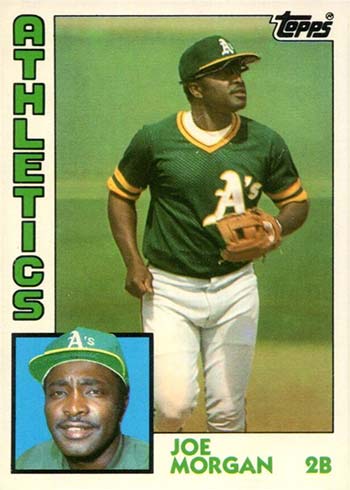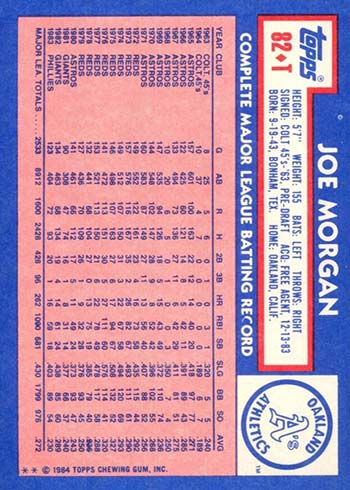 1T Willie Aikens
2T Luis Aponte
3T Mike Armstrong
4T Bob Bailor
5T Dusty Baker
6T Steve Balboni
7T Alan Bannister
8T Dave Beard
9T Joe Beckwith
10T Bruce Berenyi
11T Dave Bergman
12T Tony Bernazard
13T Yogi Berra MG
14T Barry Bonnell
15T Phil Bradley
16T Fred Breining
17T Bill Buckner
18T Ray Burris
19T John Butcher
20T Brett Butler
21T Enos Cabell
22T Bill Campbell
23T Bill Caudill
24T Bob Clark
25T Bryan Clark
26T Jaime Cocanower
27T Ron Darling
28T Alvin Davis
29T Ken Dayley
30T Jeff Dedmon
31T Bob Dernier
32T Carlos Diaz
33T Mike Easler
34T Dennis Eckersley
35T Jim Essian
36T Darrell Evans
37T Mike Fitzgerald
38T Tim Foli
39T George Frazier
40T Rich Gale
41T Barbaro Garbey
42T Dwight Gooden
43T Rich Gossage
44T Wayne Gross
45T Mark Gubicza
46T Jackie Gutierrez
47T Mel Hall
48T Toby Harrah
49T Ron Hassey
50T Rich Hebner
51T Willie Hernandez
52T Ricky Horton
53T Art Howe
54T Dane Iorg
55T Brook Jacoby
56T Mike Jeffcoat
57T Dave Johnson MG
58T Lynn Jones
59T Ruppert Jones
60T Mike Jorgensen
61T Bob Kearney
62T Jimmy Key
63T Dave Kingman
64T Jerry Koosman
65T Wayne Krenchicki
66T Rusty Kuntz
67T Rene Lachemann MG
68T Frank LaCorte
69T Dennis Lamp
70T Mark Langston
71T Rick Leach
72T Craig Lefferts
73T Gary Lucas
74T Jerry Martin
75T Carmelo Martinez
76T Mike Mason
77T Gary Matthews
78T Andy McGaffigan
79T Larry Milbourne
80T Sid Monge
81T Jackie Moore MG
82T Joe Morgan
83T Graig Nettles
84T Phil Niekro
85T Ken Oberkfell
86T Mike O'Berry
87T Al Oliver
88T Jorge Orta
89T Amos Otis
90T Dave Parker
91T Tony Perez
92T Gerald Perry
93T Gary Pettis
94T Rob Picciolo
95T Vern Rapp MG
96T Floyd Rayford
97T Randy Ready
98T Ron Reed
99T Gene Richards
100T Jose Rijo
101T Jeff D. Robinson
102T Ron Romanick
103T Pete Rose
104T Bret Saberhagen
105T Juan Samuel
106T Scott Sanderson
107T Dick Schofield
108T Tom Seaver
109T Jim Slaton
110T Mike Smithson
111T Lary Sorensen
112T Tim Stoddard
113T Champ Summers
114T Jim Sundberg
115T Rick Sutcliffe
116T Craig Swan
117T Tim Teufel
118T Derrel Thomas
119T Gorman Thomas
120T Alex Trevino
121T Manny Trillo
122T John Tudor
123T Tom Underwood
124T Mike Vail
125T Tom Waddell
126T Gary Ward
127T Curt Wilkerson
128T Frank Williams
129T Glenn Wilson
130T John Wockenfuss
131T Ned Yost
132T Checklist
Team Sets
1984 Topps Traded Tiffany Baseball Team Set Checklists
Want to know what cards your favorite team has in 1984 Topps Traded Tiffany Baseball? Here's the checklist broken down by team. Scroll through or click below to go directly to that team.
Please note that parallels are not included here. Please check the main checklist in the other tab for parallel specifics.
Atlanta Braves
30T Jeff Dedmon
85T Ken Oberkfell
92T Gerald Perry
120T Alex Trevino
Baltimore Orioles
44T Wayne Gross
96T Floyd Rayford
123T Tom Underwood
Boston Red Sox
17T Bill Buckner
33T Mike Easler
40T Rich Gale
46T Jackie Gutierrez
California Angels
68T Frank LaCorte
93T Gary Pettis
94T Rob Picciolo
102T Ron Romanick
107T Dick Schofield
109T Jim Slaton
116T Craig Swan
Chicago Cubs
31T Bob Dernier
34T Dennis Eckersley
39T George Frazier
49T Ron Hassey
50T Rich Hebner
77T Gary Matthews
106T Scott Sanderson
112T Tim Stoddard
115T Rick Sutcliffe
Chicago White Sox
98T Ron Reed
108T Tom Seaver
Cincinnati Reds
65T Wayne Krenchicki
90T Dave Parker
91T Tony Perez
95T Vern Rapp MG
Cleveland Indians
2T Luis Aponte
12T Tony Bernazard
20T Brett Butler
47T Mel Hall
55T Brook Jacoby
56T Mike Jeffcoat
125T Tom Waddell
Detroit Tigers
11T Dave Bergman
36T Darrell Evans
41T Barbaro Garbey
51T Willie Hernandez
59T Ruppert Jones
66T Rusty Kuntz
80T Sid Monge
Houston Astros
21T Enos Cabell
Kansas City Royals
6T Steve Balboni
9T Joe Beckwith
45T Mark Gubicza
54T Dane Iorg
58T Lynn Jones
88T Jorge Orta
104T Bret Saberhagen
Los Angeles Dodgers
4T Bob Bailor
32T Carlos Diaz
124T Mike Vail
Milwaukee Brewers
24T Bob Clark
26T Jaime Cocanower
67T Rene Lachemann MG
97T Randy Ready
114T Jim Sundberg
Minnesota Twins
19T John Butcher
110T Mike Smithson
117T Tim Teufel
Montreal Expos
16T Fred Breining
73T Gary Lucas
78T Andy McGaffigan
103T Pete Rose
118T Derrel Thomas
New York Mets
10T Bruce Berenyi
27T Ron Darling
37T Mike Fitzgerald
42T Dwight Gooden
57T Dave Johnson MG
74T Jerry Martin
New York Yankees
3T Mike Armstrong
13T Yogi Berra MG
38T Tim Foli
48T Toby Harrah
84T Phil Niekro
86T Mike O'Berry
100T Jose Rijo
Oakland Athletics
18T Ray Burris
23T Bill Caudill
35T Jim Essian
63T Dave Kingman
81T Jackie Moore MG
82T Joe Morgan
111T Lary Sorensen
Philadelphia Phillies
22T Bill Campbell
64T Jerry Koosman
105T Juan Samuel
129T Glenn Wilson
130T John Wockenfuss
Pittsburgh Pirates
89T Amos Otis
122T John Tudor
San Diego Padres
43T Rich Gossage
72T Craig Lefferts
75T Carmelo Martinez
83T Graig Nettles
113T Champ Summers
San Francisco Giants
5T Dusty Baker
87T Al Oliver
99T Gene Richards
101T Jeff D. Robinson
121T Manny Trillo
128T Frank Williams
Seattle Mariners
8T Dave Beard
14T Barry Bonnell
15T Phil Bradley
28T Alvin Davis
61T Bob Kearney
70T Mark Langston
79T Larry Milbourne
119T Gorman Thomas
St. Louis Cardinals
29T Ken Dayley
52T Ricky Horton
53T Art Howe
60T Mike Jorgensen
Texas Rangers
7T Alan Bannister
76T Mike Mason
126T Gary Ward
127T Curt Wilkerson
131T Ned Yost
Toronto Blue Jays
1T Willie Aikens
25T Bryan Clark
62T Jimmy Key
69T Dennis Lamp
71T Rick Leach