1984 Fleer Glenn Hubbard Snake Card Gets a Bobblehead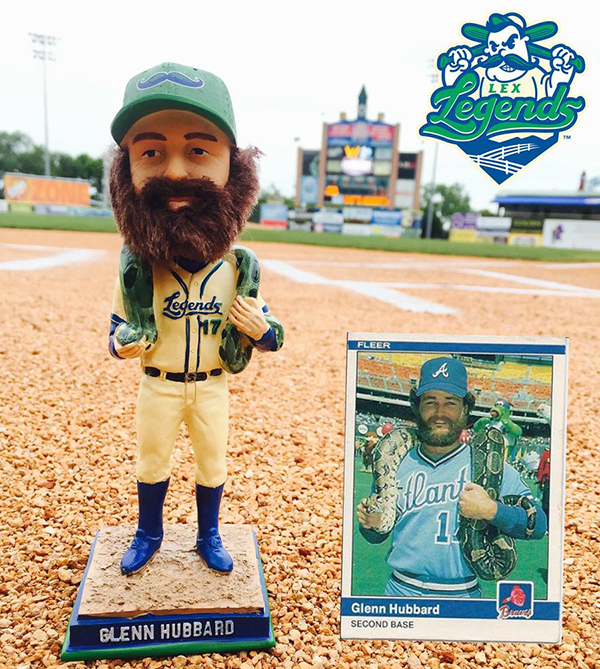 By Ryan Cracknell | Hobby Editor
Of the millions of baseball cards that are out there, a handful stand out for being just plain strange. And not in a bad way. One of those is the 1984 Fleer Glenn Hubbard. If it doesn't ring a bell, how about if I described it as, "that '80s baseball card with the snake draped around his neck."
For even casual collectors, bells are probably ringing.
The minor league Lexington Legends are paying tribute to one of the most bizarre baseball cards of all-time tonight with a 1984 Fleer Glenn Hubbard snake card bobblehead giveaway.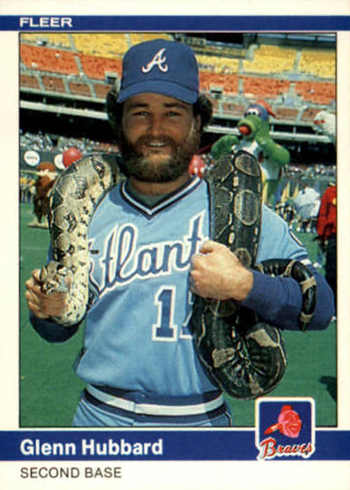 While not an exact recreation of the card, the most important elements are there. For starters, there has to be the snake. That's what makes the photo so memorable.
But the single-A affiliate of the Kansas City Royals is making an already great bobblehead even better with the addition of Hubbard's phenomenal facial hair. Rather than simply painting it on, the bobblehead gets the fully fuzzy treatment with doll hair.
With a little work, one could add bobbleheads of the mascots in the background to top off the shelf display.
Why Hubbard? He's now a coach with the Kentucky-based team. His playing career spanned more than a decade with the Atlanta Braves and Oakland Athletics. It included an All-Star appearance in 1983. Hubbard was also a coach with the Braves from 1999 to 2010.
The first 1,000 people through the gates at the team's June 24 doubleheader get the Lexington Legends Glenn Hubbard bobblehead. And, yes, there's already one up for sale on eBay with an asking price of almost $400. As great as the bobblehead might be, that seems very much on the bullish side.
Comments? Questions? Contact Ryan Cracknell on Twitter @tradercracks.