1983 Topps Traded Baseball Checklist, Team Set Lists and Details
1983 Topps Traded Baseball is a simple set. Most Topps Traded sets from the '80s are. Packaged in a small box, it's essentially a 132-card expansion of the main 1983 Topps set. Veterans are shown in new uniforms. A handful of young players get appear on their first flagship cards. Clean and to the point.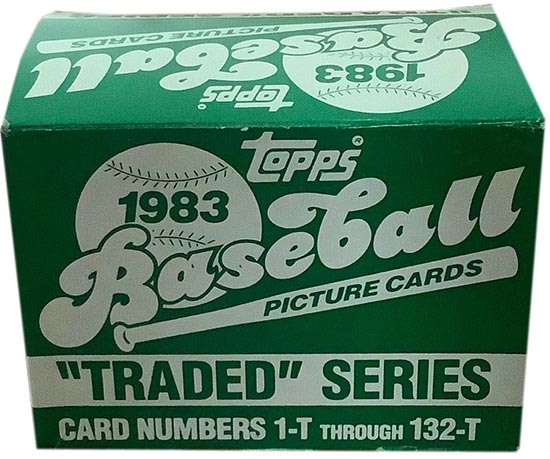 Darryl Strawberry is easily the biggest card in the set. From a value perspective, it's one of the only cards to carry any major significance. And that could even be a downplaying its historical popularity. Since its earliest days on the market, the 1983 Topps Traded Darryl Strawberry has been highly sought after. One could argue there's been a bit of a roller coaster since following the ups and downs of the outfielder's career, but it remains one of the most iconic 1980s baseball cards.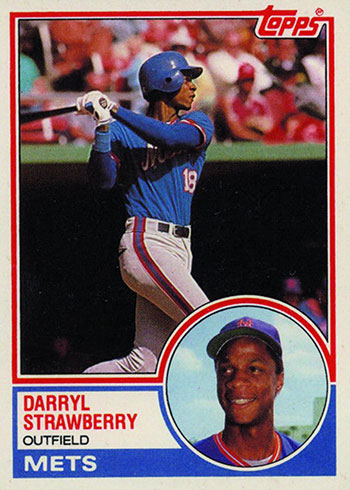 Julio Franco, Ron Kittle and Tony Phillips are among the other notable players making their first appearances on a Topps card.
On the "Traded" side of the checklist, there are a couple of Hall of Famers. Tom Seaver is shown back with the Mets and Joe Morgan dons a Phillies uniform for one of the first times on a baseball card.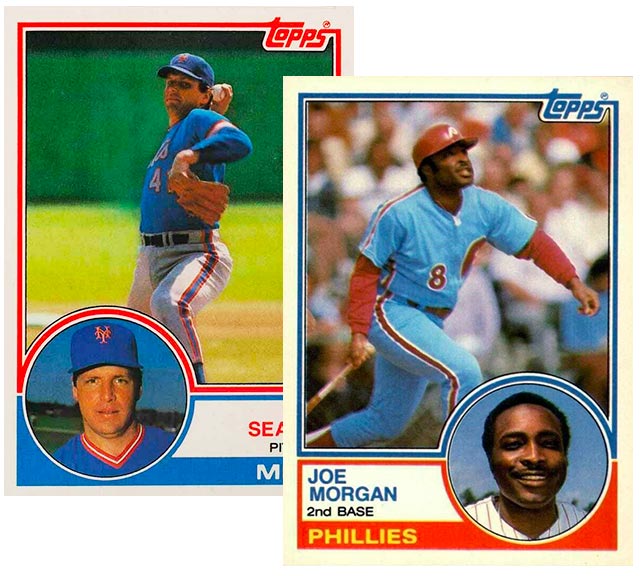 Rather than packs, cards were only available in factory sets sold by hobby dealers.
1983 Topps Traded Baseball at a glance:
Check 1983 Topps Traded Baseball values in the Beckett Price Guide.
Cards per set: 132
Sets per case: 100
Set size: 132 cards
Checklist
1983 Topps Traded Baseball Checklist
132 cards.
Buy on: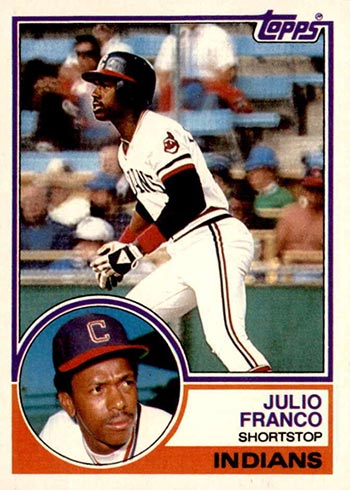 1T Neil Allen
2T Bill Almon
3T Joe Altobelli MG
4T Tony Armas
5T Doug Bair
6T Steve Baker
7T Floyd Bannister
8T Don Baylor
9T Tony Bernazard
10T Larry Biittner
11T Dann Bilardello
12T Doug Bird
13T Steve Boros MG
14T Greg Brock
15T Mike C. Brown
16T Tom Burgmeier
17T Randy Bush
18T Bert Campaneris
19T Ron Cey
20T Chris Codiroli
21T Dave Collins
22T Terry Crowley
23T Julio Cruz
24T Mike Davis
25T Frank DiPino
26T Bill Doran XRC
27T Jerry Dybzinski
28T Jamie Easterly
29T Juan Eichelberger
30T Jim Essian
31T Pete Falcone
32T Mike Ferraro MG
33T Terry Forster
34T Julio Franco XRC
35T Rich Gale
36T Kiko Garcia
37T Steve Garvey
38T Johnny Grubb
39T Mel Hall XRC
40T Von Hayes
41T Danny Heep
42T Steve Henderson
43T Keith Hernandez
44T Leo Hernandez
45T Willie Hernandez
46T Al Holland
47T Frank Howard MG
48T Bobby Johnson
49T Cliff Johnson
50T Odell Jones
51T Mike Jorgensen
52T Bob Kearney
53T Steve Kemp
54T Matt Keough
55T Ron Kittle XRC
56T Mickey Klutts
57T Alan Knicely
58T Mike Krukow
59T Rafael Landestoy
60T Carney Lansford
61T Joe Lefebvre
62T Bryan Little
63T Aurelio Lopez
64T Mike Madden
65T Rick Manning
66T Billy Martin MG
67T Lee Mazzilli
68T Andy McGaffigan
69T Craig McMurtry
70T John McNamara MG
71T Orlando Mercado
72T Larry Milbourne
73T Randy Moffitt
74T Sid Monge
75T Jose Morales
76T Omar Moreno
77T Joe Morgan
78T Mike Morgan
79T Dale Murray
80T Jeff Newman
81T Pete O'Brien XRC
82T Jorge Orta
83T Alejandro Pena XRC
84T Pascual Perez
85T Tony Perez
86T Broderick Perkins
87T Tony Phillips XRC
88T Charlie Puleo
89T Pat Putnam
90T Jamie Quirk
91T Doug Rader MG
92T Chuck Rainey
93T Bobby Ramos
94T Gary Redus XRC
95T Steve Renko
96T Leon Roberts
97T Aurelio Rodriguez
98T Dick Ruthven
99T Daryl Sconiers
100T Mike Scott
101T Tom Seaver
102T John Shelby
103T Bob Shirley
104T Joe Simpson
105T Doug Sisk
106T Mike Smithson
107T Elias Sosa
108T Darryl Strawberry XRC
109T Tom Tellmann
110T Gene Tenace
111T Gorman Thomas
112T Dick Tidrow
113T Dave Tobik
114T Wayne Tolleson
115T Mike Torrez
116T Manny Trillo
117T Steve Trout
118T Lee Tunnell
119T Mike Vail
120T Ellis Valentine
121T Tom Veryzer
122T George Vukovich
123T Rick Waits
124T Greg Walker
125T Chris Welsh
126T Len Whitehouse
127T Eddie Whitson
128T Jim Wohlford
129T Matt Young XRC
130T Joel Youngblood
131T Pat Zachry
132T Checklist 1T-132T
Team Sets
1983 Topps Traded Baseball Team Set Checklists
Want to know what cards your favorite team has in 1983 Topps Traded Baseball? Here's the checklist broken down by team. Scroll through or click below to go directly to that team.
Atlanta Braves
31T Pete Falcone
33T Terry Forster
51T Mike Jorgensen
69T Craig McMurtry
84T Pascual Perez
Baltimore Orioles
3T Joe Altobelli MG
44T Leo Hernandez
97T Aurelio Rodriguez
102T John Shelby
Boston Red Sox
4T Tony Armas
12T Doug Bird
15T Mike C. Brown
80T Jeff Newman
California Angels
70T John McNamara MG
99T Daryl Sconiers
120T Ellis Valentine
Chicago Cubs
19T Ron Cey
39T Mel Hall XRC
92T Chuck Rainey
98T Dick Ruthven
117T Steve Trout
121T Tom Veryzer
Chicago White Sox
7T Floyd Bannister
23T Julio Cruz
27T Jerry Dybzinski
55T Ron Kittle XRC
112T Dick Tidrow
124T Greg Walker
Cincinnati Reds
11T Dann Bilardello
35T Rich Gale
57T Alan Knicely
88T Charlie Puleo
94T Gary Redus XRC
Cleveland Indians
28T Jamie Easterly
29T Juan Eichelberger
30T Jim Essian
32T Mike Ferraro MG
34T Julio Franco XRC
86T Broderick Perkins
111T Gorman Thomas
116T Manny Trillo
122T George Vukovich
Detroit Tigers
5T Doug Bair
38T Johnny Grubb
63T Aurelio Lopez
Houston Astros
24T Mike Davis
25T Frank DiPino
26T Bill Doran XRC
64T Mike Madden
76T Omar Moreno
100T Mike Scott
Kansas City Royals
95T Steve Renko
96T Leon Roberts
104T Joe Simpson
Los Angeles Dodgers
14T Greg Brock
59T Rafael Landestoy
75T Jose Morales
83T Alejandro Pena XRC
131T Pat Zachry
Milwaukee Brewers
65T Rick Manning
109T Tom Tellmann
123T Rick Waits
Minnesota Twins
17T Randy Bush
126T Len Whitehouse
Montreal Expos
22T Terry Crowley
62T Bryan Little
93T Bobby Ramos
119T Mike Vail
125T Chris Welsh
128T Jim Wohlford
1983 Topps Traded Baseball Checklist – New York Mets
41T Danny Heep
43T Keith Hernandez
47T Frank Howard MG
101T Tom Seaver
105T Doug Sisk
108T Darryl Strawberry XRC
115T Mike Torrez
1983 Topps Traded Baseball Checklist – New York Yankees
8T Don Baylor
18T Bert Campaneris
53T Steve Kemp
54T Matt Keough
66T Billy Martin MG
79T Dale Murray
103T Bob Shirley
1983 Topps Traded Baseball Checklist – Oakland Athletics
2T Bill Almon
6T Steve Baker
13T Steve Boros MG
16T Tom Burgmeier
20T Chris Codiroli
52T Bob Kearney
60T Carney Lansford
87T Tony Phillips XRC
1983 Topps Traded Baseball Checklist – Philadelphia Phillies
36T Kiko Garcia
40T Von Hayes
45T Willie Hernandez
46T Al Holland
61T Joe Lefebvre
72T Larry Milbourne
77T Joe Morgan
85T Tony Perez
1983 Topps Traded Baseball Checklist – Pittsburgh Pirates
67T Lee Mazzilli
110T Gene Tenace
118T Lee Tunnell
1983 Topps Traded Baseball Checklist – San Diego Padres
37T Steve Garvey
74T Sid Monge
107T Elias Sosa
127T Eddie Whitson
1983 Topps Traded Baseball Checklist – San Francisco Giants
58T Mike Krukow
68T Andy McGaffigan
130T Joel Youngblood
1983 Topps Traded Baseball Checklist – Seattle Mariners
9T Tony Bernazard
42T Steve Henderson
71T Orlando Mercado
89T Pat Putnam
129T Matt Young XRC
1983 Topps Traded Baseball Checklist – St. Louis Cardinals
1T Neil Allen
90T Jamie Quirk
1983 Topps Traded Baseball Checklist – Texas Rangers
10T Larry Biittner
48T Bobby Johnson
50T Odell Jones
81T Pete O'Brien XRC
91T Doug Rader MG
106T Mike Smithson
113T Dave Tobik
114T Wayne Tolleson
1983 Topps Traded Baseball Checklist – Toronto Blue Jays
21T Dave Collins
49T Cliff Johnson
56T Mickey Klutts
73T Randy Moffitt
78T Mike Morgan
82T Jorge Orta