1983 Kellogg's Baseball Checklist, Team Set Lists and Details
For 14 straight years, Kellogg's brought cereal and baseball cards together. 1983 Kellogg's Baseball is the bookend of that run, wrapping one of the most memorable food-issue series in the hobby's history.
Landing under the 3-D Super Stars banner, the set sticks with its lenticular roots. As usual for Kellogg's sets, the effect is both strong and distinct. Cards are smaller than traditional sports cards, measuring 1 7/8″ by 3 1/4″. Despite this, they still jam lots of info on the back. The text might be small, but there are full stats, a lengthy bio and vitals. You can even learn about players' hobbies.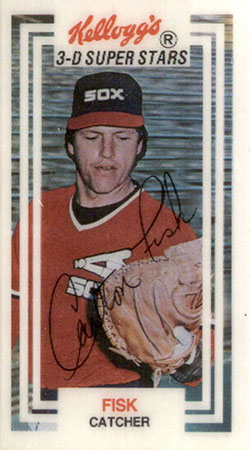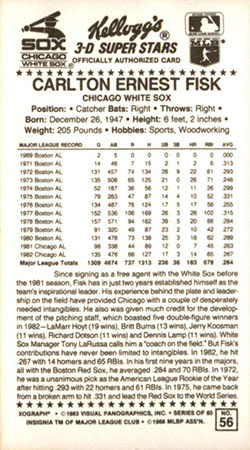 Like most Kellogg's Baseball sets, the checklist has some meat to it, totalling 60 cards. Top cards in the set include Nolan Ryan, George Brett and Rickey Henderson. That said, everything is still very affordable and easy to track down.
After being a strictly mail-away release for the 1981 and 1982 sets, 1983 Kellogg's Baseball made its way back into boxes for the first time in three years.
Collectors could still order a full set, through by sending in $3.95 plus a pair of proofs of purchases from Corn Flakes, Froot Loops, Sugar Frosted Flakes, Sugar Corn Pops or Sugar Smacks.
Most Valuable 1983 Kellogg's Baseball Cards
These are the five most valuable 1983 Kellogg's Baseball cards according to the Beckett price guide.
1. #31 Nolan Ryan, Houston Astros
Buy on: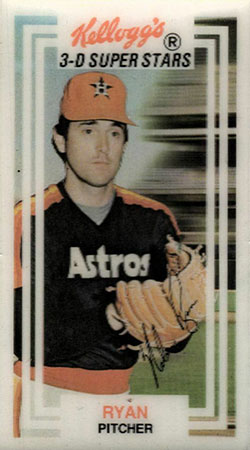 2. #4 George Brett, Kansas City Royals
Buy on: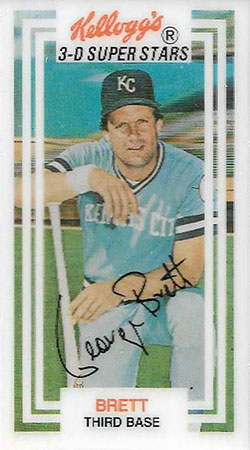 3. #8 Rickey Henderson, Oakland Athletics
Buy on: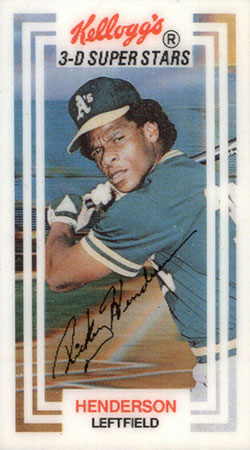 4. #21 Ozzie Smith, St. Louis Cardinals
Buy on: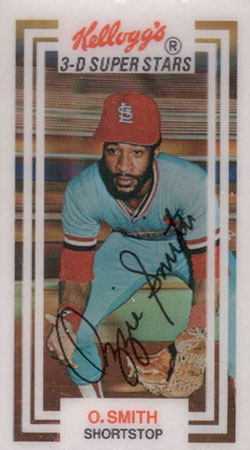 5. #6 Pete Rose, Philadelphia Phillies
Buy on: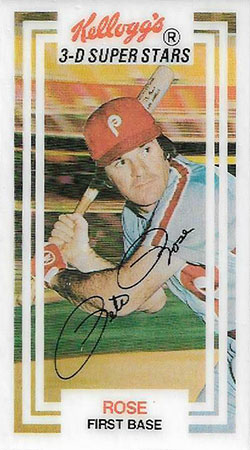 1983 Kellogg's Baseball cards at a glance:
Cards per cereal box: 1
Set size: 60 cards
Base
1983 Kellogg's Baseball Checklist
60 cards.
Buy on:
1 Rod Carew
2 Rollie Fingers
3 Reggie Jackson
4 George Brett
5 Hal McRae
6 Pete Rose
7 Fernando Valenzuela
8 Rickey Henderson
9 Carl Yastrzemski
10 Rich Gossage
11 Eddie Murray
12 Buddy Bell
13 Jim Rice
14 Robin Yount
15 Dave Winfield
16 Harold Baines
17 Garry Templeton
18 Bill Madlock
19 Pete Vuckovich
20 Pedro Guerrero
21 Ozzie Smith
22 George Foster
23 Willie Wilson
24 Johnny Ray
25 George Hendrick
26 Andre Thornton
27 Leon Durham
28 Cecil Cooper
29 Don Baylor
30 Lonnie Smith
31 Nolan Ryan
32 Dan Quisenberry
33 Len Barker
34 Neil Allen
35 Jack Morris
36 Dave Stieb
37 Bruce Sutter
38 Jim Sundberg
39 Jim Palmer
40 Lance Parrish
41 Floyd Bannister
42 Larry Gura
43 Britt Burns
44 Toby Harrah
45 Steve Carlton
46 Greg Minton
47 Gorman Thomas
48 Jack Clark
49 Keith Hernandez
50 Greg Luzinski
51 Fred Lynn
52 Dale Murphy
53 Kent Hrbek
54 Bob Horner
55 Gary Carter
56 Carlton Fisk
57 Dave Concepcion
58 Mike Schmidt
59 Bill Buckner
60 Bob Grich
Team Sets
1983 Kellogg's Baseball Team Set Checklists
Want to know what cards your favorite team has in 1983 Kellogg's Baseball? Here's the checklist broken down by team. Scroll through or click below to go directly to that team.
Atlanta Braves Checklist
52 Dale Murphy
54 Bob Horner
Baltimore Orioles Checklist
11 Eddie Murray
39 Jim Palmer
Boston Red Sox Checklist
9 Carl Yastrzemski
13 Jim Rice
California Angels Checklist
1 Rod Carew
3 Reggie Jackson
51 Fred Lynn
60 Bob Grich
Chicago Cubs Checklist
27 Leon Durham
59 Bill Buckner
Chicago White Sox Checklist
16 Harold Baines
41 Floyd Bannister
43 Britt Burns
50 Greg Luzinski
56 Carlton Fisk
Cincinnati Reds Checklist
57 Dave Concepcion
Cleveland Indians Checklist
26 Andre Thornton
33 Len Barker
44 Toby Harrah
Detroit Tigers Checklist
35 Jack Morris
40 Lance Parrish
Houston Astros Checklist
31 Nolan Ryan
Kansas City Royals Checklist
4 George Brett
5 Hal McRae
23 Willie Wilson
32 Dan Quisenberry
42 Larry Gura – Seattle Mariners uniform
Los Angeles Dodgers Checklist
7 Fernando Valenzuela
20 Pedro Guerrero
Milwaukee Brewers Checklist
2 Rollie Fingers
14 Robin Yount
19 Pete Vuckovich
28 Cecil Cooper
47 Gorman Thomas
Minnesota Twins Checklist
53 Kent Hrbek
Montreal Expos Checklist
55 Gary Carter
New York Mets Checklist
22 George Foster
34 Neil Allen
New York Yankees Checklist
10 Rich Gossage
15 Dave Winfield
29 Don Baylor – California Angels uniform
Oakland Athletics Checklist
8 Rickey Henderson
Philadelphia Phillies Checklist
6 Pete Rose
45 Steve Carlton
58 Mike Schmidt
Pittsburgh Pirates Checklist
18 Bill Madlock
24 Johnny Ray
San Diego Padres Checklist
17 Garry Templeton
San Francisco Giants Checklist
46 Greg Minton
48 Jack Clark
Seattle Mariners Checklist
The Mariners have no cards in 1983 Kellogg's Baseball, although #42 Larry Gura is shown in a Seattle uniform (he's listed as a Kansas City Royal on the back).
St. Louis Cardinals Checklist
21 Ozzie Smith
25 George Hendrick
30 Lonnie Smith
37 Bruce Sutter
49 Keith Hernandez
Texas Rangers Checklist
12 Buddy Bell
38 Jim Sundberg
Toronto Blue Jays Checklist
36 Dave Stieb