1983 Drake's Baseball Checklist and Details
1983 Drake's Baseball cards mark the third year in a row that Topps teamed up with the snack cake company. They may not have the same legacy or lasting appeal as the Hostess or Kellogg's sets, but they do offer a look at some of the sport's biggest names at the time.
Once again going with a "Big Hitters" theme, 1983 Drake's Baseball has a modest 33-card checklist. Over a quarter of these players have gone on to Cooperstown with a few more having mad a solid case for induction. The most valuable card in the set is a second-year Cal Ripken Jr. But that doesn't mean that it's expensive.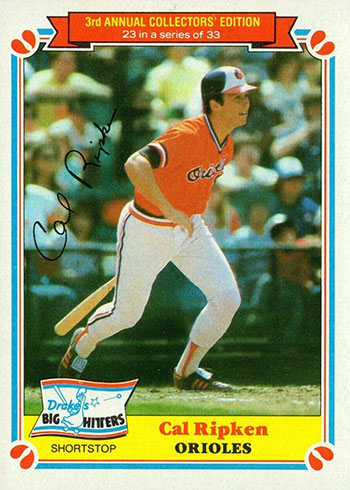 Full sets can be found for less than $10. Finding them, period, is pretty easy as box sets were issued with all 33 cards. So not only are they plentiful but condition isn't an issue, either.
Fronts leave behind the yellow borders and photo album-inspired design of the 1982 set. However, it doesn't stray far with its layout. The overall frame is there and it's more a matter of moving elements around. Like 1982 Donruss to 1983, it's a refresh, not an overhaul.
On the flip side, backs match up with those used in 1983 Topps pretty much exactly save for the addition of a Drake's logo in the corner and the name in the copyright line. The only place 'Topps' is found on the cards is in the fine print at the bottom.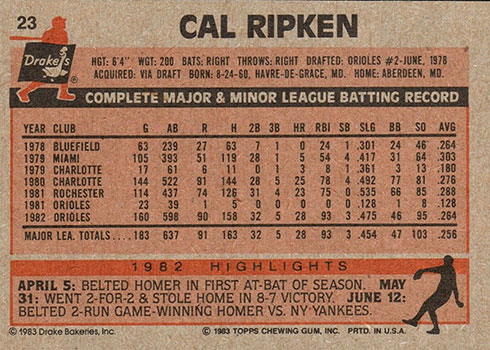 1983 Drake's Baseball Checklist
33 cards.
Buy on: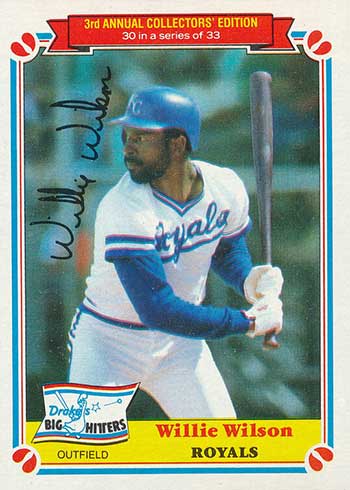 1 Don Baylor, New York Yankees
2 Bill Buckner, Chicago Cubs
3 Rod Carew, California Angels
4 Gary Carter, Montreal Expos
5 Jack Clark, San Francisco Giants
6 Cecil Cooper, Milwaukee Brewers
7 Dwight Evans, Boston Red Sox
8 George Foster, New York Mets
9 Pedro Guerrero, Los Angeles Dodgers
10 George Hendrick, St. Louis Cardinals
11 Bob Horner, Atlanta Braves
12 Reggie Jackson, California Angels
13 Steve Kemp, New York Yankees
14 Dave Kingman, New York Mets
15 Bill Madlock, Pittsburgh Pirates
16 Gary Matthews, Philadelphia Phillies
17 Hal McRae, Kansas City Royals
18 Dale Murphy, Atlanta Braves
19 Eddie Murray, Baltimore Orioles
20 Ben Oglivie, Milwaukee Brewers
21 Al Oliver, Montreal Expos
22 Jim Rice, Boston Red Sox
23 Cal Ripken, Baltimore Orioles
24 Pete Rose, Philadelphia Phillies
25 Mike Schmidt, Philadelphia Phillies
26 Ken Singleton, Baltimore Orioles
27 Gorman Thomas, Milwaukee Brewers
28 Jason Thompson, Pittsburgh Pirates
29 Mookie Wilson, New York Mets
30 Willie Wilson, Kansas City Royals
31 Dave Winfield, New York Yankees
32 Carl Yastrzemski, Boston Red Sox
33 Robin Yount, Milwaukee Brewers