1983 Donruss Action All-Stars Baseball cards go big. The oddball set saw the card maker push its boundaries and try something new and slightly unconventional. Looking back, it's not a particularly valuable set or one that left a lasting impression. But if you can get past its larger dimensions (or nab some supplies to properly store them), it's one of the nicer 1983 releases. And it's still cheap, too.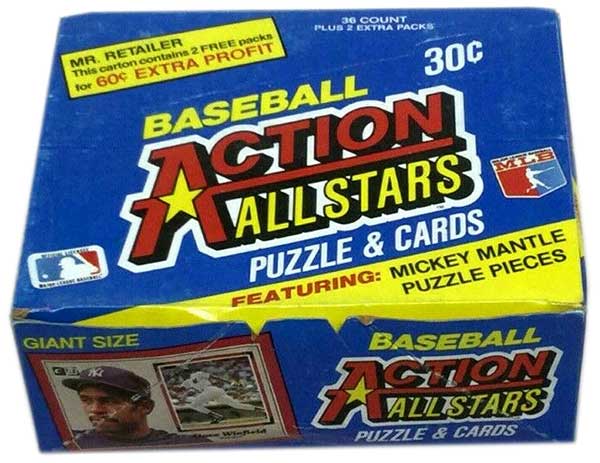 The checklist is a modest 60 cards (with the checklist itself being #60). It's certainly not comprehensive but it's not tiny, either. Stars make up a big chunk of who's in it, including Nolan Ryan, Pete Rose, Rickey Henderson and George Brett. There's also a second-year Cal Ripken Jr.
Measuring 5″ by 3.5″, 1983 Donruss Action All-Stars is basically like two traditional cards set side-by-side. And Donruss takes advantage of the added area. For starters, there's a large portrait that takes up one half of the card. They don't go out of their way to evoke much personality like the Studio line would do in 1991, but it's different. The other side of the card offers an action shot, framed as though it were stuck in an old-time photo album. Basically, it's a lot like a horizontal version of 1983 Topps Baseball with the two main photo elements flipped.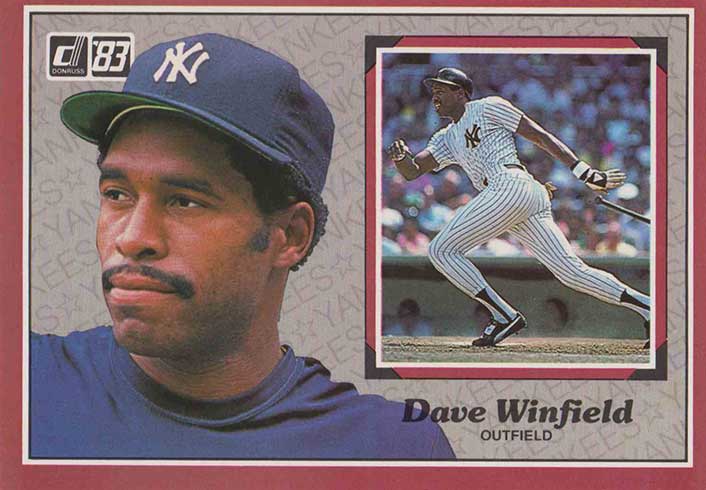 1980s Donruss baseball card sets rarely skimped on back info. It's no different here. It's also the biggest benefit of the larger format. The stats and bios have more room to breath. As a result, they're easier to read. And speaking of stats, there's several additional categories versus the regular 1983 Donruss set.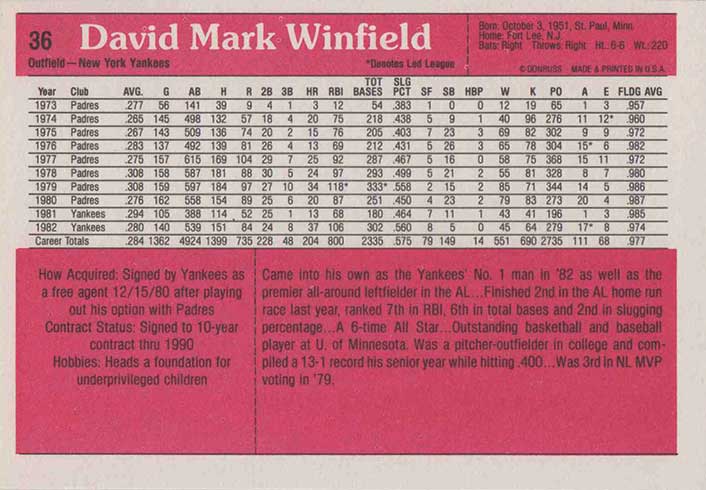 Reggie Jackson Variation
1983 Donruss Action All-Stars Baseball does have one notable variation. It's on the back of the Reggie Jackson card. An error version sees the red background typically reserved for the bio area run into Jackson's 1981 and 1982 stats as well as his career numbers. This one carries more value than the version with correct coloring.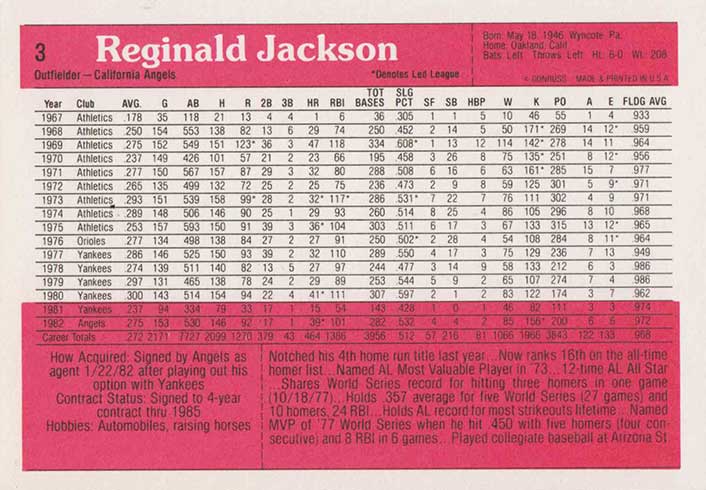 1983 Donruss Action All-Stars Mickey Mantle Puzzle
Like the main 1983 Donruss Baseball set, there's a painted puzzle included with 1983 Donruss Action All-Stars. However, it's not the same Ty Cobb one. Rather, it's Mickey Mantle, making it one of the most popular in the run of Donruss puzzles.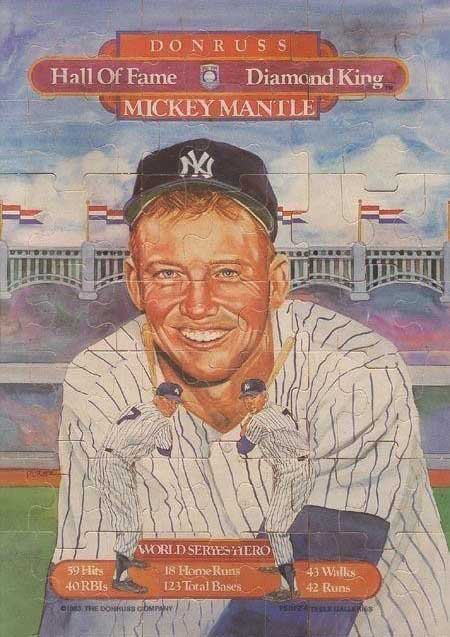 And because it's part of this side set rather than the more widely owned flagship, finding Mantle pieces — or the entire puzzle — isn't quite as easy. That's not to say that it's rare. It's just harder to put together in comparison.
Every pack has a card with three of the required 63 pieces.
1983 Donruss Action All-Stars Baseball cards at a glance:
Cards per pack: 6
Packs per box: 38
Boxes per case: 16
Set size: 60 cards
Checklist
1983 Donruss Action All-Stars Baseball Checklist
60 cards.
Buy on: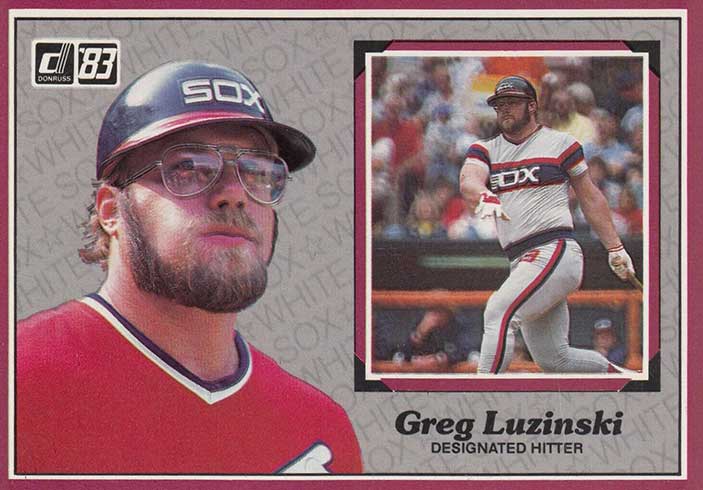 1 Eddie Murray
2 Dwight Evans
3 Reggie Jackson
3 Reggie Jackson – red screen on back covering part of stats
4 Greg Luzinski
5 Larry Herndon
6 Al Oliver
7 Bill Buckner
8 Jason Thompson
9 Andre Dawson
10 Greg Minton
11 Terry Kennedy
12 Phil Niekro
13 Willie Wilson
14 Johnny Bench
15 Ron Guidry
16 Hal McRae
17 Damaso Garcia
18 Gary Ward
19 Cecil Cooper
20 Keith Hernandez
21 Ron Cey
22 Rickey Henderson
23 Nolan Ryan
24 Steve Carlton
25 John Stearns
26 Jim Sundberg
27 Joaquin Andujar
28 Gaylord Perry
29 Jack Clark
30 Bill Madlock
31 Pete Rose
32 Mookie Wilson
33 Rollie Fingers
34 Lonnie Smith
35 Tony Pena
36 Dave Winfield
37 Tim Lollar
38 Rod Carew
39 Toby Harrah
40 Buddy Bell
41 Bruce Sutter
42 George Brett
43 Carlton Fisk
44 Carl Yastrzemski
45 Dale Murphy
46 Bob Horner
47 Dave Concepcion
48 Dave Stieb
49 Kent Hrbek
50 Lance Parrish
51 Joe Niekro
52 Cal Ripken
53 Fernando Valenzuela
54 Richie Zisk
55 Leon Durham
56 Robin Yount
57 Mike Schmidt
58 Gary Carter
59 Fred Lynn
60 Checklist
Team Sets
1983 Donruss Action All-Stars Baseball Team Set Checklists
Want to know what cards your favorite team has in 1983 Donruss Action All-Stars Baseball? Here's the checklist broken down by team. Scroll through or click below to go directly to that team.
Atlanta Braves Checklist
12 Phil Niekro
45 Dale Murphy
46 Bob Horner
Baltimore Orioles Checklist
1 Eddie Murray
52 Cal Ripken
Boston Red Sox Checklist
2 Dwight Evans
44 Carl Yastrzemski
California Angels Checklist
3 Reggie Jackson
3 Reggie Jackson – red screen on back covering part of stats
38 Rod Carew
59 Fred Lynn
Chicago Cubs Checklist
7 Bill Buckner
55 Leon Durham
Chicago White Sox Checklist
4 Greg Luzinski
43 Carlton Fisk
Cincinnati Reds Checklist
14 Johnny Bench
47 Dave Concepcion
Cleveland Indians Checklist
39 Toby Harrah
Detroit Tigers Checklist
5 Larry Herndon
50 Lance Parrish
Houston Astros Checklist
23 Nolan Ryan
51 Joe Niekro
Kansas City Royals Checklist
13 Willie Wilson
16 Hal McRae
42 George Brett
Los Angeles Dodgers Checklist
21 Ron Cey
53 Fernando Valenzuela
Milwaukee Brewers Checklist
19 Cecil Cooper
33 Rollie Fingers
56 Robin Yount
Minnesota Twins Checklist
18 Gary Ward
49 Kent Hrbek
Montreal Expos Checklist
6 Al Oliver
9 Andre Dawson
58 Gary Carter
New York Mets Checklist
25 John Stearns
32 Mookie Wilson
New York Yankees Checklist
15 Ron Guidry
36 Dave Winfield
Oakland Athletics Checklist
22 Rickey Henderson
Philadelphia Phillies Checklist
24 Steve Carlton
31 Pete Rose
57 Mike Schmidt
Pittsburgh Pirates Checklist
8 Jason Thompson
30 Bill Madlock
35 Tony Pena
San Diego Padres Checklist
11 Terry Kennedy
37 Tim Lollar
San Francisco Giants Checklist
10 Greg Minton
29 Jack Clark
Seattle Mariners Checklist
28 Gaylord Perry
54 Richie Zisk
St. Louis Cardinals Checklist
20 Keith Hernandez
27 Joaquin Andujar
34 Lonnie Smith
41 Bruce Sutter
Texas Rangers Checklist
26 Jim Sundberg
40 Buddy Bell
Toronto Blue Jays Checklist
17 Damaso Garcia
48 Dave Stieb