1982 Topps Traded Baseball Cards Checklist, Team Set Lists and Details
Sometimes a player's first card isn't their biggest card. 1982 Topps Traded Baseball is a prime example of that. The late-season update to Topps' main 1982 release, it puts players in new uniforms, not to mention getting a jump on the next year's products.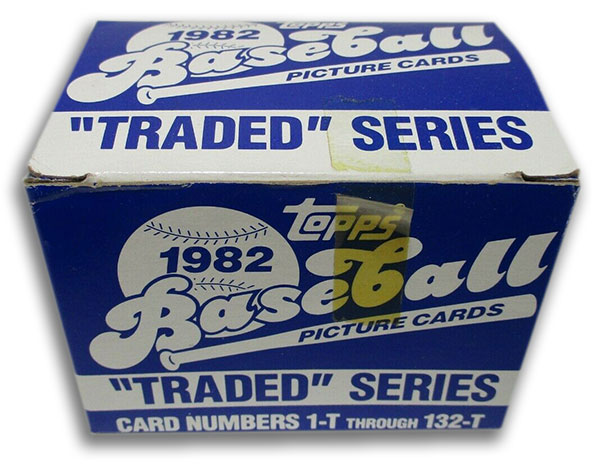 1982 Topps Traded Baseball Overview
And then there's the rookies. Only a small number of new faces are on the 132-card checklist. However, there are lots of rookies getting their first solo Topps cards after appearing in on three-player Future Stars cards.
That's exactly the situation with the set's biggest card — Cal Ripken Jr.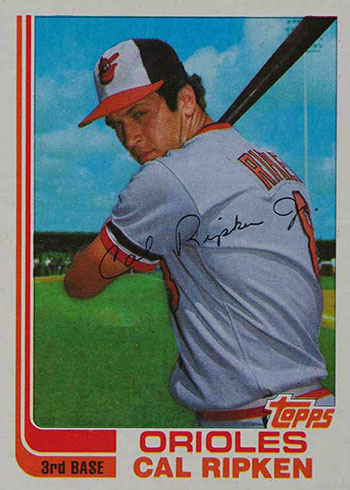 Not only does the Hall of Famer have a Rookie Card in the earlier 1982 Topps, but Donruss and Fleer as well. And while all three of those are classics in 1980s baseball cards, none of them approach the value or iconic status of the 1982 Topps Traded Ripken. For starters, it lets Ripken be a star without being flanked by two other players who played in less than 100 MLB games combined.
It's also tougher to find than Ripken's other RCs. 1982 Topps Traded Baseball was only available as a box set sold to hobby dealers. You can't really call it rare, but it's definitely not found in the same quantity as the other three.
Besides Ripken, there aren't any other major rookies on the checklist. Jesse Barfield, Chili Davis, Kent Hrbek and Tom Brunansky are about as big as it gets.
1982 Topps Traded Baseball has the first card of Ozzie Smith in a St. Louis Cardinals uniform. It's the same for Reggie Jackson and the Angels, although that pairing isn't nearly as memorable.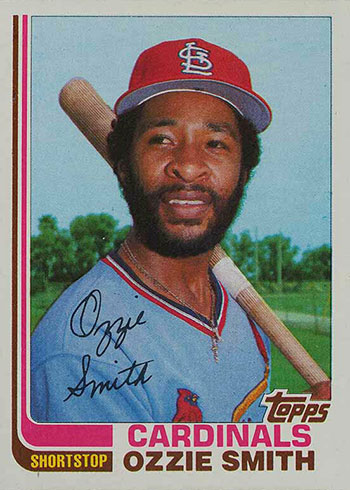 Usual for Topps Traded sets, the design is the same as the main Topps set, both on the front and the back. Rather than continuing the numbering like 1981 Topps Traded, things start fresh here with a 'T' added (1T, 2T, 3T, etc). The colors on the back are also different. For 1982 Topps, they're green. Traded opts for red.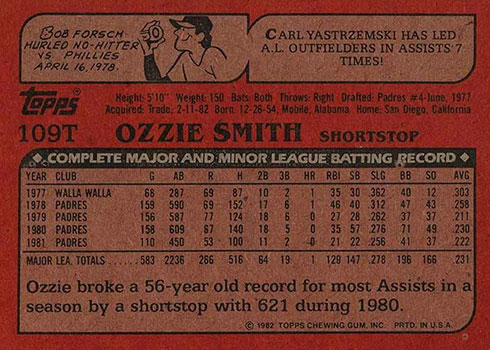 1982 Topps Traded Baseball cards at a glance:
Cards per set: 132
Sets per case: 100
Set size: 132 cards
Base
1982 Topps Traded Baseball Checklist
132 cards.
Buy on: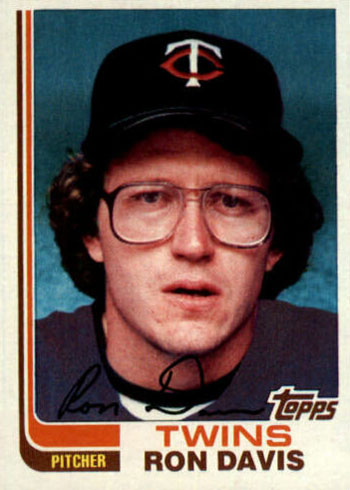 Check 1982 Topps Traded Baseball values in the Beckett Price Guide.
1T Doyle Alexander
2T Jesse Barfield
3T Ross Baumgarten
4T Steve Bedrosian
5T Mark Belanger
6T Kurt Bevacqua
7T Tim Blackwell
8T Vida Blue
9T Bob Boone
10T Larry Bowa
11T Dan Briggs
12T Bobby Brown
13T Tom Brunansky
14T Jeff Burroughs
15T Enos Cabell
16T Bill Campbell
17T Bobby Castillo
18T Bill Caudill
19T Cesar Cedeno
20T Dave Collins
21T Doug Corbett
22T Al Cowens
23T Chili Davis
24T Dick Davis
25T Ron Davis
26T Doug DeCinces
27T Ivan DeJesus
28T Bob Dernier
29T Bo Diaz
30T Roger Erickson
31T Jim Essian
32T Ed Farmer
33T Doug Flynn
34T Tim Foli
35T Dan Ford
36T George Foster
37T Dave Frost
38T Rich Gale
39T Ron Gardenhire
40T Ken Griffey
41T Greg Harris
42T Von Hayes
43T Larry Herndon
44T Kent Hrbek
45T Mike Ivie
46T Grant Jackson
47T Reggie Jackson
48T Ron Jackson
49T Fergie Jenkins
50T Lamar Johnson
51T Randy Johnson XRC
52T Jay Johnstone
53T Mick Kelleher
54T Steve Kemp
55T Junior Kennedy
56T Jim Kern
57T Ray Knight
58T Wayne Krenchicki
59T Mike Krukow
60T Duane Kuiper
61T Mike LaCoss
62T Chet Lemon
63T Sixto Lezcano
64T Dave Lopes
65T Jerry Martin
66T Renie Martin
67T John Mayberry
68T Lee Mazzilli
69T Bake McBride
70T Dan Meyer
71T Larry Milbourne
72T Eddie Milner
73T Sid Monge
74T John Montefusco
75T Jose Morales
76T Keith Moreland
77T Jim Morrison
78T Rance Mulliniks
79T Steve Mura
80T Gene Nelson
81T Joe Nolan
82T Dickie Noles
83T Al Oliver
84T Jorge Orta
85T Tom Paciorek
86T Larry Parrish
87T Jack Perconte
88T Gaylord Perry
89T Rob Picciolo
90T Joe Pittman
91T Hosken Powell
92T Mike Proly
93T Greg Pryor
94T Charlie Puleo
95T Shane Rawley
96T Johnny Ray
97T Dave Revering
98T Cal Ripken
99T Allen Ripley
100T Bill Robinson
101T Aurelio Rodriguez
102T Joe Rudi
103T Steve Sax
104T Dan Schatzeder
105T Bob Shirley
106T Eric Show XRC
107T Roy Smalley
108T Lonnie Smith
109T Ozzie Smith
110T Reggie Smith
111T Lary Sorensen
112T Elias Sosa
113T Mike Stanton
114T Steve Stroughter
115T Champ Summers
116T Rick Sutcliffe
117T Frank Tanana
118T Frank Taveras
119T Garry Templeton
120T Alex Trevino
121T Jerry Turner
122T Ed VandeBerg
123T Tom Veryzer
124T Ron Washington XRC
125T Bob Watson
126T Dennis Werth
127T Eddie Whitson
128T Rob Wilfong
129T Bump Wills
130T Gary Woods
131T Butch Wynegar
132T Checklist
Team Sets
1982 Topps Traded Baseball Team Set Checklists
Want to know what cards your favorite team has in 1982 Topps Traded Baseball? Here's the checklist broken down by team. Scroll through or click below to go directly to that team.
Please note that parallels are not included here. Please check the main checklist in the other tab for parallel specifics.
Atlanta Braves Checklist
4T Steve Bedrosian
125T Bob Watson
1982 Topps Traded Baseball Baltimore Orioles Checklist
35T Dan Ford
81T Joe Nolan
98T Cal Ripken
Boston Red Sox Checklist
The Boston Red Sox have no cards in 1982 Topps Traded.
1982 Topps Traded Baseball California Angels Checklist
9T Bob Boone
21T Doug Corbett
26T Doug DeCinces
34T Tim Foli
47T Reggie Jackson
48T Ron Jackson
53T Mick Kelleher
128T Rob Wilfong
1982 Topps Traded Baseball Chicago Cubs Checklist
10T Larry Bowa
11T Dan Briggs
16T Bill Campbell
49T Fergie Jenkins
52T Jay Johnstone
55T Junior Kennedy
76T Keith Moreland
82T Dickie Noles
92T Mike Proly
99T Allen Ripley
129T Bump Wills
130T Gary Woods
Chicago White Sox Checklist
54T Steve Kemp
85T Tom Paciorek
101T Aurelio Rodriguez
Cincinnati Reds Checklist
19T Cesar Cedeno
41T Greg Harris
56T Jim Kern
58T Wayne Krenchicki
72T Eddie Milner
105T Bob Shirley
120T Alex Trevino
Cleveland Indians Checklist
42T Von Hayes
69T Bake McBride
71T Larry Milbourne
87T Jack Perconte
111T Lary Sorensen
116T Rick Sutcliffe
127T Eddie Whitson
Detroit Tigers Checklist
15T Enos Cabell
43T Larry Herndon
45T Mike Ivie
62T Chet Lemon
112T Elias Sosa
121T Jerry Turner
Houston Astros Checklist
57T Ray Knight
61T Mike LaCoss
Kansas City Royals Checklist
8T Vida Blue
37T Dave Frost
46T Grant Jackson
65T Jerry Martin
93T Greg Pryor
126T Dennis Werth
Los Angeles Dodgers Checklist
5T Mark Belanger
75T Jose Morales
84T Jorge Orta
103T Steve Sax
Milwaukee Brewers Checklist
89T Rob Picciolo
Minnesota Twins Checklist
13T Tom Brunansky
17T Bobby Castillo
25T Ron Davis
44T Kent Hrbek
51T Randy Johnson XRC
124T Ron Washington XRC
Montreal Expos Checklist
7T Tim Blackwell
83T Al Oliver
104T Dan Schatzeder
118T Frank Taveras
New York Mets Checklist
36T George Foster
39T Ron Gardenhire
94T Charlie Puleo
123T Tom Veryzer
New York Yankees Checklist
1T Doyle Alexander
20T Dave Collins
30T Roger Erickson
40T Ken Griffey
67T John Mayberry
95T Shane Rawley
107T Roy Smalley
131T Butch Wynegar
Oakland Athletics Checklist
14T Jeff Burroughs
64T Dave Lopes
70T Dan Meyer
102T Joe Rudi
Philadelphia Phillies Checklist
27T Ivan DeJesus
28T Bob Dernier
29T Bo Diaz
32T Ed Farmer
59T Mike Krukow
73T Sid Monge
100T Bill Robinson
Pittsburgh Pirates Checklist
3T Ross Baumgarten
24T Dick Davis
77T Jim Morrison
96T Johnny Ray
1982 Topps Traded Baseball San Diego Padres Checklist
6T Kurt Bevacqua
63T Sixto Lezcano
74T John Montefusco
90T Joe Pittman
106T Eric Show XRC
119T Garry Templeton
1982 Topps Traded Baseball San Francisco Giants Checklist
23T Chili Davis
38T Rich Gale
60T Duane Kuiper
66T Renie Martin
110T Reggie Smith
115T Champ Summers
1982 Topps Traded Baseball Seattle Mariners Checklist
12T Bobby Brown
18T Bill Caudill
22T Al Cowens
31T Jim Essian
80T Gene Nelson
88T Gaylord Perry
113T Mike Stanton
114T Steve Stroughter
122T Ed VandeBerg
1982 Topps Traded Baseball St. Louis Cardinals Checklist
79T Steve Mura
108T Lonnie Smith
109T Ozzie Smith
1982 Topps Traded Baseball Texas Rangers Checklist
33T Doug Flynn
50T Lamar Johnson
68T Lee Mazzilli
86T Larry Parrish
117T Frank Tanana
1982 Topps Traded Baseball Toronto Blue Jays Checklist
2T Jesse Barfield
78T Rance Mulliniks
91T Hosken Powell
97T Dave Revering