It's fair to say that 1982 Kellogg's Baseball tweaks things from the previous year's set. For most collectors, it's the lenticular 3-D look that probably matters most. That didn't go anywhere.
Like 1981, cards weren't actually in cereal boxes themselves. Instead, the only way to get them was through a box top mail-in offer. Four cereals were eligible for the promotion. This opened things up a little more as Corn Flakes was the only eligible cereal in 1981.
The 1982 Kellogg's Baseball checklist has 64 cards. While that's generous for a lot of food-issue sets, it's actually down a couple of cards from 1981's 66. Nolan Ryan and George Brett are the headliners. Other top cards include Rickey Henderson, Eddie Murray, Ozzie Smith, Mike Schmidt and Reggie Jackson.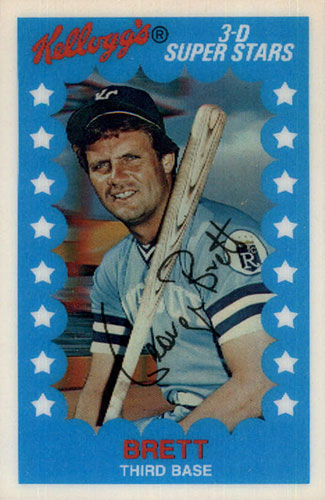 The 3-D look might be a fun gimmick, but these cards are also packed with info. You might need to put on your glasses as the backs include a generous amount of stats. Once that box is filled in, virtually every bit of back real estate is filled with biographical info.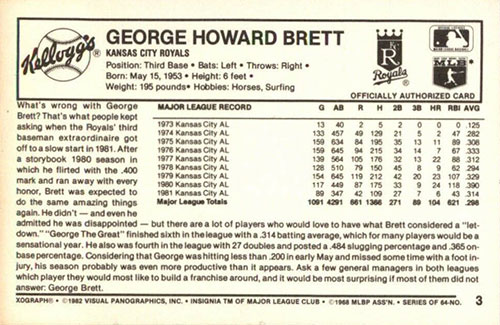 It's not just the checklist that shrunk slightly. The cards themselves are also physically smaller. After switching to a standard 3.5″ by 2.5″ format for the previous set, they're a little smaller this time around at 2 1/8″ by 3 1/4″. This is still bigger than a lot of other Kellogg's sets, though.
1982 Kellogg's Baseball remains a very affordable set, even after all these years. Both singles and sets are attainable, even with small budgets. Even sealed sets can be found for price comparable to the average blaster.
Checklist
1982 Kellogg's Baseball Checklist
64 cards.
Buy on: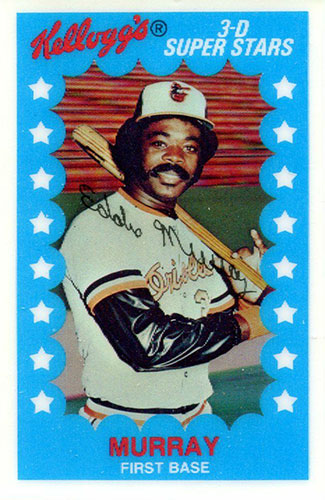 Check 1982 Kellogg's Baseball values in the Beckett Price Guide.
1 Richie Zisk
2 Bill Buckner
3 George Brett
4 Rickey Henderson
5 Jack Morris
6 Ozzie Smith
7 Rollie Fingers
8 Tom Seaver
9 Fernando Valuenzuela
10 Hubie Brooks
11 Nolan Ryan
12 Dave Winfield
13 Bob Horner
14 Reggie Jackson
15 Burt Hooton
16 Mike Schmidt
17 Bruce Sutter
18 Pete Rose
19 Dave Kingman
20 Neil Allen
21 Don Sutton
22 Dave Concepcion
23 Keith Hernandez
24 Gary Carter
25 Carlton Fisk
26 Ron Guidry
27 Steve Carlton
28 Robin Yount
29 John Castino
30 Johnny Bench
31 Bob Knepper
32 Rich Gossage
33 Buddy Bell
34 Art Howe
35 Tony Armas
36 Phil Niekro
37 Len Barker
38 Bob Grich
39 Steve Kemp
40 Kirk Gibson
41 Carney Lansford
42 Jim Palmer
43 Carl Yastrzemski
44 Rick Burleson
45 Dwight Evans
46 Ron Cey
47 Steve Garvey
48 Dave Parker
49 Mike Easler
50 Dusty Baker
51 Rod Carew
52 Chris Chambliss
53 Tim Raines
54 Chet Lemon
55 Bill Madlock
56 George Foster
57 Dwayne Murphy
58 Ken Singleton
59 Mike Norris
60 Cecil Cooper
61 Al Oliver
62 Willie Wilson
63 Vida Blue
64 Eddie Murray
Team Sets
1982 Kellogg's Baseball Team Set Checklists
Want to know what cards your favorite team has in 1982 Kellogg's Baseball? Here's the checklist broken down by team. Scroll through or click below to go directly to that team.
Please note that parallels are not included here. Please check the main checklist in the other tab for parallel specifics.
Atlanta Braves Checklist
13 Bob Horner
36 Phil Niekro
52 Chris Chambliss
Baltimore Orioles Checklist
42 Jim Palmer
58 Ken Singleton
64 Eddie Murray
Boston Red Sox Checklist
41 Carney Lansford
43 Carl Yastrzemski
45 Dwight Evans
California Angels Checklist
14 Reggie Jackson
38 Bob Grich
44 Rick Burleson
51 Rod Carew
Chicago Cubs Checklist
2 Bill Buckner
Chicago White Sox Checklist
25 Carlton Fisk
Cincinnati Reds Checklist
8 Tom Seaver
22 Dave Concepcion
30 Johnny Bench
Cleveland Indians Checklist
37 Len Barker
Detroit Tigers Checklist
5 Jack Morris
39 Steve Kemp
40 Kirk Gibson
54 Chet Lemon
Houston Astros Checklist
11 Nolan Ryan
21 Don Sutton
31 Bob Knepper
34 Art Howe
Kansas City Royals Checklist
3 George Brett
62 Willie Wilson
Los Angeles Dodgers Checklist
9 Fernando Valuenzuela
15 Burt Hooton
46 Ron Cey
47 Steve Garvey
50 Dusty Baker
Milwaukee Brewers Checklist
7 Rollie Fingers
28 Robin Yount
60 Cecil Cooper
Minnesota Twins Checklist
29 John Castino
Montreal Expos Checklist
24 Gary Carter
53 Tim Raines
New York Mets Checklist
10 Hubie Brooks
19 Dave Kingman
20 Neil Allen
56 George Foster
New York Yankees Checklist
12 Dave Winfield
26 Ron Guidry
32 Rich Gossage
Oakland Athletics Checklist
4 Rickey Henderson
35 Tony Armas
57 Dwayne Murphy
59 Mike Norris
1982 Kellogg's Baseball Philadelphia Phillies Checklist
16 Mike Schmidt
18 Pete Rose
27 Steve Carlton
1982 Kellogg's Baseball Pittsburgh Pirates Checklist
48 Dave Parker
49 Mike Easler
55 Bill Madlock
1982 Kellogg's Baseball San Diego Padres Checklist
The Padres have no cards in 1982 Kellogg's.
1982 Kellogg's Baseball San Francisco Giants Checklist
63 Vida Blue
1982 Kellogg's Baseball Seattle Mariners Checklist
1 Richie Zisk
1982 Kellogg's Baseball St. Louis Cardinals Checklist
6 Ozzie Smith
17 Bruce Sutter
23 Keith Hernandez
1982 Kellogg's Baseball Texas Rangers Checklist
33 Buddy Bell
61 Al Oliver
1982 Kellogg's Baseball Toronto Blue Jays Checklist
The Blue Jays have no cards in 1982 Kellogg's.