It's not quite the same bubble gum, but baseball cards and snack cakes have a tasty history together. 1982 Drake's Baseball highlights some of the game's best bats in a food issue release that's affordable still today.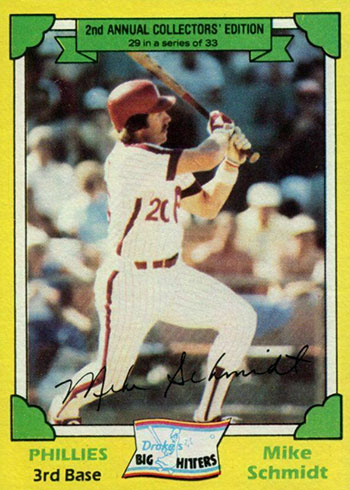 The design gives 1991 Fleer Baseball a run for the brightest yellow borders of all-time. Photos are done to look like they've been stuck into an old photo album mount icons on each corner. A thin white inner frame and facsimile signature further add to the photograph aesthetic.
The bottom has the player's name and team along with a logo of the Drake's mascot taking some cuts with a bat. It's here where the full set name, "Drake's Big Hitters" is. A red ribbon runs along the top with the card number and the proclamation "2nd Annual Collectors' Edition." Drake's baseball cards would continue through 1988.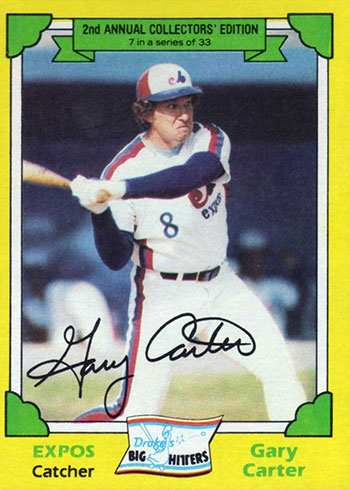 Drake's might be the name of the set, but there is a Topps connection. They printed the set. And it's apparent on the card backs, which are pretty much the same as 1982 Topps Baseball. The differences are the different card number and Drake's copyright info at the bottom.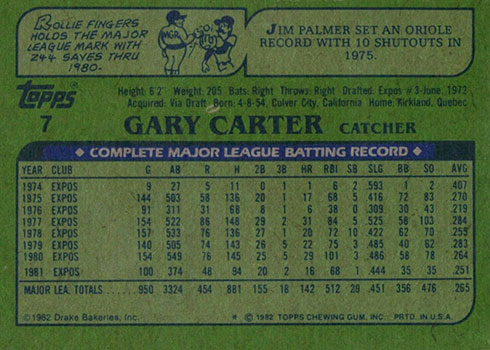 The 1982 Drake's Baseball checklist has its share of Hall of Famers. George Brett, Mike Schmidt, Carlton Fisk, Reggie Jackson and Gary Carter are among the highlights. There are also several minor stars or local favorites. Like a lot of food-issue releases, instead of value, the appeal is more in the fun and memories of sneaking an extra Devil Dog 20 minutes before bed.
1982 Drake's Baseball Checklist
33 cards.
Buy on: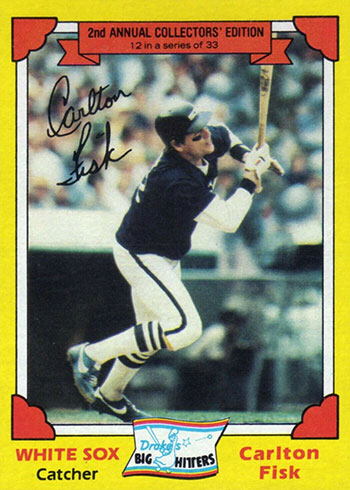 Check 1982 Drake's Baseball values in the Beckett Price Guide.
1 Tony Armas, Oakland Athletics
2 Buddy Bell, Texas Rangers
3 Johnny Bench, Cincinnati Reds
4 George Brett, Kansas City Royals
5 Bill Buckner, Chicago Cubs
6 Rod Carew, California Angels
7 Gary Carter, Montreal Expos
8 Jack Clark, San Francisco Giants
9 Cecil Cooper, Milwaukee Brewers
10 Jose Cruz, Houston Astros
11 Dwight Evans, Boston Red Sox
12 Carlton Fisk, Chicago White Sox
13 George Foster, New York Mets
14 Steve Garvey, Los Angeles Dodgers
15 Kirk Gibson, Detroit Tigers
16 Mike Hargrove, Cleveland Indians
17 George Hendrick, St. Louis Cardinals
18 Bob Horner, Atlanta Braves
19 Reggie Jackson, California Angels
20 Terry Kennedy, San Diego Padres
21 Dave Kingman, New York Mets
22 Greg Luzinski, Chicago White Sox
23 Bill Madlock, Pittsburgh Pirates
24 John Mayberry, Toronto Blue Jays
25 Eddie Murray, Baltimore Orioles
26 Graig Nettles, New York Yankees
27 Jim Rice, Boston Red Sox
28 Pete Rose, Philadelphia Phillies
29 Mike Schmidt, Philadelphia Phillies
30 Ken Singleton, Baltimore Orioles
31 Dave Winfield, New York Yankees
32 Butch Wynegar, Minnesota Twins
33 Richie Zisk, Seattle Mariners