1981 Topps Traded Baseball Checklist, Team Set Lists and Details
1981 Topps Traded Baseball marks the biggest change for the company in a year where the baseball card landscape was marked with evolution thanks to the debuts of two new companies with MLB licenses. It also starts a run of sets that were popular in this format for more than a decade.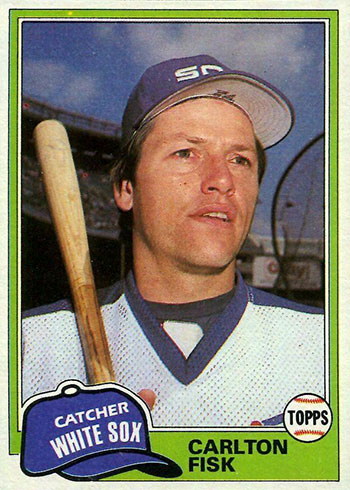 The box set is basically an extension of the main 1981 Topps Baseball checklist, offering updated cards of veterans on new teams and rookies following their MLB debuts.
1981 Topps Traded Baseball Overview
The checklist has 132 cards, which would be the standard for the brand's run through the 1980s. It starts with #727 and runs through #858. Players are arranged alphabetically by last name. The continuity carries over to the design as well with no major changes.
While Topps Traded sets would go on to have many first baseball card appearances for big-name players, that's not the case here. Danny Ainge may be the lone exception but he went on to make a name for himself in basketball so there's also a novelty aspect in play. He also already appeared in both the Donruss and Fleer sets.
However, one thing that 1981 Topps Traded Baseball does is provide early cards for some players who appear on multi-player RCs in the earlier Topps set. Tim Raines and Fernando Valenzuela come to mind.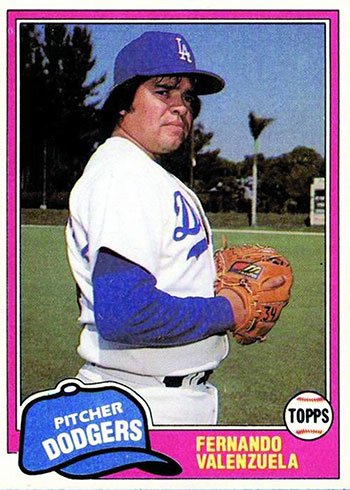 Carlton Fisk, Dave Winfield, Joe Morgan and, not surprisingly, Gaylord Perry are among the Hall of Famers who found new teams in 1981 and have Topps Traded cards.
Although Topps did Traded cards in 1974 and 1976, they were included in packs. This is the first time Topps Traded was done as a standalone box set. It's not a rare set, but it is one made for hobby dealers rather than the mass market.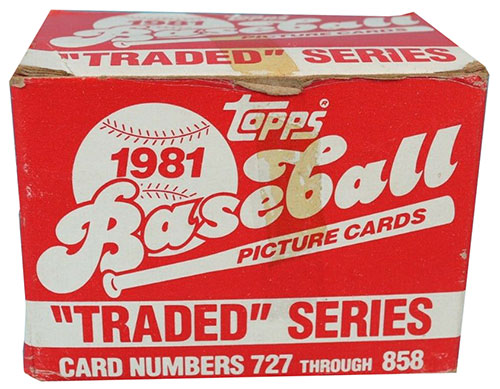 1981 Topps Traded Baseball sets remain largely affordable. While there are several notable cards, the lack of rookie stars keep it from popping like some other update sets.
1981 Topps Traded Baseball cards at a glance:
Cards per box: 132
Boxes per case: 100
Set size: 132 cards
Base
1981 Topps Traded Baseball Checklist
132 cards.
Buy on: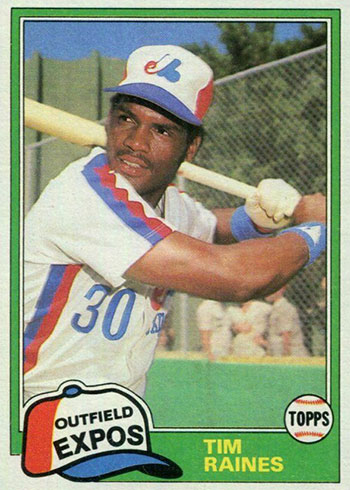 727 Danny Ainge XRC
728 Doyle Alexander
729 Gary Alexander
730 Bill Almon
731 Joaquin Andujar
732 Bob Bailor
733 Juan Beniquez
734 Dave Bergman
735 Tony Bernazard
736 Larry Biittner
737 Doug Bird
738 Bert Blyleven
739 Mark Bomback
740 Bobby Bonds
741 Rick Bosetti
742 Hubie Brooks
743 Rick Burleson
744 Ray Burris
745 Jeff Burroughs
746 Enos Cabell
747 Ken Clay
748 Mark Clear
749 Larry Cox
750 Hector Cruz
751 Victor Cruz
752 Mike Cubbage
753 Dick Davis
754 Brian Doyle
755 Dick Drago
756 Leon Durham
757 Jim Dwyer
758 Dave Edwards
759 Jim Essian
760 Bill Fahey
761 Rollie Fingers
762 Carlton Fisk
763 Barry Foote
764 Ken Forsch
765 Kiko Garcia
766 Cesar Geronimo
767 Gary Gray XRC
768 Mickey Hatcher
769 Steve Henderson
770 Marc Hill
771 Butch Hobson
772 Rick Honeycutt
773 Roy Howell
774 Mike Ivie
775 Roy Lee Jackson
776 Cliff Johnson
777 Randy Jones
778 Ruppert Jones
779 Mick Kelleher
780 Terry Kennedy
781 Dave Kingman
782 Bob Knepper
783 Ken Kravec
784 Bob Lacey
785 Dennis Lamp
786 Rafael Landestoy
787 Ken Landreaux
788 Carney Lansford
789 Dave LaRoche
790 Joe Lefebvre
791 Ron LeFlore
792 Randy Lerch
793 Sixto Lezcano
794 John Littlefield
795 Mike Lum
796 Greg Luzinski
797 Fred Lynn
798 Jerry Martin
799 Buck Martinez
800 Gary Matthews
801 Mario Mendoza
802 Larry Milbourne
803 Rick Miller
804 John Montefusco
805 Jerry Morales
806 Jose Morales
807 Joe Morgan
808 Jerry Mumphrey
809 Gene Nelson XRC
810 Ed Ott
811 Bob Owchinko
812 Gaylord Perry
813 Mike Phillips
814 Darrell Porter
815 Mike Proly
816 Tim Raines
817 Lenny Randle
818 Doug Rau
819 Jeff Reardon
820 Ken Reitz
821 Steve Renko
822 Rick Reuschel
823 Dave Revering
824 Dave Roberts
825 Leon Roberts
826 Joe Rudi
827 Kevin Saucier
828 Tony Scott
829 Bob Shirley
830 Ted Simmons
831 Lary Sorensen
832 Jim Spencer
833 Harry Spilman
834 Fred Stanley
835 Rusty Staub
836 Bill Stein
837 Joe Strain
838 Bruce Sutter
839 Don Sutton
840 Steve Swisher
841 Frank Tanana
842 Gene Tenace
843 Jason Thompson
844 Dickie Thon
845 Bill Travers
846 Tom Underwood
847 John Urrea
848 Mike Vail
849 Ellis Valentine
850 Fernando Valenzuela
851 Pete Vuckovich
852 Mark Wagner
853 Bob Walk
854 Claudell Washington
855 Dave Winfield
856 Geoff Zahn
857 Richie Zisk
858 Checklist 727-858
Team Sets
1981 Topps Traded Baseball Team Set Checklists
Want to know what cards your favorite team has in 1981 Topps Traded Baseball? Here's the checklist broken down by team. Scroll through or click below to go directly to that team.
Atlanta Braves Checklist
804 John Montefusco
812 Gaylord Perry
853 Bob Walk
854 Claudell Washington
Baltimore Orioles Checklist
757 Jim Dwyer
806 Jose Morales
Boston Red Sox Checklist
748 Mark Clear
788 Carney Lansford
803 Rick Miller
826 Joe Rudi
841 Frank Tanana
California Angels Checklist
733 Juan Beniquez
743 Rick Burleson
764 Ken Forsch
771 Butch Hobson
797 Fred Lynn
810 Ed Ott
818 Doug Rau
821 Steve Renko
845 Bill Travers
856 Geoff Zahn
Chicago Cubs Checklist
737 Doug Bird
740 Bobby Bonds
750 Hector Cruz
756 Leon Durham
769 Steve Henderson
783 Ken Kravec
795 Mike Lum
805 Jerry Morales
820 Ken Reitz
837 Joe Strain
Chicago White Sox Checklist
730 Bill Almon
735 Tony Bernazard
759 Jim Essian
762 Carlton Fisk
770 Marc Hill
785 Dennis Lamp
791 Ron LeFlore
796 Greg Luzinski
Cincinnati Reds Checklist
736 Larry Biittner
786 Rafael Landestoy
848 Mike Vail
Cleveland Indians Checklist
738 Bert Blyleven
784 Bob Lacey
Detroit Tigers Checklist
760 Bill Fahey
779 Mick Kelleher
827 Kevin Saucier
Houston Astros Checklist
765 Kiko Garcia
774 Mike Ivie
782 Bob Knepper
824 Dave Roberts
828 Tony Scott
833 Harry Spilman
839 Don Sutton
844 Dickie Thon
Kansas City Royals Checklist
766 Cesar Geronimo
Los Angeles Dodgers Checklist
787 Ken Landreaux
850 Fernando Valenzuela
Milwaukee Brewers Checklist
761 Rollie Fingers
773 Roy Howell
792 Randy Lerch
830 Ted Simmons
851 Pete Vuckovich
Minnesota Twins Checklist
768 Mickey Hatcher
Montreal Expos Checklist
744 Ray Burris
813 Mike Phillips
816 Tim Raines
819 Jeff Reardon
New York Mets Checklist
732 Bob Bailor
742 Hubie Brooks
752 Mike Cubbage
777 Randy Jones
781 Dave Kingman
835 Rusty Staub
849 Ellis Valentine
New York Yankees Checklist
763 Barry Foote
789 Dave LaRoche
802 Larry Milbourne
808 Jerry Mumphrey
809 Gene Nelson XRC
822 Rick Reuschel
823 Dave Revering
855 Dave Winfield
1981 Topps Traded Baseball Oakland Athletics Checklist
741 Rick Bosetti
754 Brian Doyle
776 Cliff Johnson
811 Bob Owchinko
832 Jim Spencer
834 Fred Stanley
846 Tom Underwood
1981 Topps Traded Baseball Philadelphia Phillies Checklist
753 Dick Davis
800 Gary Matthews
815 Mike Proly
1981 Topps Traded Baseball Pittsburgh Pirates Checklist
729 Gary Alexander
751 Victor Cruz
843 Jason Thompson
1981 Topps Traded Baseball San Diego Padres Checklist
758 Dave Edwards
778 Ruppert Jones
780 Terry Kennedy
790 Joe Lefebvre
794 John Littlefield
840 Steve Swisher
847 John Urrea
1981 Topps Traded Baesball San Francisco Giants Checklist
728 Doyle Alexander
734 Dave Bergman
746 Enos Cabell
798 Jerry Martin
807 Joe Morgan
1981 Topps Traded Baseball Seattle Mariners Checklist
745 Jeff Burroughs
747 Ken Clay
755 Dick Drago
767 Gary Gray XRC
817 Lenny Randle
857 Richie Zisk
1981 Topps Traded Baseball St. Louis Cardinals Checklist
731 Joaquin Andujar
793 Sixto Lezcano
814 Darrell Porter
829 Bob Shirley
831 Lary Sorensen
838 Bruce Sutter
842 Gene Tenace
1981 Topps Traded Baseball Texas Rangers Checklist
749 Larry Cox
772 Rick Honeycutt
801 Mario Mendoza
825 Leon Roberts
836 Bill Stein
852 Mark Wagner
1981 Topps Traded Baseball Toronto Blue Jays Checklist
727 Danny Ainge XRC
739 Mark Bomback
775 Roy Lee Jackson
799 Buck Martinez