1980 Albuquerque Dukes TCMA Checklist and Details
The 27-card 1980 Albuquerque Dukes TCMA set covers the Triple-A Pacific Coast League affiliate of the Los Angeles Dodgers.
The standard-sized cards feature red borders with posed color player photos with rounded corners on its fronts. The player's name and position appear in a white bar under the photo, and the team name is printed under this bar.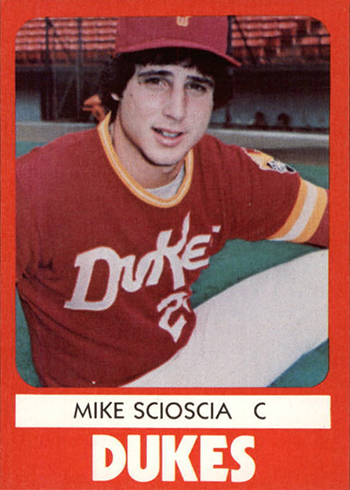 The horizontal card back carries the player's name, position, team, league, and biography.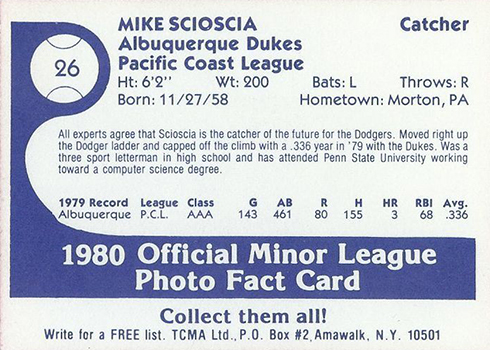 Key players in the team set include Mike Scioscia and Dave Stewart.
Buy cards in the Beckett Marketplace.
1980 Albuquerque Dukes TCMA Checklist
27 cards.
Check baseball card values in the Beckett Price Guide.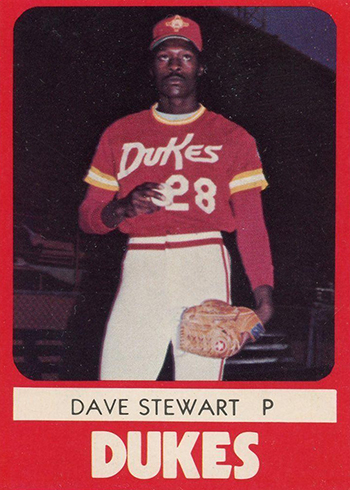 1 Dave Stewart
2 Joe Beckwith
3 Pablo Peguero
4 Kelly Snider
5 Bill Swiacki
6 Ron Roenicke
7 John O'Rear
8 Dennis Lewallyn
9 Doug Harrison
10 Dave Patterson
11 Claude Westmoreland
12 Myron White
13 Gary Weiss
14 Teddy Martinez
15 Mike Wilson
16 Jack Perconte
17 Kevin Keefe
18 Wayne Caughey
19 Terry Collins
20 Bobby Mitchell
21 Mark Nipp
22 Ted Power
23 Del Crandall
24 Paul Padilla
25 Gerald Hannahs
26 Mike Scioscia
27 Don Crow