1980-81 Topps Larry Bird, Magic Johnson Rookie Card Closes at Record $125,200
The 1980-81 Topps Magic Johnson, Larry Bird Rookie Card set a new record on September 19, with a Gem Mint PSA 10 copy closing on eBay for $125,200. If the sale is completed, it will break the previous high for the card by more than $25,000.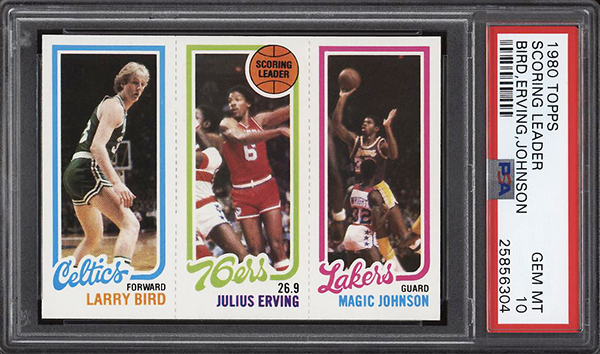 It came on eBay through consignment seller, PWCC Auctions.
The big reason is because of its grade and condition. Currently, it's one of just 22 copies with the Gem Mint PSA 10 grade. By comparison, nearly 600 have been graded Mint PSA 9. It spikes further when you go to NM-MT PSA 8 with over 2,500 copies.
Beckett Grading has inspected just over 3,500 copies of the card also. Of those, there's just one Pristine 10, 24 at Gem Mint 9.5, and 129 Mint 9s. Like a lot of cards from the era, centering is a consistent issue.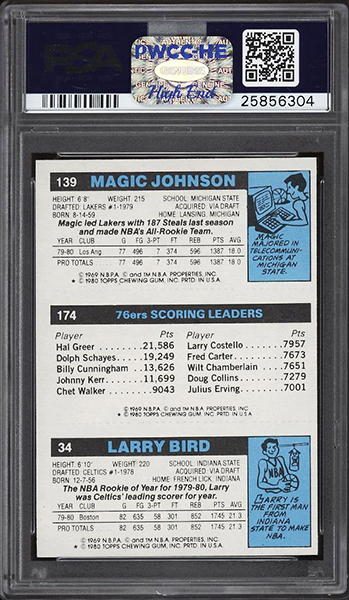 So while the differences between a Gem Mint and Mint copy are small, the price differences are big. By comparison, most graded Mint 9 copies have been selling for under $4,000.
This particular copy of the card last sold in November, 2016, also on eBay through PWCC, for $96,423. This was the previous high mark.
The card, which features the pairing of Bird and Johnson flanking Julius Erving, is one of the most iconic basketball cards of all-time. It's distinct for its perforated design. This means that the card can be separated into three individual cards, which some did. Today, these are worth a small fraction of full three-panel cards.