From the very beginning, Star Wars trading cards and related items have been a global affair. 1977 Tip Top Star Wars R2-D2 Space Ice Stickers are just one example. And while they're not trading cards in the traditional sense, they're treated by many in the hobby as something similar enough.
Distribution for the stickers came through New Zealand's Tip Top, an ice cream manufacturer. One of 18 different stickers came with specially marked ice cream bars.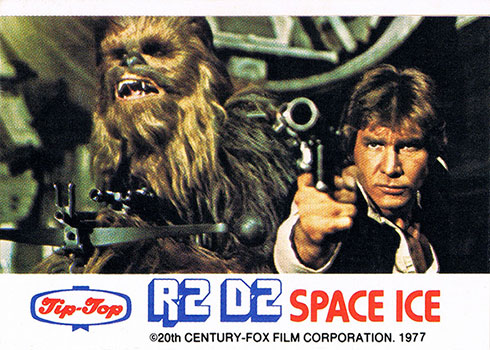 Noticeably smaller than trading cards, 1977 Tip Top R2-D2 Space Ice Stickers are approximately 3″ by 2″. Fronts take a somewhat widescreen approach with images spanning the entire width of the front. And while there are plenty of memorable and often seen stills taken from the movie, this set is also notable for using some of Ralph McQuarrie's iconic artwork. In fact, his art represents the majority of the checklist — nine out of the 15 stickers.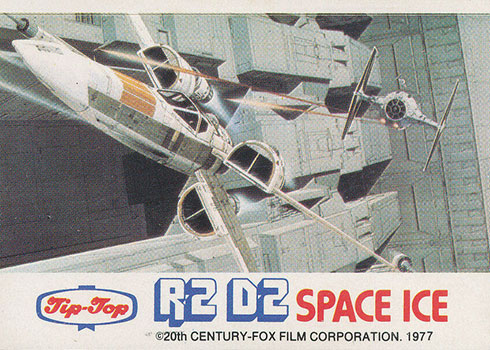 Red and blue dominate the bottom portion with both the Tip Top logo and the R2-D2 Space Ice title treatment used for the promotion.
R2-D2: Race in Space Galaxy Game
It's not just stickers that are part of the release. There's also a simple board game that came in the form of a fold-out sheet. It's dubbed R2-D2: Race in Space.
Players simply roll the dice and make their way through the spaces. It's not much more complicated than Candy Land or Snakes and Ladders. The only complications on the board come through obstacles that automatically send players further forward or back spaces.
The board also has designated spots for many of the stickers.
Undertaking the 1977 Tip Top Star Wars R2-D2 Space Ice Stickers set is not an easy undertaking. Few of the cards are available on the secondary market today. Finding them professionally graded is also normal.
By their very nature, stickers are meant to be used so right away, it's safe to say not a lot survived, even early on. There's also the limited international distribution.
1977 Tip Top Star Wars R2-D2 Space Ice Stickers Overview
Set Size: 15 stickers
Buy on:
1977 Tip Top Star Wars R2-D2 Space Ice Stickers Checklist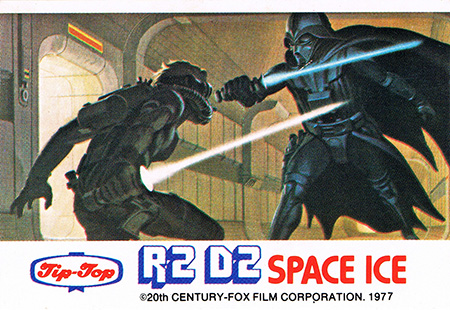 Death Star
Falcon in Docking Bay
Han and Chewbacca
Han in Gunport
Leia and R2
Luke vs. Vader Painting
Pilots in Hangar
Purchase of the Droids
Sandcrawler
These Aren't the Droids You're Looking For
TIE Pilot
Tusken Raiders
Vader on the Rebel Ship
X-Wing Battle in Trench
X-Wing in Trench
1977 Tip Top Star Wars R2-D2 Space Ice Stickers Gallery