For Frank Sutherland, his 1971-72 Bazooka Hockey quest started with Bobby Orr.
Sutherland, like most kids who grew up in the Boston area in the 1970s, was obsessed by the Bruins defenseman. The walls of the bedroom he shared with his younger brother were covered with posters and pictures of his hero and his collection of cards was built around acquiring as many copies of number four as possible.
"I didn't think of them as dupes," he said. "I just wanted to get as many of them as I could. I guess I was kind of weird that way."
When Sutherland returned to the hobby in the '90s, his focus remained on Orr. But while he was able to acquire most cards issued during his legendary career, including a sharp copy of his 1966-67 Topps Test #35, there was one that eluded his grasp: the 1971-72 Bazooka Hockey #36.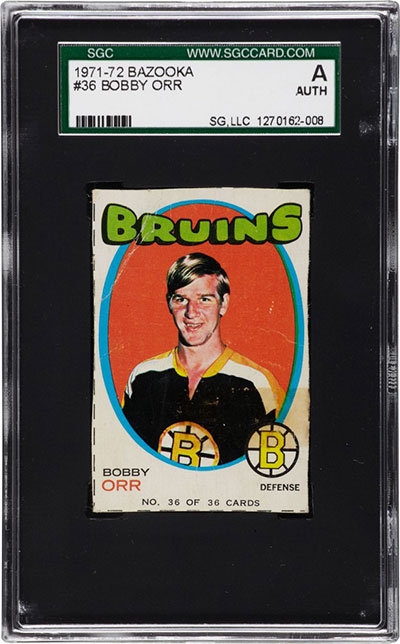 "It's my Holy Grail," he said. "I mean, and there's no doubt about it, this is his toughest card to find, by far."
Cards issued on the back of bubble gum boxes had been a staple of the baseball card hobby since 1959, when the Bazooka Gum Company first tempted collectors to buy their product in bulk with pictures of their heroes. It wasn't until 1971 though that the company tried the same angle on hockey fans. Unlike the baseball cards, which were widely distributed across America, the hockey release is believed to have been limited to just a few areas across Canada.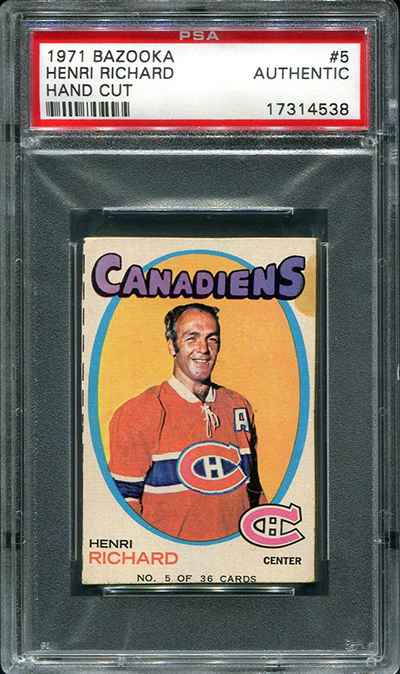 "It should probably be called a test set, too," Sutherland said. "No one seems to know the exact distribution pattern, and there's no way to tell now, but it doesn't seem like very many of them are out there."
What we do know is this: A 36-card series was released that year that mirrored the 1971-72 O-Pee-Chee design. Each of the specially-marked boxes, which included 30 pieces of Bazooka gum, featured a back panel with three, undersized, blank-backed cards which had to be hand-cut from the packaging. Along with Orr, the set offered stars of the day like Stan Mikita, Bobby Hull, Gilbert Perreault and Phil and Tony Esposito. Curiously, it also featured lesser known players like Serge Bernier, Guy Trottier and Walt McKechnie.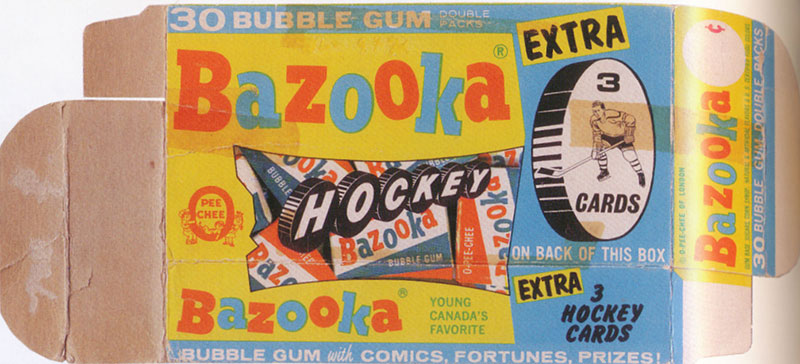 While searching for Orr, Sutherland began picking up other singles from the set "for the challenge of it."
"I didn't see them very often, so after a couple years I just started grabbing whatever I could find with the idea of building a set," he said. "I still kick myself for not buying them up from the start. I haven't seen some of them since."
What he's learned is that this isn't simply one of the rarest of all hockey issues ever produced but that, for a variety of reasons, they're nearly impossible to find in any condition that meets the collecting standard.
It starts with how they were produced. Each of the cards had to be removed from the package by hand, and even though they were framed by dashes to delineate where to cut, most were brutally butchered by hands that were young, unskilled or uncaring (or all three). Others were subjected to mishandling by inattentive store clerks, leading to dents and dings. Finally, tape was used to seal the boxes, so many cards found at either end of the panel, like the Orr, are highly susceptible to stains.
All things considered, it's a wonder that Bazooka cards ever show up on the market today. When they do, prices quickly match demand. For example, a complete 36-card set, offered as 12 three-card panels, each graded by SGC, sold for $29,693.39 back in 2016—an average price of better than $800 per card.
Offered today, the same set likely would retail for significantly more, especially with the Ron Ellis/Orr/Mikita panel grading out at NM/MT, making it the finest known copy in panel condition.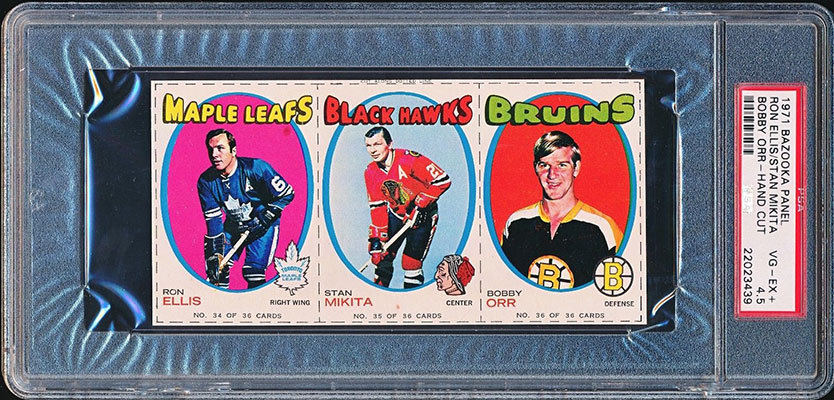 A few complete, uncut boxes are known to exist as well, including at least two with Orr, but if they've traded hands the prices have been kept confidential.
Not surprisingly, those high prices, in conjunction with general unfamiliarity with the product, have led to fakes surfacing. One Orr, which had been slabbed as Authentic by a grading company was determined to be a fake after being auctioned off for more than $3,000 back in 2010.
Sutherland has never come across one of the fakes in his travels, but he's heard the stories. And with Orr still at the top of his want list, he's wary but not overly concerned.
"If you hold one in your hands, it's pretty easy to tell [if it's real] if you've ever seen one before," he said, adding he's holding out for a raw, ungraded copy for that reason.
He's still looking for that Holy Grail, but in the meantime has acquired 27 of the 36 cards.
"It hasn't been cheap, but it's been a good challenge," he said. "After I get my first Orr, I'll probably keep looking to see how many I can get!"
1971-72 Bazooka Hockey Checklist
36 cards.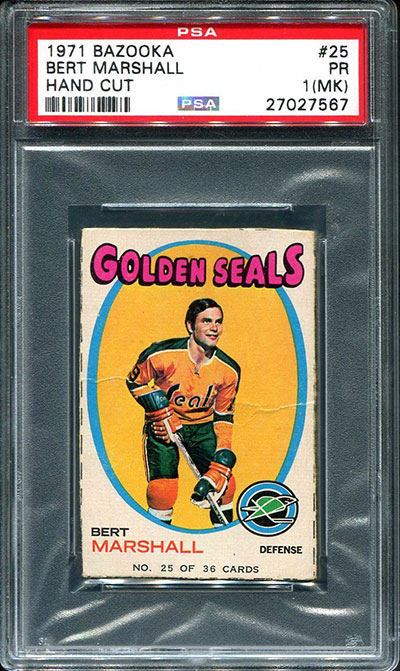 1 Phil Esposito, Boston Bruins
2 Frank Mahovlich, Montreal Canadiens
3 Ed Van Impe, Philadelphia Flyers
4 Bobby Hull, Chicago Blackhawks
5 Henri Richard, Montreal Candiens
6 Gilbert Perreault, Buffalo Sabres
7 Alex Delvecchio, Detroit Red Wings
8 Denis DeJordy, Los Angeles Kings
9 Ted Harris, Minnesota North Stars
10 Gilles Villemure, New York Rangers
11 Dave Keon, Toronto Maple Leafs
12 Derek Sanderson, Boston Bruins
13 Orland Kurtenbach, Vancouver Canucks
14 Bob Nevin, Minnesota North Stars
15 Yvan Cournoyer, Montreal Canadiens
16 Andre Boudrias, Vancouver Canucks
17 Frank St. Marseille, St. Louis Blues
18 Norm Ullman, Toronto Maple Leafs
19 Garry Unger, St. Louis Blues
20 Pierre Bouchard, Montreal Canadiens
21 Roy Edwards, Pittsburgh Penguins
22 Ralph Backstrom, Los Angeles Kings
23 Guy Trottier, Montreal Canadiens
24 Serge Bernier, Philadelphia Flyers
25 Bert Marshall, California Golden Seals
26 Wayne Hillman, Philadelphia Flyers
27 Tim Ecclestone, Detroit Red Wings
28 Walt McKechnie, California Golden Seals
29 Tony Esposito, Chicago Blackhawks
30 Rod Gilbert, New York Rangers
31 Walt Tkaczuk, New York Rangers
32 Roger Crozier, Buffalo Sabres
33 Ken Schinkel, Pittsburgh Penguins
34 Ron Ellis, Toronto Maple Leafs
35 Stan Mikita, Chicago Blackhawks
36 Bobby Orr, Boston Bruins