1968 Topps Nolan Ryan Rookie Card at $25,000 and Counting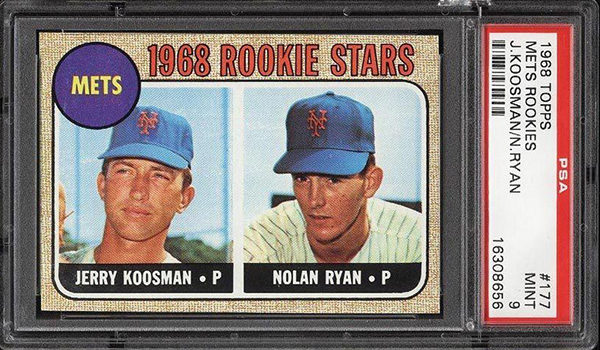 By Ryan Cracknell | Hobby Editor
A 1968 Topps Nolan Ryan rookie card has passed the $25,000 mark on eBay. Graded a mint PSA 9, it's one of the top-condition copies of the popular card, which also happens to feature Jerry Koosman.
Ending on Thursday, April 14, the card is being sold by PWCC, an eBay consignor that has heavy experience moving high-end vintage cards on the site.
The card has strong centering and corners, as one would expect from such a high-grade card. 1968 Topps Baseball is known for centering issues on a lot of cards.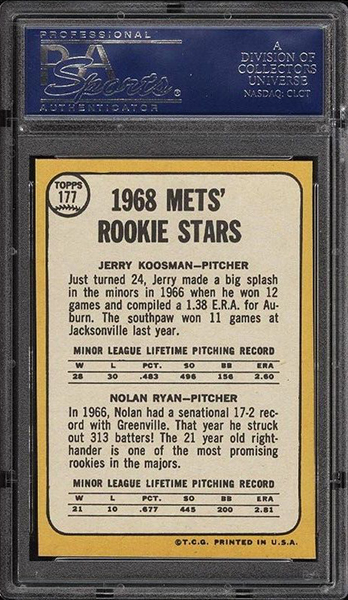 Like a lot of the top rookie cards from the 1950s and 1960s, the 1968 Topps Nolan Ryan has seen a surge in prices over the last few years. Three copies of the card graded PSA 9 sold changed hands in public sales in 2015, selling for $22,654, $26,226 and $36,716. In 2010, the card sold for less than $5,000. As recently as 2013, the iconic rookie card could be bought for under $8,000.
For those looking for something cheaper, PWCC has a second copy of the card listed that's also graded PSA 9. However, this one comes with an off-center qualifier. By comparison, bidding on this card is currently under $800. This card also ends April 14.
Comments? Questions? Contact Ryan Cracknell on Twitter @tradercracks.