Before Magic and Pokémon, There Was 1968 Topps Game Baseball
Today, Pokémon and Magic: The Gathering are two hobby heavyweights. But they're far from the first products to combine trading cards and gaming. 1968 Topps Game Baseball is one vintage example for the sporting crowd. Also known as Batter Up, the card game may not take a lot of strategy, but the cards do make for some extremely affordable vintage for many of the era's greats.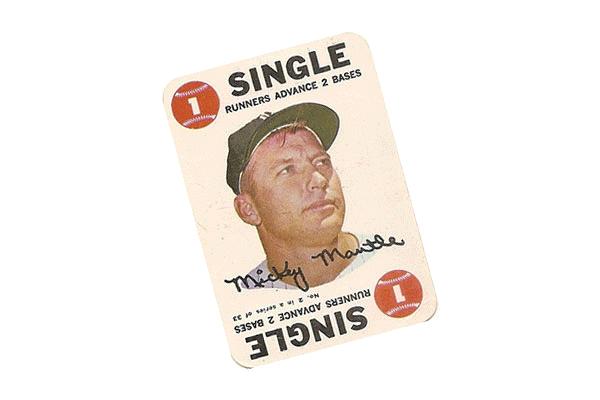 1968 Topps Game cards were distributed a couple of ways. They came as inserts in the third series of 1968 Topps Baseball. A box set of all 33 cards was also available.
Like a traditional baseball game, the goal is to score the most runs. To play, you take a stack of 1968 Topps Game cards and draw them. Each card has an action and says what to do with existing runners. You keep drawing until your third out, completing a half inning.
The 1968 Topps Game checklist has several Hall of Famers including Mickey Mantle, Willie Mays, Roberto Clemente and Hank Aaron.
The design has elements of traditional playing cards, most notably the rounded corners. A portrait of the featured player's face is in the middle of the card along with a facsimile signature.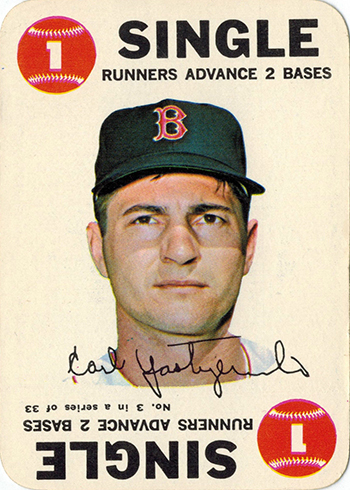 Card backs are all the same, another nod to traditional playing cards.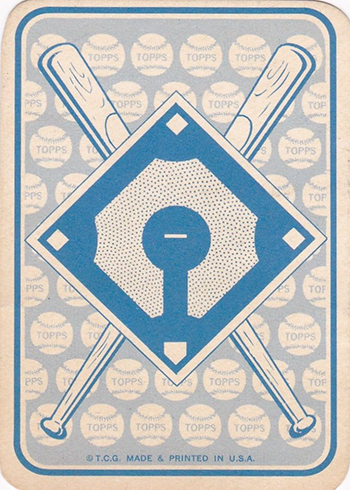 Of course, this isn't Topps' first product to mix baseball cards and games. 1951 Topps Baseball did just that on an even larger scale.
Today, 1968 Topps Game singles don't carry a lot of value. Even the biggest names are affordable when you compare them to regular base cards. The greatest appeal might be to those looking to get into vintage but don't have as much to spend.
1968 Topps Game Baseball – The Rules
Want to know how to play 1968 Topps Game? Here are the rules as they appear on the back of the box set:
Arrange the cards face down and shuffle them thoroughly. Decide which player will be the Visiting Team. He goes first by picking one card at a time. Each card indicates whether the player has drawn a "Hit" or an "Out." The cards show if runners advance on an "Out" or if runs are scored on "Hits." When the first player has drawn three "Out" cards, the Home Team takes over the deck and picks from the remaining cards in the deck. If a player uses up the deck before getting three "Out" cards, shuffle all the cards again and resume playing. After the second player has made three outs, the inning is completed. Reshuffle the deck after each complete inning. Play continues for nine innings, just like Baseball. For extra fun, play "Batter Up" with your friends and keep statistics of your won-lost record. You'll soon have an entire League of "Batter Up" opponents. PLAY BALL!
1968 Topps Game Baseball Checklist
Looking for a specific card? Click on the links to see what's on eBay. You can also find cards and compare prices on the Beckett Marketplace.
1 Matty Alou, Pittsburgh Pirates – Error, Runners Advance 1 Base
2 Mickey Mantle, New York Yankees – Single, Runners Advance 1 Bases
3 Carl Yastrzemski, Boston Red Sox – Single, Runners Advance 2 Bases
4 Hank Aaron, Atlanta Braves – Single, Runnders Advance 1 Base
5 Harmon Killebrew, Minnesota Twins – Double, All Runners Score
6 Roberto Clemente, Pittsburgh Pirates – Double, Runners Advance 2 Bases
7 Frank Robinson, Baltimore Orioles – Triple
8 Willie Mays, San Francisco Giants – Home Run
9 Brooks Robinson, Baltimore Orioles – Hit By Pitch
10 Tommy Davis, Chicago White Sox – Walk
11 Bill Freehan, Detroit Tigers – Walk
12 Claude Osteen, Los Angeles Dodgers – Double-Play, Leader Runner and Batter Out
13 Gary Peters, Chicago White Sox – Strike Out, Lead Runner Steals Base
14 Jim Lonborg, Boston Red Sox – Strike Out
15 Steve Hargan, Cleveland Indians – Strike Out
16 Dean Chance, Minnesota Twins – Strike Out
17 Mike McCormick, San Francisco Giants – Strike Out
18 Tim McCarver, St. Louis Cardinals – Foul Out, Runners Do Not Advance
19 Ron Santo, Chicago Cubs – Pop Out, Runners Do Not Advance
20 Tony Gonzalez, Philadelphia Phillies – Pop Out, Runners Do Not Advance
21 Frank Howard, Washington Senators – Line Out, Runners Do Not Advance
22 George Scott, Boston Red Sox – Line Out, Runners Do Not Advance
23 Richie Allen, Philadelphia Phillies – Line Out, Runners Do Not Advance
24 Jim Wynn, Houston Astros – Fly Out, Runners Do Not Advance
25 Gene Alley, Pittsburgh Pirates – Fly Out, Runners Do Not Advance
26 Rick Monday, Oakland Athletics – Fly Out, Runners Do Not Advance
27 Al Kaline, Detroit Tigers – Fly Out, Runner On 3rd Score
28 Rusty Staub, Houston Astros – Fly Out, Runner On 3rd Score
29 Rod Carew, Minnesota Twins – Ground Out, Runners Do Not Advance
30 Pete Rose, Cincinnati Reds – Ground Out, Runners Do Not Advance
31 Joe Torre, Atlanta Braves – Ground Out, Runners Advance 1 Base
32 Orlando Cepeda, St. Louis Cardinals – Ground Out, Runners Advance 1 Base
33 Jim Fregosi, California Angels – Ground Out, Runners Advance 1 Base
1968 Topps Game Baseball Gallery