This Is a Test: What's the Deal with 1968 Topps 3-D Baseball?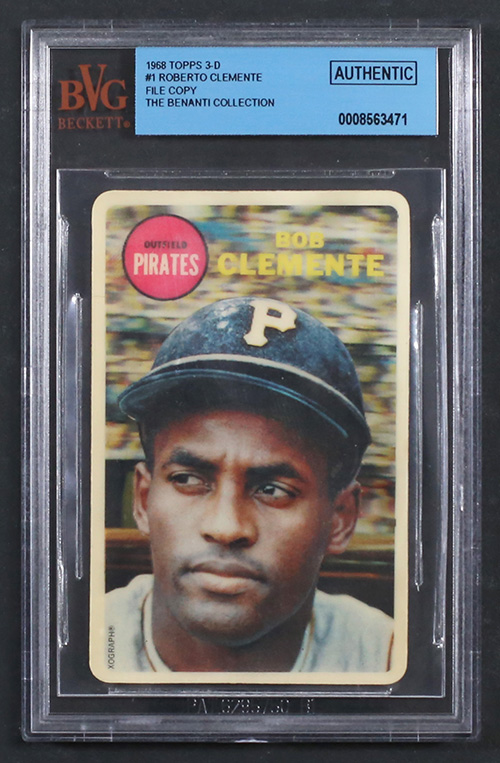 By Mike Payne | Beckett Media Editorial Director
If you were a baseball fan in the Brooklyn, New York area in 1968, you saw Mickey Mantle lead the Yankees with 18 home runs as he limped through his final season in the big leagues and you saw a kid named Nolan Ryan in his first full season with the rising New York Mets.
And you also might have seen some kind of interesting baseball card that was sold in a plain white wrapper, with only a sticker identifying it.
Such was the low-profile life of the set known as 1968 Topps 3-D Baseball, among the most famous "test" issues ever released by Topps – even if the release was restricted to areas of New York City.
The 1968 Topps 3-D Baseball Mystery
"Sometimes, Topps is a mystery," says veteran dealer Bill Goodwin. "And this is one of those times."
Goodwin estimates that just "a few thousand" of the cards were released, along with a display piece. The white wrappers included a sticker that simply read, "3-D Baseball Picture Cards" on the fronts. The backs were blank.
And the checklist was small – 12 players, although several variations of those 12 players have been discovered over the years as revealed in a 2007 Sports Collectors Digest article written by Keith Olbermann. In that piece, Olbermann points out that five of the 12 players – Ron Fairly, Boog Powell, Jim Maloney, Rusty Staub and Curt Flood – have some form of variation to their cards, mostly slightly different photo cropping.
What's interesting about this little technology-enhanced trading card release is that a handful of test cards – yes, tests of the tests – have been discovered.
A Historic Find
In June, 2015, an ultra-rare uncut sheet of 1968 Topps with Roberto Clemente and two unreleased cards – Tommy Davis (then with the Mets) and pitcher John O'Donoghue of the Cleveland Indians – sold in the Goodwin & Co. Auction for $50,061 with buyer's premium.
The sheet had been obtained by Beckett Media from a Dallas-area man whose father had once worked at XOGRAPh, the lenticular printing company in the Dallas-Fort Worth area that printed the Topps 3-D cards and later printed some of the Kellogg's 3-D sets as well.
Included in that find – termed the Benanti Collection after the Dallas man who owned the sheets – were some of the test issues of the '68 3-D set. The backs contained text indicating the card was "not for resale" and read: "This is an experimental XOGRAPh card produced as a limited edition. Not for public circulation or distribution. Not for resale. To be returned to: Visual Panographics, Inc., 488 Madison Avenue, New York, New York."
And clearly any collector finding one of these would dutifully return it to that Madison Avenue address…or not. But at least XOGRAPh went through the motion of detailing that the card was not a finished product ready for market.
Alas, the 1968 Topps 3-D Baseball set was a one-year wonder. Presumably, the cost of creating the cards was too great for the interest generated.
"They were just too expensive for Topps to continue," Goodwin said.
So Topps got the answer to its test. Today, almost five decades after their off-Broadway release, the cards are revered for their scarcity and their back story…at least what has been revealed to date.
1968 Topps 3-D Baseball Checklist
12 cards.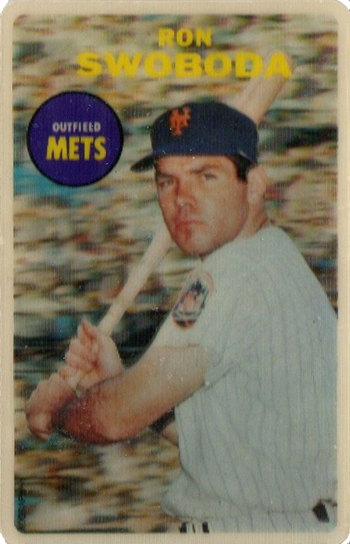 Looking to buy 1968 Topps 3-D Baseball cards? Click on the links to see what's listed on eBay.
1 Roberto Clemente, Pittsburgh Pirates
2 Willie Davis, Los Angeles Dodgers
3 Ron Fairly, Los Angeles Dodgers
4 Curt Flood, St. Louis Cardinals
5 Jim Lonborg, Boston Red Sox
6 Jim Maloney, Cincinnati Reds
7 Tony Perez, Cincinnati Reds
8 Boog Powell, Baltimore Orioles
9 Bill Robinson, New York Yankees
10 Rusty Staub, Houston Astros
11 Mel Stottlemyre, New York Yankees
12 Ron Swoboda, New York Mets