Have a Coke and a Card: 1965-66 Coca-Cola Hockey
At a time when Topps offered the only mainstream hockey series, 1965-66 Coca-Cola Hockey filled a niche with a series that stands the test of time.
The mid-60s were a tough time to be a hockey card collector.
Changing Hobby Landscape
After starting out with four straight years of two manufacturers pumping cards into the marketplace, Parkhurst dropped out of the picture after their epic 1963-64 release, leaving Topps as the only game in town. The New York-based confectioner came on strong with the 1964-65 Tall Boys set, one of the most iconic, and valuable, of the decade but a one-set season meant hockey card collecting had just a short window…and was over far too soon.
Fortunately, the following season offered another series to pursue. While not a classic "cards in pack with stick of gum" product, it was wildly popular with collectors while offering its own unique challenges. And all it took to build was a willingness to down a lot of specially marked bottles of Coca-Cola or Sprite.
Distribution
The 1965-66 Coca-Cola hockey card series was a brilliantly executed promotional scheme that encouraged hockey fans to guzzle down the soft drinks and collect specially marked bottle caps with an NHL team's nickname on the liner. Once a collector acquired 10 caps featuring one team's nickname, they could mail them in for an 18-card perforated strip of player cards from that team (along with a 19th card that could be redeemed for a now highly sought after collector's album).
The unnumbered cards themselves were fairly plain and printed on thin paper, offering a black-and-white image on the front with the player's name along the bottom. On the back were player vitals, including their complete stats in the NHL. Not the most visually striking collectibles, but what they lacked in eye appeal was made up for with inclusivity.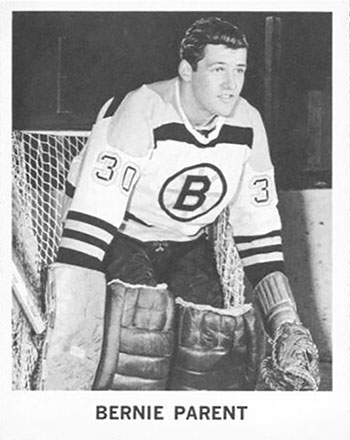 It all added up to a 108-card series that was nearly as representative of the league as Topps's 128-card series that season. There are a number of noteworthy cards in the set, including rookie year issues of Gerry Cheevers, Phil Esposito, Yvan Cournoyer, Ed Giacomin, Paul Henderson, Dennis Hull, Ken Hodge and more. It also features a single of Bernie Parent that pre-dates his 1968-69 Topps/OPC RC by three years and pictures the future Hall of Famer with his first NHL team, the Boston Bruins.
Enduring Popularity
The contemporary popularity of the series upon its release is evident by how readily these singles can be found online and at major card shows. That makes them surprisingly affordable for a set that's more than half a century old and is highly subject to condition sensitivity. All told, the Coke cards are an easy entry point for collectors looking to venture into vintage collectibles.
Detached, raw singles can easily be had for less than $20, even those of Gordie Howe, Bobby Hull, Jean Beliveau, Sawchuk and Glenn Hall. They're more desirable when found in intact strip form, however, although even then they're shockingly affordable – the effect of a product that's non-traditionally sized and therefore difficult to store.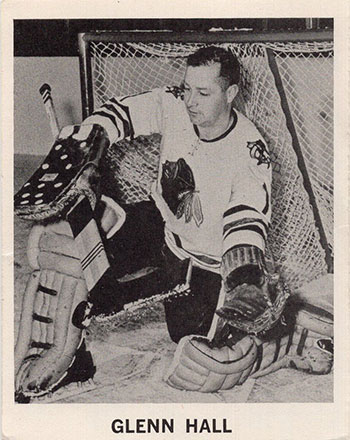 Considering the affordability and the star-studded checklist, this series is a worthwhile add to any collection.
Checklist
1965-66 Coca-Cola Hockey Checklist
108 cards.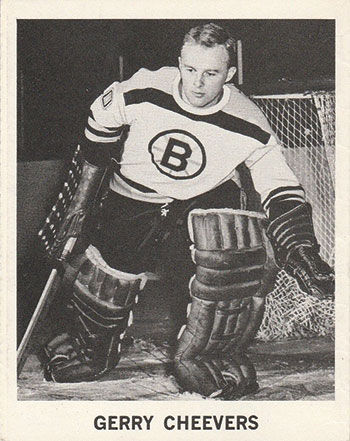 George Armstrong
Barry Ashbee
Don Awrey
Ralph Backstrom
Doug Barkley
Hank Bassen
Andy Bathgate
Bob Baun
Jean Beliveau
Gary Bergman
Leo Boivin
Johnny Bower
Arnie Brown
John Bucyk
Gerry Cheevers
Yvan Cournoyer
Roger Crozier
Alex Delvecchio
Bob Dillabough
Kent Douglas
Dave Dryden
Dick Duff
Ron Ellis
Phil Esposito
John Ferguson
Reg Fleming
Val Fonteyne
Bill Gadsby
Ed Giacomin
Rod Gilbert
Warren Godfrey
Phil Goyette
Ted Green
Vic Hadfield
Glenn Hall
Terry Harper
Billy Harris
Ted Harris
Bill Hay
Paul Henderson
Bill Hicke
Wayne Hillman
Charlie Hodge
Ken Hodge
Tim Horton
Gordie Howe
Harry Howell
Bobby Hull
Dennis Hull
Earl Ingarfield
Doug Jarrett
Red Kelly
Forbes Kennedy
Dave Keon
Orland Kurtenbach
Albert Langlois
Jacques Laperriere
Claude Larose
Parker Macdonald
Bruce MacGregor
Al Macneill
Frank Mahovlich
Chico Maki
Bert Marshall
Don Marshall
Ab McDonald
John McKenzie
Mike McMahon
Stan Mikita
Doug Mohns
Ron Murphy
Jim Neilson
Eric Nesterenko
Bob Nevin
Murray Oliver
Bernie Parent
Garry Peters
Pierre Pilote
Dean Prentice
Marcel Pronovost
Claude Provost
Bob Pulford
Jean Ratelle
Matt Ravlich
Henri Richard
Jim Roberts
Doug Robinson
Bobby Rousseau
Terry Sawchuk
Brit Selby
Eddie Shack
Don Simmons
Floyd Smith
Fred Stanfield
Allan Stanley
Pete Stemkowski
Ron Stewart
Jean Guy Talbot
Gilles Tremblay
J.C. Tremblay
Norm Ullman
Elmer Vasko
Mike Walton
Ed Westfall
Ken Wharram
Tom Williams
Gump Worsley
Bob Woytowich
Team Sets
Team Set Checklists
Want to know what cards your favorite team has in 1965-66 Coca-Cola Hockey? Here's the checklist broken down by team. Scroll through or click below to go directly to that team.
Boston Bruins
Chicago Blackhawks
Detroit Red Wings
Montreal Canadiens
New York Rangers
Toronto Maple Leafs
1965-66 Coca-Cola Hockey Boston Bruins Checklist
Barry Ashbee
Don Awrey
Leo Boivin
John Bucyk
Gerry Cheevers
Bob Dillabough
Reg Fleming
Ted Green
Forbes Kennedy
Albert Langlois
Parker Macdonald
Murray Oliver
Bernie Parent
Dean Prentice
Ron Stewart
Ed Westfall
Tom Williams
Bob Woytowich
1965-66 Coca-Cola Hockey Chicago Blackhawks Checklist
Dave Dryden
Phil Esposito
Glenn Hall
Bill Hay
Ken Hodge
Bobby Hull
Dennis Hull
Doug Jarrett
Al Macneill
Chico Maki
Stan Mikita
Doug Mohns
Eric Nesterenko
Pierre Pilote
Matt Ravlich
Fred Stanfield
Elmer Vasko
Ken Wharram
1965-66 Coca-Cola Hockey Detroit Red Wings Checklist
Doug Barkley
Hank Bassen
Andy Bathgate
Gary Bergman
Roger Crozier
Alex Delvecchio
Val Fonteyne
Bill Gadsby
Warren Godfrey
Billy Harris
Paul Henderson
Gordie Howe
Bruce MacGregor
Bert Marshall
Ab McDonald
Ron Murphy
Floyd Smith
Norm Ullman
1965-66 Coca-Cola Hockey Montreal Canadiens Checklist
Ralph Backstrom
Jean Beliveau
Yvan Cournoyer
Dick Duff
John Ferguson
Terry Harper
Ted Harris
Charlie Hodge
Jacques Laperriere
Claude Larose
Claude Provost
Henri Richard
Jim Roberts
Bobby Rousseau
Jean Guy Talbot
Gilles Tremblay
J.C. Tremblay
Gump Worsley
1965-66 Coca-Cola Hockey New York Rangers Checklist
Arnie Brown
Ed Giacomin
Rod Gilbert
Phil Goyette
Vic Hadfield
Bill Hicke
Wayne Hillman
Harry Howell
Earl Ingarfield
Don Marshall
John McKenzie
Mike McMahon
Jim Neilson
Bob Nevin
Garry Peters
Jean Ratelle
Doug Robinson
Don Simmons
1965-66 Coca-Cola Hockey Toronto Maple Leafs Checklist
George Armstrong
Bob Baun
Johnny Bower
Kent Douglas
Ron Ellis
Tim Horton
Red Kelly
Dave Keon
Orland Kurtenbach
Frank Mahovlich
Marcel Pronovost
Bob Pulford
Terry Sawchuk
Brit Selby
Eddie Shack
Allan Stanley
Pete Stemkowski
Mike Walton