1954 Mickey Mantle Game-Used Jersey in November Heritage Auction
When you click on links to various merchants on this site, like eBay, and make a purchase, this can result in this site earning a commission.
Heritage Auctions calls its Nov. 18-20 Fall Sports Collectibles Catalog Auction one "for the ages."
And it's hard to disagree when you consider just a few of the more than 4,200 lots in the auction, including game-worn jerseys from Mickey Mantle and Joe DiMaggio.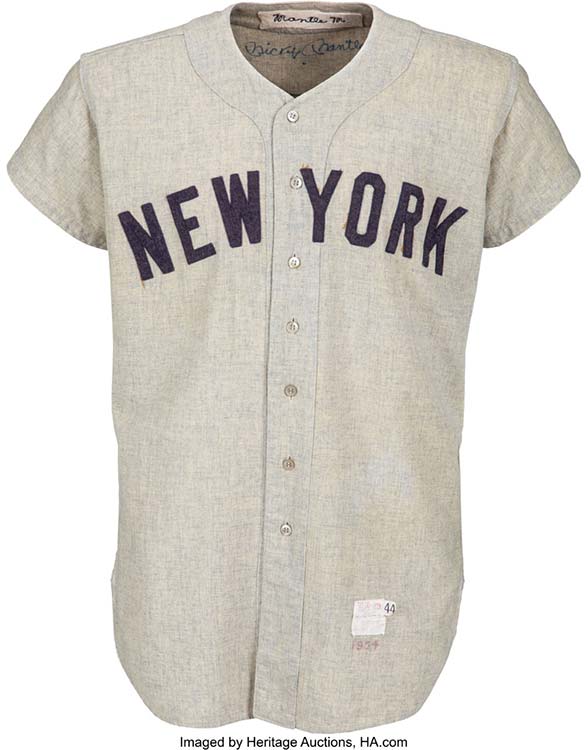 The Mantle jersey – signed by The Mick inside near the collar – is one he wore on the road during the 1954 season, a fantastic season for the outfielder who batted an even .300 with 27 HR and 102 RBI. As Heritage writes in the auction catalog, the slightly soiled and sweat-stained jersey "has been validated by myriad authentication and grading services."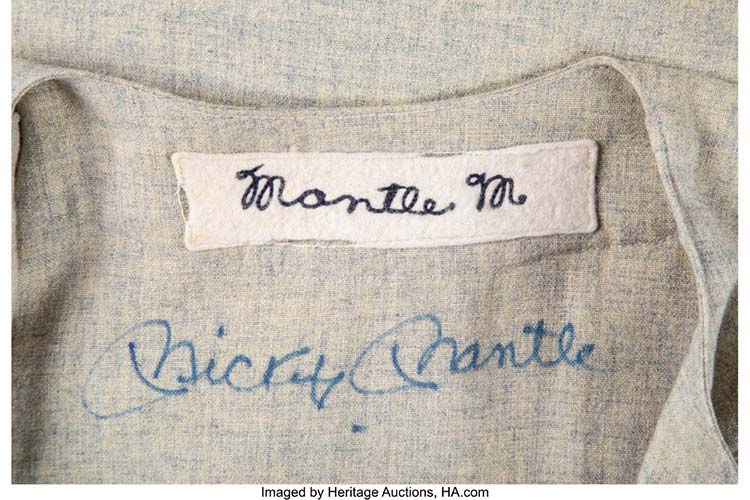 A worn and signed Yankees jersey of Joe DiMaggio, worn on Opening Day 1946, is also up for auction. The jersey was potomatched by Resolution Photomatching. Heritage reports that the #5 on the back of the jersey is a later replacement, "but the sewing path of the original, considerably smaller number '5' is still very easy to spot." Everything in the collar is original and unaltered, with "Spalding [size] 4," according to Heritage.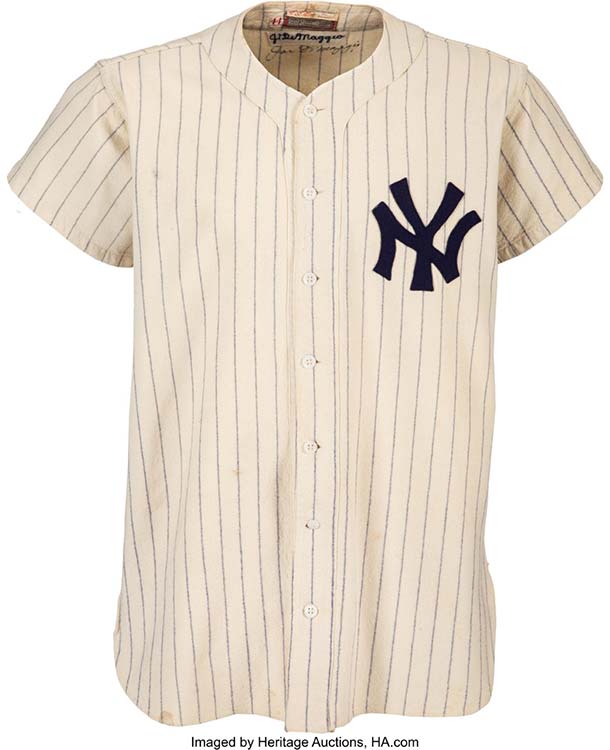 DiMaggio signed the jersey in the collar. For the record, The Yankee Clipper went 3-for-5 in this jersey that opening game, with two of the hits being doubles.
And keeping with the Yankees theme. Heritage offers a new-to-auction piece – the pitching rubber from Yankee Stadium used during the highly-emotional 2001 World Series. The series had been delayed that fall after the Sept. 11 terrorist attacks. It's the same pitching rubber President George W. Bush used to toss out the ceremonial first pitch before Game 3.

As Heritage reports, "Shortly after the end of that season, Yankee Stadium's playing surface underwent a major renovation, which necessitated the removal of the pitching rubber, which was gifted to a close friend of the Yankees organization. Dan Cunningham, the team's head groundskeeper, signed and dated the rubber in black Sharpie. Three pitchers from that team also signed the cement-weighted rubber: Roger Clemens, Andy Pettitte and Mariano Rivera."
Another historic piece is a 1924 World Series ball signed by Walter Johnson, one of the original first five players inducted into the Baseball Hall of Fame in 1936. Johnson's family says the baseball legend kept few pieces of memorabilia from his playing days. This ball, according to Johnson's grandson, was one of only three baseballs in his collection.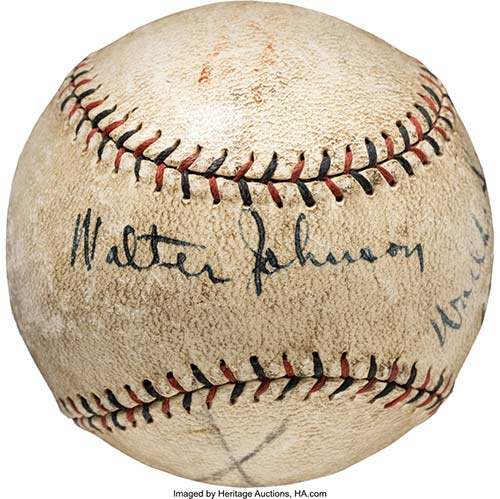 In a letter to Heritage, Johnson's grandson wrote, "I believe this to be the ball Earl McNeely hit in the bottom of the 12th inning of the seventh game to win the game for Walter Johnson and the World Series for Washington, the greatest event of his spectacular career." According to experts who have examined and authenticated the ball, it was signed by Johnson, who added "World Series 1924."
"Every time I look at the catalog for this auction, something else leaps out at me – Leroy Neiman's painting of Thurman Munson, for instance, or Muhammad Ali's contract for his 1970 bout with Jerry Quarry, his first fight after being banned for protesting the war in Vietnam," said Chris Ivy, founder and president of Heritage Sports. "The history available here is staggering, to put it simply. And to say we're honored to offer all of it would be an understatement."