1952 Topps Mickey Mantle Sells for Over $1 Million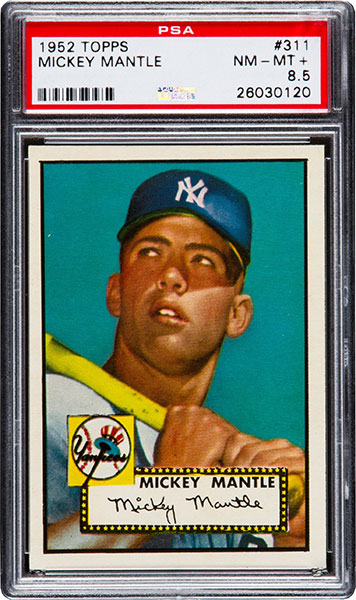 By Ryan Cracknell | Hobby Editor
The elusive list of million-dollar baseball cards has a new member — the 1952 Topps Mickey Mantle. A PSA 8.5 copy of the card sold for $1,135,250 (including buyer's premium) through Heritage Auctions.
This is just the second baseball card to top the milestone, although the T206 Honus Wagner has achieved that mark several times, most recently hitting $3 million for the first time.
The PSA 8.5 1952 Topps Mickey Mantle being sold by Heritage is one of three with that grade. Above those are six PSA 9 and three PSA 10 copies. According to Heritage, this particular card's origins can be traced back to Alan Rosen and his 1986 find of 1952 Topps High Number cards, which included a total of 75 Mantles.
This isn't the only high-end 1952 Mantle sold in the Heritage auction. They also had a PSA 7 that sold for $155,350 and a handful of others below that.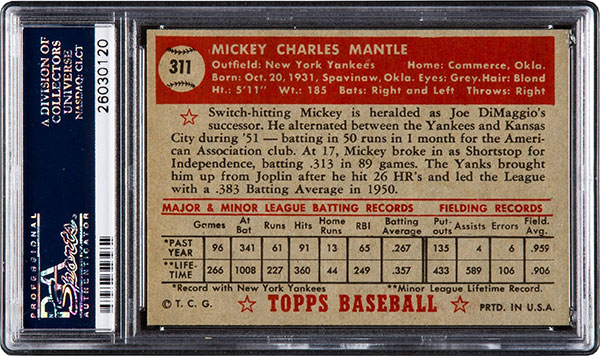 This is the latest in a long line of soaring prices for iconic vintage cards, particularly those in high grade. A pair of PSA 8 1952 Topps Mickey Mantles have topped $500,000 in the last 12 months. One in December, 2015 sold for $525,800. In February, 2016, another one went for $501,900. Both of these sales were also handled by Heritage Auctions.
Comments? Questions? Contact Ryan Cracknell on Twitter @tradercracks.