1952 Topps Mickey Mantle Sells for $5.2 Million, Highest Ever for a Baseball Card
Mike Trout's reign on top of the baseball card world was short-lived. A 1952 Topps Mickey Mantle has sold for a record-breaking $5.2 million, making it the most ever for a baseball card and sports card.
Graded a Mint PSA 9, one of six copies to achieve the grade from the company, the sale came through a private sale. The new owner is Rob Gough. The entrepreneur and actor has launched several startups. He currently owns DOPE, a streetwear and lifestyle brand that also sells CBD products.
"I've dreamt of owning a 1952 Topps Mickey Mantle since I was a kid collecting cards," said Gough via a press release. "It's the Mona Lisa of sports cards and I've been searching for this high graded example talking to industry experts, dealers, auction houses, friends and I'm ecstatic that I'm now the proud owner of this iconic card."
This particular copy of the 1952 Topps Mickey Mantle is known to the hobby. It is the same one that sold for $2,880,000 million in April, 2018.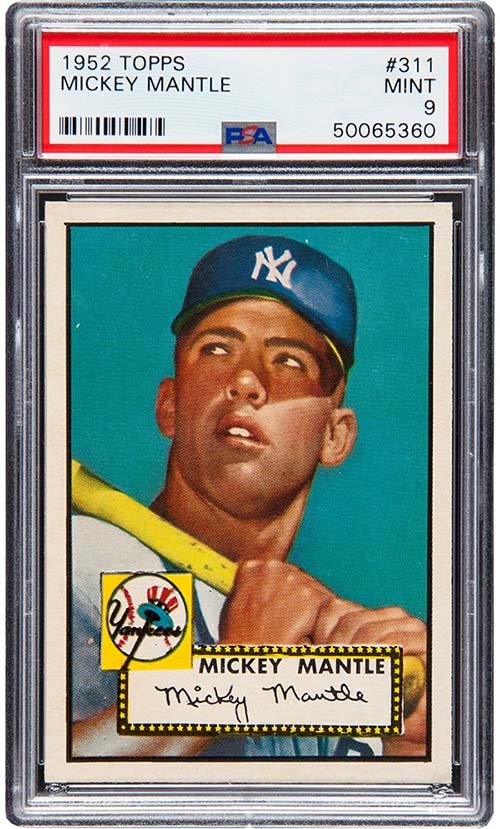 The $5.2 million sale was brokered through PWCC.
The Road to Becoming the Most Expensive Baseball Card Ever
The price shatters the $3.94 million that the 2009 Bowman Chrome Draft Mike Trout Superfractor Autograph. It netted at auction this past August.
A T206 Honus Wagner sold for $3.25 million in October and another copy for $3.7 million in December in a private sale.
The 1952 Topps Mickey Mantle is far from the rarest baseball card. However, it is certainly one of the most iconic. The card anchors the 1952 Topps set, a landmark release that helped launch the modern hobby. Mantle is a part of the high number short prints. The card's legend includes stories of excess cases being dumped in the Hudson River.
Today, the card is extremely valuable in any condition. However, the record price comes with the grade. To that end, it's worth noting that three Gem Mint PSA 10 1952 Topps Mickey Mantle cards also exist.