Unknown 1950s Mascot Dog Food Mickey Mantle Card Discovered
When you click on links to various merchants on this site, like eBay, and make a purchase, this can result in this site earning a commission.
When it comes to vintage Mickey Mantle baseball cards, you'd think there's not much left to be discovered. And just like that, history changes and something new is found. A 1950s Mascot Dog Food Mickey Mantle card was recently uncovered, hiding inside a photo album at a Pennsylvania antique sale. The find may turn out to be the rarest Mickey Mantle card to originate from his playing days.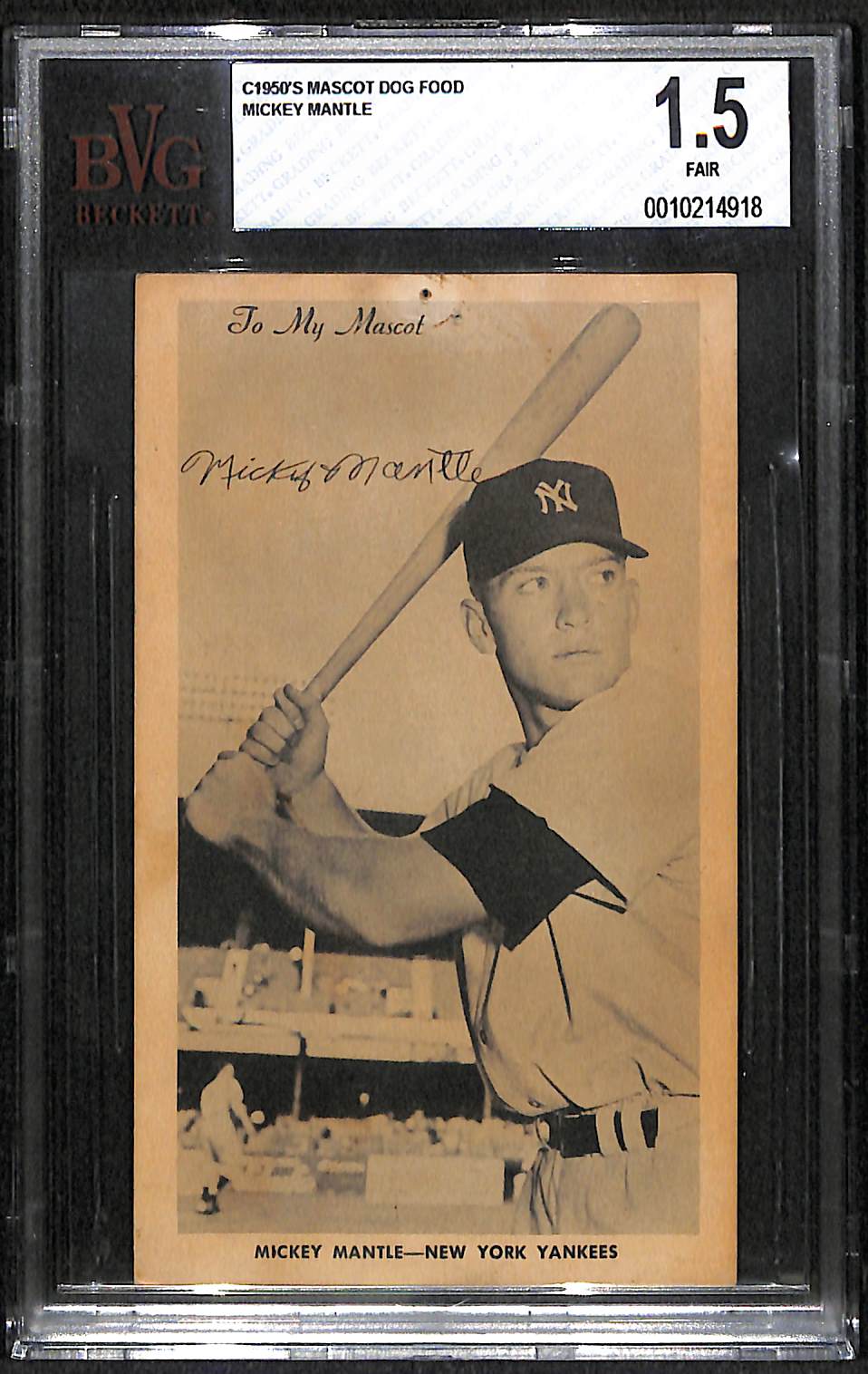 A new Yogi Berra card from the same set was also discovered at the same time.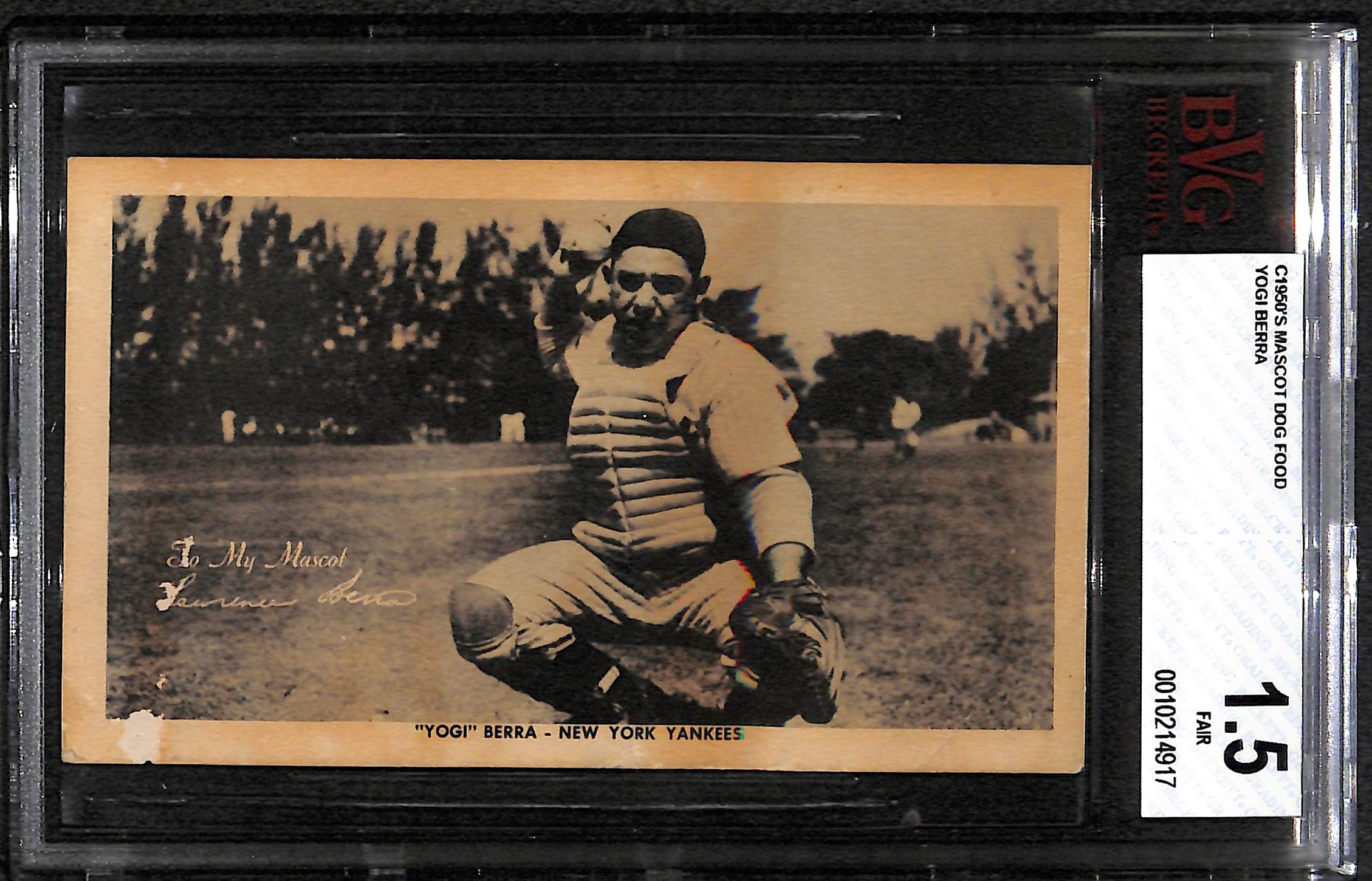 Both cards, which were certified as authentic and graded by Beckett Grading Services, are being sold through Wheatland Auction Services.
The current owner got the cards from a flea market simply because they looked interesting. They were then brought them into VSM Sports Card Outlet in Lancaster.
"People think Mickey Mantle's 1952 Topps baseball card is a rare card, as it is probably the most popular and iconic cards from the post-war era, but finding a first-to-market and possibly one-of-a-kind Mickey Mantle card is much more exciting to me," said Bill Fuhrman, VSM store manager. "I never expected to ever see a new-to-the-market discovery like this, especially something that was made in the 1950s."
The 1950s Mascot Dog Food set isn't an entirely new discovery. That said, the known checklist was small, limited to a single card. Robin Before Mantle and Berra, Robin Roberts was the only other confirmed card in the set.
"Discovering a previously unknown card in our hobby today is a rare find. Discovering a previously unknown card of a superstar like Mickey Mantle–that is one of the hobby's Holy Grails," said Andy Broome, Beckett's Senior Vintage Card Grader.
The exact year the 1950s Mascot Dog Food Mickey Mantle and Yogi Berra cards came out still hasn't been determined with 100 percent certainty. However, research by members of the Net54 message board community made a couple of findings. First was a photo caption in a Burton Hawkins "Baseball Beat" column in the April 27, 1954 copy of Washington's Evening Star that noted how Washington Senators manager Bucky Harris was a business parter with a handful of players who appeared on Mascot dog food cans. Berra, Roberts, Eddie Mathews and Monte Irvin were among those mentioned.
More research from the message board traced the photo from the Mascot Mantle card back to his 1951 Wheaties premium.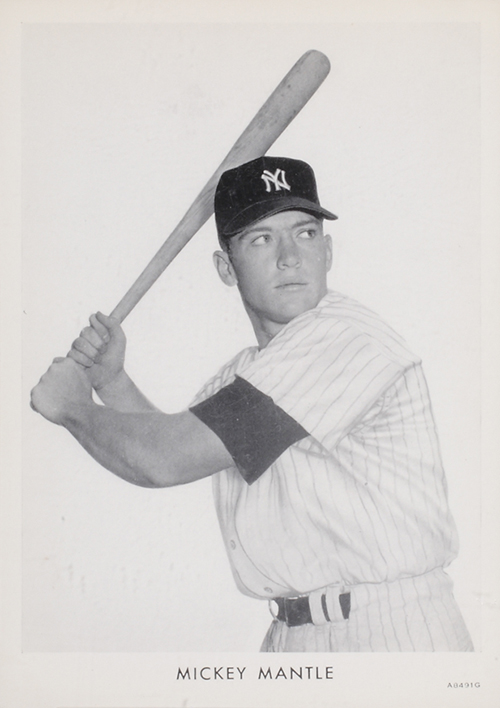 The Mascot Yogi Berra has the same shot as the image used on his 1950 Bowman card.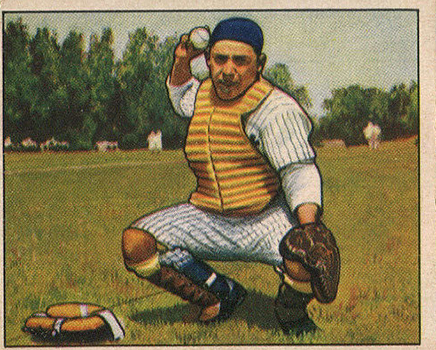 With that information, it's believed that the cards are from no later than 1955, possibly earlier.
"Finding a one-of-a-kind sports card is a rarity in-itself. But it's even more exciting when it happens to be two iconic players–Mickey Mantle and Yogi Berra," said Wheatland Auction Services owner, Stacey Whisman. "It's impossible to put a value on a first-to-market Mickey Mantle card that happens to be a regional dog food card, as potential buyers can include Mantle collectors, regional brand collectors, New York Yankees collectors, people who want the rarest cards in existence, and more."
The card backs don't have much in the way of player information or stats. Rather, they come with an offer. For $0.25 and one label, collectors could get a small kit of items that included a signed 8×10.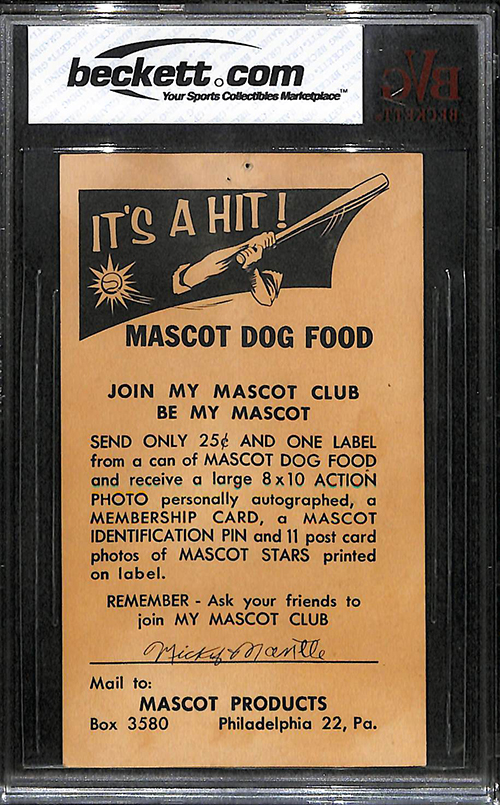 Bidding for both cards, which can be done online through the Wheatland site, ends on January 28.