1947 Jackie Robinson Bond Bread Baseball Cards Tough But Important Set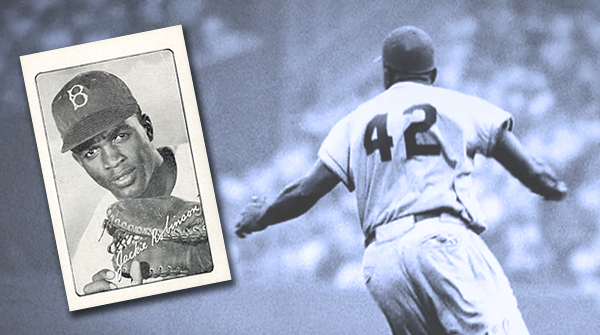 By Ryan Cracknell | Hobby Editor
When it comes to Jackie Robinson cards, his 1949 Bowman and 1949 Leaf cards are considered by most to be his rookie cards. However, there's another set that debuted a couple of years earlier that carries a lot of significance beyond just baseball cards. 1947 Jackie Robinson Bond Bread is a small but tough set that is just as important culturally as it is to the hobby, perhaps even more so.
An Early Robinson Rarity
The 13 cards that make up the 1947 Jackie Robinson Bond Bread set highlight the baseball legend with a mix of posed and action shots. Robinson can be seen running, sliding, leaping and fielding ground balls. A few cards are portraits with him holding various pieces of equipment. For a set from 1947, the visual nature is impressive.
The cards are a little smaller than today's tradition sizes, measuring 2 1/4 by 3 1/2 inches. They're done entirely in black and white. The images have rounded corners with a white outside border.
Card backs come in one of three styles, each of which has an ad for Bond Bread and a note from Robinson. One of these backs is only on one card and it's the most common card in the set.
This card, which is designated as a double print, has a portrait of Robinson on the front along with a facsimile signature. The back is the only one to feature a biographical write-up.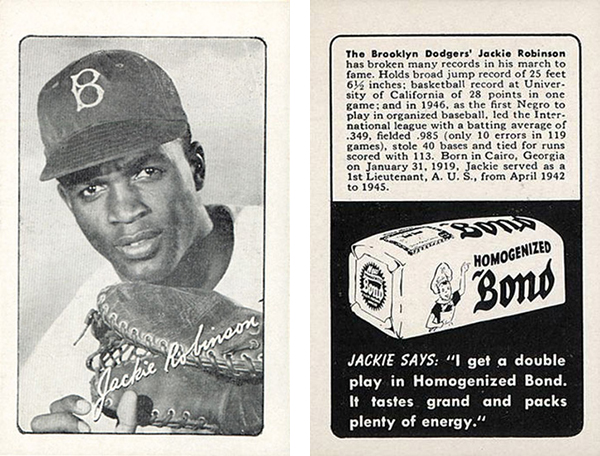 The other two backs that cover the rest of the set are more direct ads.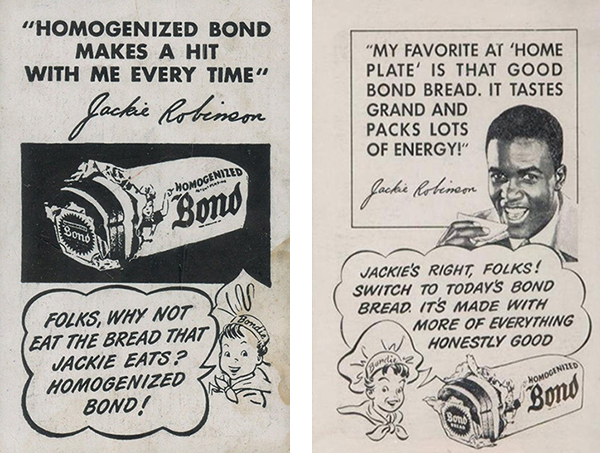 The facsimile signature card was likely distributed outside of the rest of the set. It has long been believed that it was a promo card of sorts available at grocery stores, among other distribution methods.
This ad from the August 19, 1947 Baltimore Afro American News seems to back this up: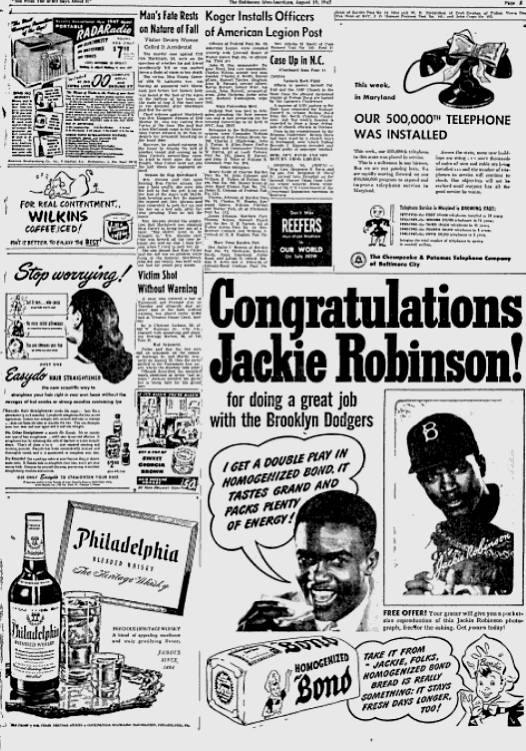 It pictures the card and tells readers to head to their local grocery store to get one for free. There's no mention of even having to buy a loaf of bread.
Here's a close-up look at the offer: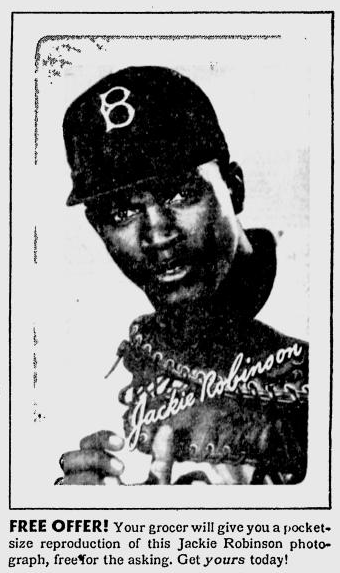 Although it would make sense for the rest of the set to be distributed in loaves of bread, it's doesn't appear to be known if this was, indeed, the case.
Because Robinson's relationship with the bread maker lasted several years, it's also possible that some of the cards could have been released at a later date. This might offer an explanation for the different backs.
What is known is that the 1947 Jackie Robinson Bond Bread set is exceptionally tough to find. Few have been professionally graded and they don't turn up for sale publicly very often.
These weren't the only cards the bread manufacturer made of Robinson in 1947. He's also in the larger and broader-reaching 1947 Bond Bread Exhibits set that also includes Ted Williams, Joe DiMaggio and Yogi Berra. These blank-backed cards are over-sized and come with rounded corners.
Historical Significance of the 1947 Jackie Robinson Bond Bread Set
Baseball wasn't the only color barrier Jackie Robinson broke. With his various endorsement deals, he is credited as one of the first African-American men to appear in national advertising campaigns. While most of the Bond Bread ads targeted black newspapers, they did have a greater reach.
Bond was in competition with Wonder Bread, who had a Brooklyn Dodgers pitchman of their own — Dixie Walker. When Robinson first joined the team, it's believed Walker took issue with his new teammate. The extent of that discontent has become the thing of legend and the two did work things out.
When Robinson was originally signed by the Dodgers, Branch Rickey made it a point not to allow the rookie to sign commercial deals. The focus was to be on baseball and the complicated task of integrating the game. Obviously, something changed over the course of the year and Robinson as evidenced by the August ad.
Over the years, Robinson would sign several more endorsement deals including Borden's Evaporated Milk, Wheaties, and both Old Gold and Chesterfield Cigarettes.
But it was the one with Bond Bread that helped open the door for Robinson and other athletes down the road.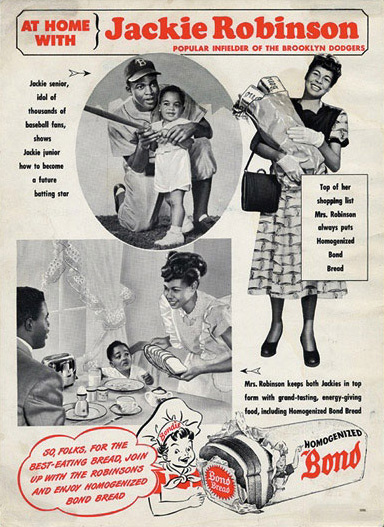 1947 Jackie Robinson Bond Bread Baseball Cards Gallery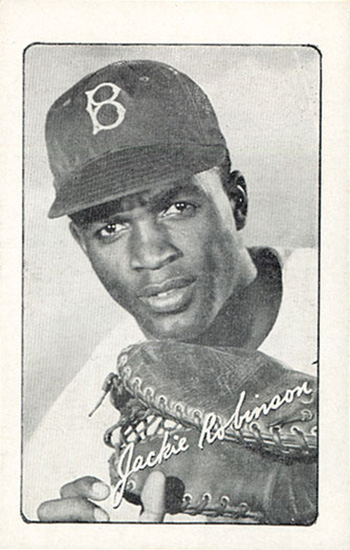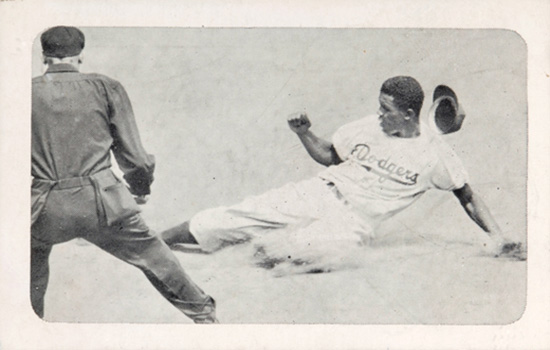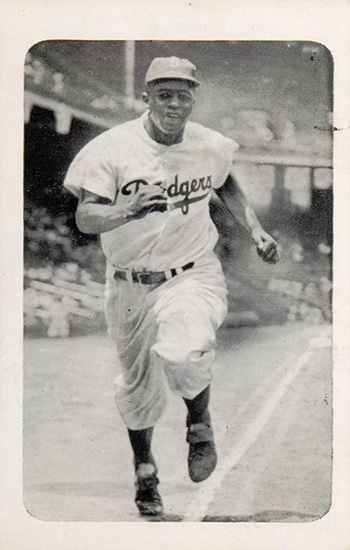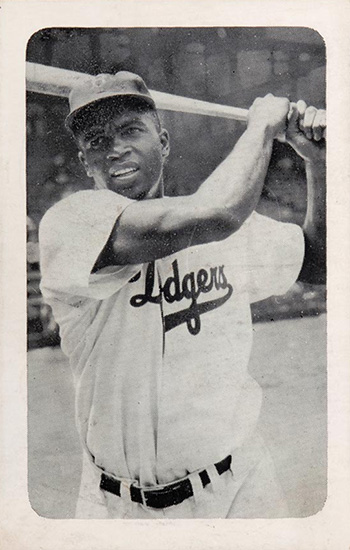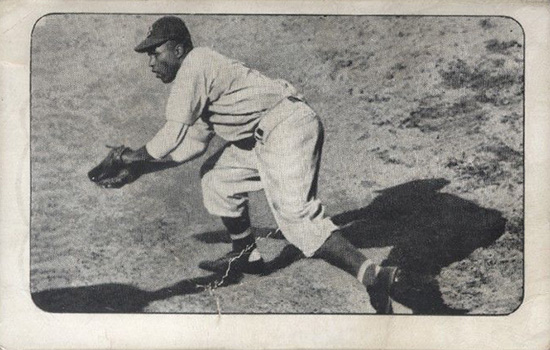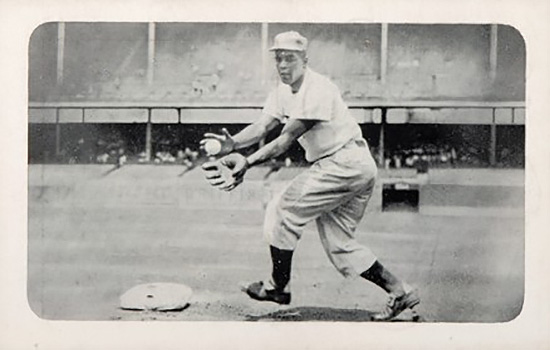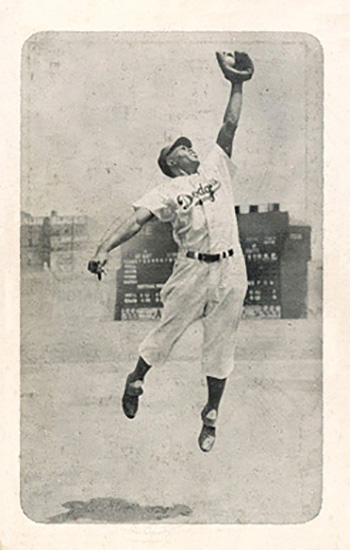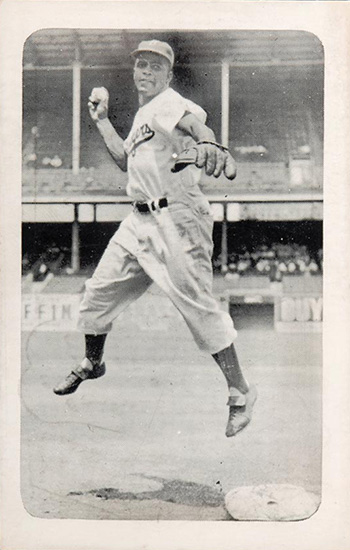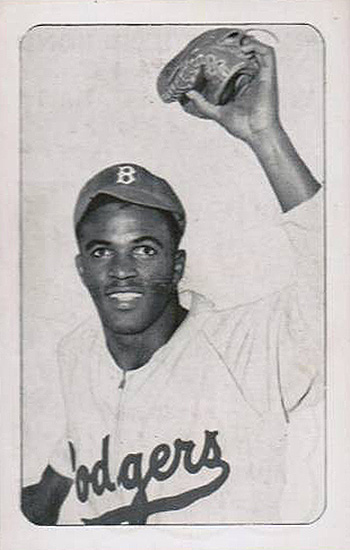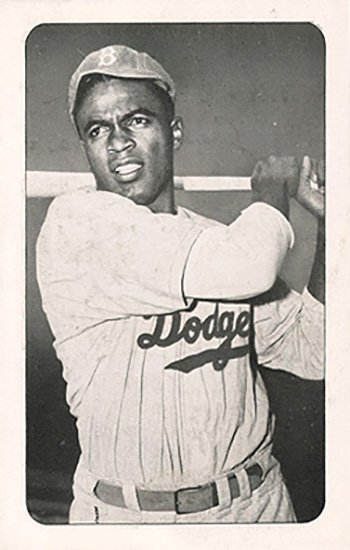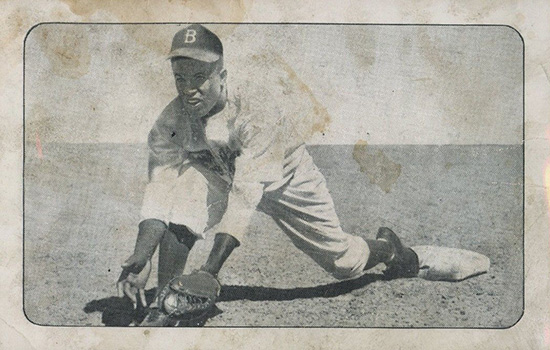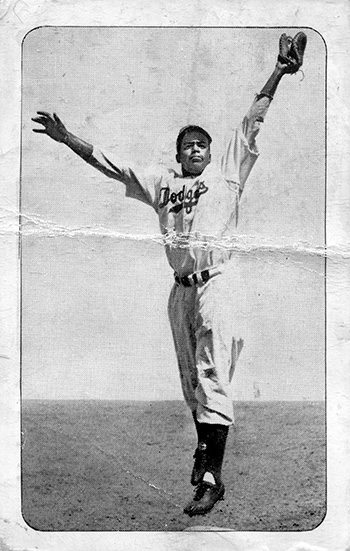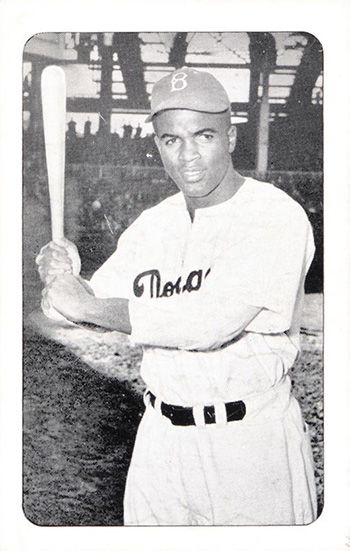 Comments? Questions? Contact Ryan Cracknell on Twitter @tradercracks.