1933 Goudey Sport Kings: The King of Multi-Sport
When you click on links to various merchants on this site, like eBay, and make a purchase, this can result in this site earning a commission.
Goudey is best known for those thick, nearly square baseball cards that dominated the hobby landscape in the 1930s. Distributing cards featuring the legendary Babe Ruth, Lou Gehrig, and others, the company built a miniature empire of sorts and was slowly leading the transition of the hobby's switch to baseball cards that were packaged with chewing gum. Briefly, it brought an ambitious multi-sport set in the form of 1933 Goudey Sport Kings.
1933 Goudey Sport Kings Overview
The 1933 baseball card set with 240 cards and a slew of Hall of Famers is heralded as one of the top releases of all time. But that wasn't Goudey's only sports release of 1933. That same year, the company issued its famous Sport Kings set.
The Sport Kings set does include baseball but that is hardly its focal point. Instead, the strength of Goudey's 1933 Sport Kings offering is its deeper dive into a variety of sports. And just as their 1933 baseball set is viewed as one of the top baseball card releases of all-time, the wonderfully diverse Sport Kings is one of the most revolutionary multi-sport products ever created.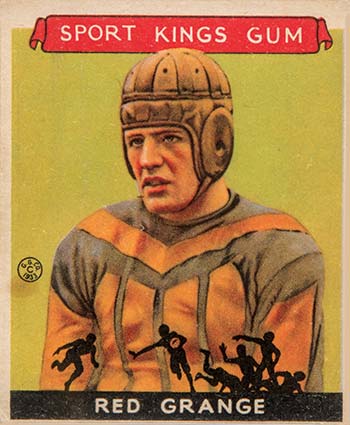 The 1933 Goudey Sport Kings release certainly wasn't the largest. With a modest 48 cards, it is dwarfed in size by the company's baseball issue. Even Goudey's follow-up baseball set in 1934, often noted for its relatively small size (96 cards), was still twice as large as Sport Kings. That small checklist would seemingly benefit set collectors in search of an easy build. Rising prices, however, have made it surprisingly difficult to complete for even the advanced collector. Pursuing low-grade cards will help significantly but it is easy to spend five figures on even a very low-grade set these days.
Big Things from Small Cards
The cards have your typical Goudey look. Measuring 2 3/8" by 2 7/8", they are the same size as Goudey's 1933 baseball cards and are similar in design and thickness. Fronts include a color image of the subject with the Sport Kings Gum banner at the top and the subject's name in a black box at the bottom. Diminutive silhouetted pictures depicting the sports are presented in the foreground of the larger color picture. These 'look' like Goudey cards but surely have their own distinctive flair.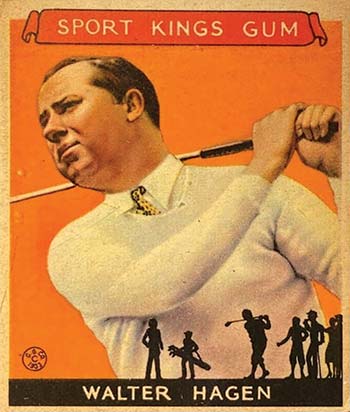 Part of the allure of the set is also in its relative rarity. The cards were produced at a much lower rate than Goudey's baseball cards of that year making them ultimately much harder to find. Despite the small checklist, the set has an intriguing mix of big names and rarity to present a sizable challenge.
Baseball Kings
Excuse the pun but, baseball is still 'king' in the set for many collectors. It is also safe to suggest that it would not be as popular without that sport's representation. There are only three baseball subjects but the priciest card in the entire set is that of the legendary Babe Ruth. Even in low-grade condition, prices for his card generally start around $2,000-$3,000.
Also in the baseball subset is a card of Hall of Famer Ty Cobb. Cobb's card is often mistaken for one released during his playing days. But his career actually ended in 1928, five years before the production of this set. That has helped keep the cost somewhat low by comparison to other Cobb issues. However, collectors can still expect to pay starting prices of around $600-$800 for raw, lower-grade cards. Anything in decent low-grade condition often fetches over $1,000 these days.
An Unlikely Star
Rounding out the baseball cards is one of pitcher Carl Hubbell. Those unfamiliar with the history of the game may be surprised to see the hurler selected as the third option. After all, flashier names were certainly available, including Gehrig. But Hubbell also made good sense, particularly because the set was released after the 1933 season. We know that the season had been completed because the back references Hubbell's statistics from that year – and it was one for the ages.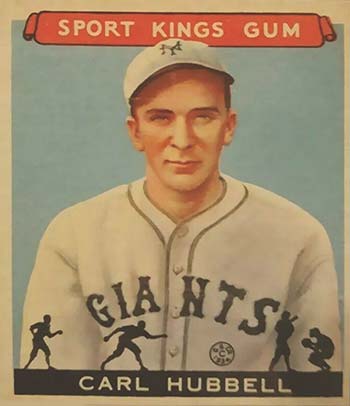 In 1933, Hubbell led the league in wins (23), ERA (1.66), shutouts (10), and innings pitched (308.2), on his way to winning the National League Most Valuable Player Award. The Cy Young Award given to the top pitcher in each league was not yet established or he certainly would have won that as well.
Hubbell didn't have the sort of sustained, long-term dominance that other players did. But his five-year span from 1933 through 1937 where he won 115 games and captured two MVP awards was remarkable. At the time the set was produced, Hubbell's inclusion was more than justified.
The Art of Sport
But the set doesn't focus solely on baseball and there's so much more to the Sport Kings release.
"(It's) not just for the baseball fan, since there were only three baseball players in the set – but for all sport lovers," notes collector Tim Gonzalez.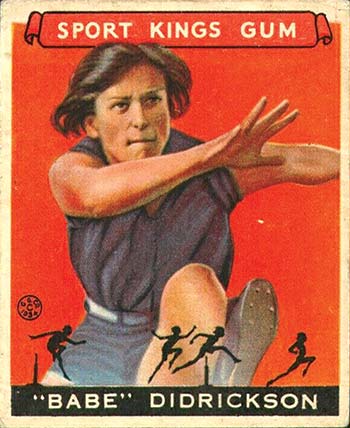 Nick Vossbrink, another collector and one of the Society for American Baseball Research's Co-Chairs for the organization's baseball cards committee, agrees. "It's kind of an amazing who's who of the sports stars of that era and captures a moment in time when many of those sports were also becoming nationally and internationally prominent," he says.
So, what else is there?
1933 Goudey Sport Kings: Beyond the Diamond
For starters, the set includes what are usually regarded as the first mainstream American cards of professional men's basketball players. To Vossbrink's point, basketball is one of those sports that was beginning to gain relevance and Goudey recognized its emergence with cards of four players. Three of the four, Joe Lapchick (misspelled as Lopchick on his card), Nat Holman, and Ed Wachter, became Hall of Famers. Lapchick's card typically is the most valuable but all of the basketball cards command interest because of their depictions of some of the earliest stars in the sport.
Football is another popular sport featured in the set. Collectors will find cards of the iconic Red Grange and Jim Thorpe, as well as coach Knute Rockne. By 1933, Thorpe had already retired and Grange's career was nearly at its end. Rockne's card was even issued a er his death as he was involved in a plane crash two years earlier. Low-grade Rockne cards can be found starting as low as a few hundred dollars. However, it is getting increasingly difficult to find cards of Grange and Thorpe much under $1,000 each.
Rounding out the 'Big Four' sports, the set included hockey cards of early stars, Irv Bailey, Irv Johnson, Eddie Shore, and Howie Morenz, who would pass away only a few years later with a leg fracture sustained during a game and, subsequently, a coronary embolism while in the hospital. The cards of Shore and Morenz are typically at the top of the heap in terms of value, starting around $100-$150 in lesser condition.
More Than the Big Four
Even beyond the big four American sports, there's still quite a bit to sift through in this landmark release. There are early golf cards of Bobby Jones, Walter Hagen, and Gene Sarazen. Tennis is represented with Hall of Famer Bill Tilden leading the way. Boxing cards, too, of Jack Dempsey and Gene Tunney, are notables. There's greatness everywhere you look in the set and some of those cards aren't necessarily cheap. In low-grade condition, Jones' cards, for example, start around $200-$300.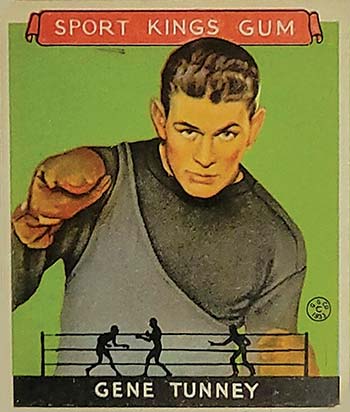 A few more very interesting cards are also spotted beyond even those figures. All-around female athlete Babe Didrikson-Zaharias was given a track and field card. Didrikson's card is not only notable as one picturing a female athlete but because it is one of her few contemporary cards.
Didrikson-Zaharias won two gold medals as a track and field star in the 1932 Olympics. She also became one of the top female golfers of her time, starred in basketball, and even pitched in a few major league spring training games. Simply put, she is arguably the top female athlete of all time. Even in low-grade condition, her cards in the Sport Kings set start at several hundred dollars.
"I love the coloring and that they included Babe Didrikson (though they misspelled her name 'Didrickson') and Helene Madison," notes women's sports historian and writer Cindy Dick.
The cards of Madison, an Olympic gold medalist swimmer, aren't nearly as popular. However, she was inducted into both the Olympic Hall of Fame and International Swimming Hall of Fame. She is also notable for being one of the two female athletes in the set.
King of the Jungle
There is value in even some of the athletes in the minor sports. 1933 Goudey Sport Kings includes the likes of wrestling, cycling, skiing, ice skating, horse racing, boating, aviation, billiards, and even sled racing. But cards of swimmers Duke Kahanamoku and Johnny Weissmuller are a couple of other important ones that deserve special recognition.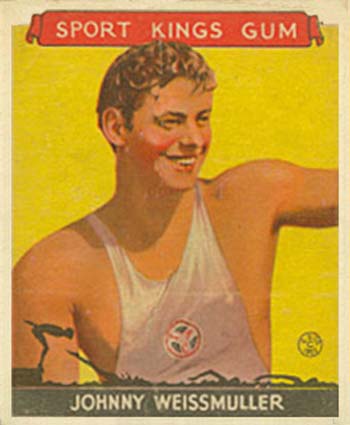 Both are recognized for swimming but are also known for other things. Kahanamoku popularized the sport of surfing and Weissmuller became a famous actor, later starring as Tarzan. Both won Olympic gold medals and their cards can be surprisingly expensive in good condition. Even in lesser shape, their cards often top $100 each.
1933 Goudey Sport Kings: One and Done
Goudey did not continue the set for another run in 1934. That might seem disappointing but it was ultimately not necessary with the incredible roster of talent in this release. More big-name baseball players would have been attractive inclusions in future editions. However, it wouldn't have been as easy to identify stars of the same quality in other sports. Had a second set been issued in 1934 with new athletes, the checklist would have been a watered-down version. In the end, the decision to end the series was probably a wise one and only enhances the 1933 edition.
Multi-sport sets have become quite popular over time. And while 1933 Goudey Sport Kings wasn't the first such release, it remains one of the finest.
Most Valuable 1933 Goudey Sport Kings Cards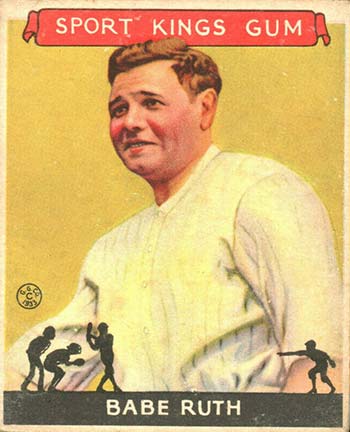 ---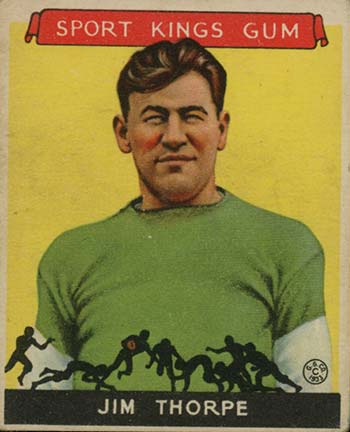 ---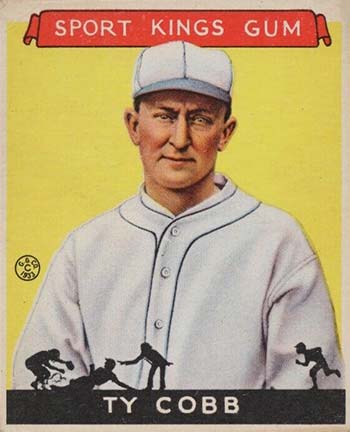 ---
4. Knute Rockne #35
Buy on: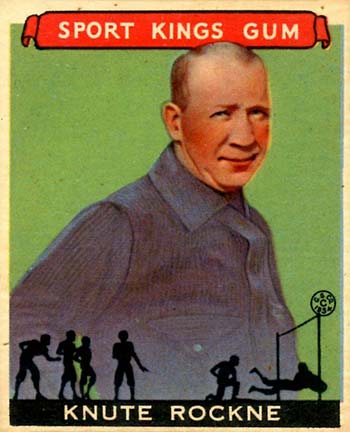 ---
5. Bobby Jones #38
Buy on: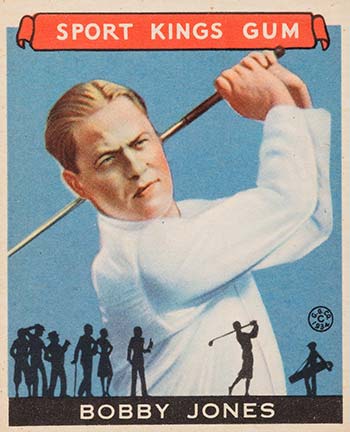 Checklist
1933 Goudey Sport Kings Checklist
48 cards.
Check 1933 Goudey Sport Kings values in the Beckett Price Guide.
Buy on: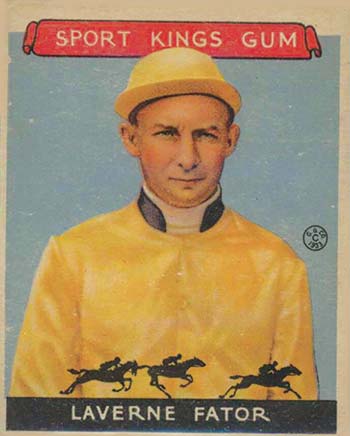 1 Ty Cobb – Baseball
2 Babe Ruth – Baseball
3 Nat Holman – Basketball
4 Red Grange – Football
5 Ed Wachter – Basketball
6 Jim Thorpe – Football
7 Bobby Walthour Sr. – Cycling
8 Walter Hagen – Golf
9 Ed Blood – Skiing
10 Anton Lekang – Skiing
11 Charles Jewtraw – Skating
12 Bobby McLean – Skating
13 Laverne Fator – Jockey
14 Jim Londos – Wrestling
15 Reggie McNamara – Cycling
16 Bill Tilden – Tennis
17 Jack Dempsey – Boxing
18 Gene Tunney – Boxing
19 Eddie Shore – Hockey
20 Duke Kahanamoku – Swimming
21 John Weissmuller – Swimming
22 Gene Sarazen – Golf
23 Vincent Richards – Tennis
24 Howie Morenz – Hockey
25 Ralph Snoddy – Boating
26 James Wedell – Aviator
27 Roscoe Turner – Aviator
28 James Doolittle – Aviator
29 Ace Bailey – Hockey
30 Ivan Ching Johnson – Hockey
31 Bobby Walthour Jr. – Cycling
32 Joe Lapchick – Basketball
33 Eddie Burke – Basketball
34 Irving Jaffee – Skating
35 Knute Rockne – Football
36 Willie Hoppe – Billiards
37 Helene Madison – Swimming
38 Bobby Jones – Golf
39 Jack Westrope – Jockey
40 Don George – Wrestling
41 Jim Browning – Wrestling
42 Carl Hubbell – Baseball
43 Primo Carnera – Boxing
44 Max Baer – Boxing
45 Babe Didrickson – Golf
46 Ellsworth Vines – Tennis
47 J.H. Stevens – Bobsled
48 Leonhard Seppala – Dogsled
By Sport
1933 Goudey Sport Kings Checklist – By Sport
Aviators
26 James Wedell
27 Roscoe Turner
28 James Doolittle
Baseball
1 Ty Cobb
2 Babe Ruth
42 Carl Hubbell
Basketball
3 Nat Holman
5 Ed Wachter
32 Joe Lapchick
33 Eddie Burke
Billiards
36 Willie Hoppe
Boating
25 Ralph Snoddy
Bobsled
47 J.H. Stevens
Boxing
17 Jack Dempsey
18 Gene Tunney
43 Primo Carnera
44 Max Baer
Cycling
7 Bobby Walthour Sr.
15 Reggie McNamara
31 Bobby Walthour Jr.
Dogsled
48 Leonhard Seppala
Football
4 Red Grange
6 Jim Thorpe
35 Knute Rockne
Golf
8 Walter Hagen
22 Gene Sarazen
38 Bobby Jones
45 Babe Didrickson
Hockey
19 Eddie Shore
24 Howie Morenz
29 Ace Bailey
30 Ivan Ching Johnson
Jockey
13 Laverne Fator
39 Jack Westrope
Skating
11 Charles Jewtraw
12 Bobby McLean
34 Irving Jaffee
Skiing
9 Ed Blood
10 Anton Lekang
Swimming
20 Duke Kahanamoku
21 John Weissmuller
37 Helene Madison
Tennis
16 Bill Tilden
23 Vincent Richards
46 Ellsworth Vines
Wrestling
14 Jim Londos
40 Don George
41 Jim Browning