Rare Pittsburgh Program from the First World Series in 1903 Heading to Auction
A program from the inaugural World Series in 1903 is being sold in November through Huggins & Scott Auctions.
It's an exceptionally rare program at that, one of just three known copies to come from Pittsburgh's Exposition Park.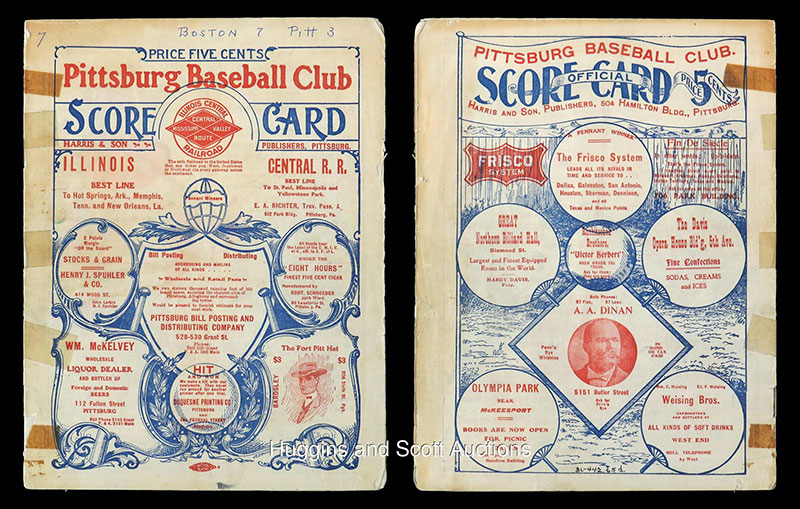 Bidding for the online auction opens on Friday, November 2 and ends on November 15.
"This extraordinary World Series program is among the rarest and most desirable baseball memorabilia," said Bill Huggins, Huggins & Scott owner. "The Fall Classic captives fans every October. This program reveals the excitement a fan had watching this first ever World Series."
The 1903 World Series program has a total of ten interior pages. Most of it consists of ads for businesses like Chuddy Gum, the Missouri Pacific Railway, and Raleigh Rye, "a Drink for Men of Brains." There's also Crystal Water and its suggestion of being able to live for 200 years.
Several pages have small photos of Pittsburgh players, including Honus Wagner.
More importantly is the completed scorecard inside the program, which documents all the action between the Pittsburgh Pirates and the visiting Boston Americans. Cy Young was on the hill for Boston, who won the game 7-3. The Americans went on to win the best-of-nine series in eight games. This is the only known copy of the program to have a completed Game 7 scorecard.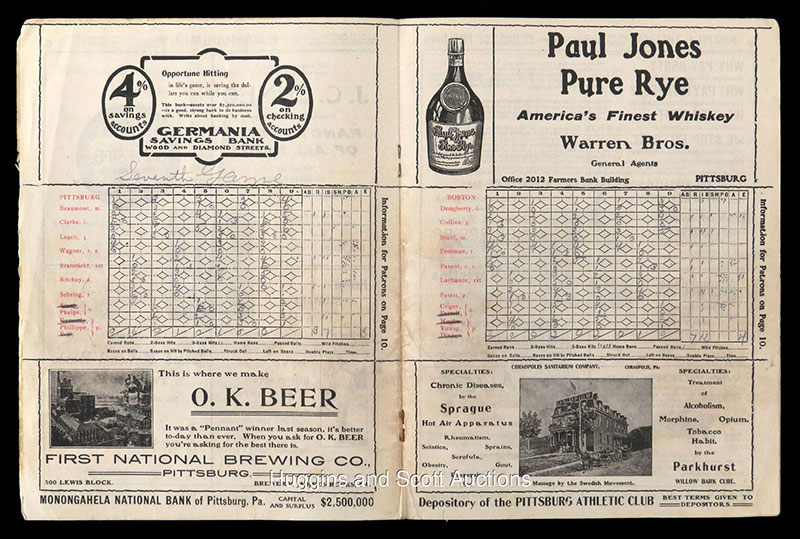 This particular copy comes from the collection of Ben Cavallo. The National Baseball Hall of Fame owns one of the other three copies. The third sold for $250,000 in 2011 in the Louisville Slugger Museum Auction.
According to Huggins & Scott, the 1903 World Series program is expected to sell for between $150,000 to $250,000.