Local Card Shop of the Week: J&J's Sports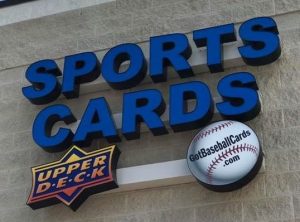 Joe Davis began collecting in 1976 at the young age of 8-years-old. There was a small grocery store on the way home from his school and he was rewarded for good grades with packs of baseball cards. While already a good student, this ensured his status as a straight-A student for the foreseeable future. Throughout the late 70's he collected with kids in the neighborhood and spent the summer trading baseball cards. After a childhood filled with sports cards, he opened his own shop in 1991 and turned his hobby into a career.
Local Card Shop of the Week is brought to you by Southern Hobby, who has been serving the collecting community for nearly 30 years.
JS – Thanks for speaking with me Joe. You opened your store way back in 1991. What led you to making that decision?
JD – In the mid 80's, I was buying cards and putting them up for investment and started going to shows in 1987. While in college in 1988, I began promoting and exhibiting at shows throughout the Southeast. The week I graduated from college, a close friend and I decided to open the business. I bought my partner out a few years later.
JS – Since 1991, you have seen a lot of changes throughout the Hobby. What have been some of the most noticeable changes in products since that time?
JD – I guess the whole thing started with the memorabilia cards and autographs, which have grown to a whole new level now. I remember the very first ones when Upper Deck in the early 90's had the signed Ted Williams cards and the signed Johnny Bench and Joe Morgan and so forth. That whole side of the industry has exploded and there is now such a chase and demand for rookie autographs and rookie RPA's. Also, like the saying "what's old is new," I remember when Topps introduced refractor technology with their Finest product. Now, what Panini is doing with Prizm and all the colored parallels in their products, the demand is through the roof for those items. Twenty-five years later, there is a tremendous amount of demand for those refractor type parallels.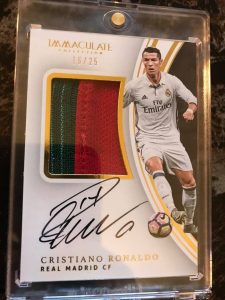 JS – What has been hot in your shop over the last 12 months? 
JD – Anything relating to 2017-18 basketball has been strong because I think this is potentially the best rookie class we have seen since 2003-2004 with LeBron, Carmelo, Wade and Bosh. This is such a great crop of rookies this year. There are a number of basketball products that have flown off the shelves. In addition, baseball in general was phenomenal with rookies like Aaron Judge and Cody Bellinger. We are looking forward to 2018 because we think Ohtani will help drive a lot of sales this year. Collectors are really excited about buying his cards. Being in Atlanta, we have Acuña coming up and there is a lot of demand for his cards. We hope to see him on the field by mid-April.
JS – If you had to pick one athlete, who would you say is found in the most collections in the state of Georgia?
JD – It's likely still Chipper. We still have a lot of demand for him. Chipper is like the Derek Jeter of the South. People still come in looking for his cards and wanting his autographs. He is a first ballot Hall of Famer and a lifetime Brave. He has a great following in our state. I met him a long time ago at a show and he seemed like a very down to earth guy and he is very loved by the fans of Atlanta.
JS – What have been some of the bigger hits in the shop over the years? 
JD – Most collectors will understand how much Ben Simmons has been in demand. He was the #1 pick last year and is in the running for Rookie of the Year this year. We recently had a collector pull the Simmons Silver Prizm, which at the time, was about a $1,500 card. We've had a young man buy a lot of high end Topps this year (as well as high end Panini baseball) and he pulled multiple Aaron Judge autographs. It's exciting seeing a 13 year old kid pulling something like that and shouting and high fiving everyone. We have a customer, Austin Brown, who buys a lot of high end soccer from the shop and he has pulled multiple autographs of Messi, Ronaldo and other top soccer stars. We have had so many big pulls over the years in the shop but those are a couple of experiences from recently that stand out.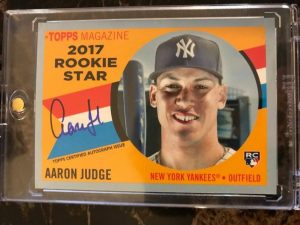 JS – I noticed your hat here at the Industry Summit says, "Make America Collect Again." Can you tell us a little about the project behind that hat?
JD – We've had our own website, www.gotbaseballcards.com, for years but we have just launched a new campaign. The theme of that campaign is, "Make America Collect Again", and I have a passion for seeing collectors connect with a local card store. When I look at local card stores across the country, there are not enough of us left, in my opinion. I would like to see more card stores open because ultimately, that is good for all of us in the hobby. It connects more collectors to collecting. So we launched this network on a website called www.collectagain.net and the purpose of the site is that any retail sports card store can go on that site and input their information; which we then verify and use to promote their store. We include their name, address, phone number, website, social media and any Google business page and these are all connected on this page. We also use Google Maps for their store address. Our hope long term is that as we build up the site and have more stores to participate, we can promote one site which will in turn promote stores all across the country. The site is up and running now and we are taking shop information for anyone who wants to participate.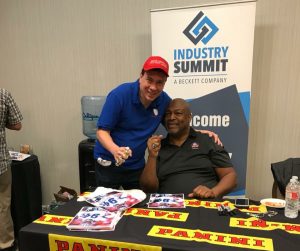 JS – If you had one piece of advice you could give to a new, long-time or future shop owner, what would that be?
JD – That would be an easy one. I firmly believe in the biblical principal that the greatest among us must be a servant. I believe in the importance of serving your customers and not "selling". Our entire mission statement is about serving, so we provide all types of services to help our customer. We offer grading and authentication services through BGS and PSA and customers can drop off their cards at the store and we will pre-screen them and give them an educated guess of what the grade will be. We offer consignment services to our customers. If they aren't comfortable with selling online, we are, and can help them with that. We offer appraisal services, insurance evaluations and a whole list of things that we provide as we try to serve our customers. We don't believe our store is just a place to exchange product for money. We see it as a community where they can come in and we can serve them in different ways.
JS – Do you have anything coming up that you would like to promote with your store?
JD – On Saturday, March 24, we are having a special Saturday event with free food and prizes in-store. Then, coming up on August 11, we will be hosting National Baseball Card Day in the store. We have a special in-store event about once every quarter for our customers.
J & J's Sports Superstore
Joe Davis
2135 Main Street East
Suite 210
Snellville, GA 30078
Facebook – gotbaseballcards
Instagram – gotbaseballcards
Twitter – @gotbaseballcard
Nationwide Store Directory – www.collectagain.net
Hours of Operation
Monday – Friday – 11am;5pm
Saturday – 10am:4pm