15 Awesome Photos from 2019 Topps Series 1 Baseball
When you click on links to various merchants on this site, like eBay, and make a purchase, this can result in this site earning a commission.
Stadium Club might be the baseball card brand with the reputation for strong photography. But for many years now, the flagship Topps line has also been very dependable in this regard. 2019 Topps Series 1 Baseball proves that once again.
While there are lots of typical shots of pitchers in mid-windup and batters getting comfortable at the plate, there's also plenty of action throughout the 350-card checklist. Sometimes it's an angle, other times it's the cropping and for some, it's just the whole package coming together to sing in unison with the design. A great photo can tell a story, evoke a feeling or give a sense of personality.
For me, there's no set criteria or rules. You just know it when you see it. And here are 15 2019 Topps Series 1 Baseball cards that have it.
Top 15 Photos from the 2019 Topps Series 1 Baseball Base Set
Here are my personal picks for the top cards in 2019 Topps Series 1 Baseball simply by the photo. I've only included regular base cards and not any inserts. The variation short prints are not here, either. These have lots of striking photos as well, many of which could have easily made the list here.
15. Lorenzo Cain #330
With a dirty uniform and an intense look of disinterest in anything other than his trip around the bases, Lorenzo Cain is on a mission here. This is one of those cards that oozes with personality.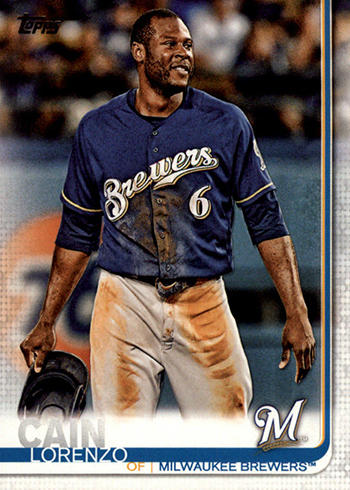 14. Adam Engel #196
No matter how many times they're used, wall-catch photos are great. Besides the obvious athleticism and intensity of the moment, this shot showcases Engel's height. The throwback unis are a nice cherry to top it all. That said, I'm left wondering where the ball is. I also wish we could see the just-out-of-frame reactions from the crowd.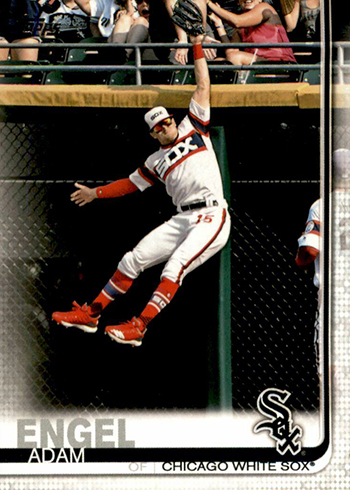 13. Jorge Soler #307
Just one small thing takes this card from good to great. Soler's play is impressive, sure. But it's made even better by that spray of dirt his feet are kicking up. It adds that much more motion and action to the frame to give it that extra pop.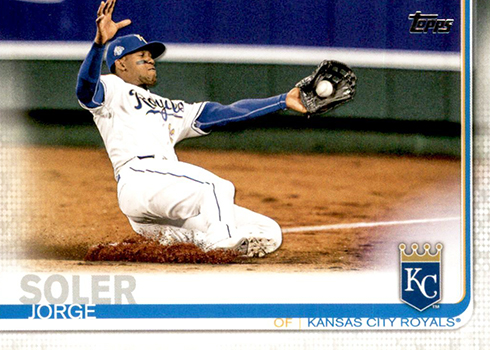 12. Eddie Rosario #258
Summer in a ballpark is one of life's great joys. And the bright dirt and sunglasses give every indication that's what's Eddie Rosario is enjoying here. What he's gesturing for is anyone's guess but the happy hands add to this card's sense of baseball bliss.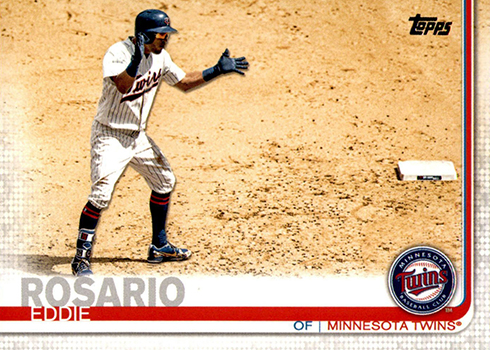 11. Zack Godley #59
Zack Godley looks like he should be gliding on the ice almost with this photo. At first glance, there's a lot to the lines and balance of Godley's body and uniform. But then you look to the front and there's the ball, which gives the shot more of a sense of action.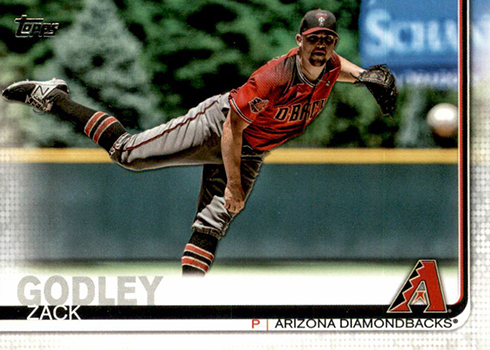 10. Albert Almora #226
Superheroes aren't the only people who fly and wear masks. Or maybe Albert Almora is a superhero?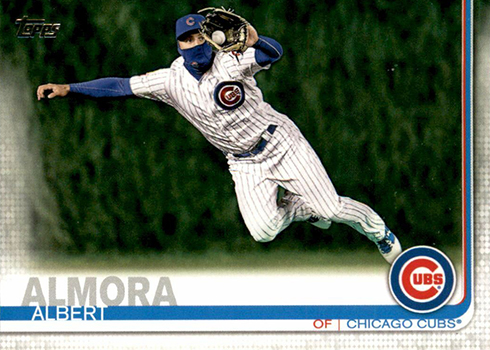 9. Mitch Garver #277
Whether you're up to bat or in the field, one of the earliest lessons of baseball is to watch the ball. Here are three people who are doing what they're told. This is a subtle shot in some ways. But when I look at it I want to un-pause it and watch baseball unfold.

8. Joey Votto #284
Joey Votto's card in 2019 Topps Series 1 doesn't have any real action. It's more of a portrait. The crouched bat lean is classic baseball. As my clothes will often attest to, I'm not big on matching. But I certainly can respect it. Look at all the red here. The jersey, helmet, batting gloves, those glorious socks, even the stands in the blurred background — red is everywhere and I'm in love.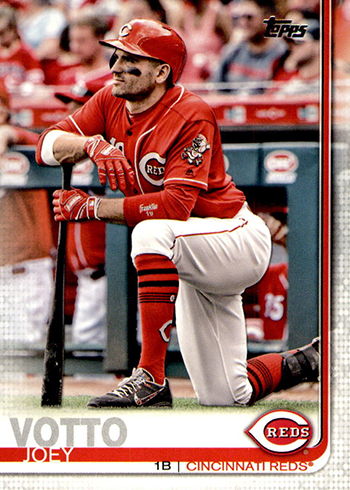 7. Lourdes Gurriel Jr. #82
I'm dizzy and I like it.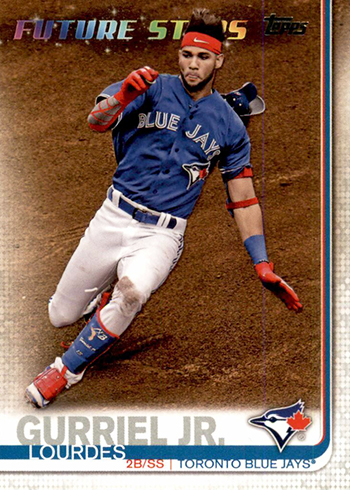 6. Aroldis Champman #99
The pose and cropping are standard stuff. Chapman's face shows some focus. But what makes this card is what's out of focus. The blurred rain coming down adds some drama and intensity like it belongs in an old Aerosmith video.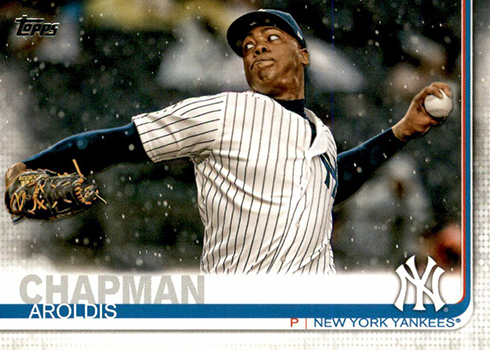 5. Javier Baez #310
Unintentional eye contact (or at least the illusion of) with the camera for the win. What looks like a pose is actually an action-packed photo. Look at Baez's flying necklace and all those dirt sprays, high and low.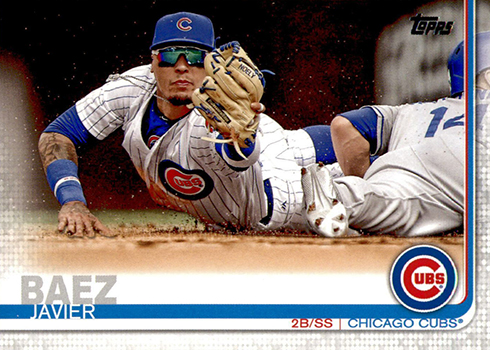 4. Dee Gordon #292
Cropping is key here. If the card zoomed in any further, much of the story would be lost. But with the baseball still visible, there's so much going on. The ball's going one way. Gordon is starting his dash to first, but his eyes are still on the ball. His fingers are still processing dropping the bat. Really, it's amazing to think how much the brain can process and do when you break it down.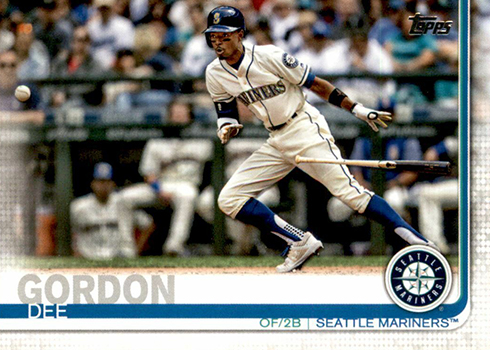 3. Mike Trout #100
Another year, another Topps Baseball card of Mike Trout scaling the wall to rob a home run. He's also shown doing something similar on his 2016 card. This time around, the outstretched outfielder brought misery to Seattle's Kyle Seager last July.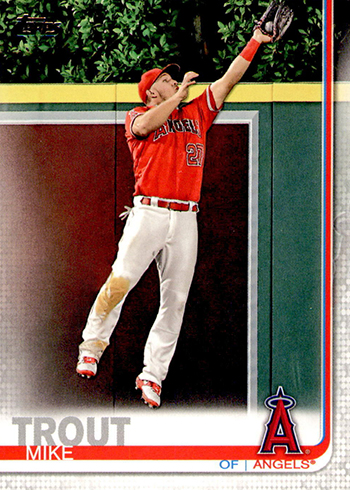 2. George Springer #323
I love how this picture finds beauty in the chaos. Whereas a lot of the other photos in this set use form to their advantage, George Springer is sprawling here. And it totally works. Between his body flying through the air, his helmet being left behind and feet kicking over the border, there's more power than grace here. There's also a story where you don't know the ending. Does Springer make it? Is he tagged out? Does it matter when it makes for such a cool card?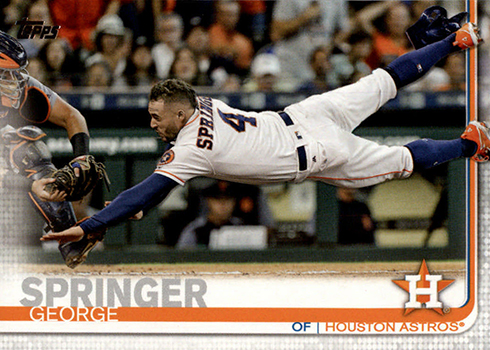 1. Didi Gregorius #215
My favorite card in 2019 Topps Series 1 Baseball, this is an example of everything coming together. The set has a few diving shots. But the head-on angle offers up a different perspective. But what takes it even further is how Topps took it outside the side border. The shot already has plenty of depth. By cropping that bit of his left arm over to the side and positioning it just so, there's a very real three-dimensional effect happening.