13 of the Weirdest Topps Allen & Ginter Cards Ever
Today, Topps Allen & Ginter might be a baseball card set when it comes to its spot on the release calendar. But a huge part of its identity comes from the non-baseball aspects that are a part of the checklist every year. That goes back to Allen & Ginter's origins as a tobacco company that produced trading cards to help promote and sell their products.
Allen & Ginter wasn't just baseball. They did more worldly releases covering things like geography and nature. Sets also included athletes and champions from different sports.
Today's Topps Allen & Ginter sets draw from the past in many ways including a lot of the insert themes. Most of these are somewhat mundane, focusing on dogs, plants and bugs. But Topps also likes to get weird with this line. This has led to lots of creative "baseball cards" since 2006 that art strange, curious or even downright bizarre.
Here are some of the weirdest.
13 Bizarre Topps Allen & Ginter Cards
2008 Topps Allen & Ginter Cabinet Boxloader Autographs Bigfoot /200
Allen & Ginter has brought lots of great non-baseball autographs over the years including Kevin Costner, Pelé, Kate Upton, Axl Rose and Sylvester Stallone, to name a few. There have been some strange ones over the years. Only one, though, has come from a monster truck. And not just any monster truck but the most iconic car crusher of all-time. The Bigfoot Cabinet Autograph, a randomly inserted box topper from the 2008 set, is one of the earliest Topps Allen & Ginter cards to get really weird. With 200 copies, there are enough that they still come up for sale somewhat regularly.
Yes, the "signature" is messy but it's forgivable all things considered.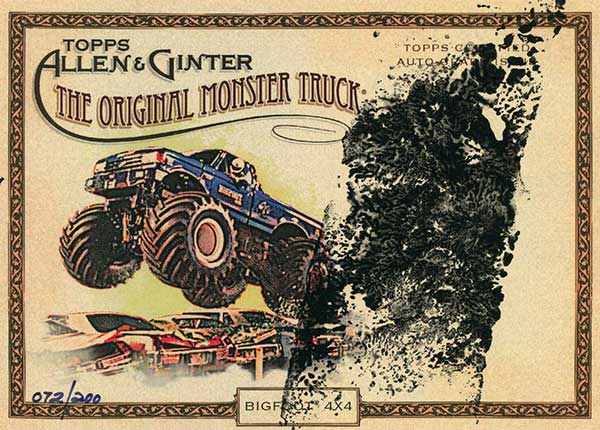 2008-2010 Topps Allen & Ginter DNA Relics Ludwig Van Beethoven
Looking to clone one of history's musical masters? Ludwig Van Beethoven hair is embedded in three different Allen & Ginter DNA Relics from 2008 to 2010. Abraham Lincoln, Edgar Allen Poe and Napoleon Bonaparte are among the other historical figures to get the hair card treatment from the brand.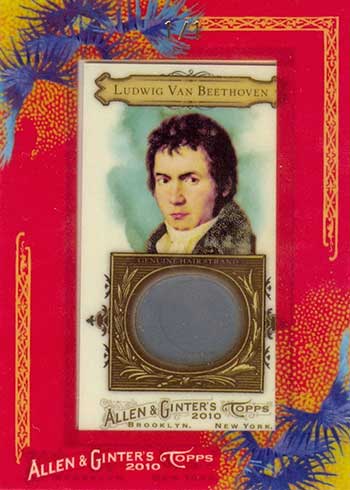 2009 Topps Allen & Ginter Invisible Man Autograph /10
Goofy characters are nothing new to Allen & Ginter. But the 2009 set has one of the cheekiest baseball cards even with an "autograph" from the Invisible Man. At first glance, it looks like Topps quality control flubbed things as there's no signature. It's there, though. You just have to hold it under a black light to see it.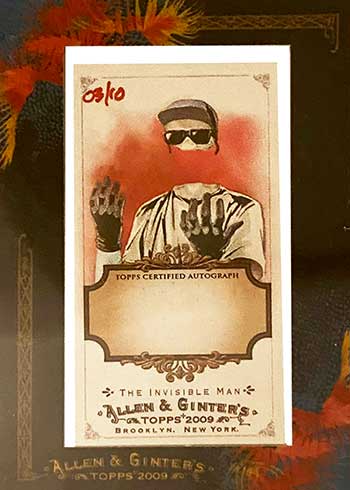 2010 Topps Allen & Ginter Creatures of Legend, Myth and Joy Relics Jack and the Beanstalk Magic Beans
Beans, beans, the magical fruit. The more you collect, the more you toot — your own horn. Creatures of Legend, Myth and Joy is one of the mini insert sets in 2010 Allen & Ginter Baseball. They got the relic treatment as well. It's hard to say whether planting these will lead to a house in the clouds inhabited by a giant or just some regular old beans. Either way, when it comes to baseball cards, weird.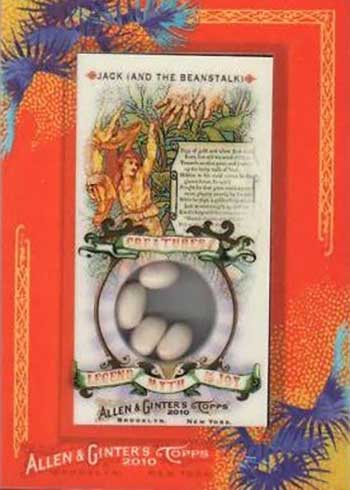 2011 Topps Allen & Ginter Flora of the World / 2019 Topps Allen & Ginter In Bloom Plant Me
This might be cheating a little bit, opting for a pair of insert sets, but all are the epitome of Ginter oddities. On the surface, both 2011 Flora of the World and 2019 In Bloom Plant Me are mini inserts that delve into plants. It's a perfectly mundane theme for the line like something straight out of the original Allen & Ginter's tobacco card roots.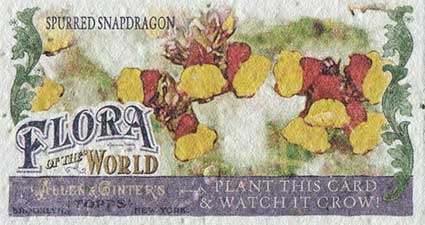 But there's aren't the mundane cards they appear to be. They're actually vessels for actual seeds. You can stick them in a pot of soil, add water and sunshine and watch them grow. Of course, the cards themselves breakdown and they're no longer collectible in the regular hobby sense but the end result brings color and joy in a different way.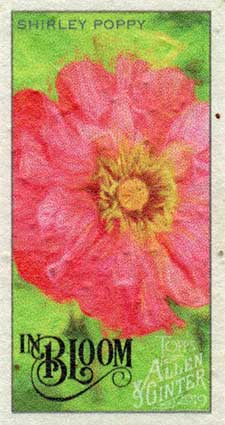 2011 Topps Allen & Ginter Terrorabilia Dracula /10
The tough 2011 Topps Allen & Ginter Terrorabilia checklist includes a handful of monster memorabilia relics. Bandages from The Mummy and Wolfman hair are certainly strange, but Dracula's card leaves the biggest impression. The "blood" (we haven't tested it for authenticity) even soaks through to the card's back.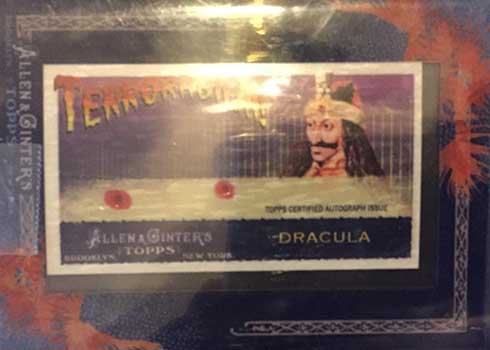 2012 Topps Allen & Ginter Colony in a Card
Plants and flowers aren't the only Allen & Ginter cards that come to life. At a glance, the 2012 Colony in a Card card looks like an odd memorabilia card. It's actually sea monkeys that can be emptied into water and kept as pets. They're not as exciting as the old comic ads lead you to believe, but they're alive nonetheless.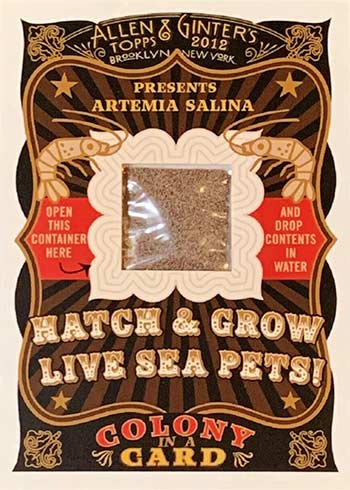 2013 Topps Allen & Ginter Oddity Relics Kim Kardashian / Kris Humphries Wedding Menu Relic /50
Lots of celebrities have appeared in Allen & Ginter over the years. Kim Kardashian isn't one of them, at least in an official sense. However, a menu from her wedding to Kris Humphries was sacrificed to the cardboard gods to make 50 memorabilia cards in the 2013 set.
2014 Topps Allen & Ginter Oddity Relics Daniel Nava Playoff Beard /25
Imagine the possible conversation on this one.
"Hey, Daniel. Topps here. Congrats on the World Series win. Listen, we're good on jerseys right now. Can we have some of your playoff beard shavings? We want to stick them in a baseball card."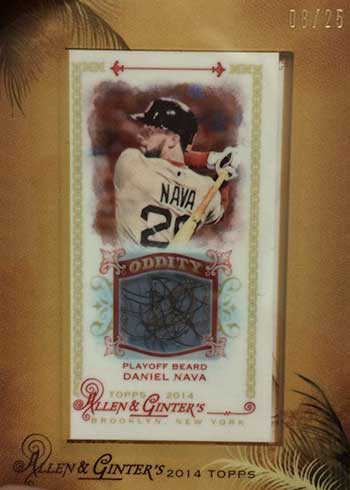 2017 Topps Allen & Ginter Fictional Figures Relics Unicorn Hair /10
The unicorn is the most mythical of creatures. For Topps to land a lock on one's hair, one has to give credit where credit is due. For those who are concerned, the procuring of this hair whenever that may have been did not inspire the animated feature, The Last Unicorn.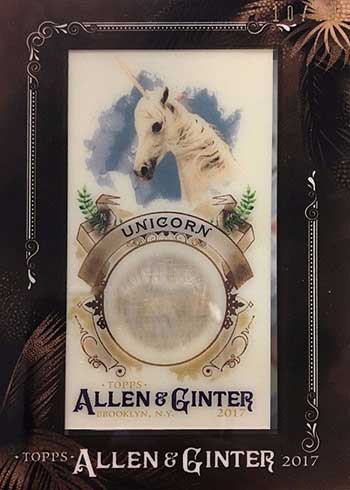 2018 Topps Allen & Ginter Cryptocurrency #83
If you're one of the many who struggle to grasp the idea of Bitcoin, Dogecoin and other types of crypto, 2018 Topps Allen & Ginter Baseball makes it a little more concrete. Many latched on to this quirky common, sending prices on the base card soaring. Like a lot of cryptocurrency, prices aren't what they once were but it's still up there with the base set's more traditional Rookie Cards.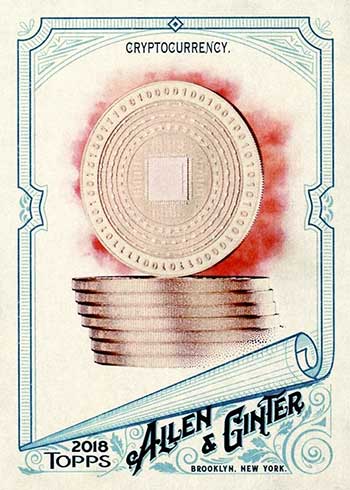 2019 Topps Allen & Ginter #213 Egg
Of all the random things to put on a baseball card, an egg might be the most random of all. While there's nothing historical or even all that notable about the egg in question, that's part of the point. The back goes on to describe how an egg went on to become the most "liked" photo on Instagram. While far from the most valuable Topps Allen & Ginter card of all-time, the egg commands more than a lot of star base cards on the 2019 checklist.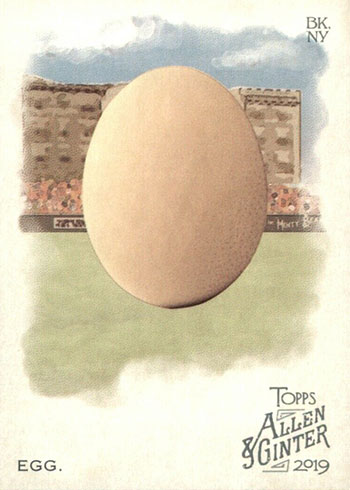 2022 Topps Allen & Ginter What a Steal Mini Albert Einstein's Brain
It takes a lot for a card to surpass "Fajitas" as the weirdest card in an Allen & Ginter insert set. And here we are. The What a Steal minis in 2022 Topps Allen & Ginter Baseball detail 10 strange and brazen robberies and heists. Yes, someone took Einstein's brain following the famous physicist's death.