12 Cheap Michael Jordan Cards Guaranteed to Make You Crack a Smile
Not all great Michael Jordan cards are expensive or even highly coveted (on the MJ scale, at least). With thousands of cards to choose from, there are lots that are both cheap and fun.
From playful photographs to the downright strange, here's a dozen Michael Jordan cards that will bring a little bit of joy to your word without costing much more than a cheap lunch (although most are closer to a cheap snack).
12 Cheap and Fun Michael Jordan Cards
1988-89 Fleer #120 "Fleer All Star Team"
With the 1986-87 Fleer Michael Jordan Rookie Card out of reach for a lot of collectors now, even in lesser condition, there's been a trickle down to his other early cards. And it's understandable. This one isn't cheap when you compare it to other '80s subsets from other players and sports, but MJ cards have their own rules. So, it's still affordable to a large extent, just more than everyone else.
Before the championship rings, Jordan soar to fame for being one of the game's most exciting players. One of those early crowning achievements came at the 1988 Slam Dunk Competition when he launched from the foul line and created one of the most iconic moments in 20th century sports.
Buy on: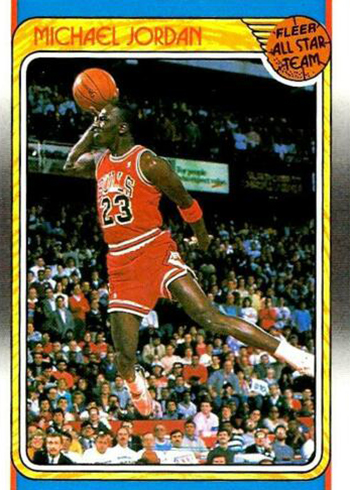 ---
1990-91 NBA Hoops Michael Jordan #382 "Inside Stuff"
Before YouTube made watching sports videos on repeat easy, there was VHS, an archaic format that was bulky, not very good quality and required constant rewinding. But that was the best thing available in 1990 and we didn't know any better. While the masses were watching tapes of Home Alone and The Little Mermaid on repeat, basketball fans had Michael Jordan's Playground.
And while most of those VHS copies are probably in the early stages of breaking down in local landfills, this card from 1990-91 Hoops Series 2 lives on. It's tough to know for certain, but if that elbow belongs to the video's director, it's none other than Zack Snyder — the same Zack Snyder who directed 300 and Justice League.
Buy on: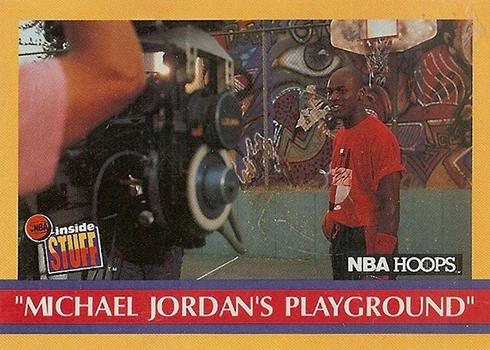 ---
1991 Nike Michael Jordan/Spike Lee #1 The Best on Earth/The Best on Mars
Michael Jordan has been a part of many memorable advertising campaigns. But one of the ones with the biggest impact had him appear in a series of classic Nike commercials and print ads alongside Spike Lee's Mars Blackmon. In addition to posters and shirts, the campaign made its way to a small series of trading cards produced by Nike. They're not too hard to come by, often for just a few dollars. It's casual Jordan, but not quite to the same levels as the 2018-19 Fleer Hanes promo set.
Buy on: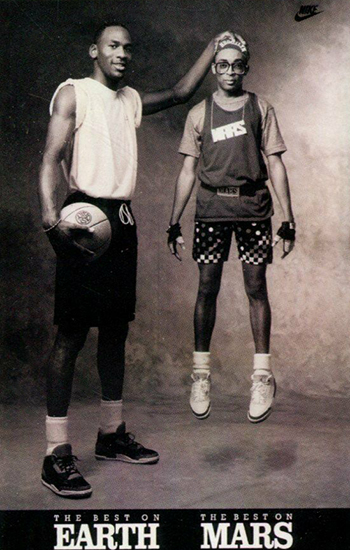 ---
1991-92 SkyBox Michael Jordan #334 "Great Moments from the NBA Finals"
The perennial collector's search: find a card you look at like Michael Jordan does his first NBA Championship trophy. The combination of a historic moment, emotion and epic colors of 1991-92 SkyBox Basketball make this an amazing Michael Jordan card you don't often hear about.
Buy on: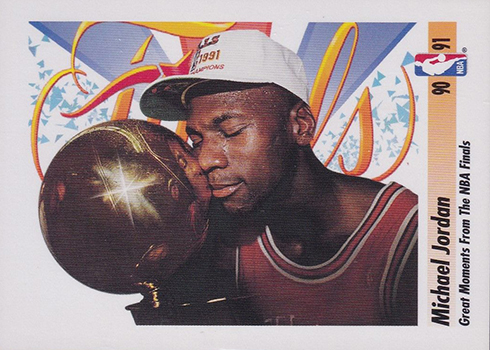 ---
1991-92 SkyBox Michael Jordan #583
City skylines make for great sports card backgrounds. The big question here is whether Jordan's goofy expression makes this "Skymasters" subset card better or takes away from it.
Buy on: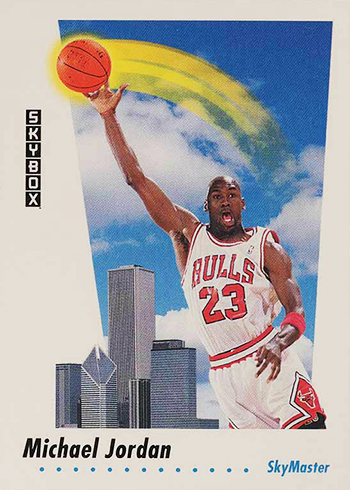 ---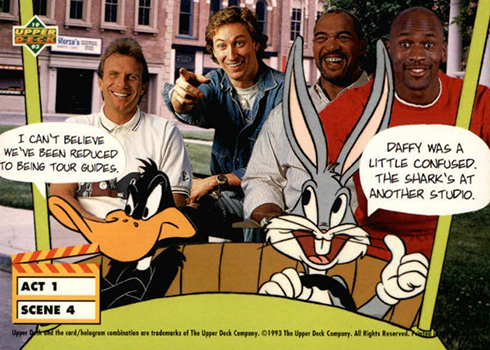 ---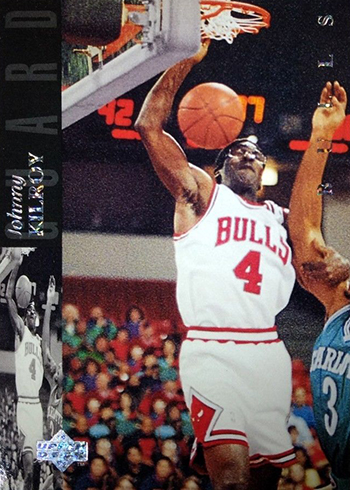 ---
1994 Upper Deck McDonald's Nothing But Net Michael Jordan/Larry Bird/Charles Barkley #12
Michael Jordan had so many great promotions. All things Nike are easily the biggest, but his work with Larry Bird and McDonald's is also a thing of legend. In particular, there was those Nothing But Net commercials where the two took part in the most shooting contest ever — all over a Big Mac. Some of the greatest hits from the campaign were compiled by Upper Deck into a set sold at the fast food chain. While the entire 15-card set is fun, this one gets the nod for having Jordan, Bird and a grinning Charles Barkley hanging out in space. In another timeline, this would have made an interesting reboot for 2001: A Space Odyssey.
Buy on: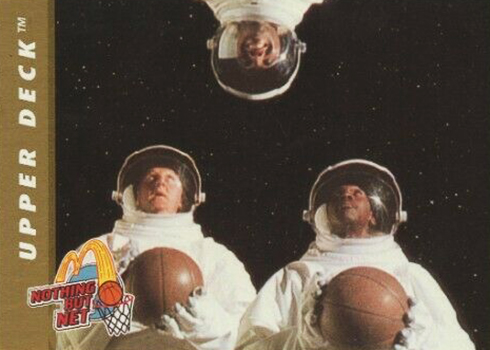 ---
1994 Upper Deck USA Basketball Michael Jordan #85
Usually, when you come across a card where someone's eyes are closed, you shake your head and wonder why among the hundreds of potentially available photos, they went with that one. But Michael Jordan cards have a history of not playing by the rules. This is one of them. By all signs, nothing about this says "blink." Rather, it's a more lighthearted Dream Team-era MJ having fun at practice.
Buy on: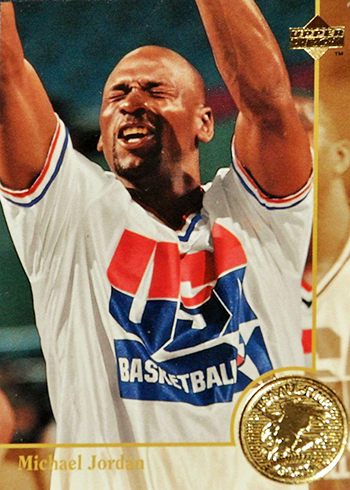 ---
1994-95 Collector's Choice Basketball Michael Jordan #204
Jordan's love for golfing is well known. It's been documented on cards numerous times, dating back to the back of his 1990-91 SkyBox card. But there's something about this particular card from 1994-95 Collector's Choice that stands out. The angle's good. Even better are the many layers of fashion that showcase what the '90s were like — particular if your eyes venture into the background and look at the crowd.
Buy on: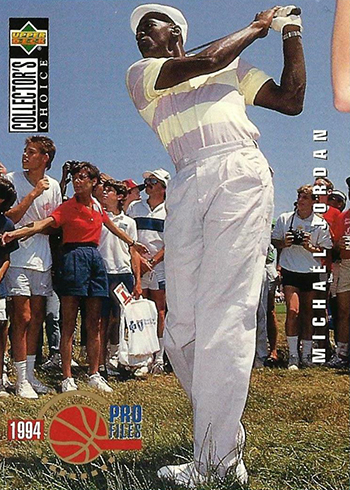 ---
1994-95 Collector's Choice International MJ Decade of Dominance Michael Jordan #J7
Sometimes a photo just makes you stop and pause. This is one of them. Ted "Theodore" Logan sums it up best: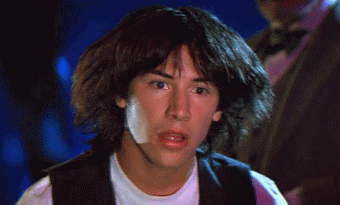 Buy on: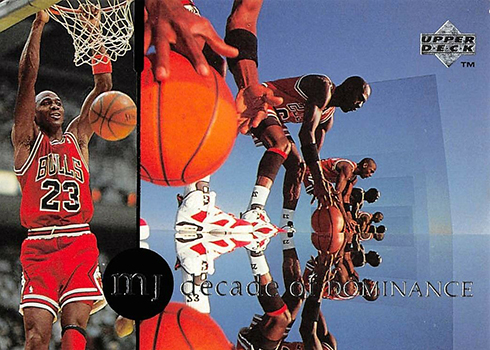 ---
1995 Upper Deck Baseball Michael Jordan #200
Now this is a Chicago sports card. The MJ baseball experiment didn't work out, but it did give us the gift of this tremendous card of Jordan being interviewed by Harry Caray. Just look at the pure joy in Carray's face. It's contagious and makes for a classic Michael Jordan card.
Buy on: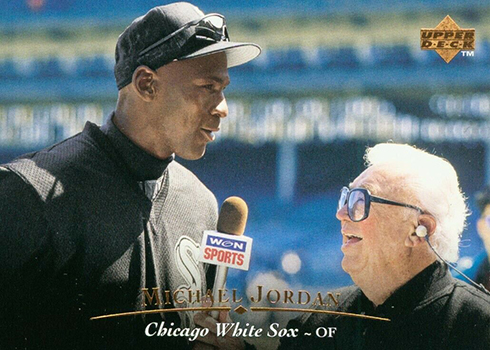 ---