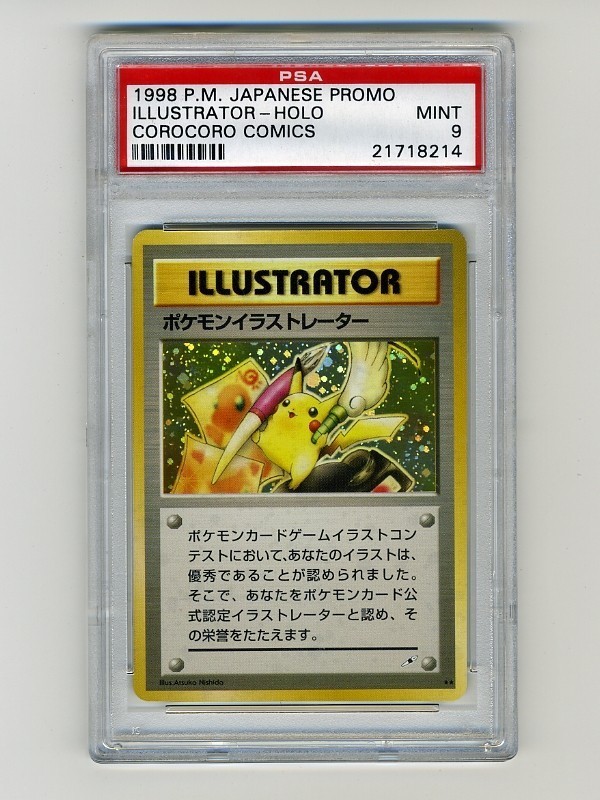 By Elliot Ross | Beckett Card Gamer
Could this card be the rarest and most expensive Pokemon card in existence?
Absolutely! And it can be yours right now
for only $100,000!
What you're looking at is the promotional Pokemon Illustrator trainer card. It was given as a prize for a winning entry into the 1997 Pokemon Card Game Illustration Contest in Japan. For those of you that don't speak Japanese, the card text translates to:
"We certify that your illustration is an excellent entry in the Pokémon Card Game Illustration Contest. Therefore, we state that you are an Officially Authorized Pokémon Card Illustrator and admire your skill."
The card itself has some pretty unique features:
Only six copies of this card were printed and only five of those were given out as prizes.
It is the only trainer card to have the word "Illustrator" where "Trainer" should be.
It is the only Pokemon card with the pen symbol in the lower right corner.
It is one of the very few Japanese promo cards with a double star rarity.
This particular copy has been professionally graded as a 9 (Mint), which means that it is in pretty great shape.
So, is it worth the $100,000 asking price?
Maybe, but probably not. In the past this card has sold for roughly $20,000. The seller's asking price is set at $100,000 but he has indicated that he is accepting offers and expects to sell the card for roughly $50,000. If you happen to have that kind of extra cash lying around then you could pick up one of the rarest and most expensive gaming cards out there!
Elliot Ross is editor of Beckett Card Gamer. You can email him here with questions, comments, or funny pictures. Follow Beckett Media on Facebook and Twitter.