100 years of the Grey Cup on cards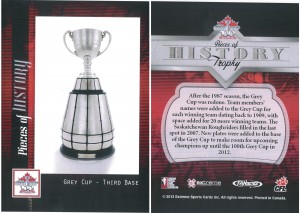 By Susan Lulgjuraj | Beckett Football Editor
The 100th Grey Cup will take place this November. That's a century of celebrating the Canadian Football League.
The commemorate the event, the Canadian Football League Players' Association has created a 100th Grey Cup Limited Edition Trading Card Box Set.
The set will consist of a 200 cards with a number of inserts and collectibles.
Here are the inserts:
・ One 100th Grey Cup Tossing Coin
・ Classic Players – Past and Present
・ Classic Moments – from 1909 to present, including the Mud Fog, Ice and Rain Bowls
・ Pieces of History – including tickets, program reproductions and the Grey Cup
・ Historical Stadiums, sites and teams
・ Classic Builders and Coaches
・ A Canadian Football Hall of Fame card with a "buy one get one free' admission to the Hall of Fame.
・ QR codes for exclusive video and image content
Some of the classic players in the set include Danny Bass, Earl Winfield, Henry "Gizmo" Williams and Normie Kwong. Historic teams featured include University of Toronto 1905, Hamilton Tigers 1932, Toronto Argonauts 1933 and 1937 and Edmonton Eskimos 1980.
The box set will retail for about $70.
Susan Lulgjuraj is the editor of Beckett Football magazine. You can email Susan here with ideas, comments and questions. Follow her on Twitter here.