$100 Colorado Rockies Baseball Card Starter Kit – One-Sheet Collections
For many, nostalgia remains the driving force behind baseball card collecting, and that's how I arrived at the idea of One-Sheet Collections.
It's a simple concept with infinite possibilities.
Take a single nine-pocket sheet and a reasonable $100 budget, and build a nine-card collection with a unifying theme.
We're continuing a team-specific theme to the One-Sheet Collections series. We've already covered the Arizona Diamondbacks and Tampa Bay Rays, and now it's on to the Colorado Rockies.
The Rockies are still a relatively new team compared to most of the league, with their first season coming in 1993. Ahead I've selected nine cards that represent a good starter collection for any Rockies fan who is just diving into card collecting.
1993 Finest #130 Andres Galarraga ($2.50)
The Rockies signed Andres Galarraga to a one-year, $500,000 contract prior to the 1992 Expansion Draft, and he was the team's first true star. The 32-year-old won the NL batting title during the team's inaugural season, hitting .370/.403/.602 with 22 home runs and 98 RBI. Galarraga also holds the honor of being the first All-Star in Rockies history.
1993 Finest is a landmark set in the hobby. Aside from the base card, there is also a Refractor parallel with a print run of just 241 that comes with a much steeper book value.
1993 Topps Traded #19T Todd Helton USA RC ($25)
First baseman Todd Helton played his entire 17-year career with the Rockies, and he is the franchise's all-time leader in WAR (61.8), hits (2,519), doubles (592), home runs (369), RBI (1,406), runs scored (1,401) and games played (2,247).
His only Rookie Card is part of the 1993 Topps Traded set and shows him as a member of Team USA when he was still in college at the University of Tennessee. Two years later, he was the No. 8 overall pick in the 1995 draft.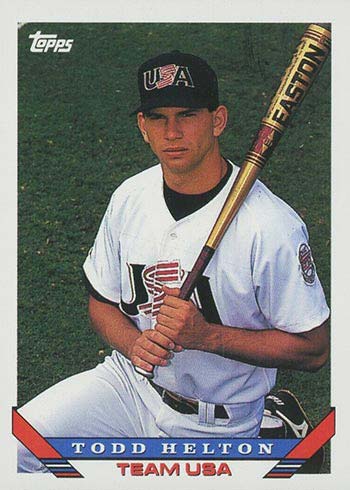 1996 Select Team Nucleus #4 Dante Bichette/Andres Galarraga/Larry Walker ($1.50)
The Rockies quickly built a formidable offense led by Andres Galarraga, Dante Bichette, Vinny Castilla, Ellis Burks and, eventually, Hall of Famer Larry Walker. They came to be known as the "Blake Street Bombers" and helped lead the club to a surprise postseason appearance in just their third year of existence in 1995.
The trio of Bichette, Galarraga and Walker were featured on the Team Nucleus insert set in 1996 Select Baseball. The 28-card insert set features a trio of players from each team and were found in 1:18 packs with a print run of 6,000.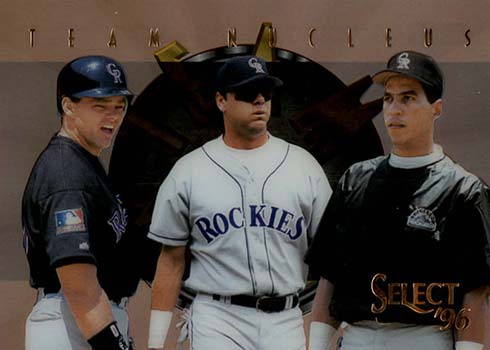 1997 Topps Chrome Refractors #162 Larry Walker ($5)
After six seasons with the Montreal Expos, outfielder Larry Walker joined the Rockies on a four-year, $22 million contract prior to the 1995 season. In the third season of that contract, he hit .366/.452/.720 with 46 doubles, 49 home runs, 130 RBI, 143 runs scored and 33 steals to win NL MVP honors.
That award-winning performance is represented in this collection with Walker's 1997 Topps Chrome Refractor card. The Refractor parallels were found in 1:12 packs of Topps Chrome in what was the second year for the brand.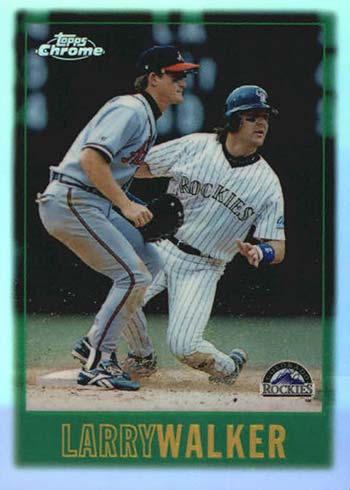 2005 Upper Deck Update #169 Ubaldo Jimenez RC ($5)
The Rockies signed Ubaldo Jimenez out of the Dominican Republic on April 25, 2001, when he was 17-years old. He made his MLB debut in 2006, and he turned in arguably the best single-season pitching performance in Rockies history in 2010 when he went 19-8 with a 2.88 ERA, 1.16 WHIP and 214 strikeouts in 221.2 innings to finish third in NL Cy Young voting.
His Upper Deck Update rookie has a print run of just 599, and it's one of 21 different Rookie Cards available across 2005 products.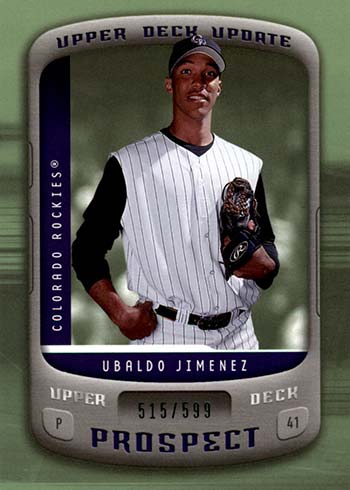 2007 Bowman #222 Troy Tulowitzki AU (RC) ($15)
Shortstop Troy Tulowitzki burst onto the scene as a rookie in 2007 when he hit .291/.359/.479 with 35 doubles, 24 home runs and 99 RBI to finish runner-up in NL Rookie of the Year voting while helping lead the Rockies to the World Series. Injuries kept him from reaching his full potential, but when healthy, he was one of baseball's elite shortstops. He tallied 39.5 WAR in 10 seasons with the Rockies.
He has four Rookie Cards in 2005 products, but his 2007 cards also featured the "RC" logo following his MLB debut down the stretch in 2006. His 2007 Bowman base card is a low-cost early autograph.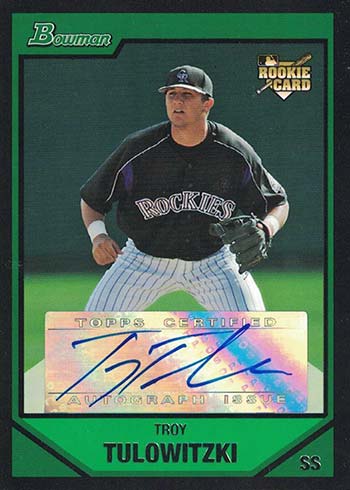 2011 Bowman Draft #7 Charlie Blackmon RC ($10)
A second-round pick in 2008, outfielder Charlie Blackmon has spent his entire 12-year career with the Rockies. The 35-year-old is a career .299/.357/.494 hitter, and he's made four All-Star appearances and won two Silver Sluggers. He won the NL batting title in 2017 when he hit .331 while also leading the NL in hits (213), runs (137) and total bases (387) to finish fifth in NL MVP voting.
He has three Rookie Cards in the 2011 Bowman Draft, 2001 Bowman Chrome Draft and 2011 Topps Update sets.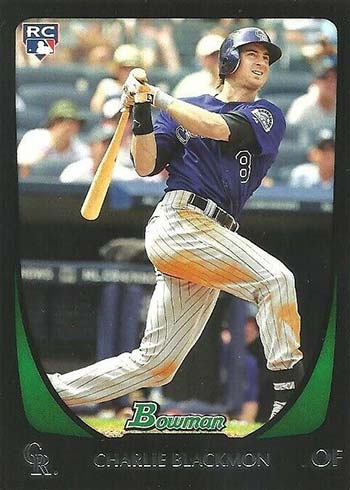 2013 Topps Update #US259 Nolan Arenado RC ($25)
Nolan Arenado was well on his way to being the greatest player in Rockies franchise history before he was traded to the St. Louis Cardinals prior to the 2021 season. In his eight seasons with the team, he racked up 40.1 WAR while averaging 35 home runs and 114 RBI per 162 games and winning eight straight Gold Glove awards.
He has 13 different Rookie Cards, and while a handful are more valuable, his 2013 Topps Update rookie is the most recognizable of the bunch.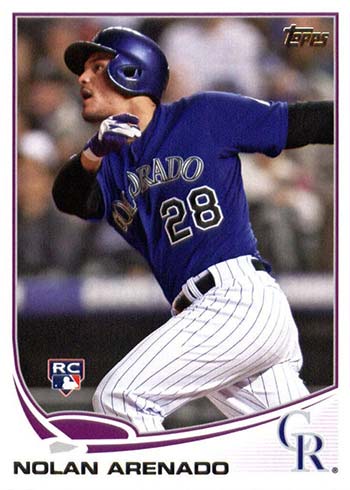 2016 Stadium Club #159 Trevor Story RC ($5)
Another homegrown star who is now playing elsewhere, Trevor Story departed in free agency this past offseason and joined the Boston Red Sox on a six-year, $140 million deal. He was a two-time All-Star, two-time Silver Slugger winner, and his 26.8 WAR over six seasons is good for the fifth-highest total in franchise history.
He has a wide variety of different Rookie Card options, but there's no beating the Stadium Club photography.
Total: $94.50