10 Overlooked and Written Off 1990s Baseball Card Sets Worth Revisiting
The 1990s were an era of tremendous change in the world of baseball cards. The decade began with a "best of times" scenario where a product could do no wrong. But within a few years, the business side of the hobby saw drastic changes. Many of the speculators that took sports cards to new heights went away. Baseball went on strike, which further accelerated a massive crash.
But even as the business side of the hobby was in trouble, 1990s baseball cards brought on lots of innovation and change as companies tried to tap into the collective masses once again. The result was dozens of sets over the course of the decade that are great for varying reasons but, for whatever reason, haven't held up in popularity in the decades since.
Here are ten sets of 1990s baseball cards that have either been brushed aside by the masses as new things came along, written off because they never amounted to much value or are just plain overlooked.
We're not looking at what's worth the most or what will appreciate over time. Rather, we want to shed some light on some fun 1990s baseball card sets that are worth your attention.
1990 Upper Deck Baseball
1989 Upper Deck Baseball gets a lot of the attention. But don't discount the follow-up. It's not as groundbreaking and it doesn't have an iconic Ken Griffey Jr. rookie card to kick things off. What 1990 Upper Deck Baseball does have is a more refined design and so many great photos on both the front and the back.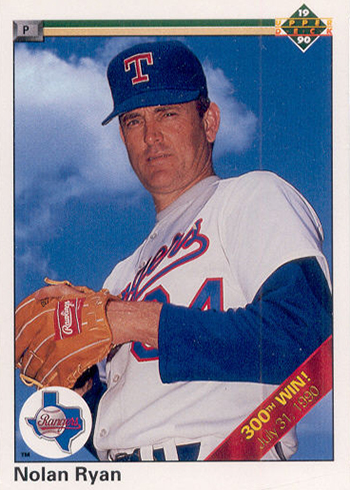 The quality carried over from the debut year and other card companies were only starting to look at offering similar standards on a widespread scale.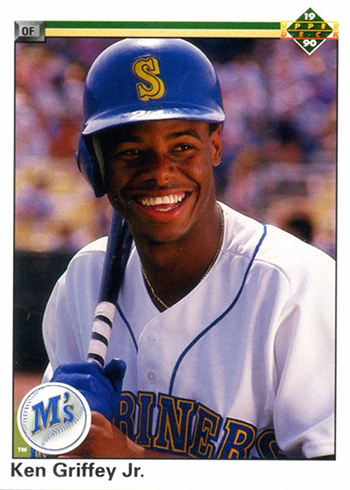 The rookie card crop in 1990 Upper Deck Baseball isn't full of high-dollar cards, but it does have some solid names from the era like Sammy Sosa, Juan Gonzalez and Larry Walker. If only there was a Frank Thomas.
This might not be an overlooked set, but it's often dismissed simply because its value hasn't held up. If you have a set or stack of commons sitting in a dark box, do yourself a favor, dig them out and simply marvel at the beauty.
1991 O-Pee-Chee Baseball
For many, 1991 O-Pee-Chee Baseball might not be a second look but rather a first. I mean, who wants what amounts to something that's virtually identical to 1991 Topps Baseball? Here's the thing — 1991 Topps Baseball has some of the best photography for the flagship set up until that point and probably top 10 all-time. But there's soooooo much of it out there. 1991 O-Pee-Chee Baseball gives you all the same photos plus the added challenge of being relatively tough to put together (by 1991 standards). The bright card backs are another bonus.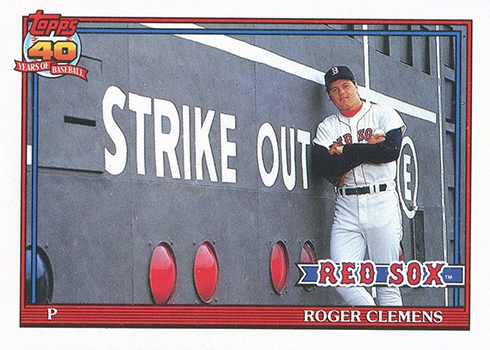 Chipper Jones highlights the rookies in the set.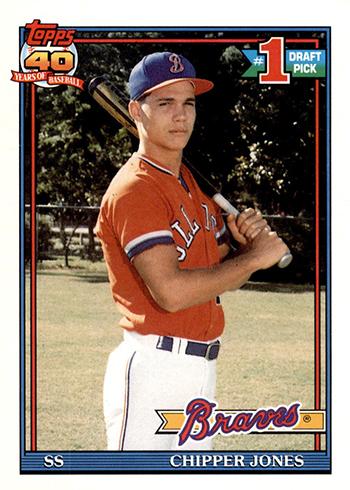 The fronts do look exactly the same as Topps, but the backs have different copyright info and bilingual text. This is one of two consecutive years that O-Pee-Chee didn't bother to add their name to the front.
1992 Ultra Baseball
The Ultra brand made its baseball debut in 1991. And while that was heralded as being premium at the time, it really isn't that much unless you hold the cards next to their Big Bird step-brother, 1991 Fleer Baseball. However, 1992 Ultra Baseball goes places. It's slick, it had gold foil accents when not every set had gold foil accents and the photography is sharp. One could say it's Fleer's version of flagship Upper Deck or Topps Stadium Club, but in a good way.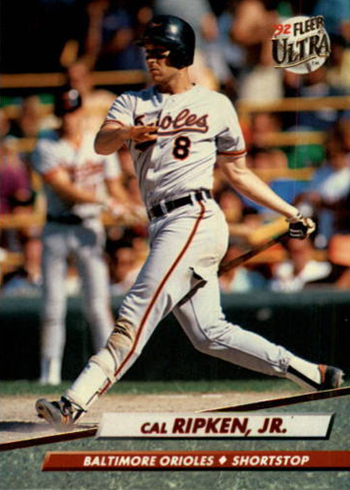 From a checklist perspective, there's not much to 1992 Ultra Baseball. Scott Brosius and Chad Curtis are about as good as the rookie cards get.
1992 Ultra also featured a growing number of insert sets. Among them is a tribute to Tony Gwynn. This included 2,000 autographs randomly inserted in Series 1 packs.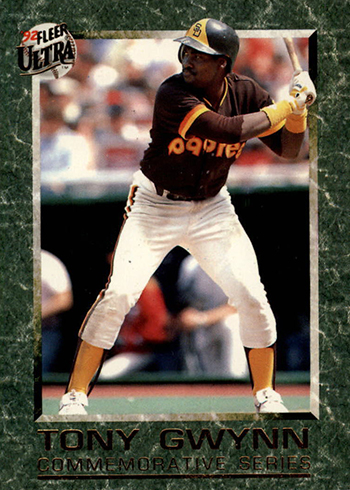 1993 Leaf Baseball
After coming into prominence in 1990, Leaf Baseball floundered for a couple of years. When the brand was rebooted in 1990, it was one of only a couple of premium products on the market. It had one of the year's best rookie checklists as well. While they introduced Gold Leaf Rookies inserts in 1991, the interest just wasn't there. That was the same in 1992.
1993 Leaf Baseball freshened things up. The design was overhauled, more inserts were added and Frank Thomas was featured throughout. Basically, it was brought up to date.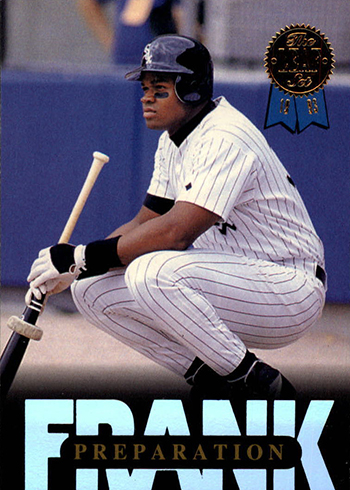 Another great thing about the set? The card backs, which use shots from the player's city as a backdrop. Sometimes it's the simple things that make a set standout.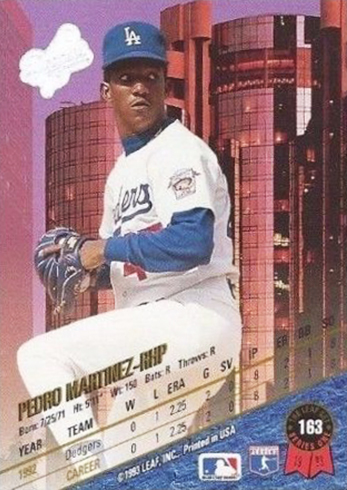 1994 Collector's Choice Baseball
1994 Collector's Choice Baseball isn't quite as slick as the main Upper Deck set or their growing stable of even more premium products. But it's not exactly flimsy either.
What this product does right is that it was a budget product with a lower price point. Translation: kids were a big target. But it never panders to children like many other "kid-friendly" products do. 1994 Collector's Choice Baseball kept things relatively simple in an evolving marketplace. As a result, it's not just for young collectors. It certainly has some elements for the younger collector, but it can still be enjoyed by any age.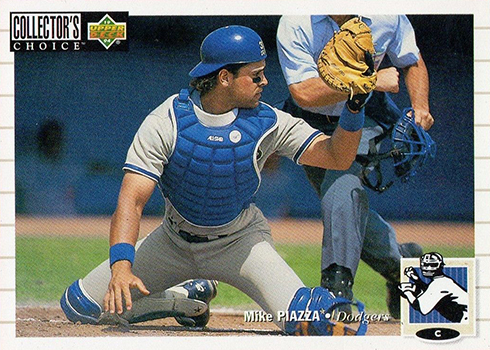 Every pack has a Silver Signature parallel. But the big chase at the time was for the Gold Signature cards. One per box, these were tough at the time and the concept was novel.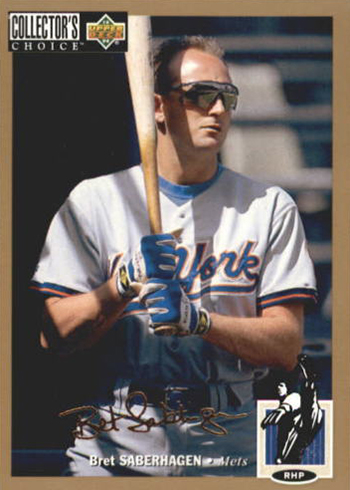 Notable rookies include Alex Rodriguez and one of the coolest Michael Jordan baseball cards.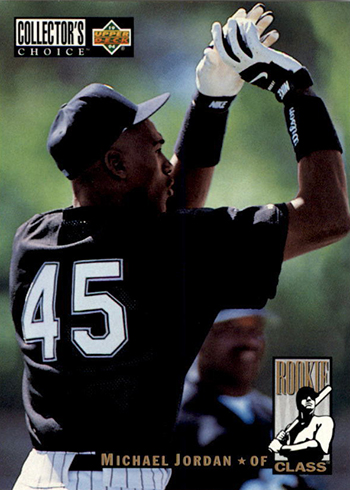 1996 Denny's Holograms Baseball
Holograms are one of the greatest bits of technology, innovations, gimmicks or whatever you want to call it committed to cardboard. They were a part of the enduring food issue from the beginning. But what makes 1996 Denny's Holograms standout is how the holograms are used.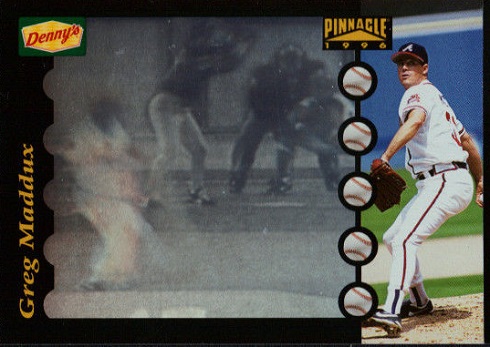 Made by Pinnacle, 1996 Denny's Holograms Baseball adds motion to the mix, showing a holographic replay from a game in the main part of the set. It's only about a second's worth, but if you get the light just right and tilt it at the perfect speed, these cards are nothing short of glorious.
In addition to the base set are ten Grand Slam inserts and their Artist's Proof parallels. These replace the action hologram with a Grand Slam logo. They might have a little more rarity on their side but not nearly the same cool factor.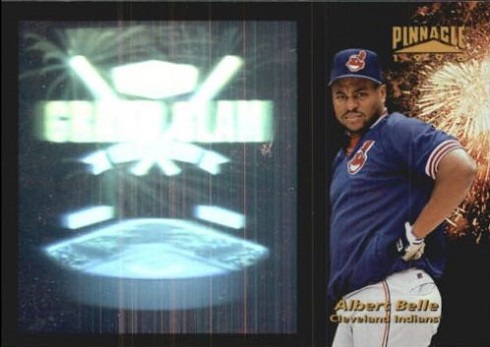 1996 SPx Baseball
While we're on the topic of holograms, if 1996 SPx Baseball seemed too expensive when it came out, don't be afraid to look again. At the time $3.50 was a lot for a pack with just one card. It still is for a lot of people. The set essentially took Upper Deck's popular Holoview inserts and gave them a product of their own.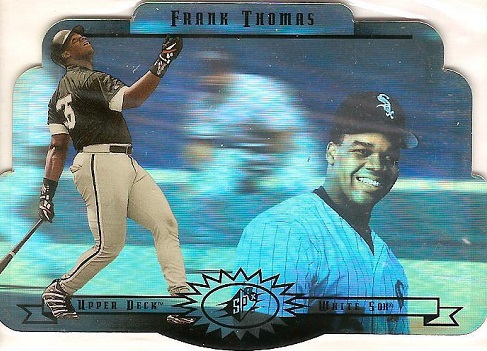 Every card is die-cut on thick card stock. But what really stands out is the massive hologram that makes up two of the three player images on the font. While the main images are flat holograms, many of the portraits rotate when you tilt the card. It's like something out of a Harry Potter movie on some as faces offer a wink or a smile.
Over time, 1996 SPx Baseball has been all but forgotten as base cards gave way to more inserts. The only extra in this product are a Gold parallel, that's bland, ten Bound for Glory cards, and a couple of Ken Griffey Jr. and Mike Piazza tribute cards. The two Hall of Famers also signed some of their cards.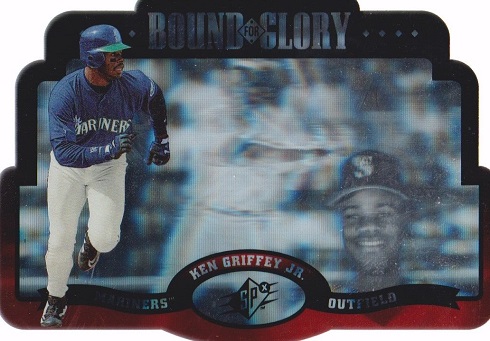 1997 E-X2000 Baeball
1997 E-X2000 Baseball is another set that was high-end for the day but has since dried up and become relatively ignored. It doesn't have any major rookies for one. But it does have a unique approach to design and construction as well as some extremely tough inserts.
Base cards have a thick foil frame and a cloudy acetate inset. It was the first of a few similar set ups for the line, which replaced Emotion XL. Each of the 100 cards has two parallels, Credentials (/299) and Essential Credentials (/99). Like a lot of early numbered parallels, these have held up well on the secondary market, particularly key players with Essential Credentials cards.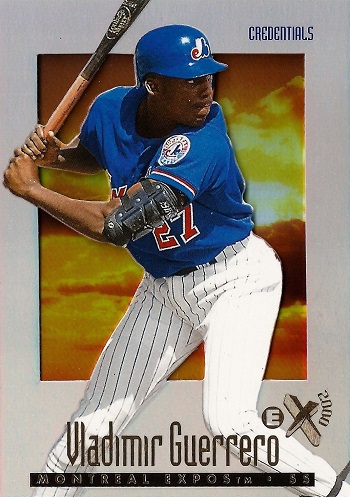 Of the other inserts, A Cut Above is definitely the most popular. Die-cut in the shape of a circular saw, they not only look cool but they were exceptionally tough pulls at 1:288 packs. Top stars still fetch big sales.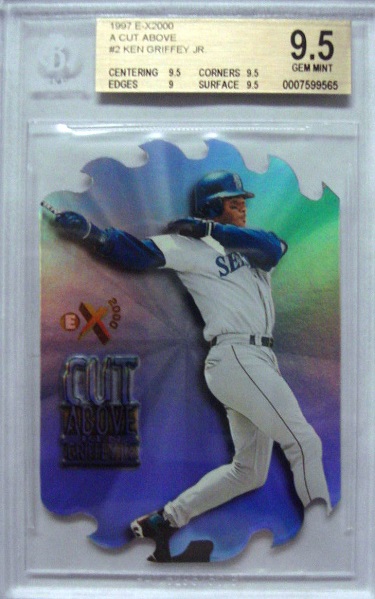 1997 Topps Screenplays Baseball
1997 Topps Screenplays Baseball is another product from the mid-1990s to experiment with using motion. Each card is lenticular. But rather than the couple of frames a Sportflics card gives you, these have 24 frames. That's good for a second of action, similar to 1996 Denny's Holograms.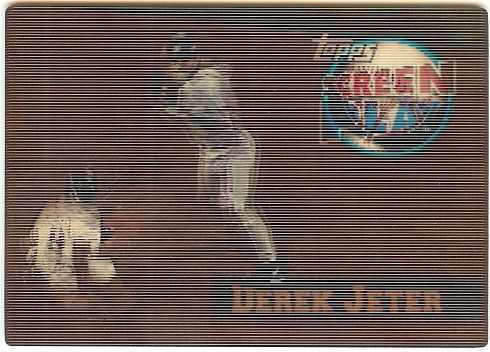 The checklist is small with just 20 cards. Each came packaged in a tin pack shaped like a movie reel to keep the Hollywood theme going. Players on the tin matched the player inside.
Each case has 21 packs — a full base set plus one of six Premium Series inserts.
The fact that it last one season should tell you how well it was received. Today you can find full sets at shows for a fraction of their original price.
1999 Upper Deck Century Legends Baseball
As the 20th century came to a close, there were plenty of retrospective sets across most sports. It was also a time that coincided with a major rise in popularity of retro-themed checklist. Of those, 1999 Upper Deck Century Legends Baseball is one of the best. The base set dedicates a huge portion to the game's all-time greats, even managing to sneak a rare "Shoeless" Joe Jackson card into a MLB-licensed set.
But where 1999 Upper Deck Century Legends Baseball really stands out is with the autographs. Epic Signatures are inserted one per box. The checklist is a mix of then-current superstars like Ken Griffey Jr, Barry Bonds and Frank Thomas alongside many all-time greats like Nolan Ryan, Tom Seaver and Yogi Berra. They might not be the most desirable Hall of Fame signatures, but there is tons of depth and little fluff. Bill Mazeroski and Bucky Dent.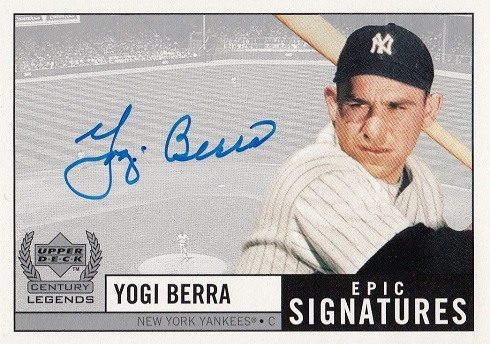 What are some of your favorite baseball card sets from the 1990s?
Comments? Questions? Contact Ryan Cracknell on Twitter @tradercracks.