10 Jim Thome Baseball Cards That Tell the Story of His Career – Instant PC
With so many different base cards, subsets, parallels, memorabilia cards and autographs, building out a collection for a single player can be overwhelming.
Luckily, the 10-Card Instant PC article series is here to help.
There are more than 10,000 Jim Thome cards, according to the Beckett database.
So where does one begin putting together a Jim Thome PC?
These 10 cards serve as an excellent representation of his playing career and footprint on the hobby, making them a great place to start.
1990 ProCards A and AA #187 Jim Thome
Thome was selected in the 13th round of the 1989 draft out of Illinois Central College, and he split his first full season in the Cleveland organization between rookie ball and High-A, hitting .340/.466/.609 with 16 home runs and 50 RBI in 67 games.
His first two licensed cards were both released by ProCards in 1990 where he's pictured as a member of the Burlington Indians. He's listed at 6'3", 190 pounds at that point in his career, and he would ultimately play at 250 pounds in his prime.
Buy on: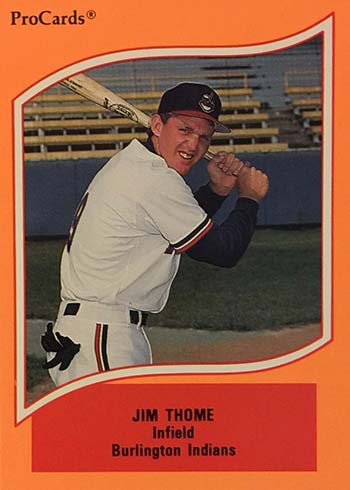 1991 Bowman #68 Jim Thome RC
After his stellar season in 1990, Thome began the following year at Double-A, and he played his way into being a September call-up later that year. In 27 games in the big leagues over the final month, he posted an 83 OPS+ with one home run in 104 plate appearances.
His only Rookie Card that was available in packs is part of the 1991 Bowman set, which also includes rookies of Chipper Jones, Ivan Rodriguez, Mike Mussina and Javy Lopez. The only other Rookie Card in his database is in the 1991 Upper Deck Final Edition set, which was released in boxed set form.
Buy on: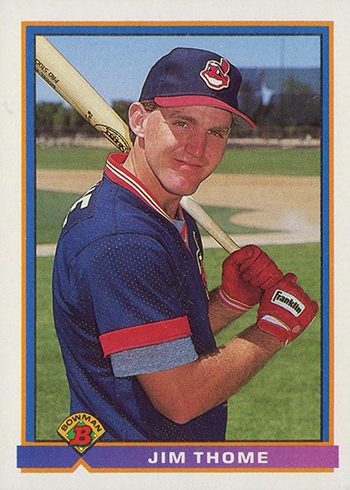 1992 Topps #768 Jim Thome
Despite debuting in 1991, it took Thome a few years to establish himself at the MLB level. He played in 40 games in 1992 and 47 games in 1993, hitting a combined .244/.330/.390 with 10 home runs and 43 RBI in 427 plate appearances over the first three years of his career.
It's not a Rookie Card, but any Thome collection should probably feature his first Topps flagship card, and that is part of the 1992 set.
Buy on: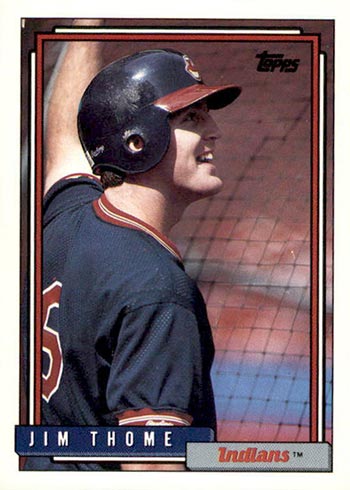 1995 Select Certified #42 Jim Thome
During the strike-shortened 1994 season, Thome finally broke out, posting a 127 OPS+ with 20 home runs in 369 plate appearances while taking over as the team's starting third baseman. The following year was his first full MLB season, and he was part of one of the greatest offenses in MLB history alongside Albert Belle, Manny Ramirez, Kenny Lofton, Carlos Baerga and Eddie Murray.
The 1995 season was also a first for the Pinnacle brand, as it released the Select Certified product line as a super-premium option meant to compete with Topps Finest. That set paved the way for the 1996 Select Certified set that was the one of the first examples of a rainbow parallel approach that is so prominent today.
Buy on: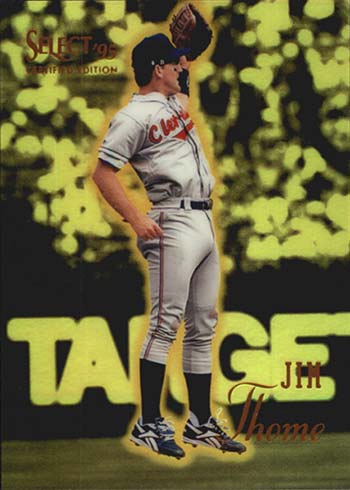 1996 Leaf Signature Autographs Silver #223 Jim Thome
The 1996 season was the true breakthrough for Thome, as he went from productive third baseman to elite-level slugger, hitting .311/.450/.612 with 38 home runs and 116 RBI to win Silver Slugger honors. It was the first of 12 30-homer seasons he would post in his career.
Thome's first certified autographed card is part of the 1996 Leaf Signature Autographs set. There are Silver (410 copies) and Gold (514 copies) versions of the card, both of which were short-printed and can sell for north of $100.
Buy on: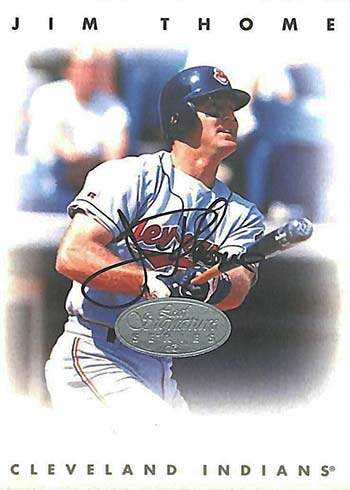 2003 Topps Traded #T107 Jim Thome
After launching 52 home runs and posting a 197 OPS+ in 2002, Thome hit the free-agent market for the first time in his career. He ultimately inked a six-year, $85 million contract with the Philadelphia Phillies, and he hit 89 home runs during his first two seasons with his new team before suffering a back injury in his third year.
His 2003 Topps base card still shows him in a Cleveland uniform, so his first flagship Phillies card had to wait until that year's Topps Traded release.
Buy on: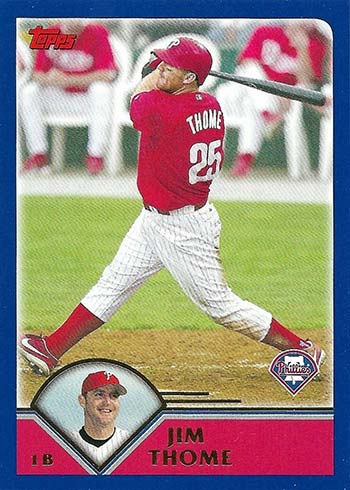 2006 Topps #560 Jim Thome
Following his injury-plagued 2005 season when he played only 59 games, and in an effort to clear a path for rising star Ryan Howard, Thome was traded to the Chicago White Sox in exchange for Aaron Rowand, Gio Gonzalez and Daniel Haigwood.
The trade was one of the first big moves of the offseason, completed on Nov. 25, 2005, so Topps had plenty of time to show Thome in his new White Sox uniform as part of the Series 2 checklist.
Buy on: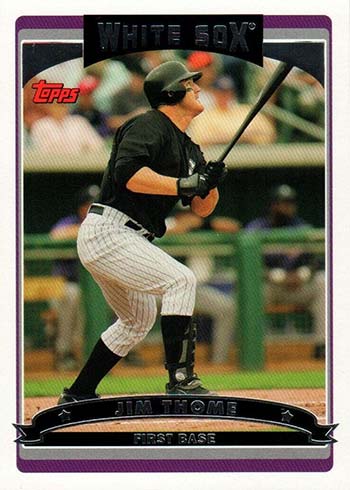 2010 Topps Update #US252 Jim Thome
After three productive seasons with the White Sox, Thome started to show signs of his age in 2009. When he hit the free agent market during the 2009-10 offseason, he had to settle for a one-year, $1.5 million deal from the Twins. The 39-year-old hit .283/.412/.627 with 25 home runs in 340 plate appearances, helping the Twins win the AL Central title.
It was a short tenure in Minnesota, but a memorable one nonetheless. His first Topps card in a Twins uniform is part of the 2010 Topps Update set.
Buy on: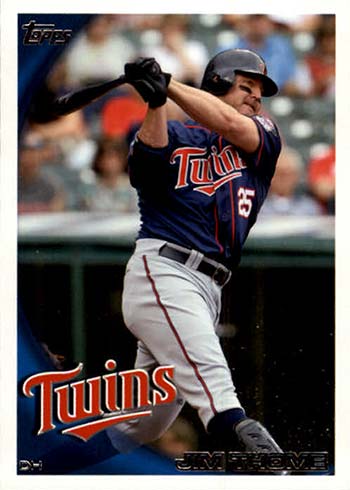 2012 Topps #371 Jim Thome
Thome made his way back to Philadelphia in 2012 for what would be the final season of his 22-year career. He played a total of 58 games that year, splitting his time between Philadelphia and Baltimore while posting a 112 OPS+ with eight home runs and 25 RBI in 163 plate appearances.
His final Topps card is not a full stat back since he was not included in the 2013 set, but it's still a worthy book end to his playing days.
Buy on: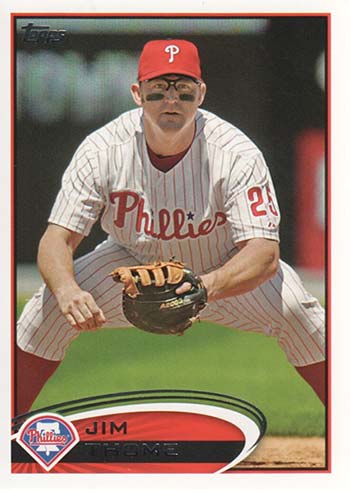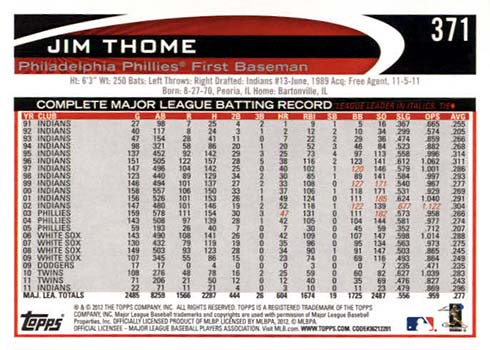 2018 Stadium Club #141 Jim Thome
With 618 home runs and 1,699 RBI, there is little question Thome is one of the greatest sluggers in MLB history, and he cruised into the Hall of Fame during his first year on the ballot in 2018 with 89.8 percent of the vote.
He was included in the 2018 Stadium Club set with a great shot of him saluting the crowd during his time in Cleveland, and that card is a great representation of his Cooperstown enshrinement.
Buy on: