10 Iconic 1993 Sports Cards and Trading Cards
Has it been 25 years since we were first welcomed to Jurassic Park? Since Michael Jackson reinvented the Super Bowl halftime? Since Crystal Pepsi disappeared (not counting the McRib-esque stealth reboots)?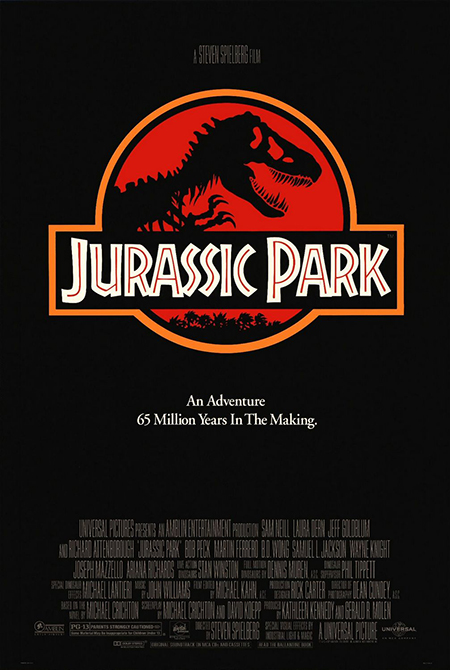 A lot has changed in the last quarter century. And yet, for many of us, 1993 feels like just a short time ago.
When you collect something, it's usually somewhat continuous. By their very nature, trading cards have a strong sense of continuity. Even if there's a break, most generally pick up just like they left off.
So if you were building sets, chasing Rookie Cards or scouring card shows for your favorite players in 1993, there's a good chance you still have some vivid memories.
And that makes it crazier when you realize these cards are turning 25-years old in 2018 (for split-year sets like basketball, we've gone with 1993-94 releases).
10 Iconic Cards from 1993
10. 1993 Bowman Andy Pettitte RC
One of the members of the Yankees' Core Four, the 1993 Bowman Andy Pettitte is the pitcher's lone Rookie Card. He may not have the same prestige as Derek Jeter in the hobby, but he's still one of the top pitchers of his generation.
Those five World Series rings look good, too.
After 1992 Bowman emerged as a surprise hit, 1993 wasn't so much. The overall number of quality RCs is much lower as well. But there are still some hits to be found, and this is one of them.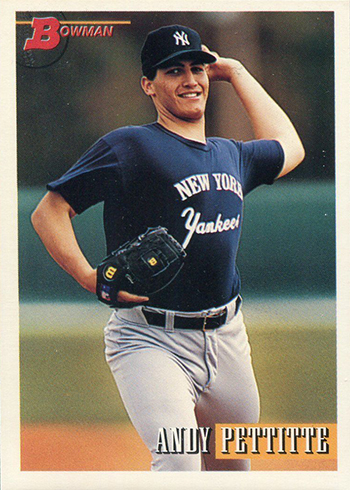 9. 1993 Classic Manon Rheaume Autographs
Manon Rheaume made headlines when she signed with the Tampa Bay Lightning. Although she never made the NHL outside of a couple of exhibition games, Rheaume is still a trail blazer.
Classic signed the goaltender to an exclusive deal that included cards in a variety of hockey and multi-sport sets. It also meant a handful of 1993 autograph cards. Quantities vary, but they are hand-numbered.
Rheaume has signed cards for other companies in ensuing years but there's still solid interest for her first cards as well.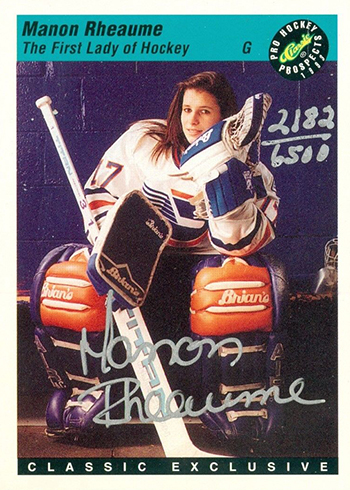 8. 1993-94 Finest Anfernee Hardaway RC
In the 1992-93 season, the Orlando Magic gave us Shaq. In 1993-94, it was Penny. The result was one of the most entertaining duos in NBA history. When the band broke up, so did a lot of the mystique surrounding Anfernee Hardaway, but there's no taking away from what he achieved.
In the hobby, he's no Shaq, but he's still popular. And for several years, Finest was the go-to set for basketball Rookie Cards. 1993-94 Finest marked the chromium brand's hoops debut.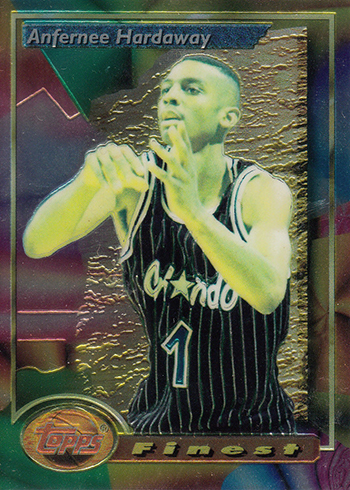 7. 1993 SP Jerome Bettis RC
In 1993, Drew Bledsoe was the rookie collectors were talking about and chasing the most. But injuries and Tom Brady ended up making him more of a what-could-have-been kind of quarterback. Today, it's Jerome Bettis that leads the year's rookie crop.
And of the more than 20 Rookie Cards of "The Bus," 1993 SP is king. Part of Upper Deck's new high-end line, it has some fancy foil to help it stand out.
1993 was a big year for Upper Deck and their new brand, not just in football.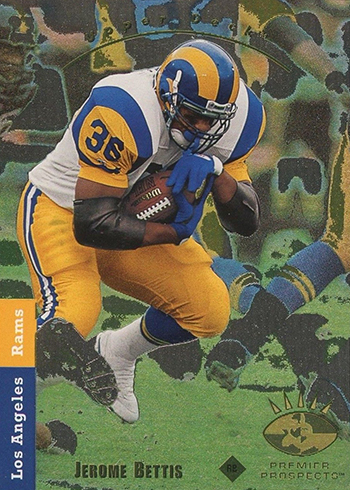 6. 1993 BBM Ichiro Suzuki
When it comes to MLB cards, Ichiro Suzuki's Rookies came out in 2001. But he was playing in Japan for years before that. The 1993 BBM Ichiro Suzuki is one of three main cards he has from that year (Tomy ID and Takara being the others). But it's the BBM card that's the most prevalent and carries the most tradition.
This card (and Ichiro's other early Japanese cards) have continued to be popular. Being released so long before his jump to the majors in 2001 certainly helps and adds to their intrigue.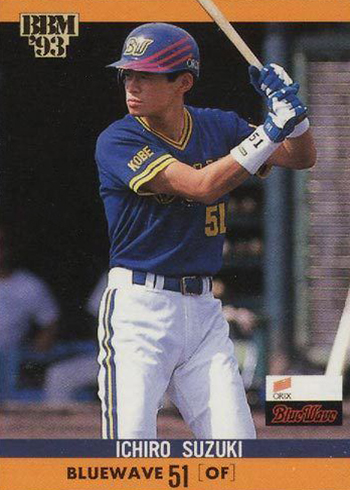 5. Star Wars Galaxy 2 P3 Yoda
Topps' Star Wars Galaxy line was one of the things that helped relaunch the movie franchise to a new generation. Like a lot of non-sport sets at the time, promo cards helped get word out on what collectors could expect and get excited for. One of those for Series 2 shows a group of Yoda-like characters worshipping another one (or maybe they're praising Yogurt from Spaceballs).
Even though Star Wars Galaxy is all about art and expression, this card was apparently a little too out there for the powers that be at Lucasfilm.
The Star Wars Galaxy 2 P3 Yoda card was pulled before it was released. But like a lot of pulled cards, some survived and made their way to the secondary market. In the process, it became one of the most notorious promo cards ever produced and prices soared.
Time must have changed some minds as the card was released as an insert in 2009's Star Wars Galaxy 4, a relaunch for the line. Not only was there the regular card, but artist John Rheaume signed some of them.
It is worth noting that while Star Wars Galaxy 2 is a 1994 set and only 24-years old, the original Yoda promo card is dated 1993. Promos are often out months in advance.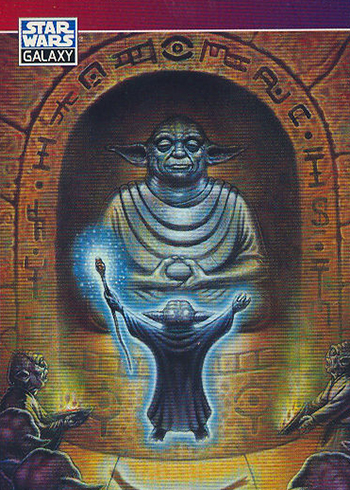 4. 1993-94 Hoops Larry Bird/Magic Johnson Autograph
By 1993, autographs were becoming more common in packs. But they were far from the norm that we see today. So for a dual autograph with the signatures from a pair of all-time greats to be made, it was a big deal.
Larry Bird and Magic Johnson is one of the top rivalries ever in sports. So even with all the signed cards out there today, this one is still impressive.
But you need to take extreme caution if you're in the market for one of the cards. Autographs were rare enough back then that there weren't a lot of measures done to prevent fakes. The 1993-94 Hoops Larry Bird/Magic Johnson Autograph does have an embossed stamp on the back, but even that hasn't been completely foolproof. Looking at a copy that has been inspected by a third-party grader or authenticator like Beckett Authentication Services might be the best route.
The card was included as a redemption in 1993-94 Hoops Series 2 packs.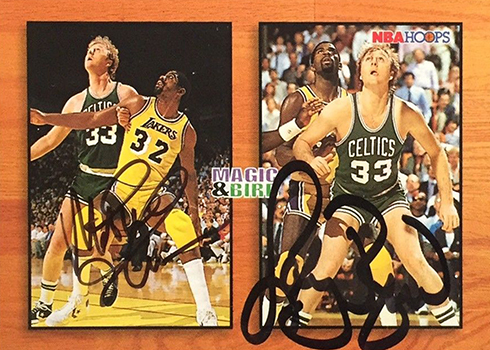 3. 1993 Finest Refractors Ken Griffey Jr.
Think of the 1993 Finest Ken Griffey Jr. Refractor as representing all of the set's parallels. 1993 Topps Finest Baseball is a landmark release that resonates still today. This can be seen in a couple of ways. The set itself is extremely popular. But looking more broadly, 1993 Finest is one of the most influential sports card sets ever released.
It brought chromium to the mainstream, which can now be seen in every sport under a variety of names.
And the Refractor parallels still resonate as well. In 1993 Finest Baseball, we had just the basic Refractor and its reflective background. The biggest complication was in which cards were short prints and to what extent. In the years since, though, the basic Refractor has given way to a full rainbow of colors and additional patterns.
If 1993 Finest Refractors are considered some of the top inserts of the era, then it's easy to understand why the Ken Griffey Jr. in the set stands out so much. His cards remain some of the most popular in the hobby with this being one of the Griffey grails.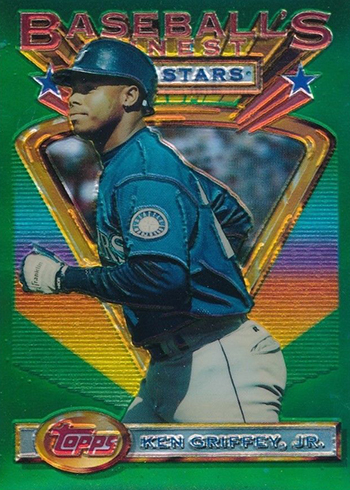 2. 1993 SP Derek Jeter RC
Really, any of The Captain's Rookie Cards could have been included on this list. But among those, the 1993 SP Derek Jeter is the biggest and most important. It helped launch Upper Deck's new "super premium" line and continue the evolution of high-end cards that 1989 Upper Deck Baseball started.
As for the card itself, it emerged as the Derek Jeter Rookie Card for a couple of reasons. The 1993 SP launch was enough to make it a standout. But there's another factor that works both for it and against it. It is notoriously condition sensitive. The foil wrecks havoc on the edges and corners. Noticeable chipping is the norm. So when one does come up that's in top condition, it commands plenty of attention and some extremely robust prices.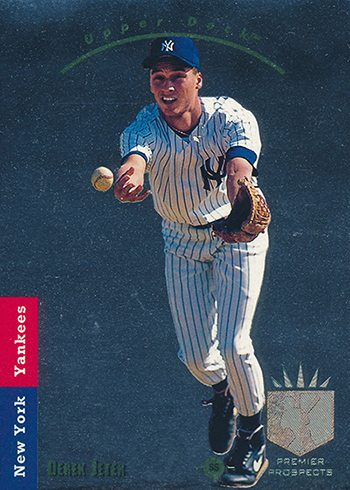 1. Magic: The Gathering Alpha Black Lotus
The biggest card released in 1993 isn't a Rookie Card. It's not an autograph. It doesn't even have an athlete on it. It's an illustration of a flower and today it sells for tens of thousands of dollars.
Magic: The Gathering debuted in 1993 and changed the industry. The collectible card game became a driver in hobby shops and continues to thrive today.
And when it comes to Magic: The Gathering cards, the Black Lotus is akin to a T206 Honus Wagner or 1952 Topps Mickey Mantle for baseball cards. It's not flashy, but it's the most famous card in a game-changing release.
Even though the card has long been retired from standard play, it's not a card many would use anymore anyway. Part of MTG's Power Nine, the Black Lotus is still one of the most powerful cards ever produced. Extremely rare from the outset, it was highly coveted even when it first came out. But as the popularity of Magic grew, so did the desire to have the "best card." And this is it.