10 Hall of Fame-Worthy Chipper Jones Cards
As far as the 2018 Baseball Hall of Fame Class goes, Chipper Jones is all but a given. He's one of the greatest third basemen to ever play the game. And when it comes to the hobby, Chipper Jones cards remain extremely popular.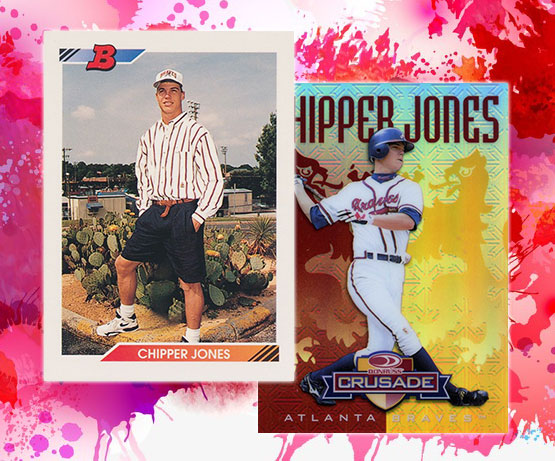 The first overall pick in the 1990 MLB Draft, the first MLB Chipper Jones cards came out the following year. He has Rookie Cards in several sets, virtually all of which are extremely easy to find today. That supply also keeps prices for his common cards in check, although there are some exceptions that have gained traction over the years.
Chipper's ascent into baseball lore coincided with some major highs and lows for the hobby. While his early cards trace back to peak of the sports card boom, the ensuing years saw both challenges and lots of innovation. That means Chipper Jones has lots of rare and flashy inserts. He was around for the growth of autographs and memorabilia cards. Even in retirement, he remains an active signer for sets.
With thousands of Chipper Jones cards to choose from, here are ten notable selections worthy of a Hall of Fame career. They may not represent the most valuable, but all are notable for their own reasons.
10 Hall of Fame-Worthy Chipper Jones Cards
1991 O-Pee-Chee Chipper Jones RC #333
If you're looking for a Chipper Jones Rookie Card (or 100), most of them are easy to find. That's the reality of almost every card printed in 1991. But the 1991 O-Pee-Chee Chipper Jones is a bit of a dark horse.
From the front, it's just like his Topps Rookie Card. The back is almost identical except it's printed on a much more vivid white stock and there's the bilingual text.
Released in Canada, it's the toughest Chipper Jones Rookie Card. That's somewhat relative for the time, but it's rare enough that you're not going to find a stash of them like you can most every other card from the era.
Buy on:
• eBay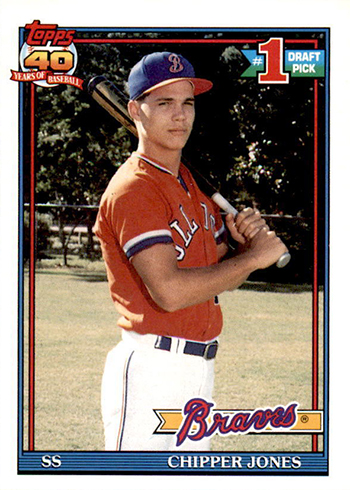 ---
1991 Topps Desert Shield Chipper Jones #333
When the first war in Iraq happened, Topps created a special run of their 1991 set specifically for the troops. These cards have a small gold foil logo on the front separating them from the main 1991 Topps Baseball release.
Needless to say, the 1991 Topps Desert Shield Chipper Jones is scarce. But the history behind the set gives it another layer of intrigue. It gives the card a story.
Not only that, today the card can be tough to find in top condition. How many troops have card supplies handy? Not a lot. So even those that did survive, many have rough edges and dinged corners.
Because of their popularity, counterfeiting has long been a problem with 1991 Topps Desert Shield cards. Some of the things to look for with an authentic card are a rounded bottom and the details throughout the gold logo are crisp.
Buy on:
• eBay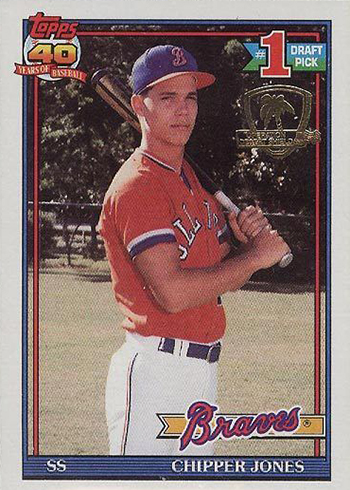 ---
1991 Topps Tiffany Chipper Jones #333
Another tough spin on the main 1991 Topps set, this Chipper Jones could only be found as part of a box set. Think of it as an upscale version, most notable for its glossy surface. That can be a little hard to see in a picture, but it's certainly noticeable when you touch it.
Tiffany cards also have bright card stock on the back, similar to O-Pee-Chee.
While many brands were ramping up production at the time, 1991 Topps Tiffany is actually one of the rarest releases in the set's nine-year run. Exact numbers for this set aren't known, though.
Buy on:
• eBay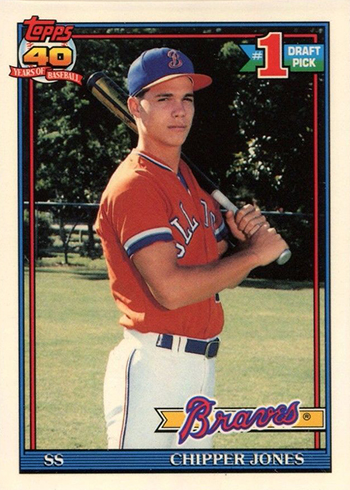 ---
1992 Bowman Chipper Jones #28
The 1992 Bowman Chipper Jones may not be his Rookie Card, but it's still a classic. For starters, 1992 Bowman Baseball is one of the top sets of the era. Not only was it a big jump forward for the brand from a production standpoint, but it has a strong checklist as well.
But let's not ignore that which can't be ignored. 1992 Bowman is unforgettable for another reason — the casual attire many of the prospects are wearing. That includes Jones going all Fresh Prince of the Country Club with his combination of khaki shorts (complete with leather braided belt), button shirt and Nike high-tops. The hands-in-pocket pose is merely the cherry.
Buy on: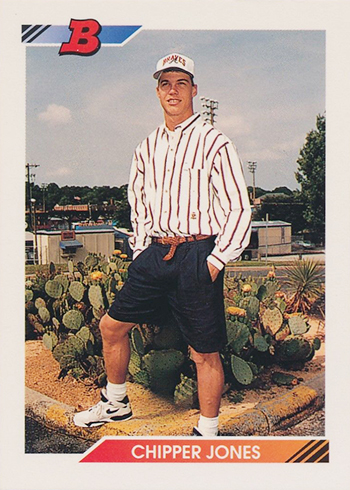 ---
1996 Pinnacle Christie Brinkley Collection Chipper Jones #5
This card isn't so much about value as it is about fun. Similar to 1992 Bowman, it's a casual pose. In fact, it goes beyond that. Whereas his second-year Bowman strived to be appear serious when it came out, the 1996 Christie Brinkley Collection Chipper Jones is all about fun.
The insert set gets its name for the unlikely photographer, iconic model, Christie Brinkley. For the cards, she shot photos of the Braves and Cleveland Indians at the 1995 World Series, usually with out-of-the-ordinary photos like this.
Buy on: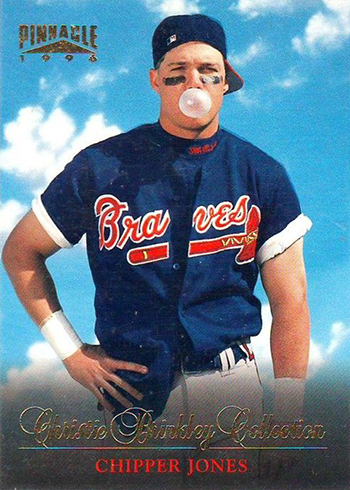 When it comes to this card, we may be a little biased.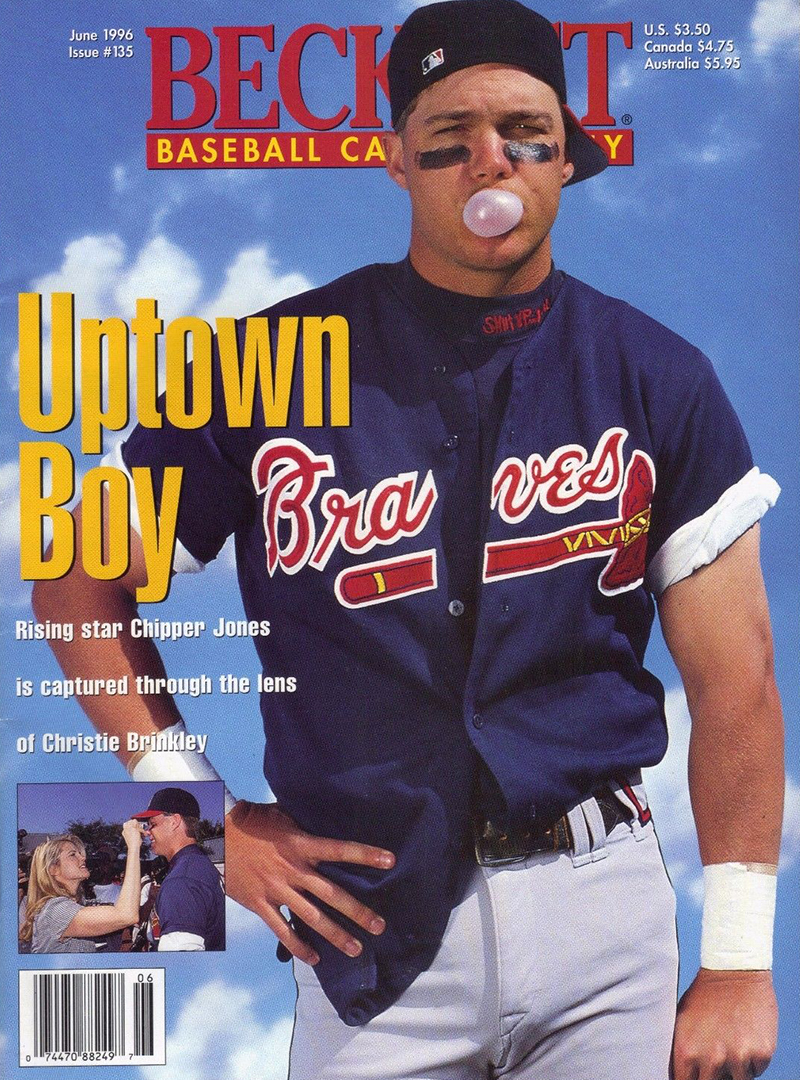 ---
1996 Select Certified Mirror Gold Chipper Jones #7
By the time the mid-'90s arrived, print runs were getting smaller and smaller. 1996 Select Certified took it to another level with their Mirror Gold parallels. Each card in the set has just 30 copies, most of which were quickly gobbled up into personal collections.
Today, those early Mirror Gold cards are among the most popular and valuable cards from the era. They don't show up often and when they do, a crowd of people dive in and send prices soaring, even for commons. So you can imagine what a popular player like Jones could do.
Buy on:
• eBay
---
1998 Donruss Crusade Red Chipper Jones #53 /25
Similar to the select Mirror Gold, this card gains a lot of its intrigue from its print run. With just 25 copies, it's a big hole on many Chipper Jones collectors' needs lists.
But it's not just about print run. 1998 Donruss Crusade inserts are some of the most popular of the era thanks, in large part, to their design. They're elegant, yet bold. The color pops and the reflective background only adds to the overall look.
Buy on:
• eBay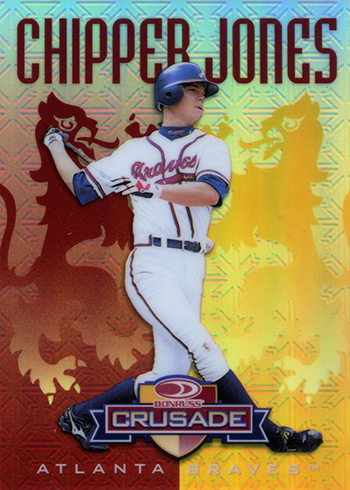 ---
1998 Donruss Elite Back to the Future Autographs Eddie Mathews/Chipper Jones #3
Not only is this one of the earliest Chipper Jones autograph cards, but it also comes with a signature from Hall of Famer, Eddie Mathews. Not a bad pairing, especially for Braves fans.
The serial number may say 1500, but that's for the entire print run of the card, signed and unsigned. Only the first 100 came autographed.
Buy on:
• eBay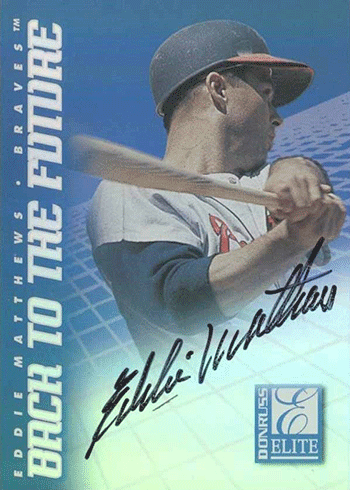 ---
1999 Topps Stadium Club Co-Signers Chipper Jones/Derek Jeter #CS4
Looking back, some of the autograph combinations in the original run of Co-Signers are iffy. But then there are ones like this that offer up ink from two of the most popular players of a generation. What's more, this is one of the more common cards in the set. So while tough today, it's not impossible to find.
Jones has a couple of other dual autographs in the insert set that aren't bad, either. On one he's joined by Alex Rodriguez. The other includes Jones with Scott Rolen.
Buy on:
• eBay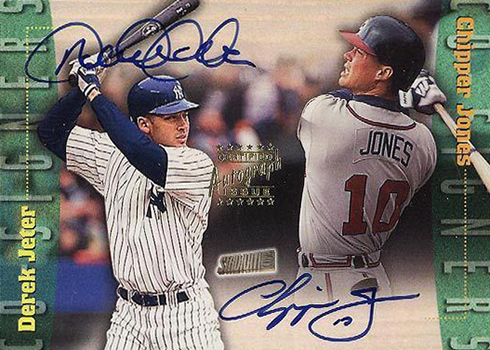 ---
2017 Bowman 70th Anniversary Buyback Autographs Chipper Jones 1991 /20
Rookie autographs weren't a thing when Chipper Jones first started appearing on baseball cards. They certainly are now. Topps does a few programs with buyback cards — old cards that have been included into new packs. Usually they have some sort of addition like a foil stamp.
2017 Bowman brought with it some rare buyback autographs. Among them were 20 copies of the 1991 Chipper Jones Rookie Card. All serial-numbered, they scarce. But it gives a modern upgrade to one of his key Rookie Cards.
In a similar vein, 2016 Topps Archives has ten of Jones' 1991 Topps Rookie Card that have since been signed. These fall under the Topps Originals banner.
Buy on:
• eBay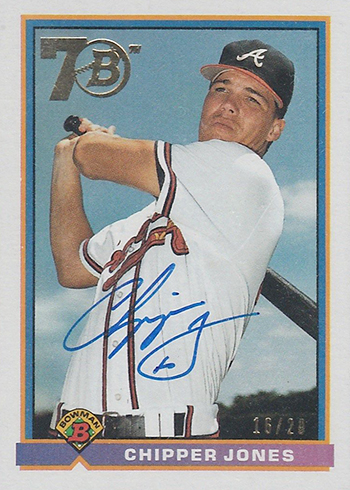 ---
Comments? Questions? Contact Ryan Cracknell on Twitter @tradercracks or by email.