10 Festive Christmas Cards from Non-Holiday Trading Card Sets
Family, friends, real estate agents — Christmas cards arrive from plenty of places. The same can be said for holiday-themed trading cards. Although there are some Christmas sets out there, sometimes you'll find some festive cheer in sets that don't otherwise focus on the trees, presents, egg nog and mistletoe.
Here are ten such cards:
10. 1993 Comic Images 30 Years of Magic: Greg Hildebrandt II #64 The Ghost of Christmas Present
Any excuse to admire some of Greg Hildebrandt's artwork is a good excuse. This set is dedicated entirely to some of his masterpieces. Included on the 90-card checklist is a couple of small Christmas-themed subset. This particular card is on a handful based on the ghosts of A Christmas Carol. Going in a different Christmas direction, the Three Wise Men make an appearance later on the checklist.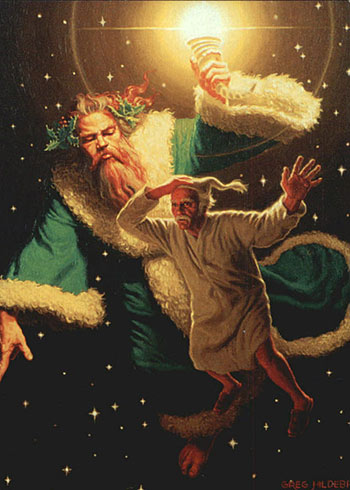 9. 1969 Topps Brady Bunch #74 Christmas!
Pictures of the kids are the focal point of plenty of Christmas cards — the traditional ones you put in the mail and send to faraway friends, not trading cards. When it comes to big TV families, few are are iconic than the Brady clan.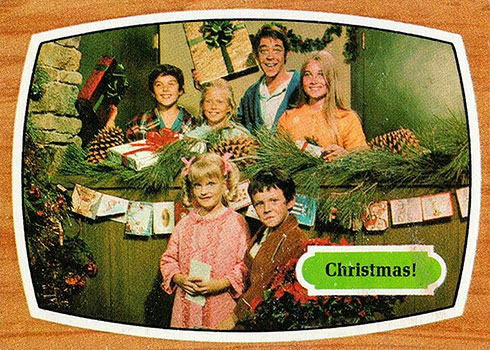 8. 2013 Panini Beach Boys Gold Albums #6 The Beach Boys' Christmas Album
It might not quite be Pet Sounds, but there are still some great songs on The Beach Boys' requisite collection of Christmas songs. "Little Saint Nick" on its own is a classic from a time before Mariah Carey dominated the holiday radio waves. As a card, this one's from the relatively tough Gold Albums insert set, which combine to land just one per hobby box.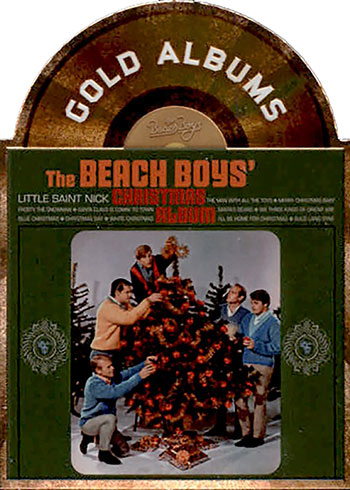 7. 1989 Topps Ghostbusters II #44 Merry Christmas, New York!
It's all four of the Ghostbusters together wearing Santa hats. What's not to love?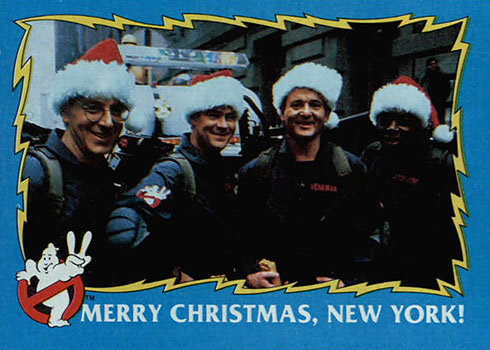 6. 1963 Rosan John F. Kennedy #56 Christmas Time
The photo's not the greatest, but it's still a nice piece of American history. As the back of the card explains, President Kennedy is helping usher in the holiday season by lighting up a 72-foot tree that's got 5,000 lights — enough to inspire Clark Griswold more than 25 years later.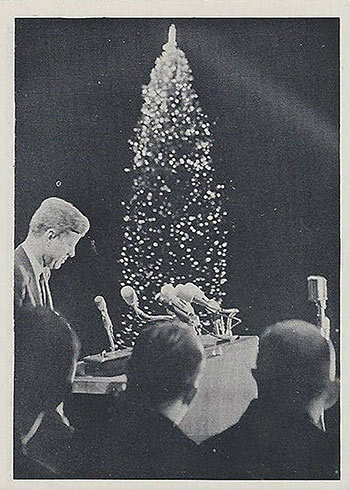 5. 1987 Topps ALF Series 1 Stickers #15 Seasons Greetings from ALF
ALF is one of the most memorable television characters of the 1980s. And he made for a fantastic trading card character. The Series 1 stickers are a great source for a variety of fun holiday cards, not just Christmas. But here's Gordon Shumway in a Santa hat, offering a rare glimpse at his generosity.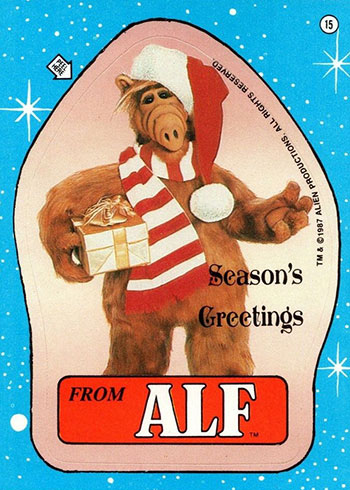 4. 2016 Breygent American Horror Story: Asylum Prop Relics #P2 Christmas Tree Hair Clippings and Ribbon /67
And the winner for creepiest Christmas trading card is this one right here. And that's not just because it's from a set based on a horror show. Hair clippings, real or not, are kind of gross. The set has a couple of other cards with Christmas props as well, only with tree topper shards.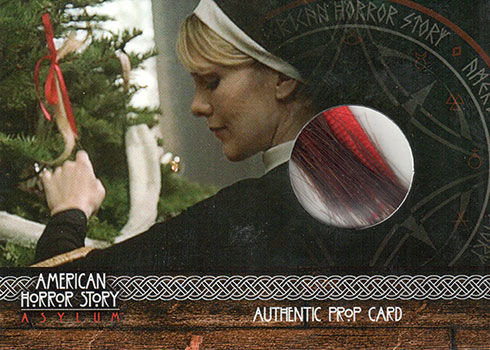 3. 1987 Topps Garbage Pail Kids Series 8 #297a YUL Tied /297b MURRAY Christmas
With more than three decades to draw from, Christmas has been a central part of many GPK gags over the years. CHRIS Mess came sooner in Series 7 and might be more famous, but YUL Tied still brings the Christmas cheer.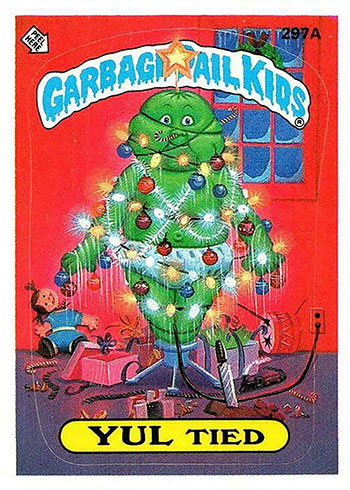 2. 2016 Topps Doctor Who Timeless Autographs Nick Frost #NIFR
Combine a classic television franchise that also has a history of Christmas specials, a hilarious actor and Santa Claus and you've got a tremendous autograph. Nick Frost, who is perhaps best known for appearing alongside Simon Pegg in several films like Shaun of the Dead and Hot Fuzz, has additional Doctor Who Santa autographs in 2016 Extraterrestrial Encounters and 2018 Signature Series.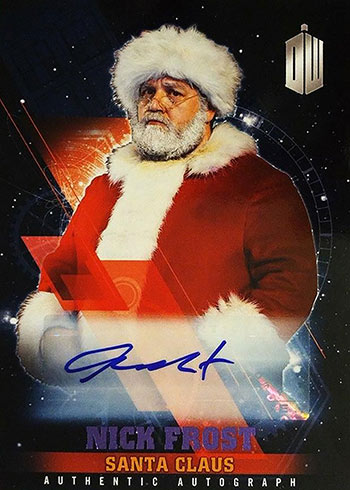 1. 1993 Topps Star Wars Galaxy #77 Santa Threepio
Ralph McQuarrie created a lot of iconic pieces of Star Wars art. It turns out not all of it was for movie storyboards. This card showcases a couple of the pieces he did for Lucasfilm's annual Christmas cards (of the greeting card variety). In case the front wasn't fun enough, there's the back that has a similarly meticulously detailed depiction of Santa Yoda hauling a sac of toys (that are surprisingly not Star Wars action figures).