10 Fantastic Photos from 2021-22 Panini PhotoGenic Basketball
Basketball cards lend themselves to dynamic photography. The game moves fast, it takes place on the ground and in the air, and cameras are able to get incredibly close to the action. And while lots of sets have great images, 2021-22 Panini PhotoGenic Basketball is the first in a long time to make photography its focal point.
The online-exclusive debut has lots of amazing shots in its base set of both current players and retired greats. Honestly, I could stare and admire most of them for various reasons. But I've narrowed it down to 10 that really speak to me.
10 Standout Photos from 2021-22 Panini PhotoGenic Basketball
This list includes only base cards. The PhotoGenic checklist has a handful of insert sets that take a more thematic approach but still have stellar images.
LeBron James #4
Part pageantry, part ritual, the chalk toss has been a part of LeBron James' pre-game routine since his earliest days as a pro. It's been on cards before, most notably in 2008-09 Topps and Topps Chrome, but it's still such a striking visual that it's worth repeating.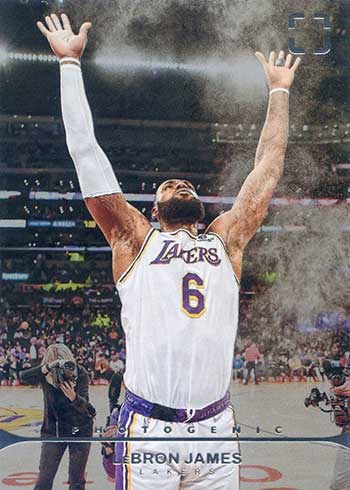 DeMar DeRozan #16
Lens flares and light glares can be risky in photos. Sometimes it's a gimmicky distraction, even when it's not in a J.J. Abrams movie. Here, it works, drawing attention a a locked in pre-game DeMar DeRozan.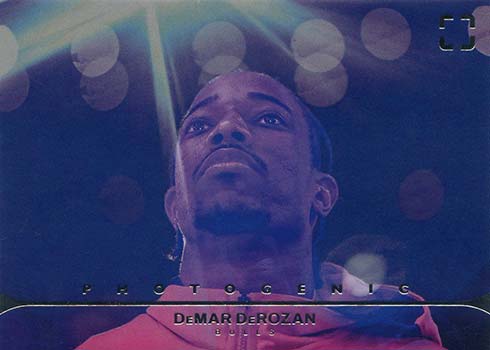 Dennis Rodman #51
Yes, this exact shot was used in 2006-07 Topps Full Court but who remembers 2006-07 Topps Full Court? Even if you do, does it matter? Besides making it look like a human can fly, this photo captures the hard-playing style that vintage Dennis Rodman brought to the court.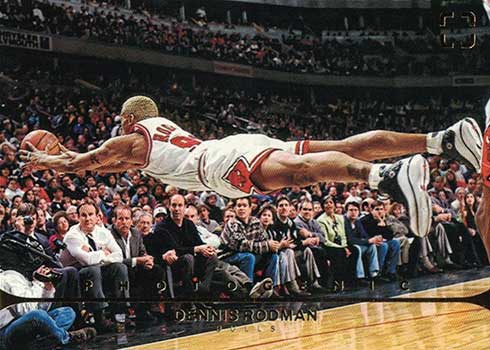 Vince Carter #58
Vince Carter is one of the greatest dunkers the NBA has ever seen. As a result, he had a lot of highlight reel power plays. Here's one of his most iconic — the 2000 Slam Dunk Contest. Carter flew that day.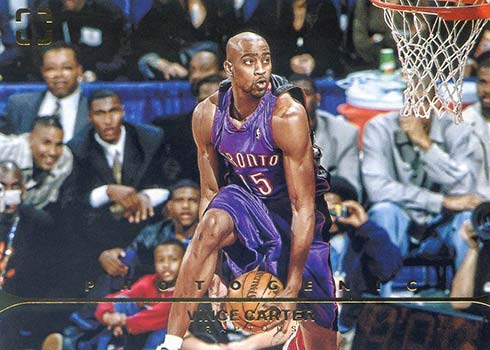 Jason Williams #65
Magicians are masters of distraction. Assuming there's another Kings player behind him that he's passing to and not an empty court, it's safe to label Jason Williams a magician here. His body and eyes are going one way, the basketball somewhere else entirely.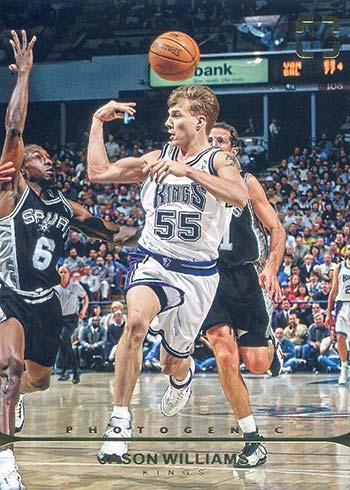 Deandre Ayton #67
The overhead angle is typically a good one. So what makes Deandre Ayton's 2021-22 Panini PhotoGenic card stand out further? For starters, there's his focus. If one wants to read too much symbolism, one could look at the arch in the top of the key and the orange of the floor representing his team. But let's go to the shadows. While we can see some arms in the periphery, the many shades of shadows create a chaotic dance of abstract action.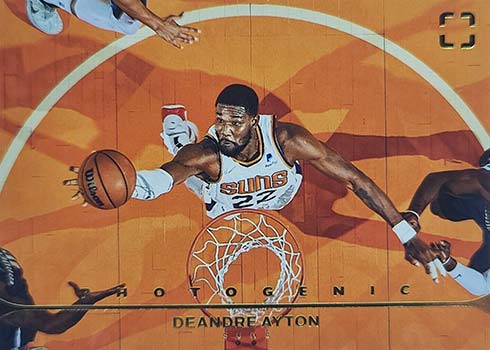 Dillon Brooks #75
This one starts with the angle. We get a backboard's perspective that manages to show a huge amount of the court. Beyond that, there's plenty to take in. You've got Brooks' moves and concentration. Jeremiah Robinson-Hill is doing what he can to swat the ball away but there's also a little desperation in his eyes. As for this two Thunder teammates also in the frame, all they can do at this point is watch.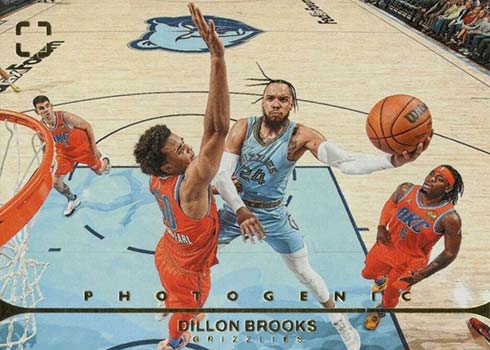 Russell Westbrook #76
The angle is interesting, but without a better look at some faces, there's not a lot of emotion to latch onto with Westbrook's card. But his flailing body shows action that's both acrobatic and awkward. The real star of the this card, though, is the floor. Typically what we see on basketball card is slick and polished. Here, the key is anything but. It's not pretty but it's interesting.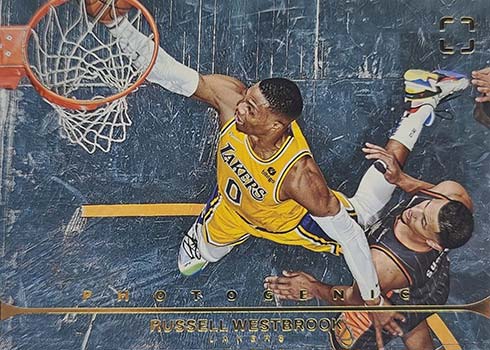 Dominique Wilkins #89
I've seen this shot before — lots of times. I'd be disappointed if I went through my boxes of basketball cards and didn't find any with this show of Wilkins already. But that doesn't matter. It's one of the greatest basketball photos ever. It comes from the 1988 Slam Dunk Contest where Wilkins had an all-time duel with Michael Jordan. Between the two of them, the match-up resulted in plenty of posters that decorated the bedrooms of the Nintendo generation.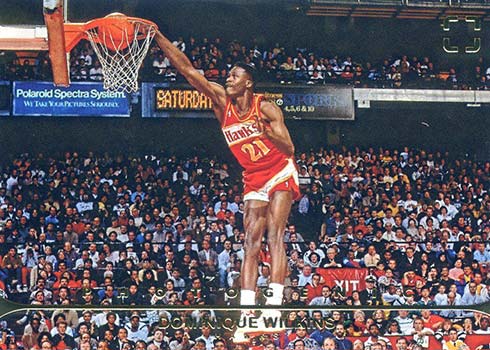 Shaquille O'Neal #93
Vintage rim-rocking, backboard-shaking Shaq. For those of us of a certain age, it's hard to believe this was already a generation ago.