10 Dennis Eckersley Baseball Cards That Help Tell the Story of His Career – Instant PC
When you click on links to various merchants on this site, like eBay, and make a purchase, this can result in this site earning a commission.
With so many different base cards, subsets, parallels, memorabilia cards and autographs, building out a collection for a single player can be overwhelming.
Luckily, the 10-Card Instant PC article series is here to help.
There are more than 3,000 Dennis Eckersley cards, according to the Beckett database.
So where does one begin putting together a Dennis Eckersley PC?
These 10 cards serve as an excellent representation of his playing career and footprint on the hobby, making them a great place to start.
1976 Topps #98 Dennis Eckersley RC
Eckersley was a third-round pick in the 1972 draft out of Washington High School in Fremont, California. He spent three full seasons in the minors before earning a spot on the Opening Day roster in 1975, and he finished his rookie season 13-7 with a 2.60 ERA in 186.2 innings spanning 24 starts and 10 relief appearances.
He has the most valuable Rookie Card in the 1976 Topps Baseball set by a wide margin, as the checklist also includes rookies of Ron Guidry, Willie Randolph, Mike Flanagan, Kent Tukulve and Lyman Bostock.
Buy on: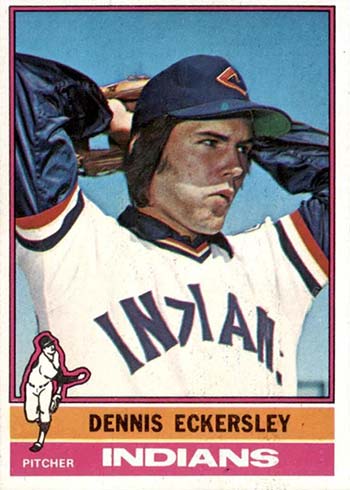 1979 Topps #40 Dennis Eckersley
After three seasons in Cleveland, including his first All-Star appearance in 1977, Eckersley was traded to the Boston Red Sox in a six-player deal prior to the 1978 season. In his first season in Boston, he went 20-8 with a 2.99 ERA in 268.1 innings to finish fourth in AL Cy Young voting in what was arguably his best season as a starting pitcher.
Since he was not traded until March 30, 1978, he is still pictured in his Cleveland uniform in the 1978 Topps set, which meant Red Sox fans had to wait until the 1979 flagship set for his first card in a Boston jersey.
Buy on: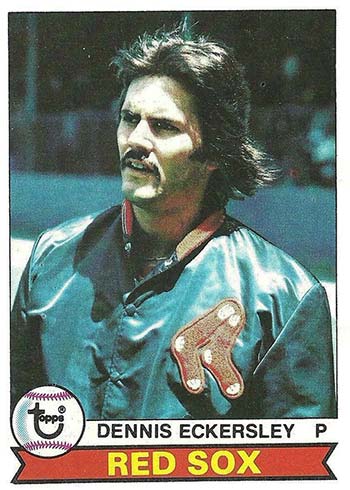 1984 Topps Traded #34T Dennis Eckersley
Following excellent seasons in 1978 and 1979, Eckersley's production started to diminish. In 1983, he posted a career-high 5.61 ERA in 176.1 innings, and the following year he was traded to the Chicago Cubs after posting a 5.01 ERA through his first nine starts.
He went 10-8 with a 3.03 ERA in 24 starts the rest of the way following the trade, helping the Cubs reach the NLCS alongside fellow trade pickup Rick Sutcliffe. Both rotation pickups have their first Cubs cards in the 1984 Topps Traded set.
Buy on: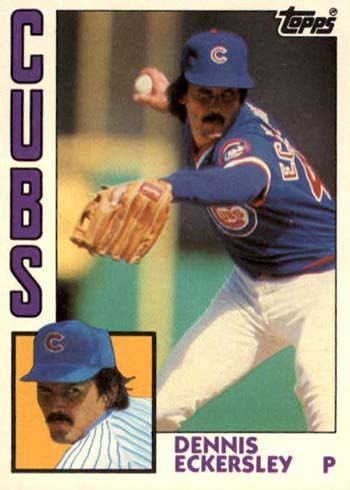 1987 Fleer Update #U30 Dennis Eckersley
On April 3, 1987, the Oakland Athletics sent a trio of prospects who would never reach the majors to the Cubs in exchange for Eckersley in what would go down as one of the best trades in franchise history. The 31-year-old started two games in Oakland before an injury to closer Jay Howell opened the door for him to take over ninth-inning duties, and he took the role change in stride.
For Athletics fans looking to get their hands on an Eckersley card in his new Oakland uniform, his first A's cards are in 1987 Fleer Update and 1987 Topps Traded Baseball.
Buy on: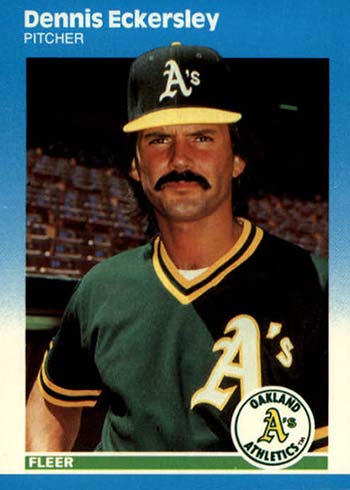 1992 Bowman #431 Dennis Eckersley
After racking up 185 saves and three All-Star selections in his first five seasons in Oakland, Eckersley had the finest year of his career in 1992. The 37-year-old finished 7-1 with 51 saves in 54 chances, dominating opposing hitters to the tune of a 1.91 ERA, 0.91 WHIP and 10.5 K/9 to win AL Cy Young and AL MVP honors.
What better card to honor that historic season than his entry in the 1992 Bowman Baseball set? It is one of the iconic releases of the Junk Wax Era, and has held its value as well as any cards from that time of mass overproduction.
Buy on: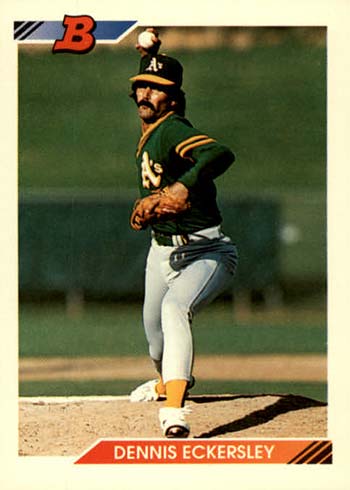 1993 Topps Gold #411 Dennis Eckersley/Lee Smith AS
Teammates on the Chicago Cubs from 1984 to 1986, Dennis Eckersley and Lee Smith would go on to compile two of the most impressive resumes of any relievers in MLB history. They rank third (Smith, 478) and seventh (Eckersley, 390) on the all-time saves list, and both are now enshrined in Cooperstown.
The duo share a handful of cards, but we've chosen their 1993 All-Star card to represent their mutual dominance in the late innings throughout the 1980s and 1990s. There are a handful of different parallels, with the Topps Gold the most attractive of the bunch.
Buy on: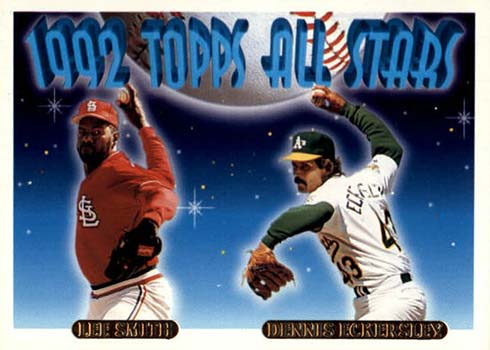 1995 Stadium Club Ring Leaders #RL16 Dennis Eckersley
A 40-year-old Eckersley saved 29 games in 1995 in what would be his final season with the Athletics. During his nine seasons in Oakland, he tallied 320 saves with a 2.74 ERA, 0.95 WHIP and 9.3 K/9 in 525 appearances. He was a four-time All-Star and added another 11 saves in 20 postseason games.
Some of the busiest-looking cards of the 1990s, complete with a giant bald eagle, the Ring Leaders inserts in 1995 Stadium Club are about as 90s as it gets. They were found in 1:24 packs in both Series 1 and Series 2, and Eckersley is included among the 40-player checklist in one of his final insert cards in an Oakland uniform.
Buy on: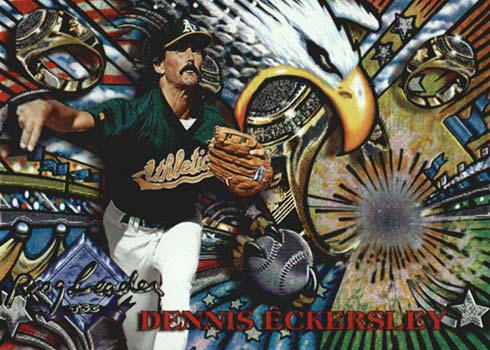 1996 Topps Laser #54 Dennis Eckersley
When Tony La Russa left Oakland to take the St. Louis Cardinals managerial job in 1996, Eckersley came with him, as he was acquired in a trade on Feb. 13, 1996. He had 30 saves in 1996 and 36 saves in 1997, pitching to a 3.58 ERA in 120 appearances during that two-year stretch before departing in free agency.
The 1996 Topps Laser set feels like a design that was ahead of its time, with die-cut base cards made to look like part of the card had been burned away by a laser. If nothing else, it's a more fun way to honor Eckersley's time with the Cardinals than his regular Topps base card.
Buy on: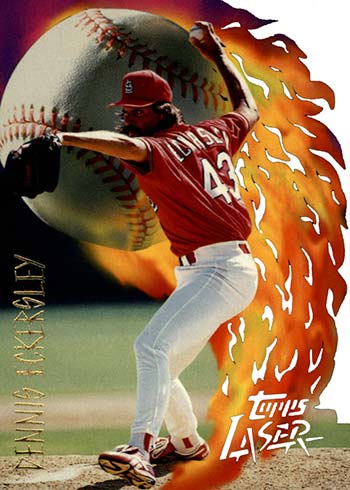 1999 Upper Deck #51 Dennis Eckersley
Eckersley returned to Boston for what would be the final season of his career in 1998, pitching in a setup role ahead of another successful starter-turned-closer story in Tom "Flash" Gordon. He posted a 4.76 ERA with nine holds in 50 appearances before calling it a career at season's end.
He has a handful of cards in 1999 sets, and the best of the bunch is his 1999 Upper Deck "Tribute" card which wraps up his impressive career nicely.
Buy on: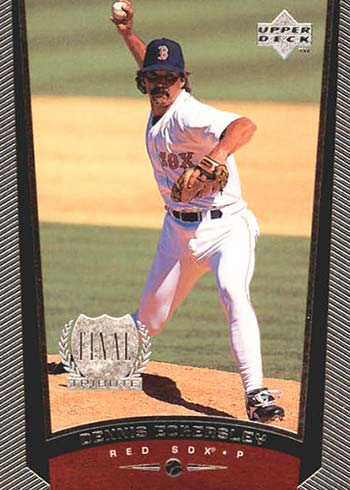 2004 Topps Tribute HOF #54 Dennis Eckersley
Eckersley received 83.2 percent of the vote in his first year on the Hall of Fame ballot in 2004 to earn induction into Cooperstown. With 197 wins and 390 saves, he was the first pitcher in MLB history with at least 150 wins and 150 saves, and only one other player—fellow Hall of Famer John Smoltz—has joined that exclusive group in the years since.
His induction lined up perfectly with the release of the Topps Tribute Hall of Fame set in 2004, which featured an 80-card checklist made up exclusively of Hall of Famers.
Buy on: